Dirty Dancing [Blu-ray]
Blu-ray A - America - Lions Gate Home Entertainment
Review written by and copyright: Sam Scott (21st June 2007).
The Film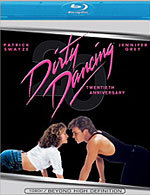 What is there to say in order to introduce one of the most well known 'chick flicks' of all time? It's probably a film that is best known as one of the best films a single guy can own, but not for the correct reasons. Basically, Dirty Dancing is loved by such a large amount of tottie (thats women for you non-Brits) that if you successfully convince a lass to go your house and watch a movie and they see this sitting on your shelf amongst the Die Hards and the Terminators and ask if they can watch it, well, I hope you put clean sheets on your bed because you sir are getting laid! If you're a hot blooded guy and own it for another reason then I really don't know what to say...

Dirty Dancing first burst onto cinema screens in 1986 and was one of the biggest (if not, it was THE biggest) sleeper hits of the year. Starring sleeper hit expert Patrick Swayze (see Roadhouse and Donnie Darko for further proof), Dirty Dancing is essentially a film about coming of age. It follows Frances 'Baby' Houseman (Jennifer Gray) who is spending her summer at a camp where Swayze is a dancing instructor (Johnny). They have whirlwind romance and, um, well, thats it.

Whilst Dirty Dancing is overrated and Patrick Swayze acts as though he taught Keanu Reeves everything he knows, there is something about the film that makes it rather engrossing. Something about knowing that whirlwind romances do happen and end happily despite having to overcome the usual troubles such as unsupportive family members. Whilst the film does have it's moments, the script seems rather poorly put together and the direction feels somewhat unstylish and 'boring'. As one of few films that a woman will not speak all the way through and film that makes said sex hornier than a cactus in the deep Arizona desert, it is a film to have included in your collection. Just don't expect it to keep you entertained if you are by yourself.

Video


Dirty Dancing has been presented in it's original aspect ratio of 1.85:1 with the transfer being to 1080p/AVC MPEG-4 standard. Whilst it is certainly a good deal better than what we have previously seen on the standard DVD releases, it is unfortunately one of the poorer pictures I have seen on Blu-ray, suffering from washed out colours and noticeable grain which I though would've been cleaned up better.

Audio


We get a choice of two different soundtracks:
- English PCM 6.1
- English Dolby Digital 5.1 EX
Unfortunately the sound didn't convince me into thinking it was a big improvement over the already reasonable standard DVD release as the mix failed to really push the beats to the limits despite the film having many musical moments that should've been exploited for a thumping, brain-numbing track.

Extras


We start the extras off with two audio commentaries:
- choreographer Kenny Ortega, actress Miranda Garrison, director of photography Jeff Jur, costume designer Hilary Rosenfeld and production designer David Chapman
- screenwriter Eleanor Bergstein
Unfortunately both seem to suffer from far too much dead air, especially surprising for the first commentary which has five participants. Thankfully though, when they do pipe up and speak, they are interesting enough to keep you listening, although I would'e preferred a commentary with more prevelant people such as leading cast members and the director.

We then have a trivia track which is fun enough though can get rather tedious with the facts that are popping up being too similar to each other. It would be best to have this playing at the same time as one of the commentaries to try and maximise your interest.

Next up is a collection of interviews, most of which ported from the Ultimate Edition (but we get a new Swayze one). Unfortunately they are the usual backslapping affairs and there is too much background noise to fully concentrate on the actual interviews.

The next little option is a couple of featurette:
- A Tribute to Emile Ardolino
- A Tribute to Jerry Orbach
Unfortunately the featurettes are just the interviews from before regurgitated into an attempt at a tribute. More compelling and in-depth looks at their lives would've been far more substantial.

Next we have almost half an hour of extended/alternate/deleted scenes which goes to show how well they did getting the film to where it finished as it would have been one of the biggest snoozefests of the last 1000 years. Despite the scenes being rightfully cut, a branching extended version of the film would have been a welcome addition.

We finish off with a series of music videos and an image gallery.


Overall



| | | | | |
| --- | --- | --- | --- | --- |
| The Film: C | Video: C+ | Audio: C+ | Extras: B | Overall: C |

---
DVD Compare is a participant in the Amazon Services LLC Associates Program and the Amazon Europe S.a.r.l. Associates Programme, an affiliate advertising program designed to provide a means for sites to earn advertising fees by advertising and linking to amazon.co.uk, amazon.com, amazon.ca, amazon.fr, and amazon.de.