Hourglass Sanatorium (The) AKA Sanatorium pod klepsydra [Blu-ray]
Blu-ray ALL - United Kingdom - Mr. Bongo
Review written by and copyright: Eric Cotenas (13th September 2015).
The Film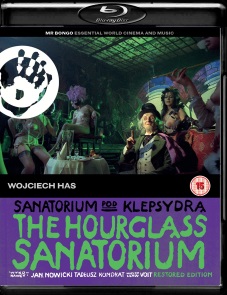 Based on "Sanatorium Under the Sign of the Hourglass", author Bruno Schulz's semi-biographical surrealist collection of memories of his eccentric father in turn of the century Drohobych's Jewish ghetto, Wojciech Has's follow-up to The Saragossa Manuscript is an equally disorienting journey into the subconscious by way of a book. The book here is not the childhood book son Josef (Jan Nowicki) once treasured in the source novel – the one in which he failed to "read between the lines" as advised by his father – but the book of postage stamps owned by the boy Rudolph (Filip Zylber), the countries exemplified within which provoke a fusion of exotic adventure with childhood memories and the dawning realization that his merchant father Jakub (Tadeusz Kondrat) never had (or took) time to spend with him. In the eponymous institution where past time can be reactivated, Jakub – dead in his own country – is merely asleep to preserve his "vital energy". Josef can only visit with his father in his own dreams where his memories of his father have him more concerned with his cultivating customer relationships and raising birds in the attic while long-suffering mother (Irena Orska) is more concerned with the practicalities of her husband's business (in which the workers are robbing them blind). Josef's memories of his sexual awakening via local prostitute Adela (Halina Kowalska) are entangled with fantastical adventures as he tries to rescue Archduke Maximilian's illegitimate half-Creole daughter Bianka (Bozena Adamek) with the help of an army of clockwork wax figures of historical personages. Periodically, the blind train conductor (Mieczyslaw Voit) pops up as a reminder that his father's time (and possibly his own) is running out.

Labyrinthine but not quite as playfully digressive as The Saragossa Manuscript, The Hourglass Sanatorium is a trip across landscapes of the mind with decaying gothic corridors and staircases leading to a carnival-esque Jewish ghetto with Arabian minarets and pirate ships popping up in the background and drawing Jozef to distractions both exciting and absurd (such as when he is arrested for having "dreamed the usual dream" about the biblical Jozef, a dream that has been heavily criticized and tries to commit suicide rather than remain at the disposal of her majesty's slow bureaucracy). Although played by the same actor throughout Jozef seems to be a teenager in some scenes and an adult in others; but even some of the youthful episodes find him reflective ("Unfortunately, Adela, you never understood things which rise above the mundane"). The film uses the opening of the short story "The Sanatorium Under the Sign of the Hourglass" as a jumping off point while incorporating other aspects – Bianca, the stamp book, and the clockwork figures come from the story "Spring" – and also retains the titular story's ending rather than that of the collection's final story "Father's Last Escape" in which Jakob undergoes a Kafka-esque metamorphosis into a crustacean. Published just before World War II and five years before Schulz would be shot by Nazis walking home with a loaf of bread, the story's ending does not necessarily explain Jozef's own transformation but his inability to return home after leaving the sanatorium may have gained some resonance for readers (and for director Has) post-war.

Video


Previously released on DVD by Mr. Bongo in 2008, their 1080p24 MPEG-4 AVC 1.85:1 Blu-ray takes advantage of a new cinematographer-approved HD master that premiered on Blu-ray last year in Poland in a nicely-designed digibook package. Reproducing that encode down to the millisecond at the same bitrate, Mr. Bongo's Blu-ray sports vivid hues, nice depth, and wonderful detail of decay throughout. There are occasionally some waxy close-ups, but it is difficult to tell if that is digital manipulation or the make-up since several of the background characters are mannequins come to life with their faces sometimes more fleshy and other times shiny and smooth.

Audio


Although the back cover avers a DTS-HD Master Audio 2.0 mono mix, what we have here is the same DTS-HD Master Audio 5.1 remix from the Polish Blu-ray. It is a respectful mix that gives depth to the sometimes busy sound design and scoring without being gimmicky. Optional English subtitles are included that have one or two spacing errors but are well-translated.

Extras


There are no extras.

Packaging


The cover art sadly does not reproduce the distinctive Polish poster artwork.

Overall




---
Rewind DVDCompare is a participant in the Amazon Services LLC Associates Program and the Amazon Europe S.a.r.l. Associates Programme, an affiliate advertising program designed to provide a means for sites to earn advertising fees by advertising and linking to amazon.co.uk, amazon.com, amazon.ca, amazon.fr, amazon.de, amazon.it and amazon.es . As an Amazon Associate, we earn from qualifying purchases.