The Show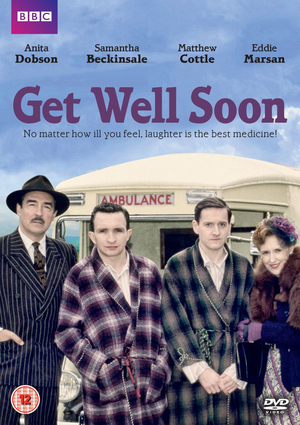 ***This is an A/V and extras review only. For reviews on the show from various critics, we recommend visiting HERE.***

No matter how ill you feel, laughter is the best medicine!

At Edgehill Sanatorium, TB cuts across social barriers and brings together men and women from all walks of life. Friendships develop, visitors come and go, romance blossoms and animosities spring up overnight.

The War may have ended, but Roy Osbourne's troubles have only just begun. With no cure on the horizon, he's is in for a long stay. His roommate Brian, an Edgehill veteran, is a cynical cockney whose illness has not affected his appetite for women or food. Other patients include the eccentric Squadron Leader Fielding; know-it-all Norman Tucker and the pious Reverend Padre – no wonder Roy is so gloomy.

The arrival of a glamorous widow is just what the doctor ordered! With her exclusive Fortnum and Mason food packages and promise of romance, life is looking up – until Roy's mother Ivy starts interfering.

Sharp scripts, unforgettable characters and black humour make the medicine go down very well indeed!

Video


Independent British distributor Simply Media continue with their impressive slate of older BBC shows with post-war hospital comedy "Get Well Soon". The show is presented in the original broadcast ratio of 1.33:1 and looks perfectly acceptable for a comedy from the nineties.

To get straight to the point, it would be more than fair to assume that no additional clean-up work has been done to the master by Simply Media that was probably provided by the BBC. This certainly shouldn't worry viewers though, as although the transfer certainly isn't outstanding, it looks as good as it likely did during the original broadcast almost twenty years ago. Colour scheme used is what you would usually expect from a show set in a post-war British hospital, with lots of dull lifeless blacks, greens, blues and whites. Blacks are reasonably deep for the most part, though they can have a tendency to lean towards to grey. Details are fine for a show of this ilk, with background details occasionally clunky, though never too messy. Smaller details such as patterns on bedding and on faces of characters who are continually mid-range (Eddie Marson) are without issue, even if they could be sharper. I noticed no banding or edge enhancement, but some light aliasing did occur from time to time. The credits haven't stood the test of time quite as well as the actual episodes, but there is no major damage. I have no real complaints.

The show is uncut and the disc is in PAL format.

Audio


Simply Media have provided us with a single audio track for this release; English Dolby Digital 2.0 Stereo. Like the transfer, we can safely make the assumption that no additional clean-up work has been done on the audio either. But, it doesn't really need it as the track plays without issue and is completely free of drop outs, scratches, pops and background hiss. I would however point out that the levels of channel separation are virtually non-existent, and the dialogue is lacking a bit of depth and comes across as flat (though perfectly audible). The score putters along nicely when needed, keeping rather minimal to allow for the dialogue to take the lead. Effects add some minor depth, particularly in the second episode "Snowbound", but then there aren't a great number of moments where complicated sound effect design could even be utilised.

Optional subtitles have been included in English for the hard of hearing.

Extras


Nothing unfortunately.

Overall


A solid BBC comedy with a great cast including Eddie Marsan and Anita Dobson. The disc is without issue, and fans of the show shouldn't hesitate in picking it up.
| | | | | |
| --- | --- | --- | --- | --- |
| The Show: B- | Video: C+ | Audio: C+ | Extras: F | Overall: C+ |