The Film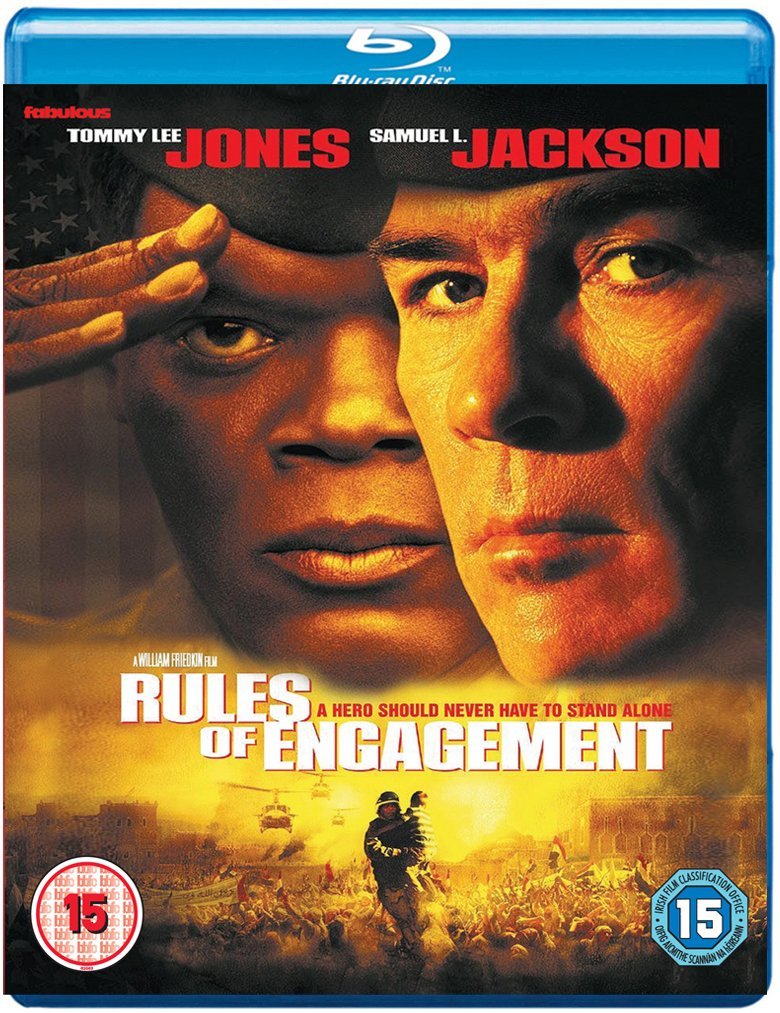 ***This is an A/V and Extras review only. For reviews on the movie from various critics, we recommend visiting HERE.***

Tommy Lee Jones and Samuel L. Jackson deliver electrifying performances in this "tense, superbly-directed and top- drawer drama" about what happens when the rules that command a solider become the rules that condemn him. Colonel Terry Childers (Jackson) is a patriot and war hero. But when a peacekeeping mission he leads in Yemen goes terribly wrong, he finds himself facing a court martial. Accused of breaking the rules of engagement by killing unarmed civilians, Childer's only hope of vindication rests with comrade-in-arms Hays Hodges (Tommy Lee Jones), a military lawyer of questionable abilities. Together, they face the battle of their lives.

Directed by Oscar-Winning director William Friedkin and co-starring Guy Pearce, Bruce Greenwood, Anne Archer and Academy Award winner Ben Kingsley, Rules of Engagement is "a magnificent movie you must see." - Jeffery Lyons NBC-TV (Larry King, USA Today)

Video


Independent British distributor Fabulous Films have released William Friedkin's "Rules of Engagement" on Blu-ray for the first time in the United Kingdom. Presented with an AVC MPEG-4 encode at 1080/50i, heavily cropped to 1.78:1, and for the majority of DVD quality, let us hope this isn't the last release of this enjoyable courtroom drama we see in the UK.

To be perfectly frank, this transfer is an absolute disaster. The German Blu-ray from Planet Media is presented at 2.62:1 (original aspect ratio is 2.35:1) so this was a good opportunity to release a disc that outdoes others currently available. Unfortunately, this is horrendously cropped. When I first received the disc last week, I sent an e-mail to Fabulous Films praying this was a mistake with the check discs, but the reply from head office was that this was the master they had received from Paramount (who released a DVD themselves at the correct ratio), something which is a concern in itself. Heads are lopped off, characters are almost removed completely at the sides, and it makes the presentation of the film look very awkward. I did note one or two shots which last several seconds seemed to be squeezed to 1.78:1 rather than cropped though. Next issue, is that the transfer is 1080/50i. This is simply uncalled for, and there is no excuse for not presenting the film in 1080p. Thirdly, the master is obviously very dated. It contains several nicks throughout, feels very warm, has some obvious black crush, and the level of detail makes this look as though you could have been watching a DVD. Finally, there are some stability issues, most notably during Tommy Lee Jones' closing arguments at 109:30. Despite all these issues, the transfer is watchable (barely), but for those who know better, avoid at all costs. Director William Friedkin has expressed his concerns about previous European releases and the fact he has not had any contact with regards to the source prints, and I imagine this release will have him spitting feathers. With the issues concerning this and the initial releases of The French Connection, Mr. Friedkin's films are not getting the respect they deserve. Gutted.

The feature is uncut, and runs 122:09.

Audio


Two audio options have been included:
- English DTS-HD Master Audio 5.1
- English DTS-HD Master Audio 2.0 Stereo

Thankfully, the audio fares far better than the transfer. For my viewing, I opted for the English DTS-HD Master Audio 5.1 track, and although it can sound a little flat on occasion (particularly dialogue), it is overall pretty good for a catalogue title. The opening scenes showcase good use of the surrounds and the LFE, with rapid gunfire, helicopters, crowds, and explosions all making themselves known. The rest of the film is generally quite a bit more subtle, but it doesn't limit things too much. Dialogue is clear at all times and at a consistent volume level. The score may be used sparingly, but it suits the film well and doesn't upset the pacing. There are no major issues such as drop outs, scratches, crackles, or pops. There is also no background hiss.

No subtitles are included.

Extras


The extras start with an audio commentary with director William Friedkin, which can be found in the audio options menu, and not in the extras menu. Ported over from the previous Paramount release. I really enjoyed this solo effort as Friedkin has a lot of interesting things to say about what his intentions for the film were, and general production, as well as touching on the initial test audiences. I'm not sure I like the fact the commentary has no audio at all from the movie, and is completely silent apart from Friedkin, however, this is how it was on the earlier Paramount release too.

Next up, we have a selection of cast and crew interviews (13:08) which was entitled "A Look Inside" on the Paramount DVD. The main participants aside from the main cast members are director William Friedkin and screenwriter James Webb. The interviews are of your usual promotional standard, though there is some good background information here for those that don't find the time to listen to the commentary. The interviews are in standard definition.

Finally, there is a "Behind the Scenes" featurette, clocking in at 23:35. In standard definition, this is the type of promotional special you might see on a movie channel. I would say it was closer to a basic making of, than a look behind the scenes, though there is some good b-roll footage included here interspersed with some sound bites. The narration is a little dull, and there is some overlap with the other extras, but it is worth a watch.

Overall


A solid film with strong performances (apart from Guy Pearce's accent) and a nice set of extras ported from previous DVD releases, is let down by a poor transfer.
| | | | | |
| --- | --- | --- | --- | --- |
| The Film: B | Video: D- | Audio: B- | Extras: B | Overall: C |