The Film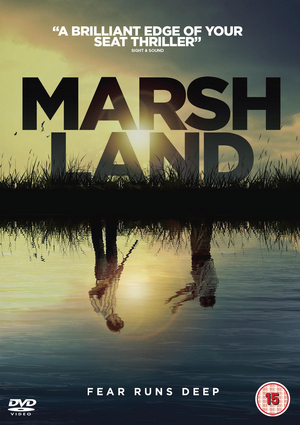 ***This is an A/V and Extras review only. For reviews on the movie from various critics, we recommend visiting HERE.***

Fear runs deep.

Spain's deep-south, 1980. In a small village frozen in time a serial killer has caused the disappearance of several adolescents. But, when two young sisters disappear during the annual festivities, their mother forces an investigation that brings two homicide detectives from Madrid to try and solve the mystery. The detectives are ensnared in a web of intrigue fed by the apathy and introverted nature of the locals.

Nothing is what it seems in this isolated region and both men realise they must put aside their professional differences if they are to stop the person responsible.

Nominated for 17 Goya awards and winner of 10, including Best Director, Best Original Screenplay and Best Film.

Video


Independent British distributor Altitude Film have released the Spanish thriller "Marshland" on to DVD in the United Kingdom using the original aspect ratio of 2.35:1. The transfer is anamorphic, and whilst it is more than serviceable, there are one or two minor issues.

The biggest issue for me, was that there was quite a bit of noticeable banding in the various skylines and more extensive shots, which is a shame when you take into account how gorgeous the cinematography of the Spanish landscapes looks thanks to the appropriately named director of photography Alex Catalán (Room in Rome). The colour scheme comes as no surprise with many heated yellows and browns, yet at the same time, it feels wonderfully dark, fitting the tone of the storyline very well indeed. Internal scenes use limited light, but not at too much expense of details which look fine, if slightly clunky in the backgrounds. Facial close-ups are of particular note, but mid-range details in external scenes add a nice level of depth to the picture. There was some light aliasing on occasion, but nothing worth more than a small mention, and blacks do crush in the shadows, however, overall, this is a good presentation. Filmed using an Arri Alexa XT with Cooke S4 lenses, there are no issues with blemishes of any kind. It would have been nice to this get a Blu-ray release from Altitude though!

The feature is uncut and runs 100:02 PAL.

Audio


Two audio options are included:
- Spanish Dolby Digital 5.1
- Spanish Dolby Digital 2.0 Stereo

For my viewing I opted for the Spanish Dolby Digital 5.1 track, though I must mention that the stereo track is what plays by default. The score from Julio de la Rosa (Juan of the Dead) makes full use of the sound stage, making already tense moments feel claustrophobic and heartbeat inducing. The surrounds also make some reasonable use of more subtle effects, particularly in external scenes where rain beating down on a car that the camera is placed in one of the highlights of how a small effect can feel really involving. I flicked over to the stereo track a couple of times, but the 5.1 was much superior, with a noticeable leap in depth of the dialogue. As to be expected for such a new feature, there are no issues with drop outs, scratches, pops, crackles, or background hiss. This certainly isn't reference quality, but it is very good.

English subtitles are included, but are unfortunately FORCED.

Extras


The main extra included here is a "Making Of" featurette (20:20). To be honest, this is fairly standard fare that is made up of film footage interspersed with some interviews with the main folks involved. We hear about the characters and how they evolve together despite their dislike of each other, the commitment to the film from the cast members and how that helped the feature become a success, and about making the action scenes realistic to have as much impact on viewers as possible. If you enjoyed the film, this is worthy of your time for sure.

We also get a theatrical trailer (1:42).

Overall


A tense thriller that is easily nestled in the upper end of the genre, "Marshland" is deserving of the praise it has received. I first heard of the film when it was Sight and Sound's film of the week, an accolade that makes any feature worth hunting down. Certainly recommended and I hope Altitude will now pick up the rights to Alberto Rodríguez's "Unit 7" and give that an English audience friendly release.
| | | | | |
| --- | --- | --- | --- | --- |
| The Film: A- | Video: B | Audio: B+ | Extras: D+ | Overall: B+ |