The Film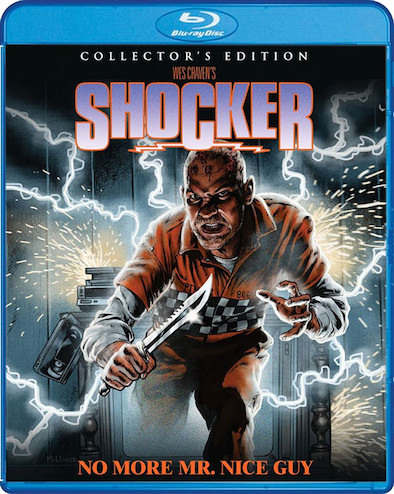 It came as a major shock (no pun intended) to horror fans the world over when legendary writer/director Wes Craven passed away recently, losing a private battle with brain cancer at the age of 76. Not that he had any requirement to publicly disclose something so personal, but many fans (this one included) felt he still had plenty of gas left in his creative tank. "Scream 4" (2011) improved upon its predecessor (admittedly not a difficult task) and Craven had begun talks to develop a handful of television shows, most notably one based on his 1991 film "The People Under the Stairs". Unlike fellow luminaries such as John Carpenter, whose disillusionment with filmmaking is readily apparent, and George A. Romero, who hasn't delivered a good film in over a decade, Craven seemed like a director who still had a couple more critical hits left in him. I was more affected by his loss than expected, and these past couple weeks have been spent going back over his filmography and re-evaluating his less-acclaimed projects…

…one of which happened to arrive on my doorstep recently – "Shocker" (1989). Intended to be the first in a trilogy, the film performed poorly among critics and audiences, squashing any hopes for future instalments. Many of Craven's signature staples are present – the blurring between reality and dreams, familial conflict, small town terrors – but what prevents "Shocker" from entering the upper echelon of Craven's filmography is that much of this feels eerily familiar, and that's because many elements seem to be ripped whole cloth from "A Nightmare on Elm Street" (1984). Electric airwave travel aside, it's the story of a supernatural mass murderer who torments a high schooler, endlessly taunting him by killing those closest to him while operating in both the real and dream worlds. Not exactly fertile ground; however, it is because of Craven's mastery as both a storyteller and a director that the film is not an entirely forgettable late-80's schlockfest.

Jonathan Parker (Peter Berg) is a star high school football player who begins to have vivid, horrific dreams about a mass murderer who has been killing families. When one of his dreams mirrors reality, Jonathan tells his adoptive father, Lt. Don Parker (Michael Murphy) – whose family was just killed - that he may know who's responsible. Dubious as his claims may be, Lt. Parker and his men raid the television repair office of Horace Pinker (Mitch Pileggi), who escapes after killing four cops. Pinker continues his murderous spree while on the run, killing Jonathan's girlfriend Alison (Cami Cooper) in the process. Eventually he's arrested and quickly dumped on to death row, awaiting execution by electric chair. Beforehand, however, he performs an electric black magic ritual which will allow him to leave this husk of a body and enter the world as an electrical entity. Pinker is strapped into the chair, the switch is thrown and all hell breaks loose before he's charred to a crisp. But the death of his physical body is just the beginning because now Pinker is free to roam the airwaves as a being of pure malevolent energy, and he has his sights set on Jonathan, who may be more closely related to Pinker than he realizes.

"Shocker" starts off strong with Pinker's murderous rampage proving to be a hurdle for the local police who just can't seem to identify their man. Jonathan's dreams are linking him to Pinker and his actions, but how? And why? Even after Pinker is fingered he manages to escape and cause even more chaos, bringing death ever closer to Jonathan, who has already had a life filled with having those closest to him ripped away. Craven allows the blend of reality and dreams to be seamless, with each world holding an equal amount of power able to affect the other. This is not dissimilar to Nancy's journey in "A Nightmare on Elm Street". Craven cannibalizes his own concepts here, changing just enough of the story to make this feel like something new, yet still oddly familiar. The idea that Pinker can jump from body to body via electrical impulses is novel, but it also grinds some of the momentum to a halt.

This is because Mitch Pileggi owns the movie. Both Berg and Murphy, the other two leads, are fairly subdued in their performances and don't chew up half the scenery on which Pileggi munches. As Pinker, he's a fiery presence who spews forth gospel like a Southern preacher, constantly "educating" Jonathan and relentlessly taunting him. Pinker can't resist a little hard-hitting father/son rivalry, taking every opportunity to emotionally torture his offspring before eventually trying to kill him. Being Pinker's son, willingly or not, Jonathan finds it in himself to give daddy a taste of his own medicine. This leads to one of the film's most inventive sequences, wherein Pinker and Jonathan travel through television channels, fighting amidst war footage and reruns of "Leave it to Beaver" (1957-1963). It's a shame there weren't more sadistic adventures with Horace Pinker; he was another strong personality in Craven's wonderfully nefarious gallery of villainy.

Even though there's an undeniable loss of momentum once the first act concludes, "Shocker" remains a fun, energetic entry in Craven's oeuvre, bolstered by Pileggi's raving performance and rife with head-banging heavy metal cuts throughout - Alice Cooper even makes a couple of cameos (no surprise given the executive producer), appearing on the soundtrack and in the film. In fact, keen viewers will notice a slew of cameos in the film, including Nancy Thompson herself, Heather Langenkamp, as an early victim. If there's one thing you can say about Craven's filmography (and many things can be said) it's that he wasn't in the business of making dull pictures.

Video


Making its Blu-ray debut, with a 1.85:1 1080p 24/fps AVC MPEG-4 encoded image, "Shocker" actually exceeded my expectations in terms of visual quality. The print used for this release looks immaculate, with very few instances of dirt or debris. Colors look strong and nicely saturated, and definition is reasonably strong. It does look like some DNR was applied, likely originating at Universal when the master was created, but it isn't so overly applied that skin and textures appear waxy. Grain is very fine, almost too much so, which is a clear side effect of the DNR application. The big surprise is that the frequent optical effects don't spike with grain and softness when shown, instead blending in almost seamlessly with the picture.

Audio


The English DTS-HD Master Audio 5.1 surround sound track (48kHz/24-bit) spends much of its time blasting with hard-rockin' tunes, all of which feature strong fidelity. Dialogue is clean and balanced within the mix. Pinker's constant electric buzz crackles between all of the main speakers, placing viewers right within his charged field. William Goldstein's score is another highlight, full of ominous cues and alarming moments. An English DTS-HD Master Audio 2.0 stereo track is also included. Subtitles are available in English for the hearing impaired.

Extras


This disc is packed, featuring two audio commentaries, numerous interviews, featurettes, theatrical trailers, TV spots, still galleries and more.

Writer/director Wes Craven delivers an audio commentary that is as engaging and informative as any other he's done. Craven had an extraordinary memory, allowing for many seemingly minor details to be retained and retold on his commentary tracks. This is another strong effort, brimming with information.

The second audio commentary is actually a series of three interviews, as conducted by DVD producer Michael Felsher. The participants include director of photography Jacques Haitkin, producer Robert Engelman and composer William Goldstein.

"Cable Guy – An Interview with actor Mitch Pileggi" featurette (1080p) runs for 17 minutes and 36 seconds. The actor credits his role in "Shocker" for launching his career, even if the film wasn't so hotly received. I was surprised to learn he started off in musicals before transitioning to lead role, where he usually got cast as a heavy.

"Alison's Adventures – An Interview with actress Cami Cooper" featurette (1080p) runs for 17 minutes and 12 seconds. Cooper has fond memories of her time in Hollywood, but she found the entire experience a bit exhausting trying to constantly "keep up with the Joneses". So, she quit and entered a career in child protection.

"It's Alive – An Interview with executive producer Shep Gordon" featurette (1080p) runs for 11 minutes and 57 seconds. The former head of Alive Pictures, and manager to many major artists, talks about his film production company and their mission – making art house films in a time before art house theaters, and giving directors almost total autonomy over their projects.

"No More Mr. Nice Guy – The Music of "Shocker"" (1080p) is a featurette that runs for 26 minutes and 13 seconds. Music supervisor Desmond Child discusses his desire to fill the film with artists in his roster, including the creation of an ad hoc supergroup, The Dudes of Wrath, led by KISS' Paul Stanley. Other artists involved in the soundtrack are also interviewed here.

One theatrical trailer and two TV spots (1080p) run for 2 minutes and 32 seconds.

A couple of radio spots run for 1 minute and 9 seconds.

A "Vintage Making Of" featurette (1080i) runs for 8 minutes and 48 seconds, this piece focuses mainly on Craven discussing horror and his intentions with this picture.

A storyboard gallery (1080p) runs for 8 minutes and 55 seconds.

A still gallery (1080p) runs for 6 minutes and 32 seconds.

Packaging


The single disc comes housed in a standard Blu-ray keep case. The cover art is reversible, and a slip-cover is included on first pressings.

Overall


"Shocker" might not be the greatest film Craven ever made, but it rocks hard enough to be worthy of inclusion in any horror fan's collection.
| | | | | |
| --- | --- | --- | --- | --- |
| The Film: C+ | Video: B+ | Audio: B+ | Extras: A | Overall: B |