The Film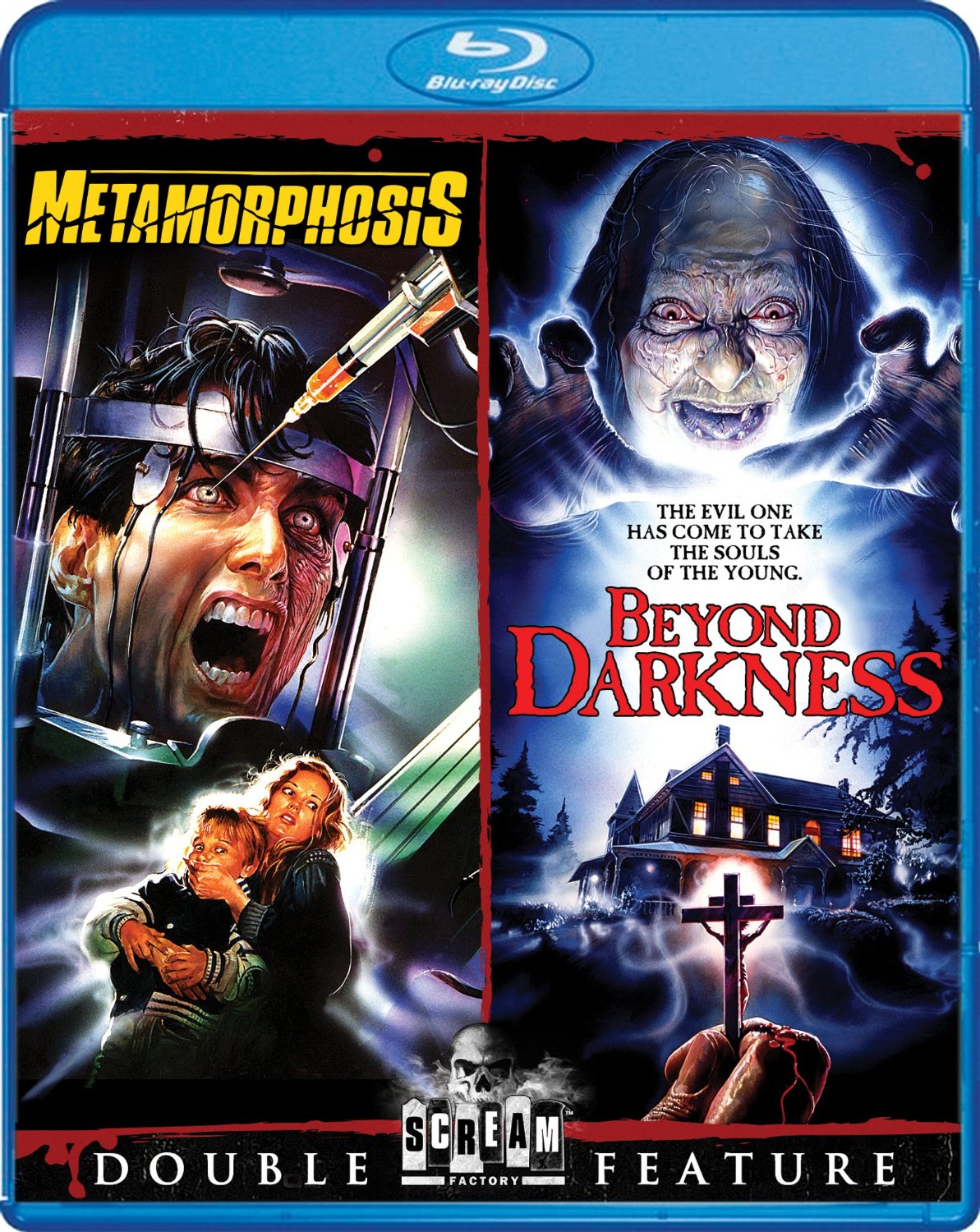 Scream Factory delivers yet another double dose of Dago dread, with their latest offering also adding another piece to the strange Italian "La Casa" series of tenuously related films. As fun as all of that might sound, the reality is both "Metamorphosis" (1990) and "Beyond Darkness" (1990, aka "La Casa 5") are hovering at the nadir of Italian horror cinema – and that's a low bar. The previous film in the "La Casa" series, "Witchery" (1988), managed to be a bore even with the prowess of David Hasselhoff, but there are a couple of hyper-violent moments that offer slight redemption. Thankfully there's "Ghosthouse/La Casa 3" (1988), which aside from the first two "La Casa" films (if you don't know what they are, look it up and be surprised) is the best in this ad hoc series. Although "Metamorphosis" isn't part of that lineage it does feature the same low-rent production and lackluster story, traits its Blu-ray partner "Beyond Darkness" shares, too. For example, there's a character in "Beyond Darkness" that looks like she's been given an oatmeal facial. And the less anyone says about whatever the hell that thing at the end of "Metamorphosis" is the better.

Our first feature revolves around the work of Dr. Peter Houseman (Gene LeBrock), a geneticist who has been working on a secret serum that can stop aging. His colleagues, however, think he's just a whacko wasting money. All of his experiments on animals have ended poorly, but Dr. Houseman can feel he's close to success. When the board threatens to cut his funding, Peter decides now is the time to up the ante and begin human experimentation – on himself. After a couple of serum injections straight to the eye, Peter starts to experience hallucinations and memory loss, forgetting things like that time he beat up a one-night stand… which was just the night before. With his mind deteriorating, his eyes turning yellow and his skin beginning to resemble wet leather, Peter is undergoing a strange metamorphosis that will eventually turn him into some… thing.

And boy oh boy, is that "thing" not at all what you're expecting.

The insanity of the "Metamorphosis" poster adorning the Blu-ray cover belies the film within, which is dreary and slow and lacking in any sort of excitement. Lead actor Gene LeBrock has all the range and talent of a stranger the producers just pulled in off the street; he's barely able to sell the insipid material which he's given. There's no tone of conviction in his voice, nor is there any reason to sympathize with him, either. He's no Seth Brundle, that's for sure. Dr. Houseman remains convinced his serum is a success, even when his flesh is failing and his mind is driven to state of constant rage. The titular metamorphosis which he is undergoing doesn't appear to have any clear indication of what he's becoming. Maybe that's a good thing, though, because the final reveal is so out of left field it's like the special effects artists brought in a costume from a very different picture. With no magnetic performances, and a tragic lack of awesomely bloody FX work, "Metamorphosis" is little more than a weak imitation of better pictures.

Don't expect a jump in quality for the next picture, director Claudio Fragasso's "Beyond Darkness" (1990) - unless that leap is off a tall building. This fifth film in the "La Casa" series is another haunting tale, cribbing heavily from movies such as "The Exorcist" (1973) and "Poltergeist" (1982), yet never even coming close to being as enjoyable. Gene LeBrock, our mad doctor from "Metamorphosis", stars here as Reverend Peter, a man who has just moved his family to an isolated country home in Louisiana. Their bucolic paradise is about to be shattered because there's evil afoot – specifically, witches. After a handful of paranormal experiences, the Rev learns his family's home was built over a site where witches were burned by the dozens, leaving the land haunted. The children get the worst of the torment, with his son Martin ("Troll 2" (1990) alumni Michael Stephenson) getting the worst of it by being pulled into another dimension. His only hope for salvation is to team up with a former-priest-turned-drunk, Father George (David Brandon). Together, the two men recreate the most memorable scenes from "Poltergeist" and "The Exorcist" in an attempt to save Peter's family and banish the witches for good.

The staples of Fragasso's filmography – bad acting and shoddy FX work – are present, though not in spades like his midnight movie classic "Troll 2", which is a film that can only be enjoyed with a raucous crowd. Watching it at home, alone, is tantamount to ocular torture. "Beyond Darkness" isn't nearly as horribly entertaining. It does, at the very least, provide a decent atmosphere and more madcap antics than "Metamorphosis". The highlight is watching a drunken Rev. George stumbling down a city street, rambling to passersby… all shot with a telephoto lens and done without permits. Those people watching him deliver a drunken street sermon aren't actors, giving the film its one true commendable beat. Otherwise, it's all rote spook elements and liberal aping.

Video


Visually, there's little to distinguish the two films, with each sporting a 1.66:1 1080p 24/fps AVC MPEG-4 encoded image. Definition is reasonably sharp, and there's very little dirt or damage to be seen on the print. Colors are a tad muted in both films, with "Metamorphosis" looking a bit warm, while "Beyond Darkness" has so much smoke pumped into scenes that it hews toward the cooler side. Regardless, these are cheap, schlocky pictures and each looks as good as it needs to.

Audio


"Metamorphosis" features an English DTS-HD Master Audio 2.0 mono track, while "Beyond Darkness" gets an English DTS-HD Master Audio 2.0 stereo track– not that the distinction matters much. There's zero range to be heard on either track; zero depth. Effects and dialogue tend to sound compressed and occasionally tinny. There aren't any audible anomalies or major problems, per se; it's just that neither track is remarkable in any way. Both films have English for the hearing impaired subtitles available.

Extras


There's very little to be found for extra features.

"Metamorphosis" theatrical trailer (1080p) runs for 3 minutes and 43 seconds.

"Beyond Darkness" theatrical trailer (1080p) runs for 1 minute and 29 seconds.

Packaging


The single disc comes housed in a standard Blu-ray keep case. The cover art rocks and it maybe the best thing about the package – films included.

Overall


If you're a fan of really awful Italian horror (which I often am) then this set may be worth parting with some hard-earned cash. As neither film has anything truly memorable to offer, it might be a better idea to rent this set if you're a blind buyer.
| | | | | |
| --- | --- | --- | --- | --- |
| The Film: D+ | Video: B- | Audio: C+ | Extras: D | Overall: C- |