The Film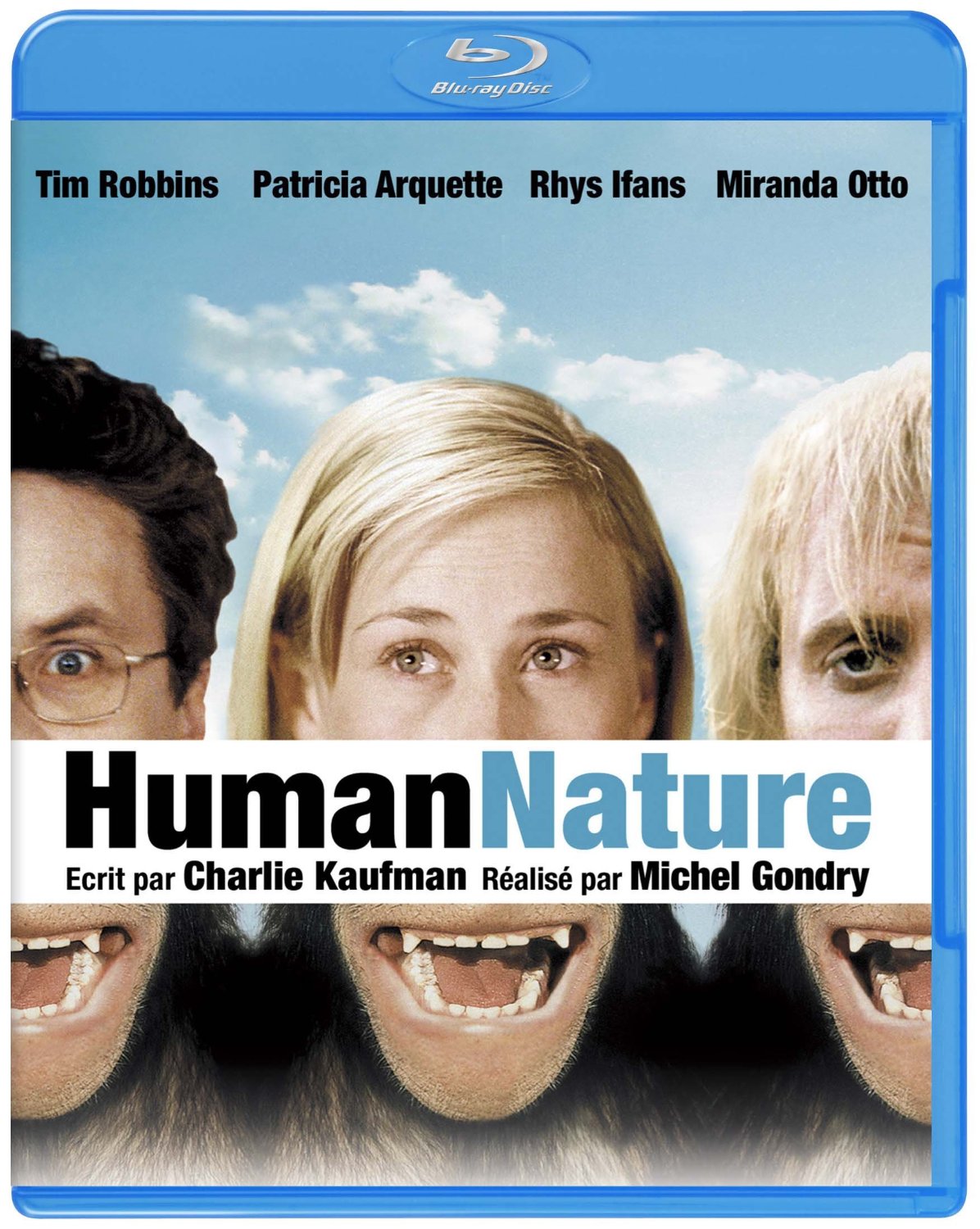 "Human Nature" (2001)

Lila (played by Patricia Arquette) has a hormonal imbalance that causes an unusual amount of hair growth all over her body. She first started to grow an unusual amount of chest hair as a child (played by Hillary Duff), and in her 20's decided to leave society altogether to live in the wilderness, in comfort without worrying about what others think of her body. The tales of her life in the forest become best-selling books including the hit "Fuck Humanity", though her sexual desires are left unfulfilled being alone. The desire for a man leads her to have electrolysis done, in which hair removal specialist Louise (played by Rosie Perez) introduces her to Dr. Nathan Bronfman (played by Tim Robbins).

Nathan was raised by his adoptive parents (played by Robert Forster and Mary Kay Place) in which the father placed strict morals and manners, whether if it was which fork to use for which food or for not masturbating in public places, as it separates man and animal. Nathan is a scientist experimenting on mice, by teaching them table manners. He hypothesizes that if animals can be taught manners, the world could become a better place. While Nathan and Lila go hiking in the woods together, they encounter a mysterious man who thinks of himself as an ape (played by Rhys Ifans) and cannot speak.

Intrigued by the mysterious ape-man, Nathan brings him back to his laboratory to try to teach him basic human manners and the English language with the lab assistant Gabrielle (played by Miranda Otto) who names the Ape-man "Puff" after her childhood dog. Gabrielle has sexual feelings toward Nathan and seduces him in the laboratory, which Puff sees and realizes that if he starts doing what they tell him, he may also get "some of that" eventually.

The entire film is told through flashbacks. Lila is in prison wearing an orange jumpsuit and explaining her story to detectives. Puff is at a Congressional hearing explaining his story in extremely articulate English. Nathan is in a bright white room and he is bleeding from the forehead while telling his side of the story. Subsequent events in the story, however weird or absurd will lead to these three characters to three very different outcomes.

"Human Nature" was scripted by Charlie Kaufman, hot off the success of his screenwriting debut, "Being John Malkovich", which was instantly hailed as one of the most original screenplays of modern cinema. Kaufman's scripts became hot property, and subsequent films such as "Adaptation", "Confessions of a Dangerous Mind", "Eternal Sunshine of the Spotless Mind" and his directorial debut "Synecdoche, New York" were critical darlings as well with the term "Kaufman-esque" becoming part of screenwriting lexicon. But no one seems to talk about his screenplay for the 2001 film following "Being John Malkovich", "Human Nature". And considering the talent in front of and behind the camera, it seems criminal that it went unnoticed.

For director Michel Gondry this was his first feature film, but had an extensive resume a music video and commercial director. His visual tricks and techniques using hidden cuts, animation, miniatures, forced perspective, and rear projection made him the modern day Georges Melies, like a magician with a movie camera. "Gondry-esque" was already a term in the music video world with his unique sense and style. Fans of his work were highly anticipating his debut in features, and when it was known that he was working on a Kaufman script, with "Being John Malkovich" director and fellow music video director Spike Jonze producing, anticipation grew even higher. With the attachments of actors Tim Robbins and Rhys Ifans and actresses Patricia Arquette and Miranda Otto, the project looked to have everything going for a cult or even possible mainstream crossover success, as "Being John Malkovich" did in 1999.

But what went wrong? The film opened in 2001 at the Cannes Film Festival to middling reviews. 2002 at Sundance did not have much positive reaction either. Eventually the film did not even gross over $1 million at the box office in the United States, was dumped to DVD a few months later with no extras by New Line, although Michel Gondry's home country of France issued it on DVD as a 2-disc special edition. Firstly, the narrative of 3 people retelling their accounts was similar in style to Akira Kurosawa's highly influential "Rashomon", but rather than the "Rashomon" aspect of telling and retelling the same story slightly changing the viewpoint and making the audience think "what is the truth?", it is not done here. And that hurts the film the most. Instead of a brain-twist as to "whose story is this?" we are shown the story as-is, with only a few moments in which the characters say different things (like who killed Nathan, which is not a spoiler by the way), but the film doesn't show otherwise like "Rashomon" did. As for the performers, Rhys Ifans truly stands out as Puff, going from ape to man in an almost dual performance. As for Tim Robbins though, his insecure character didn't seem to have enough neuroticism that was to be expected, like he didn't seem to know how to play the character. Something like a Woody Allen performance or the John Cusack character in "Being John Malkovich" would have been a better choice to base the character on. Patricia Arquette does a fine job with her abnormally hairy character, but again her insecurities as a character doesn't play as well as say the Cameron Diaz character in "Being John Malkovich". Another questionable point in the film is when suddenly around the 10 minute mark her character sings a musical number in the forest, which is very similar in style to a Michel Gondry music video, but unusually there are no more musical scenes in the rest of the film. Miranda Otto's character with her fake French accent was almost like an alternate version of the Catherine Keener character of "Being John Malkovich". Yes, "Being John Malkovich" is referenced a lot, but that just cannot be avoided.

As for what works well is the visual aspects of the film, which you would expect from Michel Gondry. The aforementioned forest scenes with Lila living in the forest uses techniques that Gondry used in his music videos such as Bjork's "Human Behavior" and "Army of Me" with rear projection, miniatures, and forced perspective, without the aid of CGi. The flashbacks to the characters when they were children are shot in a Super-8 style format, with faded colors, rounded flickering images, and the sound being a bit muffled. The really amazing trick around 22 minutes in with Nathan in the netherworld opening the door is plain genius, even if it is not a practical shot.

One main theme of the movie that might make especially mainstream American audiences uncomfortable is the sexuality displayed in the film: Lila is often naked, although all the body hair covers up everything. Nathan's tiny penis is often mentioned. Puff often thinks about sex and masturbation, but Nathan in his experiments tries to stop Puff from getting erections and getting him to control himself. Gabrielle lusts for Nathan and throws herself on top of him. Sex is everywhere in the film as it asks how much of human nature is sexuality compared to animal instincts? Interestingly there is not a sexual morality lesson in this film. Gondry has said about the film "The moral is there is no moral", which leaves a bit too much ambiguity for the film to reach a conclusion to what was shown. All of Kaufman's films deal with strange or amoral sexuality, but this one takes the cake as being the one that pushes it the most. And what is with Kaufman's seeming obsession with apes in his films?

Note: This is a region ALL Blu-ray disc, playable in any Blu-ray disc player worldwide.

Video


"Human Nature" is presented on the Warner Japan Blu-ray in 1080p, in the original 1.85:1 theatrical ratio in the AVC MPEG-4 codec. The film starts with the modern Studiocanal logo, and the transfer seems to be from a new HD master. Colors look great and well balanced, the film is stable without fluctuations. The one point that seems to suffer is the white netherworld scenes. Possibly because the post processed bleached look being a second generation film element, it doesn't look as sharp as other scenes. Other than that, fans should be very pleased with the transfer.

Audio


There are 2 audio tracks:

English DTS-HD Master Audio 5.1
Japanese DTS-HD Master Audio 5.1

Most of the dialogue is centered with some occasional uses of surrounds for some surreal moments. Surrounds are used mostly for music and sound effects throughout very effectively. Dialogue is always clear and the music soundtrack is great.

There are optional English and Japanese subtitles for the main feature. Both are in a white font and easy to read. Note that the scene in which Peter Dinklage speaks French is not subtitled in English although it is fully subtitled in the Japanese subtitle track.

Extras


Audio commentary by director Michel Gondry and actor Rhys Ifans
At the start of the commentary Gondry makes an introduction in French and says that since Rhys Ifans cannot speak French, the audio commentary will be in English. Besides the opening, the rest is in English. Fans of Gondry should already be familiar with his sometimes hard to understand accent. Gondry talks about the shooting of some of the special effects and the behind the scenes tidbits while Ifans gives insights to the performances more. It's a fun commentary and doesn't focus on the failure but rather on the making.
in English (except for the intro in French) DTS 2.0 stereo with optional Japanese subtitles

Short Films by Michel Gondry
This section has the following:

- "La Lettre" (13:30)
In this black and white short, 2 brothers discuss about the end of the millennium just before the year 2000. The dream sequences are especially Gondry-esque with miniatures, timelapse, rear projection and various in-camera tricks used.
in 1.66:1 (non-anamorphic), in French Dolby Digital 2.0 stereo with optional Japanese subtitles.

- "Drumb & Drumber" (1:19)
Michel Gondry is an accomplished drummer, and he show his drumming and editing skills in this short.
in 1.33:1, Music Dolby Digital 2.0 stereo with no subtitles.

- "Bulide" (2:28)
An animated short using stop motion, it was shot on film, but this comes from an old video master so picture quality is a bit weak.
in 1.33:1, Music Dolby Digital 2.0 stereo with no subtitles.

- "La Ville" music video by Oui Oui (3:44)
- "Les Cailloux" music video by Oui Oui (2:43)
- "Ma Maison" music video by Oui Oui (3:38)
Michel Gondry and Étienne Charry formed the band Oui Oui in the 1980's, which released 2 albums before disbanding in 1992. Here are 3 music videos directed by Gondry.
in 1.33:1, in French Dolby Digital 2.0 with no subtitles, for all 3 music videos

"Behind the Scenes" featurette (15:39)
Raw footage and outtakes are presented here from a dated video source.
in 1.33:1, in English or silent Dolby Digital 2.0 stereo with no subtitles.

Storyboards
The storyboards and the finished film are compared, with the storyboards on the top part of the screen and the finished film scenes below.
in 1.78:1, in English Dolby Digital 2.0 stereo with optional Japanese subtitles.

- #1 (5:08)
Puff meeting Lila and Nathan.

- #2 (2:57)
Puff in the laboratory with Nathan and Gabrielle.

- #3 (2:57)
Puff is able to leave the lab and go to the restaurant with Nathan and Lila.

"Mouse CG Making" featurettes
These featurettes compare the before and after CG enhancements to the mice used in the film.
in 1.33:1, music Dolby Digital 2.0 stereo with no subtitles

- #1 (1:31)
This sequence is of the mice being released into the forest.

- #2 (0:42)
The mice wander in the woods.

- #3 (1:46)
The mice and their table manners.

Interviews:
- Patricia Arquette (3:33)
- Rhys Ifans (4:16)
- Tim Robbins (4:52)
- Miranda Otto (2:58)
- Robert Forster (1:13)
- Michel Gondry (3:42)
- Anthony Bregman (1:47)
- Ted Hope (1:10)
- Tim Maurice Jones (1:03)
- Nancy Steiner (2:08)
These EPK interviews were made during the shooting of the film.
in 1.33:1, in English Dolby Digital 2.0 stereo with optional Japanese subtitles.

Cast (text)
Just a list of the actors names along with their corresponding character names and the Japanese dub cast members.
in Japanese

Trailers
- #1 (0:37)
- #2 (0:43)
- #3 (0:40)
- #4 (0:55)
- #5 (1:13)
- #6 (1:03)
- #7 (0:36)
- #8 (0:40)
- #9 (0:32)
- #10 (0:26)
10 surreal promotional teaser trailers. Why aren't films marketed like this more often?
in 1.85:1, in English Dolby Digital 2.0 stereo with optional Japanese subtitles.

Japanese Teaser (0:36)

Japanese Trailer (2:04)
Both the Japanese teaser and trailer show the surrealness of the film to full effect.
in 1.66:1, in English and Japanese Dolby Digital 2.0 stereo with burned-in Japanese subtitles

It's great that Warner Japan ported over almost all the extras from the French 2-disc DVD. The only thing missing is the photo gallery, but in addition, the Warner Japan Blu-ray includes some short films by Gondry not on the French DVD. Although I'd have liked to hear from Charlie Kaufman about the project, he is nowhere to be found on the disc. Spike Jonze as well. There are no new extras or retrospective materials, and even the additional short films were already released elsewhere, on the "The Work of Director Michel Gondry" DVD.

Overall


"Human Nature" just didn't click with audiences then and hasn't really improved with retrospect. It is an interesting curiosity in the filmographies of Kaufman and Gondry, whose later collaboration on "Eternal Sunshine of the Spotless Mind" was instantly heralded as a masterpiece. At least Warner did an excellent job on the Blu-ray transfer so fans should not hesitate.
| | | | | |
| --- | --- | --- | --- | --- |
| The Film: C+ | Video: A- | Audio: A- | Extras: B | Overall: B |