Big Game [Blu-ray]
Blu-ray B - United Kingdom - Entertainment One
Review written by and copyright: Samuel Scott (1st October 2015).
The Film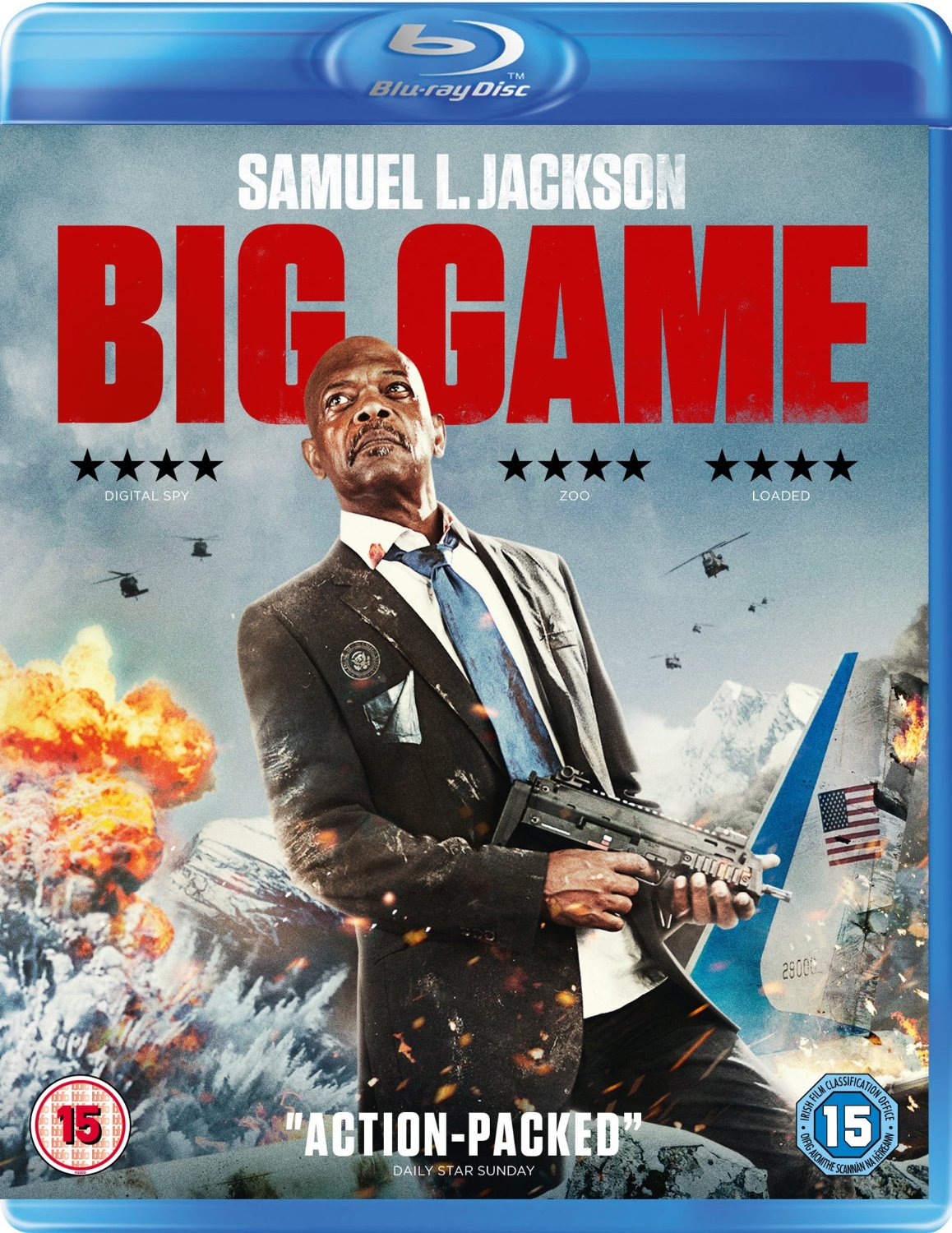 Oskari (Onni Tommila) is about to undertake a right of passage that all thirteen year old boys have to go through in his Finnish village. He will be sent into the woods for one night and one day and in that time he has to try and kill and bring back something big. His Father, a well respected hunter, did the same rite of passage and brought back a bear. Unfortunately Oskari is small and weak but his Father is confident that he can succeed. At the same time, in the skies above Finland, the President of the United States of America, William Alan Moore (Samuel L Jackson), is flying to a pre G8 summit meeting in Helsinki. Suddenly his aeroplane, Air Force One, is targeted by missiles and Moore is bundled into his safety pod and ejected from the plane. His security detail jumps out after him but their parachutes have been disabled by the man who has sabotaged the planes defences, the chief of security Morris (Ray Stevenson). On the ground the pod has landed and is found by Oskari. Moore manages to befriend the boy and Oskari agrees to help Moore but not until he has completed his hunt. Close behind are Morris and his team of terrorists who are now on their own hunting trip with the President their prey. Moore is being hunted by Morris because he is seen to be a weak President, which he is in regards to physical strength. Morris and his team track Moore to Oskari's hunting ground and take the President captive. Now the only thing that stands in the way of the President's execution is a 13 year old boy from a small village in Finland.

'Big Game' is basically 'Die Hard' on a mountain. It's a refreshing change to see The President of the United States played as an actual, rather wimpy, politician rather than an action hero and it's also good to see the bulk of the heroic action go to a 13 year old boy who, on more than one occasion has to save the day. 'Big Game' sports a decent cast. Samuel L Jackson is always worth watching and more often than not elevates the status of a film with his presence alone, as is the case here. The relatively brief running time (a shade over ninety minutes) does not allow for much exposition so in this case the bad guys reasons for doing what they do are barely touched upon. Despite the appearance of the likes of Jim Broadbent and Felicity Huffman (all of whom turn in perfectly acceptable performances) the show is stolen by Onni Tommila as Oskari. His acting shows a real maturity and brings the role of Oskari to life. There is plenty of action in the film and the CGI is of a good standard. In the right mood 'Big Game' is an enjoyable action/adventure but barely scratches deep enough below the surface to be anything more than forgettable.

Video


2.35.1 AVC. The picture, as expected, is pretty stunning. The photography of the mountains of Bavaria (standing in for a flat Finland) are fantastic and are well used by writer/director Jalmari Helander. The CGI is integrated well and I certainly could not see the joins. This blu ray gives a good representation of the full cinema experience.

Audio


'Big Game' comes equipped with two choices. First up is the preferred 5.1 DTS-HD Master Audio. This option is big and bold. The sub woofer gets a good workout with plenty of explosions, gunfire, and the roar of engines to keep it busy. The rear speakers convey a good surround mix with the winds sweeping behind you, whilst the musical soundtrack is full on without drowning out the dialogue. There is a 2.0 DTS HD Master Audio option available too but as you can imagine it's not a patch on the 5.1 mix. There are SDH (deaf and hard of hearing) subtitles available.

Extras


Interviews with the cast and crew - A series of interviews taken on the set of 'Big Game'. These are relatively short and each cast and crew member basically talks about the film, how they got involved, what it was like working with Jackson, and what drew them to the project in the first place.
Samuel L Jackson 'President Moore' (2.23)
Onni Tommila 'Oskari' (1.30)
Ray Stevenson 'Morris' (1.56)
Victor Garber 'Vice President' (0.55)
Mehmet Kurtulus 'Hazar' (2.13)
Felicity Huffman 'CIA Director' (1.29)
Jim Broadbent 'Herbert' (2.30)
Jalmari Helander Writer/Director (5.12)
Andy Mayson Producer (1.04)
Jens Meurer Producer (1.35)
Petri Jokiranta (4.07)

VFX Breakdown - This extra is a silent feature showing the composite parts of CGI and how they are overlapped and inserted into the final film (2.50)

Start up trailers for 'No Escape' (2.08), 'Insidious Chapter 3' (1.59), 'Spooks: The Greater Good' (1.32) and 'Gascoigne' (1.59).

Overall


An interesting take on the action/adventure movie with most of the heroic stuff being performed by a thirteen year old boy. Samuel L Jackson's participation elevates the films status but even he can't hide the shortcomings of the script. A flawed attempt but with much to commend it, not least the spectacular mountain vistas.
| | | | | |
| --- | --- | --- | --- | --- |
| The Film: B- | Video: A | Audio: A | Extras: C | Overall: B- |

---
DVD Compare is a participant in the Amazon Services LLC Associates Program and the Amazon Europe S.a.r.l. Associates Programme, an affiliate advertising program designed to provide a means for sites to earn advertising fees by advertising and linking to amazon.co.uk, amazon.com, amazon.ca, amazon.fr, and amazon.de.