The Film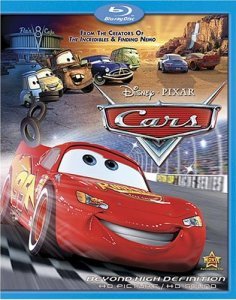 With so many digitally animated cartoons out these days, a return from the pioneer of the genre John Lasseter is easily the most anticipated entry in an ever saturated market. After all, it was Pixar who gave life to Woody and Buzz in "Toy Story" (1995) and "Toy Story 2" (1999), showed us "A Bugs Life" (1998), found Nemo, formed "Monsters Inc." (2001) and wowed us with "The Incredibles" (2004).
While their technical prowess ensured the most dazzling visuals, what separated Pixar from their peers was their uncanny ability to breathe life into their digital creations. In much the same way Disney animation was the cherished wonder of childhood rainy afternoons, parents could always rely on Pixar to deliver pixel perfect fables which were energetic enough to distract the kids, and engaging enough to round up the adults.
But "Cars" is an altogether different beast. A loud gas guzzler which seems so much like Pixar's competitors that it pains me to call it what it is: A paint-by numbers cartoon.
When hotshot Nascar racer Lightening McQueen (Owen Wilson) is accidentally stranded in Radiator Springs, he's forced to repair the isolated townships road, which by all accounts is all the local residents have left since they were diverted by the newest interstate highway. Oh yes, this is a world entirely inhabited by the titular cars.
The "big city kid stuck in small town America and learns the importance of family" shtick is a ploy we've seen many times before and barely registers with any of the weight Lasseter intends. A late musical montage which highlights the slower days of yesteryear comes off as trite rather than heartfelt and with none of the subtleties of all of the films that made Pixar's work great.
It may be the lack of depth, or likewise the slightly creepy metaphor of a technology as ecologically devastating as cars embodying the human quality of preservation that makes "Cars" an uncomfortable watch. Not so long ago, Sully in "Monsters Inc." was forced to acknowledge the horror he had caused so many children, while "Finding Nemo's" ocean dwelling characters were often reminded of the dangers of the world beyond the sea. "Cars" offers no such metaphorical analysis, not to mention a complete lack of nuance within its story arc. Lightening learns the value of slowing down after taking a leisurely drive with Sally (a city Porsche now living the quiet life voiced by Bonnie Hunt), while he also learns the tricks of racing from retired hotrod Doc Hudson (Paul Newman). Both scenes are stunning to look at, but never reach any emotional truth other than to suggest that all Lightening needed was a dash of country air to satiate his big city dreams. Pixar may still rule the roost of digitally animated films, but with so many films pecking at their heels, they'll certainly need to dig deep in order to stay on top. "Cars" may be passable, but for a studio revered for its excellence, mediocrity is a step backwards.


Video


Presented in the film's original theatrical ratio of 2.40:1 this widescreen transfer is presented in high-definition 1080p 24/fps and has been created using AVC MPEG-4 compression. I've anticipated Pixar film's releases on Blu-ray and the wait was worth it. This transfer is exactly the kind you want to use to show off your system, to begin with the image is razor sharp and displays not single shred of shortness to it. The image is phenomenally detailed; you really see the dedication and attention to detail the animation crew have put into this film from the large scale race track scenes with the masses of crowds down to the textures of the roads and the treads on the tires. Even the paint work of the cars looks brilliant and the transfers helps the film look realistic, the metal flake incorporated in Lighting's paintjob sparkles with all its glory and the rust on Mater is so realistic you fell like you can reach out and touch it. Colors are vibrant and rich and simply pop off the screen, with black levels deep and bold. The image is about as flawless as they come, and the fact that it was created from the original digital source ensure the print is 100% clean of any dirt or imperfections, this film gets my vote for the best High-definition transfer of the year.

Audio


Two audio tracks are included in English uncompressed PCM 5.1 surround presented at 6.9 Mbps as well as a standard English Dolby Digital 5.1 surround track. For the purposes of this review I chose to view the film with its PCM track and just as the image impresses the soundtrack thunders along in an equally impressive performance. The track is massively aggressive and active but also handles the ambient quieter moments really well. The race sequences literally pound through and envelope the viewer in the action with a mix that incorporates just about everything but the kitchen sink. The crowd frenzy, the roar of the engines, the impact is immediate and impressive. The film's score also adds further depth to the film and makes excellent use of the surround channels and displays precision separation. Dialogue is clean and distortion free as expected in this otherwise monumental soundtrack.

Optional subtitles are included in English for the hearing impaired.


Extras


Buena Vista Home Entertainment has released this film with a plethora of supplements that includes 2 audio commentaries, a series of 8 featurettes, an introduction, deleted scenes, an [epilogue, 3 short films, an interactive game plus some bonus trailers. Below is a closer look at these supplements.

The extras on this disc are formatted in a way in which you can watch them individually, in fact a lot of extras are featured on this disc stand-alone, however a portion are integrated in the 'Cine-Explore' feature which allows you to watch the film and navigate through a dashboard the features you want to explore which include a 2 audio commentaries, 7 featurettes, deleted scenes and an extensive art gallery which can only been viewed in this format and includes hundreds of reference photos, artwork, storyboards, character drawings, concept art for backgrounds, locations and design work among other things. The feature has an introduction by John Lasseter which runs for 1 minute 25 seconds and takes you though the navigation of the feature. Aside from the art all the other extras can also be accessed individually through the film's menus.

The first feature-length audio commentary is with main director/co-writer John Lasseter, in this track he enthusiastically takes us through the production of the film including his love for car racing and the inspiration for doing the film and wanting to capture the excitement of auto racing including the sounds and textures and shows how dedicated he is to getting very detail right. He recalls the races he's been to and also comments on the themes and tone of the film, on creating unique and memorable characters, as well as creative issues such as artistic choices, references to real-life people and places including the intensive research conducted for the film among other storytelling elements and animation issues and challenges that faced the production and the team that worked on the film. As usual Lasseter provides a riveting and informative track that keeps you interested and entertained and provides an opportunity to learn much more about the film and its process and development.

Next up is another excellent feature-length audio commentary that includes Pixar crew that worked on the film including story artist Dan Scanlon, story artist Steve Purcell, directing animator Bobby Podesta, directing animator Jim Murphy, supervising animator Scott Clark, supervising animator Doug Sweetland, production designer Bob Pauley, production designer William Cone, shading art director Tia W. Kratter, cinematographer Jeremy Lasky, supervising technical director Eben Ostby, character supervisor Tim Milliron and sets supervisor Sophie Vincelette. This track is just awesome and includes all you needed to know about the production which took 4 years to complete as each participant shares their role on the film and takes into the process of making an animated film on this scale and with more detail and challenges than any previous project. They provide a valuable insight into Pixar's methods as well as shed light on setting scenes, developing the character's looks and animating emotion from metal vehicles, adding personality to the characters, animating movement, rendering images, adding detail, shading and how light bounces off the car's finish and chrome which was one of the most difficult things to create and make look realistic, backgrounds and dust and particle elements are also covered among many other things including some technical talk.

A series of 5 deleted scenes follows and are presented as storyboard sequences since they were dropped before the animation phase. The scenes included are:

- "Top Down Truck Stop" which runs for 3 minutes 51 seconds, McQueen gets separated from Mack while at a truck stop.
- "Lost" which runs for 1 minute 44 seconds sees McQueen stumbling upon a car graveyard after he losses Mack and is trying to find his way back to the interstate highway.
- "Community Service" runs for 3 minutes 15 seconds, after refusing to race for Radiator Springs McQueen learns about what he has to do for community service.
- "Motorama Girls" runs for 1 minute 43 seconds, McQueen learns how Flo and Ramone first met.
- "Traffic School" which runs for 3 minutes 27 seconds and in order for lighting McQueen to be street legal he needs to pass traffic school.


7 "Documentary Shorts" featurettes are included:

- "Radiator Springs" runs for 5 minutes 25 seconds and takes a look at the research that went into creating the town of Radiator Springs as we get a rough history of the place and how the filmmaker's established the environment with lighting which sets the mood of the town and also looks at the buildings and how they made everything aged.
- "Character Design" runs for 6 minutes 6 seconds and looks at bringing cars to life and the level of detail applied to each character, the artistic elements and getting proportions and balance right as well as getting the cars to express emotion and also looks at the challenges of animating the surfaces.
- "Animation and Acting" runs for 5 minutes 16 seconds, since cars are not build like people, without arms or legs it was a challenge to make these cars seem realistic but also have a humanistic emotion that people can connect to. This looks at the challenges of making a car act for the film.
- "Real World Racing: Getting Geeky with the Details" runs for 5 minutes 30 seconds and takes a look at the detail the filmmaker's went to to make the races feel real and as if broadcast on television.
- "Hudson Hornet0" runs for 2 minutes 44 seconds and takes a closer look at the classic car and it's racing history as well as the character of Doc Hudson.
- "Graphics" runs for 3 minutes 34 seconds and takes a look at the many and different graphics, logos, products, signs and stickers created for the film for the sponsor logos on cars to creating fake brands.
- "Darrell Waltrip Museum Tour" runs for 7 minutes 13 seconds, here we get a tour of the museum and a look at some of the racing legend's favorite cars he's raced over the years.

In another section of the disc we have "Mater & The Ghostlight" a animated short film which runs for 7 minutes 8 seconds, in the sleepy town of Radiator Springs to alleviate his boredom Mater plays tricks and scares the residents, but he's taught a lesson by the town when they play a trick on him. This is a fun little short that will please fans of the film and also make the kids laugh.

Another Pixar short film is included entitled "One Man Band" which runs for 4 minutes 32 seconds and is about two one man band performers competing for a little girl's gold coin. This is another in a long line of amusing shorts created by Pixar.

A third short film is included entitled "Boundin' Cars" and runs for 46 seconds as Mater and Lighting watch a spoof film at the drive in, the film is a version of the short film "Boundin" only instead of featuring a lamb it features Mater and Lighting.

Also on the disc is an "Epilogue" sequence which runs for 4 minutes 17 seconds and seems like a omitted scene that follows the characters after the events in the film.

Next up is "Inspiration For Cars" a featurette that runs for 16 minutes 2 seconds, in this clip Lassater and crew take a road trip for research as we meet the interesting and colorful folks along the historic route 66 highway Lassater shares stories from his childhood and what ultimately inspired the film's story and its characters.

"Car Finder" is a BD-Java interactive game which is a bit of fun, you must identify a number of different cars as they appear on screen, for each car you identify you can see information about the car.

Rounding out the extras are a collection of bonus trailers for:

- "Enchanted" which runs for 2 minutes 32 seconds.
- "Wall-E" which runs for 1 minute 37 seconds.
- "Meet the Robinsons" which runs for 2 minutes 28 seconds.
- "Ratatouille" which runs for 2 minutes 30 seconds.


Packaging


This Blu-ray is packaged in a standard case housed in a cardboard slip-cover.

Overall


This film has been reviewed by Shahir Daud. The disc specifications and extras have been reviewed by Noor Razzak.
| | | | | |
| --- | --- | --- | --- | --- |
| The Film: C+ | Video: A+ | Audio: A+ | Extras: A+ | Overall: B+ |