The Film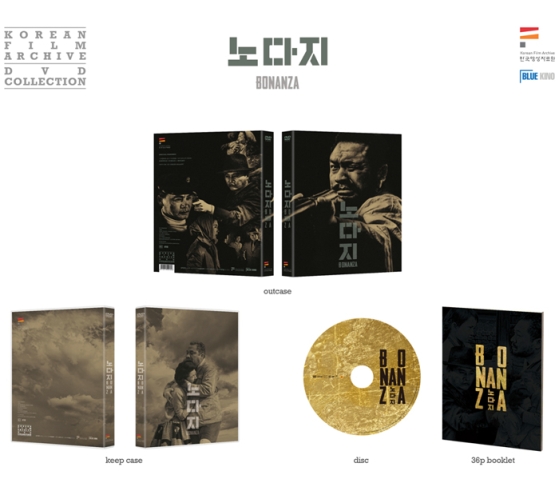 "A Bonanza" (1961)

After 6 months at sea, Dong-il (played by Hwang Hae) returns to his hometown to meet his mother. Things have not been easy for them. 20 years ago the father of the family left everything behind to become a prospector to dig for gold in the mountains, not to return. The mother and son struggled emotionally and financially during the years, and Dong-il's 6 months at sea was the longest time he had ever held a single job. While walking out, Dong-il bumps into a raggedy old man, Wun-chil (played by Kim Seung-ho), which almost turns into a fight. Wun-chil is on the way to a jeweler, there to assess his gold. The head jeweler is Mr. Byun who recognizes Wun-chil, as the man who left town years ago to search for gold, which he brings 15 bags worth millions.

Wun-chil becomes a millionaire, is able to stay at the expensive high class Hotel Busan and is able to clean himself up handsomely with the help of Byun and also with the local media interviewing and reporting on the new celebrity. Not only the local media, but a former girlfriend, former boss, and many people from his past are coming to see him because of his money and status, but the one person he wants to meet is the son of his prospecting partner Dal-su (played by Heo Jang-kang) who passed away before he could return with the wealth for his family. Little does he know that Dal-su's son is Dong-il, the young sailor he bumped into when he first arrived in town. Wun-chil is also concerned about what happened to his daughter Yeong-ok (played by Um Aing-ran), who he has no idea what happened to her after abandoning her in very cruel circumstances. What happened to Wun-chil and his partner in the mountains for the 20 years? What do the children left behind think of their fathers for abandoning them? And will money and wealth bring true happiness?

"A Bonanza" is a hard plot to sum up because it is a non-linear story, jumping from the linear structured present time, then back to 20 years prior, and various points in between. Not only that but during the story there are 3 main characters to follow: The prospector turned millionaire Wun-chil, The young sailor Dong-il, and the thief and gang member Yeong-ok. The story interestingly crosses between characters in a structure similarly used by director Richard Linklater in "Slacker" in which one character interacts or passes another character and the camera suddenly follows the new character instead. Although it should be mentioned that in "Slacker" this happens throughout the course of the entire film rather than the few times it happens in "A Bonanza". The gangster subplot, the con artists, the use of light and shadows in the night scenes are reminiscent of American films noir of the 40's and 50's and also the American gangster films of the 1930's, the scene of Dong-il's beating is one particular standout. And for the mountainside shootout, it should be noted that since there wasn't a "special effects department" in Korean cinema at the time, those weren't squibs. Those were actually real bullets fired. It's a miracle no one was killed during production! It is pretty easy to put the puzzle pieces together of who is who and who they are related to before things get rightfully revealed, but this is not exactly a mystery film and doesn't disrupt the flow of the narrative, but the film is more about the past and the future: what happened 20 years ago to now, and what will happen to these characters from now on. The ending (which I will not spoil) is also left with a sense of "Now what is going to happen to them?" like it does with films like "The Graduate" (1967) and "A History of Violence" (2005), both films having a concrete ending, but with everything that has led up to the end, you know there can never be a "true" happy ending.

There are a few extremely disturbing portions in "A Bonanza", like the child witnessing the mother being hit by a train (although not done graphically but through a series of edits), or when the child is dragged on the rocky mountainside that actually makes you question about the child actor's safety more than anything else going on. The emotional distress that Wun-chil goes through in how he decides to part with his daughter was absolutely one of the cruelest decisions made by a character in any film I have ever seen. It makes the character so despicable that it almost took me out of the movie entirely. Following the character of Wun-chil through the rest of the film made it a terrible gutwrenching feeling of hate, and if this was the intention of the writer, it was way too far. There was no way this character could redeem himself by the end of the film.

Categorizing the film is a little difficult as it is one that melds a few different genres. Of course there is dramatic family conflict, a rags-to-riches story, a gangster film, a gun and fistfight action film, film noir, and a non-linear puzzle film. Director Chung Chang-wha was a pioneer in action scenes in Korean cinema, and in "A Bonanza" the barfight scenes, the gangster fistfights, and the gun battle on the mountainside are some great early examples of his action choreography. Chung has mentioned that after watching George Stevens' classic western "Shane", he saw for the first time that fight scenes had a technique to the cutting and choreography that struck him deeply and so he studied the film by watching it over and over again. Besides "A Bonanza", Chung made impressive action films such as the historical swordsplay film "A Swordsman in the Twilight" (1967) and the war film "The Sunset at Sareubin River" (1965), which used trampoline stuntwork for the first time in a Korean film. With the successes of his action films as well as his melodramas, he was recruited by Hong Kong's Shaw Brothers studios as a contract director, the first Korean director, to make films in Hong Kong. After directing a few martial arts films and making a name for himself in Hong Kong cinema, the biggest break came with the 1972 film "Five Fingers of Death AKA King Boxer", which was distributed a year later by Warner Brothers in America along with "Enter the Dragon" in 1973 causing a big one-two-punch (literally), introducing Hong Kong action to mainstream America. "King Boxer" was a box office topper in America, huge internationally, and cemented Chung as one of the most in-demand directors in Hong Kong. He became one of the founding members of Golden Harvest Film Productions with producer Raymond Chow, continuing directing and producing in Hong Kong until returning to South Korea in 1975 to found Hwapung Enterprises Company to advance Korean cinema. Unfortunately with setbacks due to censorship and financial issues under President Park Chung-hee's strict government rule, he was not able to make as many Korean films as he could, so he had to go back and forth from South Korea to Hong Kong, directing and producing in both places. Chung quit directing in 1977 with his last film being "Broken Oath" for Golden Harvest and retired from the film world after producing Kim Soo-yong's 1986 film "Jung-gwang's Nonsense".

Chung's successes were largely overlooked for many years, but with retrospectives held in the 21st century at the Hong Kong Film Archive, the Busan Film Festival, "King Boxer" being screened at Cannes Film Classics, and with Quentin Tarantino highly praising "King Boxer", it brought a new audience to his work.

Kim Seung-ho who played Wun-chil debuted in film in 1946 in the influential post-war film "Hurrah for Freedom" which was the film that inspired Chung Chang-wha to become a director. Brash, gruff, and utterly unlikeable as the character of Wun-chil, he is quite a sight on screen. He also starred in films such as "Forever With You" (1958), "The Money" (1958), "Emperor Gojong and An Jung-geun, the Patriot" (1959), "Dongshimcho" (1959), "Bloodline" (1963), and "The General's Mustache" (1968). He died in 1969 at the age of 51. Hwang Hae portrayed Dong-il who was supposed to a young man in his early 20s, but was actually 41 at the time of filming, which I honestly could not guess. He certainly has a young no-direction with anger at heart attitude yet with a sense of care during scenes with his mother and certain scenes with Yeong-ok. Hwang also performed in films such as "Rhee Syngman and the Independence Movement" (1959) (which also starred Kim Seung-ho), "The Five Marines" (1961) (also with Kim Seung-ho), "The Daughters of Kim's Pharmacy" (1963), and portraying a man years older than his actual age in "The Old Potter" (1969). Um Aing-ran played the tough and emotionally traumatized Yeong-ok, a performance which seems like a precursor to Japanese 1970's bad-girl films. She also starred in films such as "Housemaid" (1960), "Drifting Island" (1960), "The Daughters of Kim's Pharmacy" (1963), "Bloodline" (1963) (with Kim Seung-ho) "The Barefooted Young" (1964), and "The Horse Year Bride" (1965).

Note: This is a region 0 NTSC DVD, playable on any DVD player worldwide.

Video


The Korean Film Archive presents the film in the original theatrical 1.33:1 aspect ratio in non-anamorphic NTSC. The black and white picture is taken from a film source, most likely the dupe negative and the theatrical print, as some reels look very good considering the age and source, and some don't. The first reel has some color fluctuation between grey and a greenish hue, but fortunately doesn't last very long. The rest of the film is in true black and white. Some reels have cigarette burn marks evidencing it to be sourced from a theatrical print, and those reels look significantly more damaged than others, consisting of the usual small scratches and dust, and soft picture quality. Though overall, the film is in a very watchable quality, with only a few instances of major damage marks. The transfer is a good one from Korean Archive, though it doesn't hold a candle to "Housemaid", and nowhere near the disastrous transfer of "Homebound".


.i


Audio


Korean Dolby Digital 2.0 dual mono is the sole audio track available. Dialogue with all Korean movies at the time were post-synchronized, and there are instances of mouth movements, especially of the children not synching up well. But as for audio quality, it is serviceably good. Some of the dialogue sounds hissy though sound levels are fine in the mono track. No major trouble with crackling or buzzing sounds common in some other Korea n Film Archive film soundtracks.

There are optional English, Japanese, and Korean subtitles for the main feature. All are in a white font, easy to read, and with no grammar or spelling errors to speak of for the English track. The translation is excellent.

Extras


"Director Chung Chang-wha: The Godfather of Korean Action Films" documentary (49:48)
A documentary produced by the Korean Film Archive (undated, but most likely the early 2000s) with interviews with various people Chung worked with, people influence by Chung, and also with director Chung Chang-wha talking about his life, influences, and his career. It also includes film clips of "A Bonanza", "King Boxer" and others previously mentioned. It's very fortunate to have the director still alive (as of this writing) and willing to talk about his experiences.
In 1.33:1, in Korean Dolby Digital 2.0 dual mono (with portions in English) with optional English and Korean subtitles.

"Image Gallery"
A lengthy gallery of stills from the filming

32 page book
As with all Korean Film Archive sets, the informative booklet is half in Korean and half in English with film information, director biography, and an essay. The essay included is "Chung Chang-wha: Pioneer Director of Action Films" by Professor Park Sung-young which is divided into 2 parts: the first on the director and the second on the film "A Bonanza".

Although director Chung is still alive, it's a shame there wasn't an audio commentary done for the film. If not him, from a scholar at least.

Packaging


The DVD is packaged in a clear amaray case with doublesided artwork, housed in a slipcase which holds the case and the 32-page book.

Overall


Despite an interesting narrative structure and a melding of genres, the despicable nature of the main character's treatment of his child in the middle of the film almost kills "A Bonanza". Although it is still very interesting to see director Chung's older Korean work before his more well known work in Hong Kong. The DVD presents the film in a good transfer and adequate audio with informative extras to appreciate the film and the director. Very glad Korean Film Archive are preserving these neglected and lost films for future generations.
| | | | | |
| --- | --- | --- | --- | --- |
| The Film: B- | Video: B | Audio: B- | Extras: B- | Overall: B- |