Golden Cane Warrior (The) AKA Pendekar Tongkat Emas [Blu-ray]
Blu-ray A - America - Well Go USA
Review written by and copyright: Eric Cotenas (12th December 2015).
The Film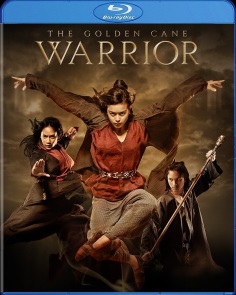 As Master of the Golden Cane House, Cempaka (Eat Pray Love's Christine Hakim) has retreated to the countryside to train her four students, three of which – Biru (Reza Rahadian), Gerhana (Killers's Tara Basro), and Dara (Eva Celia Latjuba) – are the children of vanquished enemies while the fourth and youngest Angin (Aria Kusumah) was an abandoned orphan who she took on to pay penance for a regret from her youth. Sensing that her death is imminent, Cempaka shocks her students by bequeathing the Golden Cane to the Dara who has trained the shortest. Before she passes the cane to Dara, Cempaka must teach her the Golden Cane move which will allow her to fully utilize its power. Accompanied by Angin to see to her medicinal remedies, Cempaka takes Dara into the woods but they are followed by Biru and Gerhana who reveal that they have been poisoning their master so that Biru may claim the cane as its rightful heir. Although weakened, Cempaka is able to fend her two elder students off while Angin and Dara make their escape before she is killed. Dara and Angin are rescued by Elang (Nicholas Saputra), the nephew of the village elder who offers them shelter among his nomadic people. Meanwhile, Biru and Gerhana have joined the Red Wing House and sought help to hunt down Angin and Dara who they have accused of Cempaka's murder. When the Red Wing group assail Elang's village in search of Dara and Angin, Angin goes with them willingly while Dara flees for the safety of the people. Angin refuses to reveal the whereabouts of the Golden Cane under torture but Dara agrees to give it to Biru in exchange for Angin; unfortunately, Biru and Gerhana cannot let them live. Angin is killed saving Dara who goes off in search of Elang so that he may lead her to the man Cempaka told her about who could teach her the Golden Cane maneuver if she died before teaching it so that she may take revenge for Cempaka and Angin. Biru has managed to impress the master with his skill and supposed sense of honor and is appointed leader of the house when he dies. Although Biru is able to use his fighting skills to intimidate the other houses into submission, he wields the cane without knowing how to use it but is unchallenged until Dara and Elang – who has broken his vow not to fight – enter the ring for a battle to the death.

One of Indonesia's most expensive films, The Golden Cane Warrior boasts gorgeous production design, costumes, hundreds of extras, impressive sprawling vistas, and a Czech Symphony Orchestra-conducted score (Erwin Gutawa), but the end result is overlong, unoriginal, and simply dull. The entire film is as po-faced as Rahadian's thoroughly bland Biru with the deaths of major characters having no resonance and the seemingly advanced fighting skills of Kusumah's Angin not exploited for comic relief as he takes down fighters twice his size. The film drags throughout its middle with Elang repeatedly stressing to Dara that there is more to mastering the Golden Cane than fighting skill (although she does not have much of that since Angin knocks her out on more than one occasion to protect her). When Dara finally asks to be trained, the specifics are glossed over in a dissolve-heavy Karate Kid-esque montage and any other eighties sports drama (minus the rock music). The fight choreography is impressive but the camera coverage and editing of it fail to maintain the manic excitement (The Raid this is not). Although nice to look at, The Golden Cane Warrior is a best just an exercise in stylistic techniques for the genre that will hopefully be applied to something similarly epic but more compelling.

Video


This Red Epic Dragon-lensed feature is well-served by Well Go USA's single layer 1080p24 MPEG-4 AVC encode that exploits the textures of the production and costume design as well as the natural settings. The CGI augmentation looks a bit softer, but that may because the camera coverage of the fight scenes is far less impressive than the actual choreography.

Audio


The DTS-HD Master Audio 5.1 Indonesian track is strongly directional during the fight scenes while the music has a good spread over the surrounds during the many passages without dialogue. Occasional grammatical errors suggest the English subtitles were not proofed and a direct transcription of those perhaps provided by the Indonesian licensing company.

Extras


The sole extra is a trailer (1:54) for the film, although previews for other titles are presented at start-up and available from the main menu.

Overall
| | | | | |
| --- | --- | --- | --- | --- |
| The Film: C+ | Video: A | Audio: A | Extras: F | Overall: C+ |

---
DVD Compare is a participant in the Amazon Services LLC Associates Program and the Amazon Europe S.a.r.l. Associates Programme, an affiliate advertising program designed to provide a means for sites to earn advertising fees by advertising and linking to amazon.co.uk, amazon.com, amazon.ca, amazon.fr, and amazon.de.