The Film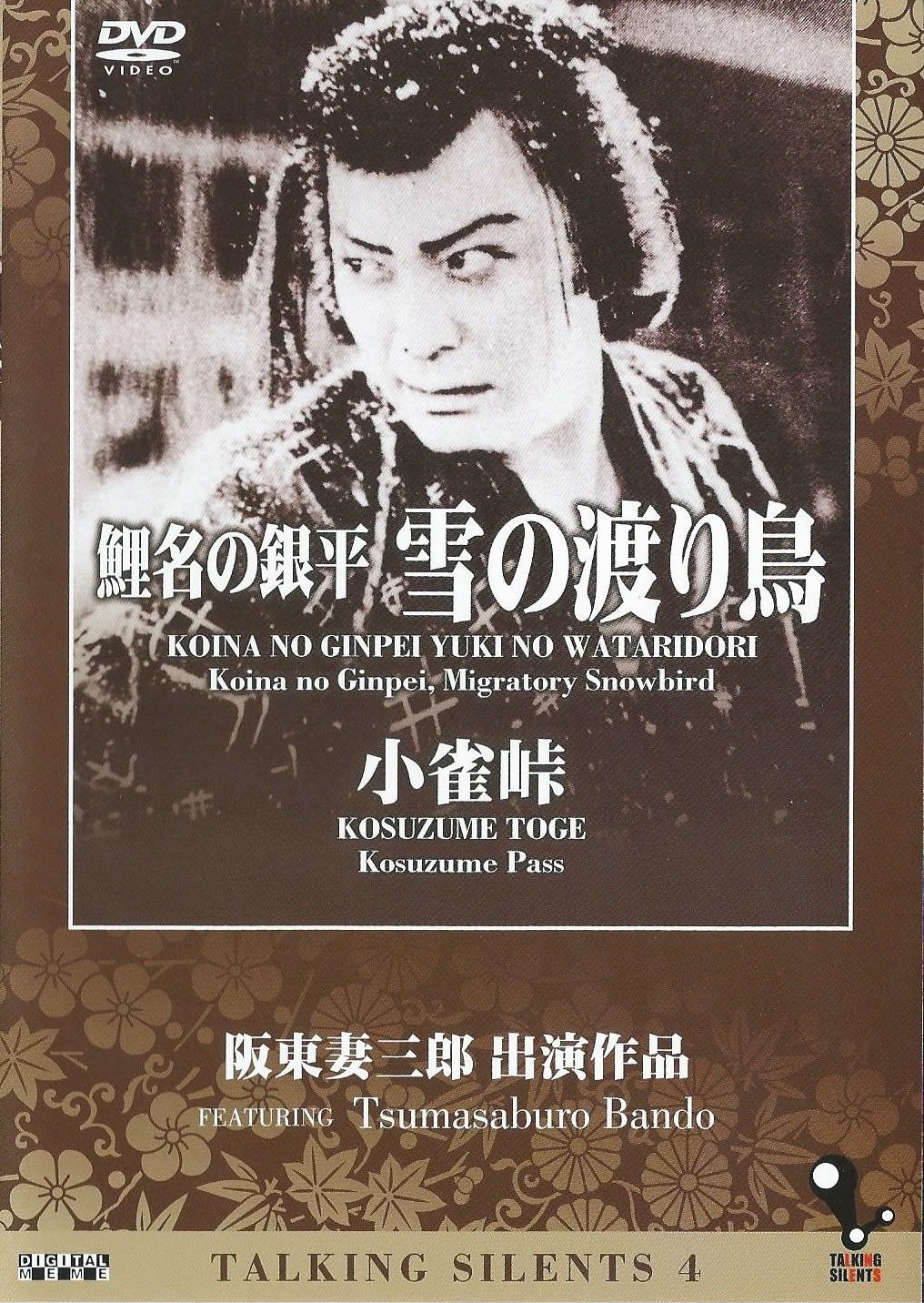 "Talking Silents 4" features two films starring actor Tsumasaburo Bando: "Koina no Ginpei: Migratory Songbird" (1931) and "Kosuzume Pass" (1923)

"Koina no Ginpei: Migratory Songbird" AKA "Koina no Ginpei: Yuki no wataridori" (1931) (58:18)

Taking place in 1838 in the port town of Shimoda in which the Onabe clan were the leaders of the town, one of the gang members named Koina no Ginpei (played by Tsumasaburo Bando) was smitten by Oichi (played by Reiko Mochizuki), the most beautiful girl in town. Oichi lives with her father Gohei (played by Saburo Kojima) who is also a member of the Onabe clan, at their tea house. Unfortunately, Oichi already had plans to marry Unokichi (played by Kikuya Okada), another member of the Onabe clan, a revelation that makes Ginpei incredibly jealous. On the eve of a large battle between the Onabe clan and the rival Ushimatsu clan, Unokichi received a blessing and permission from Oichi's father for Oichi's hand in marriage, as it is possible with the upcoming battle that they may not survive the ordeal, being outnumbered. Knowing Ginpei's jealousy, Unokichi is watching his back, knowing that Ginpei may try to strike him down during battle. On the night of the big battle between the clans, Ginpei finds Unokichi and challenges him to a duel. Will Ginpei be able to defeat his rival to capture the heart of Oichi or will Unokichi take him down?

"Koina no Ginpei: Migratory Songbird" is a leading-man film, with the character of Koina no Ginpei and his transition from carefree gang member to a man of dignity. An excellent star vehicle that can only be pulled off by an actor of caliber, and actor Tsumasaburo Bando pulls it off beautifully. "Koina no Ginpei: Migratory Snowbird" was released in 1931 when Bando was at the peak of his seemingly unstoppable career, breaking big in the mid 1920's with the films "Backward Flow" and "Serpent", enough to build his own production company Bantsuma Productions. By 1931 he had already starred in over 100 films and was a lead in over half. His role as the title character "Koina no Ginpei" gave what fans loved of his work: intense swordplay action. Heavily inspired by the Hollywood action films of Douglas Fairbanks, Bando changed the Jidaigeki (Japanese period film) genre with swordplay scenes of fastpaced choreography and skills, rather than the fake looking swishing and swinging of older films and stage productions. The snowy finale is quite a memorable battle. But it wasn't just the action that made Bando a star, as it was his acting intensity, as demonstrated by his performance as "Koina no Ginpei". A happy-go-lucky 31 year old man in love is pushed toward jealousy, frustration and vengeance, and eventually to heroic deeds and redemption. In addition, being a silent film it was all performed through body language and facial reactions.

As exciting as the film is and an engaging story it is with the lead actor, the faults come with the secondary players. None of the other actors particularly stand out as memorable or unique. Ginpei's rival Unokichi who was played by Kikuya Okada does not leave much to be remembered, and neither is the love interest Oichi played by Reiko Mochizuki, who has a conflicted heart but really does not much to reflect it. Essentially the entire film rests on Bando's performance and if one is encouraged see an exemplary work of Bando's filmwork, this is the one to see. He steals the entire show as actor (and producer which may explain why), but regardless, it is a great film with bold action and a stellar performance by Bando.

"Kosuzume Pass" AKA "Kosuzume Toge" (1923) (39:07)

In Kosuzume Pass lives Tokutaro (played by Koebi Ichikawa), an orphaned 10 year old boy who sells sweets to make ends meet. While walking in the forest, he encounters a group of roadside thieves who are hiding from the law. Tokutaro diverts the law enforcement men and helps the thieves, and in return he asks the men to think about changing their ways to become good people. The leader of the thieves, Heiji (played by Hataya Ichikawa) and thief Santa (played by Tamataro Ichikawa) walk away, but spare the boy's belongings. The third thief Senkichi (played by Shinpei Takagi) who was separated after escaping from the lawmen is found injured by Tokutaro, who flags down 2 men with a palanquin to help the injured man. Later when Heiji and Santa encounter a samurai and a wife, they try to use their sword skills to steal from the unsuspecting couple. Young Tokutaro and Senkichi encounter the scuffle between the thieves and the victims, in which Tokutaro begs the thieves to stop their wrongdoing and Senkichi confesses that the boy has made him change his ways. The power of the young boy's stubborn and sincere words and actions convinces Santa to reconsider his life, but the leader Heiji is still conflicted. Will Tokutaro be able to change the lead thief's ways? And will Tokutaro be able to find what he is truly looking for?

Unfortunately this is not the complete film of "Kosuzume Toge" and is the shortened 16mm version, missing about 20 minutes of footage. The exposition scene of Tokutaro's mother Omitsu (played by Yoshiko Tanaka) and Sansaemon (played by Ichitaro Kataoka) seemed very short and the healing of the injured Senkichi seemed immediate, for examples. Fortunately, the 16mm version of the film still has a complete story with a beginning, middle, and end. The 10 year old Tokutaro is the star of the film, played by then 11 year old Koebi Ichikawa. Born Yoshikichi Inoue, he started acting in films from 10 years old, starring in over 70 films by the time he was 20, acting under the names Koebi Ichikawa, Kiyoshi Inoue, Kiyoshi Makino in his youth, with the 1931 film "Mikazuki Jirokichi" being the last film he made for Makino Film Productions as the age of 20. He briefly returned to the screen in director Kenji Mizoguchi's 1939 film "The Story of the Last Chrysanthemums" in a small part under the name "Kiyoshi Harumoto". Postwar, he became a contract player at Daiei Studios under yet another name "Fujio Harumoto", featured in films such as "Tales of the Taira Clan" (1955) and "Street of Shame" (1956) for director Kenji Mizoguchi, "Punishment Room" (1956), "The Hole" (1957) for director Kon Ichikawa, and in the Zatoichi films "The Tale of Zatoichi Continues" (1962, the second film) and "Zatoichi's Revenge" (1965, the tenth film). Retiring from film in 1966, he continued on stage productions for a lengthy time. He died in 2001 at the age of 88 from cancer.

In terms of a historical landmark, it is important to note that "Kosuzume Pass" is the earliest surviving film featuring actor Tsumasaburo Bando. Made prior to Bando's breakout roles in "Backward Flow" (1924) and "Serpent" (1925), Bando made sure to leave a mark on the film in the very limited role of Momonosuke who appears more than halfway into the film. As mentioned the Matsuda Film archive only has the short version, but the longer 60 minute version in fact survives in both 16mm and 35mm prints at the National Film Center in Tokyo.

Note: The DVD is region 0 NTSC, playable in any DVD player worldwide.

Video


Digital Meme presents both films in their original non-anamorphic 1.33:1 theatrical ratio in the NTSC standard. Both prints were sourced from theatrical film prints stored at the Matsuda Film Productions archive, the largest private film archive preserving silent films in Japan. Both films are preceded by the Matsuda Film Productions logo and text information about Matsuda and their commitment to preserving silent films for postwar audiences.

The opening credits actually look great, but the 35mm print of "Koina no Ginpei" is heavily damaged. There are some scenes which are hard to make out faces or backgrounds, especially during the scene of Unokichi in the tea house or the opening scenes at the seaside. Tramlines are frequent running up and down the screen and detail is faded. The print has been digitally remastered for larger damage, but don't expect it to look beautiful, as the source material is to blame. Of all the films I have seen in the Digital Meme "Talking Silents" catalogue, the picture quality of "Koina no Ginpei" ranks the weakest.

On the other hand the print of "Kosuzume Pass" actually looks better, even though it is coming from a 16mm print. There are the usual scratches and specs, but nothing substantially rough.

Audio


There are 2 soundtrack options for "Koina no Ginpei":
Japanese Dolby Digital 2.0 dual mono (Narration by Shunsui Matsuda)
Japanese Dolby Digital 2.0 dual mono (Narration by Midori Sawato)

And 1 soundtrack for "Kosuzume Pass":
Japanese Dolby Digital 2.0 dual mono (Narration by Midori Sawato)

During the silent film era in the west it was common for theaters to have music accompaniment via organ or piano. In Japan it was common to have narrators next to the movie screen to do the voices, narrate the story, and read the intertitles out loud. These people were called Benshi. Music accompaniment was also used, making a unique way of viewing movies unusual to the west. People would not only flock to the theater to see their favorite movie stars on screen, but to hear their favorite benshi do the storytelling.

The Shunsui Matsuda benshi narration track is a vintage recording, while the Midori Sawato recording is newly created for the DVD. The Matsui track is weaker in terms of fidelity while the Sawato narration and music sounds pristine.

Both films have multiple subtitle tracks for the films:
Optional English and Japanese subtitles for the narration by Shunsui Matsuda.
Optional Chinese, English, Japanese, Korean subtitles for the narration by Midori Sawato.

Interestingly there are no Japanese intertitles for "Koina no Ginpei". Whether this was an artistic choice or if the intertitles were removed from the archived print, I am not certain, but it is known that the print held at the National Film Center is more than 10 minutes longer. On the other hand "Kosuzume Pass" has Japanese intertitles and sometimes intertitles and text superimposed over the images, a rarity in silents.

Extras


"Tsumasaburo Bando Revealed: Commentary by film historian Tadao Sato" featurette (17:07)
Sato gives a brief introduction to Bando's early life as a Kabuki actor and his limited parts in the early days in his film career. Interestingly he mentions that in the minor roles given to Bando, he actually tried not to stand out, saving his "face" for more significant leading roles. Sato also gives insight on the Makino Film Productions motto of "Script first, Lighting second, Actors third", which was quite the opposite of other film companies who wanted to manufacture stars while plot or story were secondary.
1.33:1, in Japanese with optional Chinese, English, and Korean subtitles.

"A Word From the Benshi - Midori Sawato" featurette (2:52)
Sawato gives insights of how she voices Ginpei as a "real man" in personality, and about Bando's very minor but memorable role in "Kosuzume Pass"
1.33:1, in Japanese with optional English subtitles.

Note that the above featurettes are titled the same as on the "Talking Silents 3", the content is in fact different. Again, the content is short, but considering that there are no cast and crew members still alive, we should be glad that we have interviews with people knowledgeable about the films.

Packaging


Packaged in a single-disc Amaray keep case, the packaging is bilingual in English and Japanese. Inside is a leaflet with cast & crew listings and biographies on Bando and the benshi narrators.

Overall


I would arguably put "Talking Silents 4" above the "Talking Silents 3" set, with a strong performance by Bando in "Koina no Ginpei" plus the earliest surviving film featuring Bando, "Kosuzume Pass" in one set. Yes, the "Talking Silents 3" set features the 2 films that made him a superstar, but this set features a great post-stardom film and a pre-stardom film to compare. Digital Meme has put together another excellent DVD. The DVD can be purchased on Amazon Japan or through Digital Meme's website directly.
| | | | | |
| --- | --- | --- | --- | --- |
| The Film: B | Video: B+ | Audio: A | Extras: C | Overall: B |