Mr. Holmes
R1 - America - Lions Gate Home Entertainment
Review written by and copyright: Eric Cotenas (7th December 2015).
The Film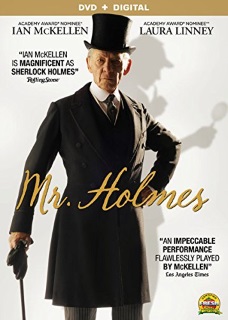 Mr. Holmes could be seen as sort of a follow-up to director Bill Condon's and actor Ian McKellen's follow-up to the Gods and Monsters in which the actor portrayed director James Whale in a semi-fictionalized account of his last days. Based on Mitch Cullin's novel "A Slight Trick of the Mind", Mr. Holmes, Condon's film finds Sir Arthur Conan Doyle's great detective nearing ninety and in retirement tending beehives in the post-war English countryside. Having just returned from a trip to Japan where he has obtained with the help of contact Tamiki Umezaki (The Twilight Samurai's Hiroyuki Sanada) the rare Prickly Ash root known for its restorative properties imperative to helping him finish an important project. He returns home to discover that his housekeeper's son Roger (Milo Parker) has been sneaking into his study and discovered that Holmes' project is the penning of the detective's last case in his own words. At first, it seems like an vainglorious task as Holmes recalls – supposedly under the influence of tea made from the Prickly Ash – never having read any of Watson's accounts of his cases until after his friend's death. Although he concedes the many liberties Watson took in portraying him (with no nod to Sidney Paget's highly influential illustrations in The Strand) and the details of his cases – those Holmes meets in both the present and his flashbacks are constantly commenting on the absence of his signature deerstalker cap – he is disturbed by the ending of "The Lady in Grey" – which he also sees dramatized in a movie – which he knows is untrue but cannot remember what really happened. Using Roger as a sounding board while teaching him how to tend bees, Holmes recalls sometime after Watson married and moved out of their shared lodgings (actually across the street from 221b Baker Street to discourage fans) being approached by the beleaguered Thomas Kelmott (Atonement's Patrick Kennedy) about the strange behavior of his wife Ann (The Bank Job's Hattie Morahan). Inconsolable after losing their first child in its third month of pregnancy and the second in its fourth, and discouraged from ever trying again for the sake of her health, Ann has mourned her children "as though each of them lost had been a real child as opposed to…" even trying to convince her husband to have a pair of headstones carved and placed in a cemetery plot. Kelmott fosters her love of music into taking lessons on the glass armonica, the prized possession of his father who had played the instrument until the day he died, and arranges for a month's worth of lessons under the tutelage of the mysterious Madame Schirmer (Wombling Free's Frances de la Tour). Ann took to the instrument immediately, requesting an increase from weekly lessons to three times a week, and then every day. When Kelmott overhears his wife talking speaking the intended names of their children while playing the instrument (once used in the black arts to call the dead), he surmises that Madame Schirmer is preying on Ann's "weak frame of mind" for profit. He forbids her from taking further lessons but received receipts for subsequent lessons that Ann denies attending. Although he has disallowed her to withdraw any further money from the bank, Kelmott believes that his wife is continuing to see Madame Schirmer, but to what end without financial restitution? Although Ann manages to evade her husband, Holmes is able to surveil her and finds that murder is afoot. Watson's version of the case and the film make Schirmer out to be the murderer, but Holmes is desperate to find out the truth because he thinks the outcome of the case was the reason he retired but he still cannot remember whether he solved the case or did something wrong. Meanwhile, Roger's mother (Mystic River's Laura Linney) has grown perturbed at the friendship between the two given the loss of the boy's father in the war and Holmes' own failing health, as well as the feeling that she is losing her son (particularly to someone who gives the bright child hope of rising above his station).


One would have hoped that the woman in Holmes' life to make such a devastating impact would have been "The Woman" Irene Adler from Doyle's first Holmes short story "A Scandal in Bohemia" – although many authors and filmmakers have tried to make more of the enigmatic character – but the mundane aspects of the case (which may have disappointed readers of the source novel and viewers of the film with expectations not just borne out of the overblown Guy Ritchie/Robert Downey Jr. series but a century or more of adaptations and pastiches clever and not so) as Holmes first sees them are the detective's flaw rather than the plots. Where the story disappoints is in the contrived twist for the admittedly tear-jerking ending to "redeem" a character that does not really require it while providing an optimistic ending. McKellan is mesmerizing (kudos too to the make-up artists who subtly aged the actor by thirty years), striking even as he embodies both the arrogant Holmes and a man who can still be surprised by the complexities of human emotions (when Roger tries to excuse his outburst at his mother as being in the heat of the moment, Holmes recognizes and is shocked by the cruelty of the boy's remarks and his intent to hurt her). Technical credits are uniformly excellent, including the photography of Tobias Schliessler (who shot Condon's second feature Candyman: Farewell to the Flesh) that straddles the fine line between theatrical feature and BBC period telefilm, longtime editor Virginia Katz (Condon's debut Sister, Sister) who moves efficiently between past and present without needlessly showy transitions, as well as the sort of Carter Burwell underscore that underlines emotions without stressing its own importance. Although it is rather late in coming - and probably would have made a bigger splash had it followed more closely on the heels of Gods and Monsters - Mr. Holmes satisfies more as a showcase for McKellan's range than a Sherlock Holmes adventure.

Video


LionsGate's dual-layer encode of this Arri Alexa-lensed production is typically top notch (and probably looks even more ravishing on their Blu-ray edition). The color schemes are not particularly bold, but there is beauty in the deep shadows, candlelit warm skintones, and contrasts of the mossy green countryside and the overcast skies.

Audio


The Dolby Digital 5.1 track of this dialogue-heavy film is busier in terms of directional and surround effects during the flashback sequences with bees buzzing and other country sounds underneath the conversation and scoring during the present day sequences. Optional English and English SDH subtitles are available along with Spanish translation. English Closed Captioning is also included.

Extras


The sole extras are the film's theatrical trailer (2:25) and two entirely superfluous EPK featurettes - "Holmes: The Icon" (2:21) and "Holmes: The Story" (2:49) - that seem even skimpier next to Universal's effort on Gods and Monsters. There are no additional extras exclusive to the Blu-ray edition.

Overall


Although it is rather late in coming - and probably would have made a bigger splash had it followed more closely on the heels of Gods and Monsters - Mr. Holmes satisfies more as a showcase for McKellan's range than a Sherlock Holmes adventure.


---
DVD Compare is a participant in the Amazon Services LLC Associates Program and the Amazon Europe S.a.r.l. Associates Programme, an affiliate advertising program designed to provide a means for sites to earn advertising fees by advertising and linking to amazon.co.uk, amazon.com, amazon.ca, amazon.fr, and amazon.de.