Ascension
R1 - America - Lions Gate Home Entertainment
Review written by and copyright: Abraham Phillips (31st October 2015).
The Show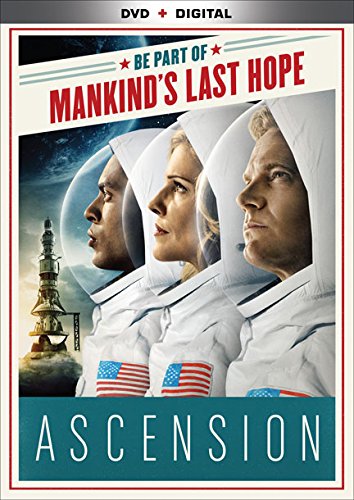 "Ascension" is a 232 minute miniseries which originally ran on the SyFy Channel. This 3-part series mixes science fiction with a murder mystery. The plot is that in 1963 the U.S. government secretly put into space a group of 600 hundred men, women and children. This voyage was to reach the vast recesses of space and populate another world. The starship and its mission was named Ascension. The murder of a young woman then causes the other participants in this journey to question the mission.

This series has two story lines. One: of the starship floating in space, and the people whom are not changed by time (despite it being a century long mission). Two: back on Earth in present day. The viewer is given two viewpoints as the story moves back and forth between story lines. This back and forth can at times be very confusing and messes with your mind on just what is happening. The convoluted nature of the storytelling is one of the weak points of this miniseries despite splitting timelines between 1960's setting and present day, which on surface seems like a unique point of difference but in reality is nothing we haven't seen before with the usual flashback-style storytelling.

Despite this, the cast is quite wonderful despite the lacklustre structure. Tricia Helfer who is best known for the reboot of "Battlestar Galactica" (2004-2009), she stars as Viondra Denniger. Gil Bellows, the always awesome Brian Van Holt - who I absolutely loved in the TV series "The Bridge" (2013-2014). Van Holt plays the character of Captain William Denninger in a rather engaging manner. The series also stars Andrea Roth who also brings a solid performance. The whole miniseries provides room for the cast to play and create there characters in a believable fashion that lingers with you.

Something that has to be mentioned is the amazing sets and special effects, costumes and 1960ís period alongside present technology, and futuristic imaginative design. The show gives great twists and turns as it moves along. At first I thought I would not like it, and after the first episode it basically sealed that deal, but thankfully because I am reviewing this, I went along and decided to pay attention at its unraveling storyline. I am thankful I gave this a chance. It started slow, confusing, but that slowness led to a great conclusion of twists and turns.

There was a total of 5 different directors and 3 different writers. All the directors and writers created a uniquely styled science fiction piece of entertainment.

Video


Presented in 1.78:1 anamorphic widescreen, the video quality displays vibrant colors, decent sharpness and no real noticeable flaws for a standard definition DVD release. It's a wonderful transfer but really it belongs belongs on a special edition Blu-ray which sadly is not an option.

Audio


The only audio included is in English Dolby Digital 5.1 surround. The sound quality is excellent. I heard no fault. The sound effects design is one of the best things about this audio track. This DVD allows those excellent sound effects to come through with the immersive 5.1 surround sound. Simply put its crystal clear clarity in the sound department. English for the hearing impaired subtitles are included.

Extras


There is really slim pickings, which is a total let down to this film. You get a "Behind the Scenes" featurette running 4 minutes and 19 seconds. This has the stars and the creators speaking about the series.

Bonus trailers are also included for:

- "Manhattan: Season 1" which runs for 1 minute and 2 seconds.
- "Mad Men: The Complete Series" which runs for 1 minute and 30 seconds.
- "Orange is the New Black: Seasons 1 and 2" which tuns for 1 minute 14 seconds.
- "The Royals" Season 1" which runs for 1 minute 3 seconds.
- "Lionsgate" promo which runs for 1 minute 34 seconds.

There's also a code for a digital copy version of the miniseries.

Packaging


Packaged in a standard black DVD keep case with wraparound artwork.

Overall


Not a great science fiction event, but not a bad science fiction tale. It has its high marks through acting, direction and special effects. It gives a personal concept to the science fiction world. In the end I was entertained and enjoyed the tale.
| | | | | |
| --- | --- | --- | --- | --- |
| The Show: B | Video: B | Audio: A | Extras: D | Overall: B |

---
DVD Compare is a participant in the Amazon Services LLC Associates Program and the Amazon Europe S.a.r.l. Associates Programme, an affiliate advertising program designed to provide a means for sites to earn advertising fees by advertising and linking to amazon.co.uk, amazon.com, amazon.ca, amazon.fr, and amazon.de.