Charlie Chan and the Curse of the Dragon Queen [Blu-ray]
Blu-ray B - United Kingdom - 101 Films
Review written by and copyright: Samuel Scott (8th November 2015).
The Film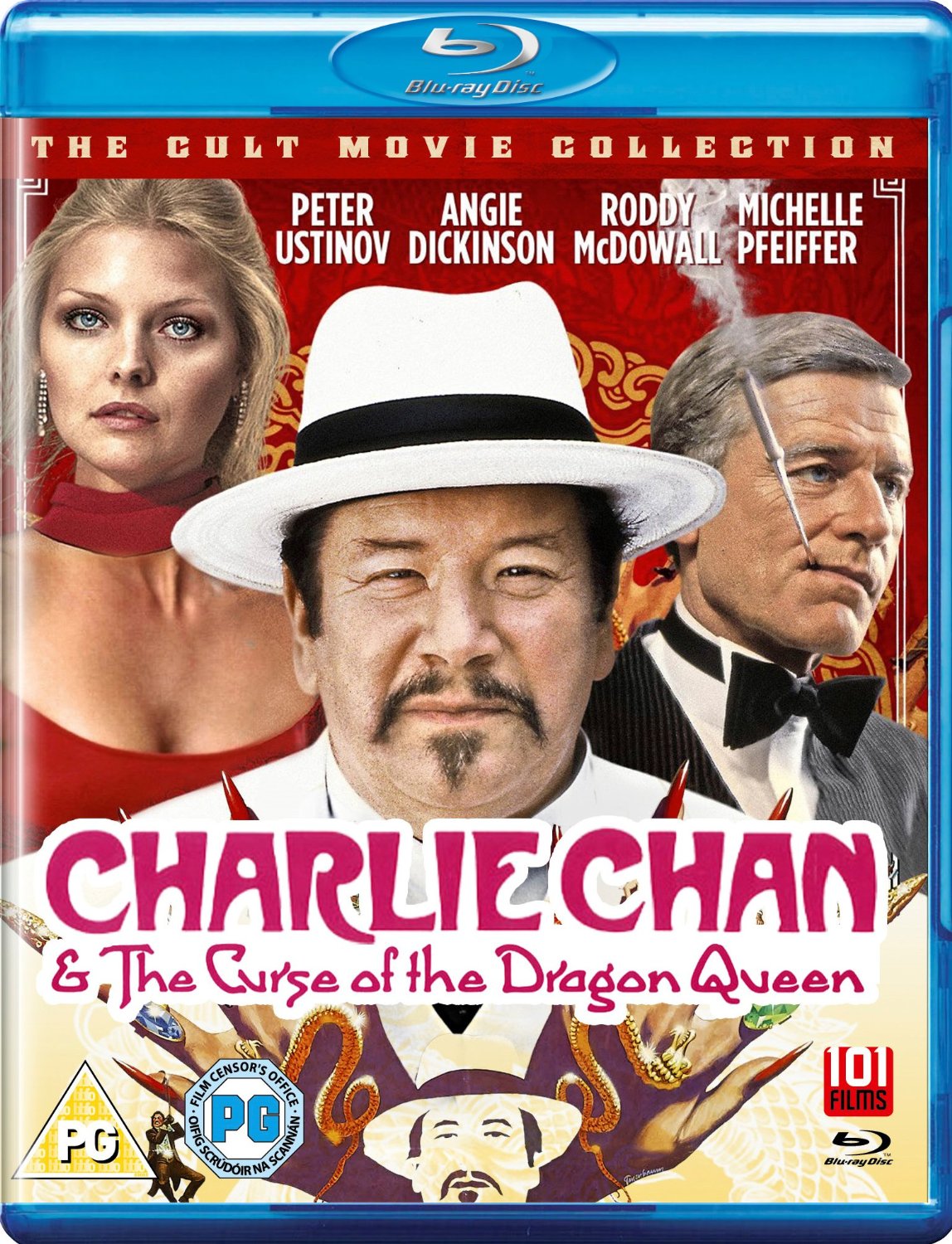 ***This is an A/V and Extras review only. For reviews on the movie from various critics, we recommend visiting HERE.***

Murderer who turn victim into human baked potato have real appetite for crime.

In Hawaii, master sleuth Charlie Chan unmasks the Dragon Queen as a killer. Before she's arrested, she places a curse on Chan and his family.

Years later in San Francisco, Chan is called out of retirement when the city of San Francisco finds itself in chaos over a series of weird murders. Chan is assisted by his blundering grandson, Lee Chan Jr, who is more of a hindrance than help. The shadow of the Dragon Queen still hangs over the Chan family when she becomes his number one suspect.

Video


Independent British distributor 101 Films have released the comedy "Charlie Chan and the Curse of the Dragon Queen" on to Blu-ray in the United Kingdom as part of their "Cult Movie Collection" range. The transfer is presented in the original aspect ratio of 1.85:1, and is 1080p.

I guess the first surprise with this transfer is the fact it is an MPEG-2 encode. Come on 101 Films... this is 2015! The master used is very obviously a little dated, and there is unfortunately some rather noticeable damage of various degrees throughout, though it must be said it isn't to the point of becoming a distraction. Whilst a few vertical scratches can be seen here and there, most of the damage consists of small specks which are heavier in some scenes than in others. At the start of the third chapter at 26:01 we do spot another problem which thankfully seems to be constrained to just a couple of moments. That problem is a bizarre bit of ghosting which affects Peter Ustinov's hat and lasts no more than five or six seconds, then again with suits at 40:52. There is a noticeable natural layer of grain running throughout and no sign of obvious digital noise reduction, though some minor filtering may have taken place. Colours do look natural for the most part though there are moments where whites are overly bright. There is also some occasional ringing around characters and edge enhancement which can be distracting. Details are pretty good, though perhaps inconsistent from scene to scene. Facial close-ups can look excellent with smaller more minute details clear to see and some external scenes showcasing strong levels of background clarity. Although what I have written may make it sound as though the transfer is rather poor, it is certainly adequate and likely the best it has ever looked on home media by quite a large margin. There's plenty of room for improvements, but fans shouldn't be put off by the issues within.

The feature is uncut and runs 95:06.

Audio


101 Films have included a single English Dolby Digital 2.0 Mono track for this release. Nope, that isn't a typo. As well as the MPEG-2 encode, we get lossy audio. Again, unsure why as 101's track record has generally shown them to include lossless audio on most occasions. Despite this, there are no major issues here. Dialogue is clear at all times, though with one or two shots slightly out of sync, and the music and effects play without issue even if some channel separation would of course have been welcomed. Despite the restrictions of a mono track, the film doesn't sound particularly flat, and there are no problems other than the occasional low-key and very minor crackle. There is no background hiss.

No subtitles are included.

Extras


Nothing at all.

Overall


In my opinion, the film isn't great, but I think most people who would be interested in purchasing the blu-ray will have already seen it and will know whether they like it themselves. There are certainly improvements that could be made to the audio and visual elements, but what we have is adequate and shouldn't put fans off from purchasing.
| | | | | |
| --- | --- | --- | --- | --- |
| The Film: D+ | Video: C+ | Audio: C | Extras: F | Overall: D+ |

---
DVD Compare is a participant in the Amazon Services LLC Associates Program and the Amazon Europe S.a.r.l. Associates Programme, an affiliate advertising program designed to provide a means for sites to earn advertising fees by advertising and linking to amazon.co.uk, amazon.com, amazon.ca, amazon.fr, and amazon.de.