Dick Whittington
R2 - United Kingdom - Kaleidoscope Home Entertainment
Review written by and copyright: Matthew Crossman (9th November 2015).
The Film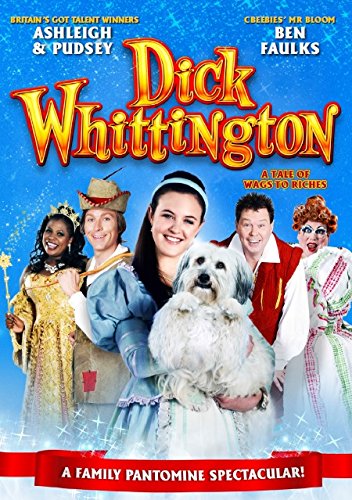 I attended my first ever pantomime at the tender age of six years old. It was not an experience I enjoyed a great deal. Even at that tender age I found the jokes corny, the production second rate, and the whole thing a tad confusing as the men were dressed as women and, for the most part, the women dressed as men. It was not an experience I was eager to repeat and so when the DVD of 'Dick Whittington' from Kaleidoscope Home Entertainment dropped through my letterbox for review my heart sank.

Pantomime is a English tradition, performed during the Christmas season (usually November through to early January). It's intended for a family audience and is especially young children friendly. The early roots of the pantomime go back to the 18th century and for many people it's their first experience of live theatre. Many of the stories are traditional fairy tales such as Cinderella, Jack and the Beanstalk, Aladdin, Sleeping Beauty, and, of course, Dick Whittington and his Cat. This particular performance of Dick Whittington was performed at The Bristol Hippodrome where it ran from the 6th of December 2014 until the 4th of January 2015. What makes this performance unusual is that it was also filmed and broadcast to cinemas around the country and now makes it's bow on DVD. Starring and headlining in this production is Ashleigh and Pudsey.

For those who do not know Ashleigh and Pudsey are a dog trick act. They appeared in the sixth season of Britain's Got Talent on ITV television and were the eventual winners that year. As part of their prize for winning that show they were to perform at the 84th Variety Performance in 2012 and then in 2014 a film was released (co-produced by Simon Cowell) called 'Pudsey the Dog: The Movie'. So with all this information to hand I reluctantly put the DVD in the player and settled down with the intention of hating every minute of it. How wrong I was. This is not the pantomime of my childhood. Certainly some of the elements remain but now the show is littered with cultural references and pop tunes. The first of which is a rendition of Pharrell Williams chart topping song 'Happy'. The show follows a pattern in which there are ten to fifteen minutes of the story which are now interspersed with songs including well known tunes the children will love like 'You're the One That I want' from the movie Grease and 'Best Song Ever' by One Direction. Whilst there is plenty to keep the younger children happy, including Pudsey performing many tricks, there is enough to keep the adults entertained too. Knowing winks to the parents in the audience tend to be in the form of mild sexual innuendo jokes and these are very mild and will go over all of the children's heads so they can be enjoyed guilt free by Mum and Dad. This approach of parts of the play followed by a musical interlude keep the production fresh. The whole cast perform admirably and some of the singing sections are extremely well done. So despite my previous dislike of pantomime I actually enjoyed this show. Not only did I find myself in a very happy mood after watching it but I surprised myself by actually laughing out loud on two or three occasions, something I rarely do when watching a Hollywood comedy.

If you can't get along to an actual live pantomime this Christmas then I can recommend Dick Whittington as the next best thing.

Video


The picture is presented in 1.85:1 anamorphic. The long shots of the theatre exhibit some mild noise but the close ups of the stage look bright and colourful. There is an animated section three quarters of the way through which looked like it may have been presented in 3-D originally (I cannot confirm this) but it presented in flat 2-D here. A perfectly acceptable picture of a live performance.

Audio


English Dolby Digital 2.0 Stereo is the only option available. This being a live performance with personal microphones I found that some of the dialogue was partly inaudible but I imagine this was similar in the actual theatre. The songs are loud and clear. There are no subtitles.

Extras


Interview with Ashleigh and Pudsey (5:01) - Ashleigh talks about having Pudsey as a pet since he was born. She also talks about their winning appearances on Britain's Got Talent and what Pudsey does in the show. Ashleigh also talks us through some of the tricks that Pudsey performs. Pudsey doesn't say much at all.

Interview with Eric and Sarah (9:08) - Eric Potts (scriptwriter) and Sarah the Cook (also Eric Potts) are interviewed about the writing and performing of the panto. This is a comedic interview and quite funny in places.

Overall


Do as I do and put your prejudices about pantomime aside, especially if you have children under 10. This was pretty good fun if the truth be told and the perfect thing to watch in the run up to Christmas. It leaves with a nice, warm fuzzy feeling and coming from a grizzled old fart from me that's saying something.
| | | | | |
| --- | --- | --- | --- | --- |
| The Film: B+ | Video: B- | Audio: C+ | Extras: C+ | Overall: B- |

---
DVD Compare is a participant in the Amazon Services LLC Associates Program and the Amazon Europe S.a.r.l. Associates Programme, an affiliate advertising program designed to provide a means for sites to earn advertising fees by advertising and linking to amazon.co.uk, amazon.com, amazon.ca, amazon.fr, and amazon.de.