The Film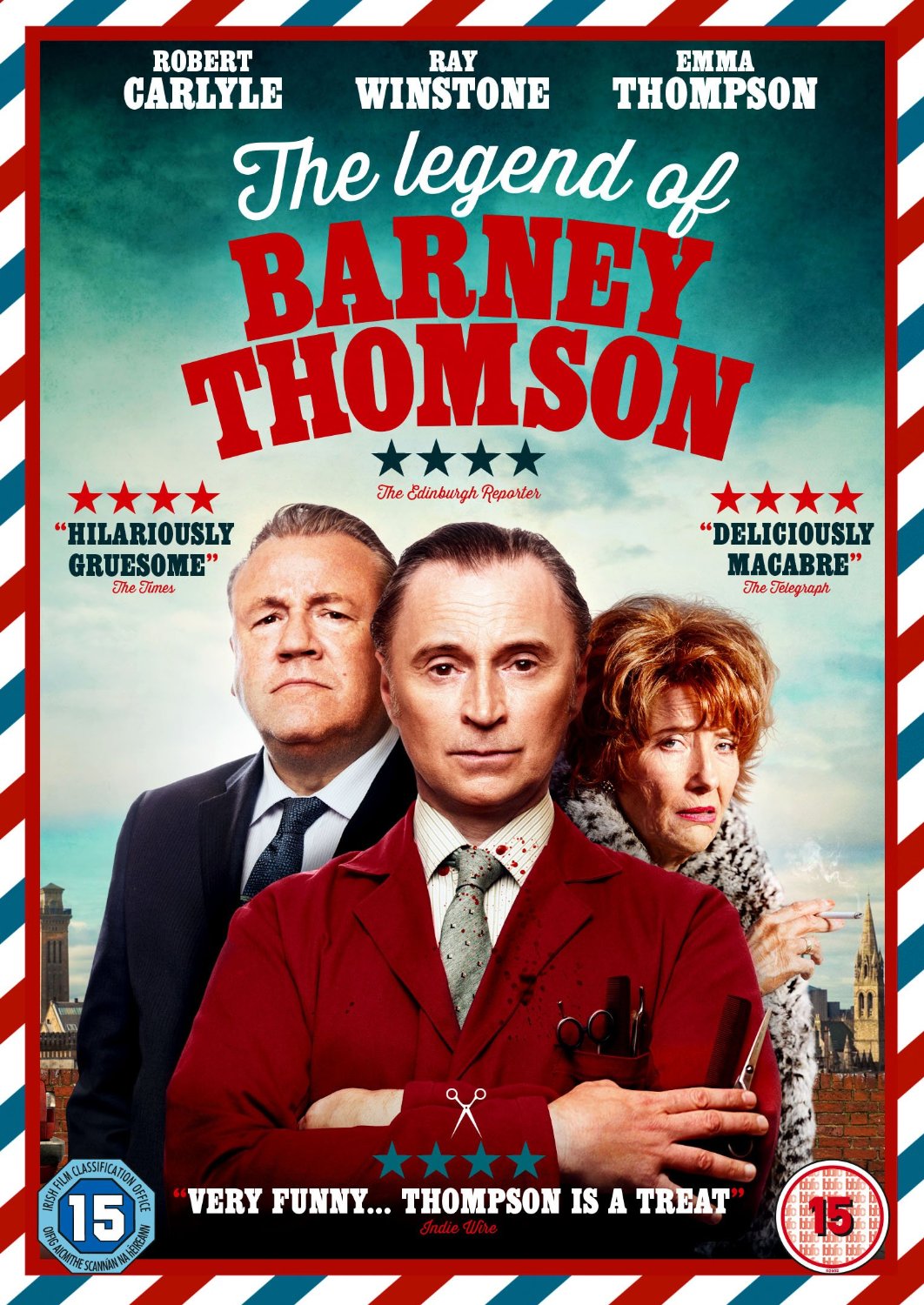 ***This is an A/V and Extras review only. For reviews on the movie from various critics, we recommend visiting HERE.***

It's the grotesque and comically absurd world of the serial killer.

Trainspotting actor Robert Carlyle plays a murderous hairdresser in this self-directed black comedy. Barney Thomson (Robert Carlyle) is a mild-mannered barber whose career is going nowhere. But after he accidentally kills someone, he decides to embark on a career as a serial killer. The murderous hairdresser's new life gets ever more complicated, however, when he discovers his mother, Cemolina (Emma Thompson), has her own secret - one which leads to even more trouble for Barney. Robert Carlyle makes his directorial debut with this bruise-black, Glasgow-set comedy, based on Douglas Lindsay's The Long Midnight of Barney Thomson (a book which has spawned a series of seven novels and four novellas). Look out for star turns from Ray Winstone as a visiting London cop and veteran screen actor Tom Courtenay (Billy Liar) as the police chief who has to deal with a killer who is mailing body parts from different parts of the country.

Video


Icon Home Entertainment release Robert Carlyle's directorial debut on to DVD in the United Kingdom in what is its first release anywhere on home media. Icon have presented the film with an anamorphic transfer in the original aspect ratio of 2.35:1. Although not reference quality, the transfer looks good overall.

"The Legend of Barney Thomson" uses a very dark and dull palette, filled with browns, dark reds, and blacks. This suits the macabre tone of the story perfectly and is well replicated to disc, though some scenes do suffer slightly from a lack of details in the shadows. Skin tones can feel ever so slightly warm, though this does seem to be intentional. The palette not only suits the tone of the film, but it also suits the general Glasgow location, and the old decaying building of the barber shop. Details are average for a new feature in this budget range, with the occasional lighter scene among the highlights, such as when Ray Winstone and Sam Robertson are walking in the Barras and Winstone shouts that it is a shithole. Details in the suitably darker internal locations like the bingo hall foyer are also good, with the pattern on the wooden panelling noticeable and mid-range clothing elements decent. The transfer appears to be well encoded as I didn't notice any major compression issues, and there aren't any signs of damage like dirt or noise, which is to be expected for such a new film. There was some minor banding from time to time, but no overzealous edge enhancement or notable aliasing. This is a solid transfer, even if it isn't top drawer.

The film is uncut and runs 92:18 PAL.

Audio


There are several audio options included:
- English Dolby Digital 5.1
- English Dolby Digital 2.0 Stereo
- English Audio Descriptive Dolby Digital 2.0 Stereo

For my viewing, I opted for the English Dolby Digital 5.1 which was good overall, is nothing more than quite standard fare. "The Legend of Barney Thomson" is quite dialogue driven, with only a few scenes that are needed to make use of the surrounds. However, the sound design adds plenty of subtle environmental effects which really help immerse the viewer into surroundings. This is most true in scenes which involve Emma Thompson's character and her gaggle of friends, whether they be line dancing in the living room, or standing outside the bingo hall. Dialogue is clear at all times, though I would hazard a guess that some may struggle with the Glaswegian accents. For those people, and for the deaf or hard-of-hearing, there's English HoH subtitles included. As par for the course, there are no major issues with the track like drop outs, pops, or background hiss.

Extras


We start the extras off with an audio commentary with director/actor Robert Carlyle. As far as solo commentaries go, this is pretty average. Sometimes Carlyle struggles to find something to say and there are some short dead spots throughout. He tends to talk about what is on screen, rarely venturing into the technical aspects apart from to say he likes certain shots - a little disappointing considering this is Carlyle's first time in the director's chair outside of an episode of Stargate. He does have some interesting tidbits about the characters and certain plot points, but this track is for fans only. It should be noted that the commentary is found in the set-up menu, and for some bizarre reason, not in the extras menu.

Next up, we have a selection of bloopers lasting 1:50. These are pretty typical fluffs, but there are a couple of funny bits such as Tom Courteney adding on a line to his telling off of Winstone.

Deleted Scenes:
- Play All
- "Holdall Discusses the Chief" (0:21)
- "Tension in the Lift" (0:48)
- "Soaked Barney Returns Home" (0:37)
- "Holdall Confronts Barney" (3:16)
- "You Lookin' for Business?" (0:36)
Apart from "Holdall Confronts Barney", these are mainly short additional scenes of dialogue which were probably cut for pacing. The long scene is quite a good scene between Robert Carlyle and Ray Winstone, and it is a shame this one was cut as it is easily their longest scene together. It consists of Winstone's Holdall digging for more information, whilst at the same time making it clear he thinks Barney is the killer. Deleted scenes are always a welcome addition, though it would have been a bonus to get Carlyle to also record a commentary for these.

The extras end with the theatrical trailer (1:44).

Overall


A great British film that will be looked back upon in years to come thanks to great performances form Robert Carlyle, Ray Winstone, Martin Compston, Emma Thompson, and Ashley Jensen. The transfer and audio is at the level you would expect from one of the more well known distributors, and there is a good selection of extras.
| | | | | |
| --- | --- | --- | --- | --- |
| The Film: B+ | Video: B | Audio: B- | Extras: C+ | Overall: B |