The Film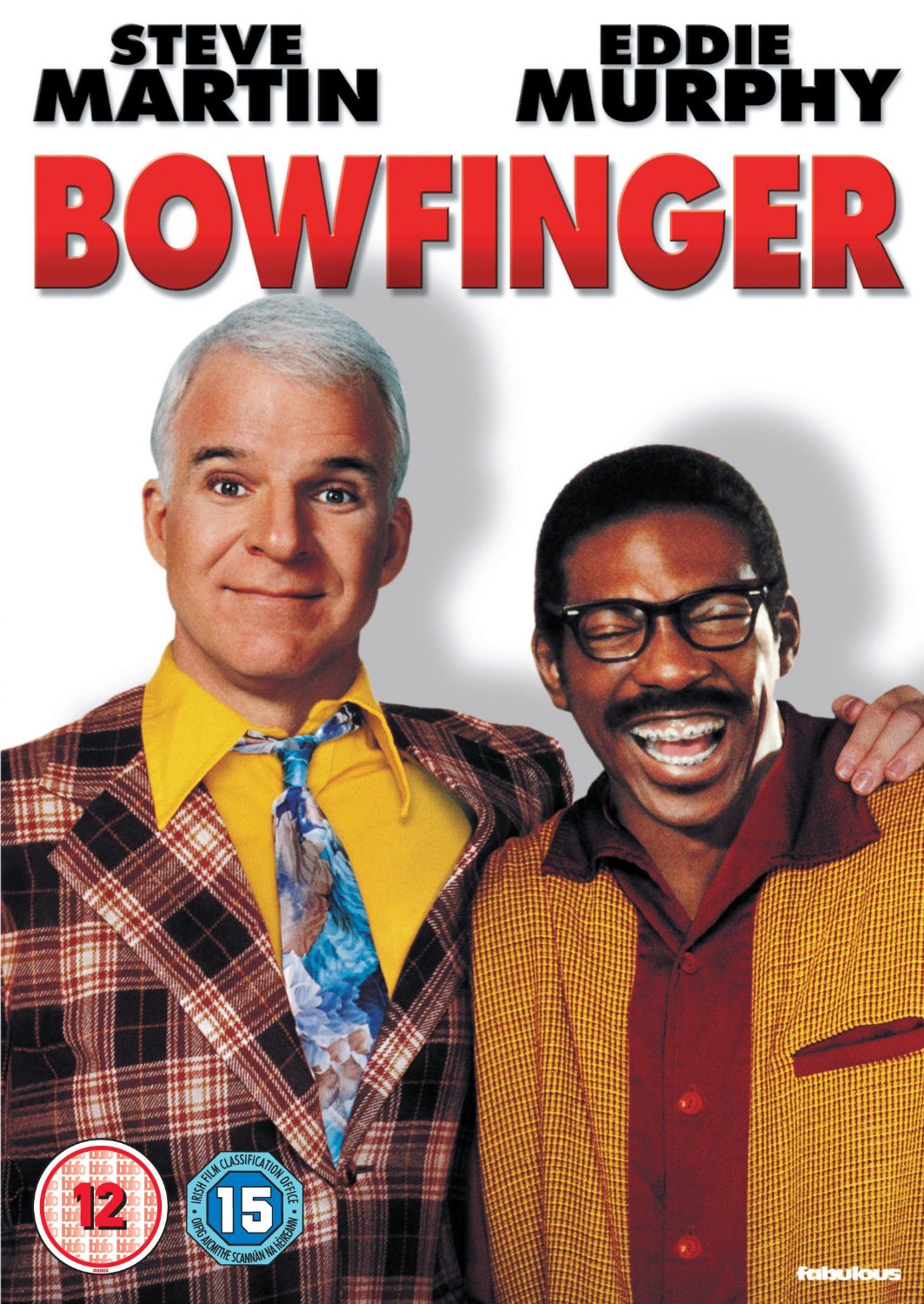 Robert Bowfinger (Steve Martin) is Hollywood's least successful film director. One night he finishes a script written by his accountant called 'Chubby Rain' and falls in love with it. The problem for Bowfinger lies in getting the printed word off the page and onto the screen with little to no money or equipment. Bowfinger approaches Kit Ramsey (Eddie Murphy), Hollywood's biggest and brightest star, into appearing in 'Chubby Rain' but gets short shrift from Ramsey. Bowfinger then comes up with an ingenious scheme where he, and his rag tag crew, will follow Ramsey around Hollywood and film him without his knowledge and then cobble the footage together later to make a motion picture.

'Bowfinger' really should be better than it actually is. With a cast that includes Steve Martin, Eddie Murphy, Heather Graham, Terence Stamp, Robert Downey Jr and Christine Baranski Bowfinger is a film that should sparkle and shimmer with it's stars. Written by Steve Martin Bowfinger should provide more than the occasional chuckle. It was also directed by Frank Oz who had four previous collaborations with Steve Martin. So everything pointed to a hit, and to be fair, it was when it was released in 1999 (#2 in the box office on it's opening week, just behind 'The Sixth Sense'). However, it has not aged well. Steve Martin based 'Bowfinger' on a true incident. In 1927 a Russian filmmaker covertly shot footage of Mary Pickford, a Canadian/American actress and co-founder of the film studio United Artists ,who starred in over 200 movies between 1909 and 1933. This footage was then fashioned to create the illusion that Mary Pickford had actually starred in the Russian film. The premise is an interesting one and Martin decided to write the script as a comedy but also as a 'against the odds' film. It's this line that Martin straddles that harms the film as it eventually achieves neither. That are some amusing moments and lines. The scene everyone that has seen the film remembers is the scene when Ramsey's almost identical brother Jiff is made to cross several lanes of traffic by Bowfinger as a scene for the film 'Chubby Rain'. It's a well worked set piece and is used on this DVD's menu page, but generally the comedy falls flat. The acting, as you would expect from a cast such as the one in 'Bowfinger' is of a very high standard. Martin and Murphy were at about their peak, or just coming down from it, in 1999 and command the film. Heather Graham is, as always, divine to look at and her sassy character who transforms from farm girl into aspiring actress who will sleep with anyone (and I mean anyone) with an inkling of power in the movie business is good fun to watch. The direction by Frank Oz is workmanlike but my conclusion is that Bowfinger is not unlike an Easter egg. Glittering foil and scrumptious chocolate but ultimately empty and rather unsatisfying.

Video


Presented here in a 1.85:1 anamorphic picture, the picture is quite soft for much of the film and not really what you would expect to see a DVD looking like. The palette is quite cool and bleached considering the film was shot in the sunshine of California with only the reds in the film coming anywhere near popping off the screen. I would suggest that the plethora of extras that have been included on this disc have come at the price of a rather average picture.

Audio


The only option available here is 5.1 Dolby Digital. It's a reasonably decent mix but on occasion that dialogue does sound a little muddy in comparison with the effects and musical soundtrack. You can listen to the film in two different languages and these are English and German. There are subtitles available and they come in the following flavours; English, Danish, Norwegian, Finnish, Polish, Dutch, Czech, German, Arabic, Swedish and Greek.

Extras


Spotlight on Location (23.27) - Presented in it's original TV format of 4:3. This is a behind the scenes piece that interviews the cast and crew during and after the filming of 'Bowfinger'. The piece is the usual promotional piece where everyone concerned talks about how much they loved working together and what a wonderful, original script it has, and how great Steve Martin and Frank Oz are. This is a NTSC to PAL transfer and consequently has some issues with combing on the picture but it's still nice to have it available.

Feature Commentary with Director Frank Oz - This is a pretty good commentary by Oz who manages to keep up the patter, all alone, for the entire length of the movie. As you would expect he has some great anecdotes to impart to the listener about the making of 'Bowfinger' and the decisions he made in making the film. A very interesting commentary and, in many ways, actually more enjoyable than the film itself.

Deleted Scenes (5.22) - Two scenes are presented here. The first is a longer, slightly different scene that comes at the beginning of the film. The changes in this scene are mainly cosmetic. The second deleted scene is completely new. The footage is presented window boxed and the quality of the picture is several degrees worse than the main feature.

Outtakes (2.51) - Several scenes where actors fluff their lines, laugh at inappropriate moments, and fumble with props. Again the picture quality is rough cut material but still, these are fun to see.

Theatrical Trailer (1.03) - Presented in 4:3 It's unusual that the people that put the trailer together chose to use a couple of quick clips from the final scenes of the movie that do not represent 'Bowfinger' at all. Still, it got people into the theatres so what do I know.

Production Notes - Two pages of text outlining the synopsis of the film and the credits of Steve Martin and Frank Oz.

Cast and Filmmakers - Text pages for Steve Martin (five pages), Eddie Murphy (five pages), Heather Graham (five pages), Christine Baranski (five pages), Jamie Kennedy (four pages), Robert Downey Jr (six pages), Terrence Stamp (six pages), and Frank Oz (three pages). These pages give a brief biography of the people involved and a flexography up to 1999.

DVD Rom Material - The programme tells me that I need a minimum of Windows 95 to run this programme which should give you some clue to how old it is. Unfortunately I could not get the programme past the set up page.

Overall


Despite a great cast, a good director and a script by one of America's funniest actors ever 'Bowfinger' never quite reaches the heights you would hope for. It's not a bad film, just not a great one. It's quite unexceptional and, as mentioned, given the talent involved it would not be remiss of the viewer to expect more. The DVD is stacked full of extras though with the Director's commentary being the highlight.
| | | | | |
| --- | --- | --- | --- | --- |
| The Film: B- | Video: B- | Audio: B- | Extras: A | Overall: B+ |