Assassination [Blu-ray]
Blu-ray A - America - Well Go USA
Review written by and copyright: Abraham Phillips (12th December 2015).
The Film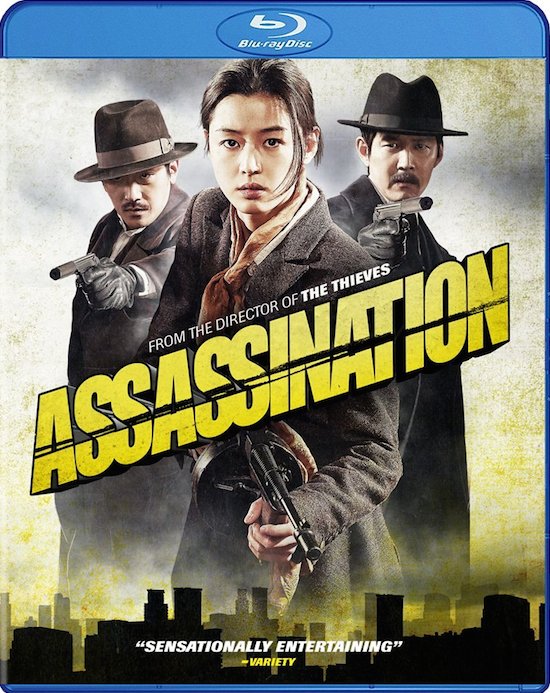 "Assassination" is a great epic Korean film that provides a vast array of action and thrills. Being brought out by Well Go USA on DVD and Blu-ray. I feel this is a great watch for those who love Korean cinema and period piece action films. This was directed by Dong-hoon Choi who directed another great film that I feel is worthy of praise, 2012ís "The Thieves". "Assassination" mixes drama with history, and adds great action. It mixes many genres into one setting. Through the tight direction, and thick plot, the movie is captured in great detail, and leaves the viewer satisfied with its conclusion.

The movie takes place in the 1933. There is an assassination plot to kill and stop a pro-Japanese group of people. You are introduced to one of your main characters, Agent Yeom Seok-Jin (Jung-jae Lee). Jin plans the plot, and gives the orders to, An Ok-Yoon, who is the shinning character in the story, played in a flawless manner by Gianna Jun. Now Yoonís role is that she is a skilled and highly brutal sniper. Her passion is to see Korea in an independent setting. Meanwhile you have the character Hawaii Pistol (Jung-woo Ha), who is a contract killer. Alongside his partner Young-gam (Dal-su Oh), both go about trying to eliminate Yoon, and destroy the plot against the pro-Japanese group. Hawaii Pistol is another interesting character in the film and the performance by Jung-woo is terrific. In fact all the characters are entertaining, the ensemble have executed and owned their parts brilliantly.

The film is fun. Itís a thrill ride. Great action. Awesome costumes and props that place you there. Truly a memorable film that stands out above and beyond. I canít speak highly enough about this film. I thought it created an emotional drama, wrapped up in an action packed thriller that leaves a lasting impression upon the viewer.

Video


Presented in 2.40:1 widescreen mastered in 1080p HD24/fps using AVC MPEG-4 compression. The picture quality is equally amazing. Vibrant in color. The time period pieces and costumes are all stylishly enhanced with the High Definition quality of this Blu-ray.

Audio


Two audio tracks are included in Korean DTS 5.1 HD Master Audio surround sound and Korean Dolby Digital 2.0 Stereo.
The sound quality is amazing. The Boom, Booms, gun firing all come to life in a sound ecstasy.

Extras


Sadly there are no real extras, which is kind of a letdown. The movie is so well made, that it would have been great to have some special features. If any film deserved special features, it would be this one.

All you get is a theatrical trailer with a runtime of 1 minute 40 seconds.

Bonus trailers are also included for:

- "Memories of the Sword" which runs for 1 minute 57 Seconds.
- "The Pirates" which runs for 2 minutes 9 seconds.
- "The Thieves" which runs for 1 minute 40 Seconds.

Packaging


Traditional plastic blu-ray case with wraparound imagery. Also a slip-cover of the artwork is also included.

Overall


The movie has a runtime of 2 hours, 20 minutes and 3 seconds. It truly is a film that gives an ultimate adrenaline inducing experience that lasts until the very end. Excellent story. Excellent acting. Excellent direction. A great film on Blu-ray, with a great transfer. Highly Recommended.
| | | | | |
| --- | --- | --- | --- | --- |
| The Film: A | Video: A | Audio: A | Extras: D- | Overall: B+ |

---
DVD Compare is a participant in the Amazon Services LLC Associates Program and the Amazon Europe S.a.r.l. Associates Programme, an affiliate advertising program designed to provide a means for sites to earn advertising fees by advertising and linking to amazon.co.uk, amazon.com, amazon.ca, amazon.fr, and amazon.de.