The Film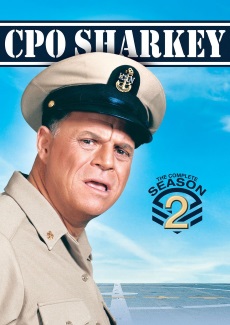 A regular guest on Hollywood Squares, The Tonight Show, The Dean Martin Show and most of Martin's celebrity roasts, and a number of guest spots on episodic television, insult comedian Don Rickles finally landed his own sitcom with The Don Rickles Show in 1972 which lasted a scant seven episodes. Four years later, he would get another chance with CPO Sharkey – created by Aaron Ruben of The Andy Griffith Show and Gomer Pyle: USMC – as acerbic (what else?) Otto Sharkey, Chief Petty Officer of Company 144. While Rickles' racial comedy would never make it to network TV these days (either as a new show or in syndication of this show) and it is startling just how far he goes here, it is never mean-spirited and one of the recurring themes throughout this first season of fifteen episodes was his realization that his insults belittle rather than toughen up his recruits. Season two is reliably funny but offers only slight variations over the first season's formula. Elizabeth Allen's (Donovan's Reef) Captain Quinlan, and her representation of changing times in the navy, is replaced with bullying, blustering "old navy man" Captain "Buck" Buckner (Mister Roberts' Richard X. Slattery) whose "old navy" ways make old-fashioned Sharkey and sycophant Lieutenant Whipple ( The Jimmy Stewart Show's Jonathan Daly) seem laid back in comparison. A subplot of the second season is the integration of the sexes in active service, leading to the resurgence of the term WWII bacronym "WAVES" (Women Accepted for Volunteer Emergency Service) and the all-too-few appearances of Sharkey's female rival Chief Gypsy Koch (Lotsa Luck's Beverly Sanders). Sharkey's African-American foil Captain Robinson (Sledge Hammer!'s Harrison Page) takes quite a few insults from Sharkey – who only stumbles with accidental references to "you people" – but mainly is around to laugh at Sharkey when he makes a fool of himself. Six-foot-seven Seaman Pruitt (Eat My Dust!'s Peter Isacksen) is back for more sight gags towering over five-foot-six Sharkey. His sub-Sweathog recruits sport broadly-characterized ethnicities rife for abuse: dim Polish Kowalski (More American Graffiti's Tom Ruben, Aaron Ruben's son), myopic Jewish mamma's boy Skolnick (Love at First Bite's David Landsberg), thick-accented Puerto Rican Rodriguez (What Waits Below's Richard Beauchamp), and jive-talking African-American Daniels (The Big Easy's Jeff Hollis). Italian Mignone (Grease's Barry Pearl) is replaced here by talkative Greek Apodaca (Mr. Mom's Phillip Simms). Some of the potentially offensive humor is also more topical and might go over the heads of modern viewers (cracks about Anita Bryant and busing), but is more the pronounced formula of the episodes' plotting that makes them fairly predictable apart with the only novelty coming from Rickles' insults. Although Time Life's packaging of the second season still warns "Some of the jokes and ethnic references heard in these episodes would most likely not be allowed on network TV today and reflect the tenor of the times", the twenty-two season two episodes seem to have toned down Sharkey's jibes, or at least tempered them by emphasizing the aspects of other people that he ridicules; but season two (and the series) closes on a triumphant note for Sharkey and a newfound affection for his recruits.

Season Two Episode Breakdown:

2.01: "The New Captain" (24:12) – Buckner ultimatum about Sharkey's beer belly has him desperate enough to adopt Apodaca's newfound Far Eastern religion to "chant the weight away."

2.02: "Operation Fiasco" (25:08) – When Sharkey and Robinson are assigned to a secret operation in San Francisco, Sharkey hopes for a night on the town with on-and-off flame Natalie but winds up in claustrophobic quarters below the surface with his recruits.

2.03: "Sharkey Flies Over the Cuckoo's Nest" (25:11) – Diagnosed with hypertension, Sharkey's blood pressure goes up when his recruits are confined to quarters, and skyrockets when he is put under medical observation and mistaken for an escaped nutcase.

2.04: "Don't Make Waves" (25:06) – When Company 144 is selected for an experiment integrating the sexes, Buckner and Whipple assign the coed recruits to shared quarters under Sharkey hoping for failure.

2.05: "Natalie's Ultimatum" (25:32) – Sharkey may be hearing wedding bells when Robinson advises him to purchase an engagement ring to hold onto Natalie after she gives him an ultimatum.

2.06: "Sharkey the Actor" (24:43) – Celebrity goes to Sharkey's head when he is selected to star in a documentary about naval training told from the perspective of a typical chief petty officer.

2.07: "Barracks Baby" (24:16) – During a appropriations commission congresswoman's (Too Close for Comfort's Pat Carroll) inspection tour, Sharkey and the recruits try to hide a pregnant Tijuana stowaway in labor.

2.08: "Seven-Eleven Sharkey" (25:05) – Sharkey takes on professional gamblers (Dark Night of the Scarecrow's Claude Earl Jones and The Party's Buddy Lester) when they divest Kowalski of money he was planning to send home to his mother.

2.09: "Forget Pearl Harbor" (24:38) – Buckner fears an international incident when Sharkey is assigned to host a visiting Japanese chief petty officer (American Ninja's John Fujioka).

2.10: "Close Encounters of the Worst Kind" (25:10) – Unable to say "I love you" to Natalie or even express affection for his recruits, Sharkey resorts to a kooky "encounter group" with the expected disastrous results.


2.11: "Pruitt's Paradise" (21:51) – Sharkey and Robinson investigate Pruitt's private life when he sleeps in two days in a row and discover that he is two-timing a pair of six-foot-plus paramours (Roadie's Rhonda Bates and Used Cars's Betty Thomas).

2.12: "Sharkey Meets Pruitt's Sister" (25:03) – When Pruitt offers to enter his sister in the "Miss Topside of San Diego" contest, Sharkey can only imagine what she must look like (cue nightmare with Pruitt in drag); but Laura Lee (How to Succeed in Business Without Really Trying's Maureen Arthur) turns out to be a pleasant handful.

2.13: "Sharkey's Back Problem" (24:38) – Sharkey throws out his back and accidentally visits an illicit bathhouse just as he nominated for "CPO of the Year." Sondra Currie (Teenage Seductress) appears as one of the bathhouse's masseuses.

2.14: "It Happened One Night" (22:03) – When a bomb scare forces the female recruits to share quarters with the men, Sharkey is on his toes preventing fraternization but ends sharing a bed with Chief Koch.

2.15: "Tell It to the Marines" (24:13) – While trying to keep the peace between his recruits and visiting marines conducting joint amphibious maneuvers, Sharkey ends up challenging the marine CPO (Shaft's Ed Barth) to a boxing duel for which he is woefully unprepared (cue Rocky training montage emphasizing the "Trying hard now" part of Bill Conti's original theme). Shadows' Tom Reese appears as Buckner's marine collegue.

2.16: "Sharkey and the South American Way" (24:13) – Sharkey hosts a visiting South American officer (Bang the Drum Slowly's Hector Elias) who fosters revolution among the recruits and tries to overthrow him ("Viva Skolnick!").

2.17: "Punk Rock Sharkey" (22:17) – Sharkey gains a groupie (Sister Act choreographer Lisa Mordente) when he cracks down on the recruits' visits to a punk rock club. The Facts of Life's Charlotte Rae guest stars.

2.18: "Pruitt, the Russian Flu-Carrier" (24:11) – Pruitt drives Sharkey crazy when they are left in the barracks together while Robinson and all of the recruits are quarantined with the Russian flu.

2.19: "Captain's Right Hand Man" (24:13) – Sharkey is the only one happy when a new directive appoints him as Buckner's aide, but he soon discovers that the job consists entirely of errand-running and that Robinson and the recruits seem to prefer his younger, nicer replacement (Busting Loose's Paul Sylvan).

2.20: "Fear of Flying" (21:46) – Sharkey resorts to hypnotherapy to confront his phobia when Buckner assigns him to a mission in Hawaii requiring air travel.

2.21: "The Even Couple" (24:01) – After Sharkey's date (The Last American Virgin's Louisa Moritz) is nearly caught leaving the barracks in the morning, Sharkey decides to rent an apartment with Robinson in town only to get into a territorial dispute when their dates clash.

2.22: "The Used-Car Caper" (22:06) – Sharkey and Robinson mount a sting operation when a slippery used car dealer (He-Man: Master of the Universe's Skeletor voice actor Alan Oppenheimer) sells the recruits a lemon.

Video


Don't expect much image quality-wise since this is a seventies production shot on videotape. Highlights bloom and chroma noise is evident in fine patterins, but it really looks no worse than studio DVD releases of TV shows of similar vintage capture on the same recording media. The uncut tape masters for four of the episodes were lost, so syndication versions were substituted here in similar quality.

Audio


The Dolby Digital 2.0 mono track is at the mercy of the original recording with an occasional line covered up by audience laughter, but English closed captioning is included on all of the episodes.

Extras


The sole extra is the "CPO Sharkey Cast Reunion: Las Vegas, 2015 (20:03) featurette with Rickles, Page, Lansberg, Ruben, and Pearl, an informal reunion rather than a Q&A in which some details of the discussion may not register with the viewer. In addition to reconnecting (with some good-natured wisecracks) and recalling the fun they had on set, they discuss the late Aaron Ruben and the show's debt to the Ruben-created Gomer Pyle: USMC (an offshoot The Andy Griffith Show) and The Phil Silvers Show (better known in syndication as Sgt. Bilko) which featured a few episodes penned by Ruben.

Overall


CPO Sharkey: Season 2 is available separately or in Mr. Warmth! Don Rickles: The Ultimate TV Collection with CPO Sharkey: Season 1, The Many Sides of Don Rickles, Don Rickles: Alive and Kicking, Mr. Warmth, and Rickles.