The Film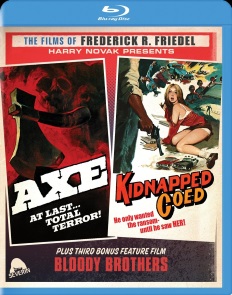 Axe (Frederick R. Friedel, 1974): After a trio of small-time crooks – icy Steele (Weekend at Bernies's Jack Canon), lecherous Lomax (Ray Green), and passive, guilt-ridden Billy (writer/director Frederick R. Friedel) – get carried away and beat a gay rival (Hot Summer in Barefoot County's Frank Jones) to death, they take to the road in search of somewhere to lay low. Steele's psychosis is such that he cannot help but draw attention to them by humiliating and brutalizing a cashier (Carol Miller's Caged Heat) with a dangerous game of William Tell before they stumble upon a remote farmhouse where young lonely Lisa (Leslie Lee) looks after her paralyzed and seemingly catatonic grandfather (Douglas Powers). Butchering chickens with the same detachment as she eats milk and cookies, Lisa is only mildly perturbed by the home invasion until Lomax creeps into her bedroom one night and rapes her. Slashing him to pieces with her grandfather's razor and chopping him up with her hatchet, the defiled and blood-spattered Lisa does not have to stalk or lure her prey; they come to her quite willingly.

Barely feature-length at sixty-eight minutes (with roughly six minutes devoted to the deliberately drawn-out opening and closing credits), Axe is an arty, glacially-paced yet oddly atmospheric little regional horror pic despite lacking gore and the requisite T&A one expects of a Box Office International release. Lee's Repulsion-esque character is at her most expressive when silent, her fragile hold on reality slipping even before her assault. Canon gives the only thing resembling an actual performance, but even by these standards he is both naturalistic and intense; and the film's extras reveal that Friedel was so impressed with Canon that he wrote his next film to suit the actor. The shortcomings of the staging and scripting are compensated with the evocative electronic scoring of George Newman Shaw and John Willhelm and the lensing of Austin McKinney (The Love Butcher), an unsung hero in exploitation who served as cinematographer and sound recordist (sometimes both with a camera and recorder synchronized together mechanically of his own design) on a number of low-budget films for the likes of Ted V. Mikels (The Black Klansman), David L. Hewitt (The Wizard of Mars), and Jack Hill (including Pit Stop and the Mexican/American co-produced final film quartet of Boris Karloff). While working as a visual effects cameraman at 's New World Pictures, he would mentor then-effects artist James Cameron who would then employ McKinney on the process photography for The Terminator. The film's makeshift make-up effects are the work of behind the scenes multitasker Worth Keeter who moved onto his own regional exploitation filmmaking career in the eighties with Wolfman) before moving to Hollywood in the nineties with the direct-to-video erotic thrillers before making the mainstream with various incarnations of the Power Rangers TV series.

Kidnapped Coed (Frederick R. Friedel, 1976): Jack Canon returns as Eddie Matlock "The Kidnap Lover" (the film's original title), kidnapping myopic heiress Sandra Morley (Reform School Girls's Leslie Rivers) for a two-hundred-thousand dollar ransom from her father (voiced by director Friedel). Eddie's plans go pear-shaped almost right away when he and Sandra check into a dive hotel hideout only to discover that the desk clerk (Trucker's Woman's Larry Lambeth) and bellhop (Jim Blankinship) are actually robbers who killed the real staff. They beat Eddie and rape Sandra before he is able to free himself and wreak some very personal retribution. Taking to the road again with shell-shocked Sandra, Eddie is contrite but insists that he will let her go only after he gets the ransom money. They would be better off staying on the move because each stop in search of food and shelter draws them into a series of encounters as volatile as they are absurd in a backwoods hell of ditzy birdwatchers (including Axe Carol Miller) to shotgun-toting farmers, a suspicious ex-sheriff, and drunken yahoos.

The description on Severin's Blu-ray back makes comparisons of the films to the works of Terence Malick and David Lynch, and Kidnapped Coed does indeed at times feel inspired by Malick's Badlands (with Rivers possessing a Sissy Spacek-quality) while some of the surreal encounters are vaguely Lynch-esque (particularly the ex-sheriff drawing attention to his wife's canning obsession. Likewise, the film's other attributes show a significant growth from the experience of shooting and editing Axe only months before. The writing is snappier, the art direction eye-catching, and McKinney's Welles-ian tracking shots and use of natural lighting giving the found locations a painterly cinematographic feel belying the budget and shooting schedule. The violence is also upped to more uncomfortable levels during the rape scene (compared to the equivalent scene in Axe), but it fosters a precarious intimacy and dependency in the aftermath. The ending is played for a cheap laugh rather than tragedy, but Canon and Rivers have given the characters enough depth (if not made them particularly likable) that the viewer may prefer a bit of escapism rather than seeing them go down in a hail of bullets. True to the original title The Kidnap Lover, Canon is the star and he brings every single acting tic to the screen and the results are riveting (making it all the more regrettable that he quit Hollywood for North Carolina). Darkman's Larry Drake is unmistakable in a small but unsettling role as the caregiver for Eddie's harridan of a mother (Made in Heaven's Gladys Lavitan).

Video


Axe and Kidnapped Coed were released theatrically by Harry Novak's Box Office International and his later company Valiant International. Axe would be released on tape by Best Film & Video in a double-bill with a shortened version of A Scream in the Streets while Kidnapped Coed was paired with Hitch Hike to Hell (the same double bill that Image Entertainment would release on DVD as part of their Something Weird Video line while Axe would be paired with J.G. Patterson's The Electric Chair. Axe (as California Axe Massacre) and Kidnapped Coed were also released on VHS under the title House of Terror by Malibu Video (not to be confused with Sergei Goncharoff's 1973 film released on VHS by TWE).

Severin's 1080p24 MPEG-4 AVC 1.78:1 widescreen transfer of Axe is an expectedly grungy experience given the original cinematography. The image has been digitally cleaned and a bit filtered compared to the lower bitrate encode of the same material for Bloody Brothers but it is still a major improvement on what has been available before. The faults in the photography remain with some strobing in the shadows of a couple underexposed scenes (Lomax on the porch of the farmhouse, for instance). The 1080p24 MPEG-4 AVC 1.78:1 widescreen transfer of Kidnapped Coed bears the original The Kidnap Lover title as a freeze frame card (I wonder how the Coed version dealt with the "Jack Canon as" credit). The transfer looks much nicer than Axe because it's an overall slicker and better-photographed production.

Audio


The English DTS-HD Master Audio 2.0 mono tracks are fairly clean, and both films feature German dubs in Dolby Digital 2.0 mono.

Extras


Axe is accompanied by an audio commentary by Friedel, production manager Phil Smoot (Getting It On), technical assistant Richard W. Helms, and make-up artist Worth Keeter (Wolfman) while Kidnapped Coed's commentary features Friedel, Smoot, and Keeter. On both tracks, the participants express admiration and continued surprise at the achievements of cinematographer McKinney and the striking movie star charisma of Canon (and how unfortunate it was that neither got the respect and fame they deserved). On Axe, we learn that producer J.G. Patterson (Whiskey Mountain) suggested casting distribution agent Jones in the film to motivate him to work harder to market it, that Lee now runs a successful dive boat with her husband in Cabo San Lucas, that Friedel still feels guilty for the discomfort he put actress Miller through in the convenience store scene, of the ways in which Friedel tried to expand the film when they realized it would run short, and the film's makeshift effects (the sound effects for the axe hits consisted of striking a London Broil and a head of cabbage). On Kidnapped Coed, Friedel makes the telling remark that his interest started in still photography and that he was more interested in the look and the settings than story and pacing. He also reveals that the Morley residence seen during Eddie's ransom phone call was the home of Axe actress Lee's family. Friedel describes the change of title by Novak from The Kidnap Lover to Kidnapped Coed as another example of his exploitative approach while Nightmare USA author Stephen Thrower in the commentary for Bloody Brothers (see below) suggests the title change was a reference to the then-relevant Edmund Kemper, the California serial killer known as "The Co-Ed Killer" or "The Co-Ed Butcher" although the hyperbolic narration Box Office International trailer asks "It starts with Patty, where will it end?"

The major extra is Bloody Brothers (89:11 with introduction by Friedel and 87:32 for feature only), Friedel's attempt to regain control and receive some financial recompense on the films by cutting them together into a single feature in which separated-at-birth twins Steve and Eddie go on crime sprees on the same day, moving progressively closer to one another in their journeys although never actually meeting (although the ending does tie things together in an ambiguous but somewhat clever manner). The two films are cut together in a somewhat haphazard manner, going back and forth between day and night, but Friedel is able to refine the cutting of both films. In Axe, he downplays Lomax's "fabric fetish" and speeds up the pace of some scenes and removes entire scenes in Kidnapped Coed (the visit to the first farm in search of water, the barroom climax, the scenes with Eddie's mother since he and Steve are supposed to be unwanted twins, and also a scene in which he talks about his father), although it does add from a fullscreen video source a roughly one-and-a-half-minute deleted scene in which Eddie tries to pray in Hebrew even though he is not Jewish. Although encoded at a lower bitrate than the two features, the master for Bloody Brothers seems to have been put together before the clean-up with white specs and scratches more apparent than in the other encodes. In the accompanying commentary by Nightmare USA author Stephen Thrower, he suggests that the juxtaposition of characters played by Canon in both films generates the drama of Bloody Brothers, but the real interest seems less in terms of character than in Canon's acting choices for two characters who would otherwise have only been compared and contrasted critically if not for a work which forces the association.

The retrospective featurette "At Last... Total Terror: The Amazing True Story of the Making of Axe and Kidnapped Coed" (61:40) has a lot of overlap from the commentary as it captures the reunion in North Carolina of Friedel, Smoot, and Keeter, but it also expands upon concepts brought up in the commentaries. Smoot and Keeter discuss their beginnings in North Carolina's film scene in the sixties and seventies which was geared towards exploitation because of the prevalence of drive-in venues. Friedel recalls being impressed that Welles made his first film at twenty-five and wanted to do the same even though he had no filmmaking experience. He went to New York expecting to be able to raise money from his wealthy relatives, but it was his girlfriend's father who would bring together a group of friends to raise $25,000 and went to North Carolina on the advice of executive producer Irwin Friedlander's partner Edward L. Montoro of Film Ventures International that films were being produced for that budget range in North Carolina by magician and professional huckster-turned-filmmaker J.G. Patterson Jr. (presumably from Kentuckian filmmaker William Girdler whose works Montoro would pick up before entering into a production deal with him that produced Grizzly and Day of the Animals). The three affectionately discuss working under Patterson while admitting that he was a terrible filmmaker (as evidenced by clips from The Body Shop). They, along with Helms, also discuss the late cinematographer McKinney while Canon's widow and his friend Leon Rippy (who also appeared alongside Canon in Maximum Overdrive, one of a handful of eighties Dino De Laurentiis productions lensed at Earl Owensby's North Carolina studio) discuss Canon's go at Hollywood before returning to North Carolina where he worked in the theatre and penned a series of Joe Ryker detective novels. Green discusses his broadcasting career and going to the Axe casting call on a dare. Friedel recalls how he realized he was in over his head during the editing phase and sought the help of Avrum M. Fine (whose Honey Britches which was later reshot and re-edited by Scalps' Fred Olen Ray in 1986 as Demented Death Farm Massacre... The Movie) who was able to create coverage where there was none from little bits of film before action and after cut was called (the film had a roughly 1.5:1 shooting ratio). He also provides some more background on the film's composers George Newman Shaw and John Willhelm, rising musicians in the North Carolina jazz scene before they were tragically killed in a head-on collision in their early twenties just a year after scoring both films. Friedel also discusses the film's local premieres and their wider releases through Novak (who recalls Axe as a completion film even though it played in North Carolina as Lisa, Lisa before being sold to his company) which saw now revenue for the director. Novak declared bankruptcy and formed a new company before Friedel could sue. The featurette ends with footage of Friedel digging out the elements for both films from the late Novak's warehouse and coming to North Carolina for a screening of both films.

Somewhat superfluous given the Bloody Brothers commentary and the extracts in the above featurette, "Stephen Thrower on Axe and Kidnapped Coed" (9:15) looks at the film's cult popularity on VHS in the UK as California Axe Massacre and Date with a Kidnapper respectively (the former a Video Nasty). Trailers for Axe include one under that title from Box Office International which draws comparisons to The Texas Chainsaw Massacre while the original one for Lisa, Lisa (1:39) features more amateurish narration but is equally misleading, as is the Virgin Slaughter reissue trailer (1:38). Also included are an Axe TV Spot (0:30) and Radio Spots (2:40). Kidnapped Coed features a trailer under the Kidnap Lover title (0:59) and Kidnapped Coed TV spots (0:43). Also of interest is "Moose Magic: The George Newman Shaw & John Wilhelm Story" (38:35), a featurette on the late composers featuring archival footage of their performances. The package also includes a CD soundtrack album with eleven tracks for Axe, eight for Kidnapped Coed, and seven bonus tracks. An insert lists the track titles.

Overall


When Severin gives the Blu-ray treatment to two Box Office International pickups (with hopefully consideration for more even if the filmmakers are no longer among the living) and lovingly packs them to the gills (not unlike their Nightmare Castle), it is hard to get worked up over any technical issues in the source mastering or compression.