Bomb Girls: Season 1 (TV)
R2 - Holland - Dutch FilmWorks
Review written by and copyright: Samuel Scott (13th January 2016).
The Show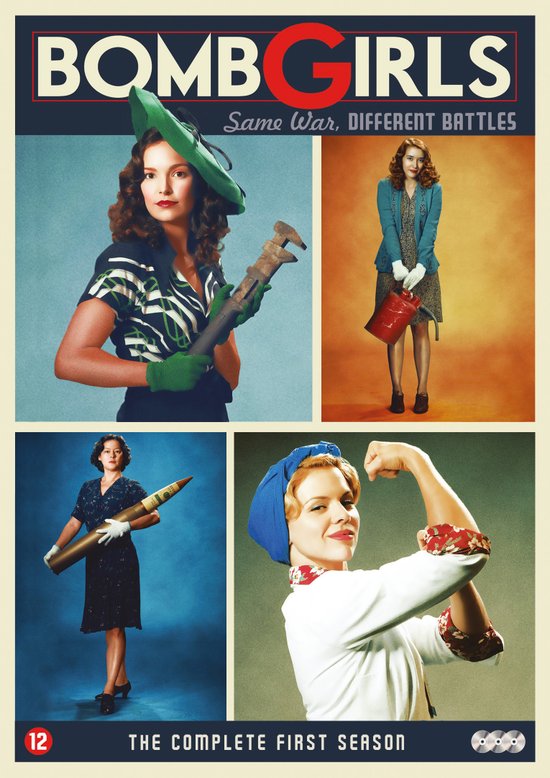 ***This is an A/V and Extras review only. For reviews on the show from various critics, we recommend visiting HERE.***

Same war. Different battles.

Set during World War II, BOMB GIRLS tells the remarkable stories of women who risked their lives in a munitions factory, building bombs for the European front. Liberated from social and cultural restrictions, they embrace their new-found freedom, changing their lives — and the world around them — forever.

When war starts, these females must face broken hearts from the front line whilst risking their life every day in dangerous working conditions, but above all else they have to decide whether they are going to play the cards they were dealt with or break the rules and fight!

This set includes all six episodes of the first season, spread over three discs.

Video


Independent Netherlands based distributor Dutch FilmWorks have released the first season of Canadian wartime drama "Bomb Girls" on to DVD using the original broadcast aspect ratio of 1.78:1. The episodes are anamorphic, and although far from reference quality, they look fine for the format.

As to be expected for a moderately budgeted show set during the second world war, the colour scheme utilises lots of darker forties browns, greys, blues and greens. Blacks are generally deep though can appear a little soft in some clothing. The details in the more shadowy jazz bar and dance locations are okay but can succumb to some minor crush and clunkiness. Some colours - such as bright red lipstick on the characters when they "doll themselves up" - can really pop, and adds some occasional vividness to the picture. Close-up details are pretty average for DVD, with some notable smaller details in skin, as well as some of the more minute aspects of the period clothing. Like with Kaleidoscope's UK release of the second season, the biggest problem here is the surprising amount of banding whenever there is a visible skyline, or even along walls in backgrounds. However, the problem with jumping frames in that UK release of season two is non-existent here. There are no obvious signs of edge enhancement or aliasing, and no problems with damage.

The show is uncut and in PAL format.

Audio


There are two audio options included:
- English Dolby Digital 5.1
- English Dolby Digital 2.0 Stereo

For my viewing, I generally stuck to the English Dolby Digital 5.1 track though I did flick to the default stereo 2.0 track on a few occasions. As expected, the 5.1 track doesn't really add a huge amount, with surrounds only utilised for the score by Peter Chapman. I did find dialogue to exhibit more depth in the 5.1 track, with all lines audible and without issue. Channel separation at the front is okay, with moderate effect. The track is well-balanced with consistent volume levels, and the more subtle sounds of the factory equipment can be easily heard, yet never overpowering what is happening at the forefront of the screen. There are no issues with crackles, drop outs, or background hiss.

Optional Dutch subtitles have been included, but do play by default.

Extras


None.

Overall



| | | | | |
| --- | --- | --- | --- | --- |
| The Show: C+ | Video: B- | Audio: B- | Extras: F | Overall: C+ |

---
DVD Compare is a participant in the Amazon Services LLC Associates Program and the Amazon Europe S.a.r.l. Associates Programme, an affiliate advertising program designed to provide a means for sites to earn advertising fees by advertising and linking to amazon.co.uk, amazon.com, amazon.ca, amazon.fr, and amazon.de.