The Film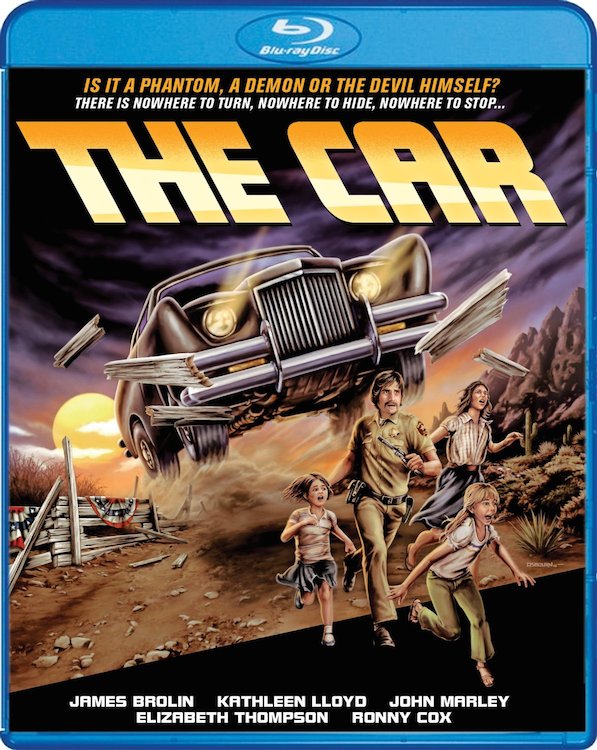 Coming off the smashing success of "Jaws" (1975), Universal was all-too-game to replicate that achievement however possible. When it came time to make "The Car" (1977), the mandate given to director Elliott Silverstein was simple: make "Jaws" on land. Silverstein goes into greater depth regarding the issues inherent to accepting such a task, but most who watch his film will agree he more or less managed to succeed. Setting aside the obvious Achilles heel of nearly every killer car movie – that protagonists could simply climb a flight of stairs or go anywhere else a car can't – there is some real terror in having a two-ton beast relentlessly chasing you down. A car can't be reasoned with; its strength cannot be matched; and the only thing that's likely to stop it is total annihilation… or a couple flat tires. But then, the norm for films of this ilk is the titular vehicles are often possessed to such a degree that no expected means of destruction will suffice. Either you blow the ever-lovin' sh*t out of them or expect to be made road kill.

A black car appears in the Utah desert, seemingly out of nowhere, and begins a whirlwind tour of rampaging death. First, two cyclists are mowed down; then, a horn playing hippie meets the front fender. The town police captain, Wade Parent (James Brolin) has little to go on – black car, no plates, tinted windows. That's all the information he's able to get out of local wife beater and total a**hole Amos (R.G. Armstrong). The car shows up again later that night near the police station and attempts to run down Amos, who was being questioned again, but it misses and takes out Sheriff Peck (John Marley) instead. Eyewitness reports suggest the car had no driver, causing Wade to increase town security across the board and ask his deputy, Luke (Ronny Cox), to cancel a school parade rehearsal being led by his girlfriend, Lauren (Kathleen Lloyd).

Well, the parade doesn't get canceled, because Luke is a drunk who has gone right off the wagon, and the nefarious car appears on the scene to terrorize the school kids and their teachers. Most everyone manages to remain safe, though, when they run into a graveyard. It seems the car is unable to drive on hallowed ground. Wade and his deputies give chase and let loose on the car with everything they've got, but to no avail. Five deputies lose their lives and Wade winds up in the hospital… and a final confrontation with the car still looms on the horizon.

The eponymous vehicle of "The Car" falls in line with another killer on four wheels, "Christine" (1983), in that it never retains any damage and is unyielding in its pursuit of those it wants to kill. But Christine had some purpose behind her killings; the audience could generally pinpoint who would be next to meet her chrome-plated grill. Not so for The Car, a slick, black modified Lincoln that appears out of thin air to wreak havoc on a small desert town out in the sticks of Utah. Everyone in town is fair game. No motive is expressed, nor is there any rhyme or reason as to who dies. That's part of what keeps "The Car" interesting – anyone can die.

If you're the type of viewer who needs to have things explained, that's also what might be a cause of frustration. The Car likes to kill – this much is clear. But there's no explanation for why it seems to target those around Wade. He's not a scumbag; he has no obvious bad qualities. The guy is just a police captain trying to keep his citizens safe. Maybe that's all it takes – one man gets in the way of evil succeeding and suddenly finds his life the focus of its destruction.

"The Car" is slightly better than most drive-in fare of the 70's thanks to a solid cast and an absolutely evil villain. James Brolin was the man back in these days; built like an old-school tough guy and sporting one of the best mustaches in the business. Surrounding him are a mix of new and old character actors, including hard-nosed badass R.G. Armstrong, John Marley (the guy with the horse's head in the bed in "The Godfather") and a young(ish) Ronny Cox. Kathleen Lloyd, who plays Brolin's girlfriend, is extremely easy on the eyes and plays more than just a vessel for Wade to occasionally fill. Also cool (and like "Jaws"): Car-vision, where we watch from the car's POV, bathed in an amber hue, as it stalks intended victims. The movie might not be high art by any stretch, but it's a damn fun ride - one I'm always game to take.

Video


Arrow Video previously issued "The Car" on Blu-ray in the UK, and it appears the 2.35:1 1080p 24/fps AVC MPEG-4 encoded picture seen here is identical. This is a good thing because the picture is very pleasing. Colors are nicely saturated, black levels are almost perfectly pitch, and the abundance of daylight shots means definition and fine detail are able to shine with wonderful clarity. It appears there might be some DNR use here; not enough to make faces and textures waxy but it certainly appears to have lessened the grain field and removed some very fine details; however, it isn't a problem to my eyes. The image is very crisp – just check out the car's chrome fender and grill, which look razor sharp. The day-for-night shots near the climax are a little too dim, but you can get what the filmmakers were going for there.

Audio


Audio comes with the choice of an English DTS-HD Master Audio track in either 2.0 stereo or 5.1 (48kHz/24-bit), both of which sound great. Immersion and power are better on the multi-channel mix. Many of the scenes where the car is stalking people, revving it's engine and gunning it all around town, get some nicely prioritized effects that come bursting forth from every corner of the room. At times it sounds like the rear channels are simply mimicking the fronts, but the enveloping audio experience definitely adds to this fun thriller. Subtitles are available in English SDH.

Extras


Arrow Video's UK release was packed with extra features – and not a single one of them appears here. Too bad Scream Factory couldn't work out a deal to import them because they're very much worthwhile. Still, this disc does include a trio of new interview featurettes, along with the usual promotional materials.

"Interview with Director Elliott Silverstein" featurette (1080p) runs for 9 minutes and 16 seconds. The helmer discusses his meetings with Universal's top brass, what was his favorite sequence, the use of darkness, car mechanics and much more.

"Interview with Actress Geraldine Keams" featurette (1080p) runs for 12 minutes and 10 seconds. Fairly typical interview in which the actress recounts how she got into the business, who she's worked with and what her time was like on this film.

"Interview with Actress Melody Scott Thomas" featurette (1080p) runs for 11 minutes and 52 seconds. Scott, who has been acting since the age of three, talk about her career moves, scares on this film's set and so forth.

The film's theatrical trailer (1080i) runs for 2 minutes and 15 seconds.

A TV spot (1080i) runs for 34 seconds.

A handful of radio spots runs for 3 minutes and 9 seconds.

A still gallery (1080p) features 125 images, running for 10 minutes and 32 seconds.

Packaging


The single disc comes housed in a standard Blu-ray keep case.

Overall


Evil and engaging, this old-school killer car feature is a devil of a good time. Silverstein ever so slightly elevates campy material and delivers one of my favorite "Sunday afternoon" horrors of the 70's. Scream Factory's release comes with great picture and audio, and while the extras aren't as great as the UK release they are nonetheless worthwhile.
| | | | | |
| --- | --- | --- | --- | --- |
| The Film: B | Video: B+ | Audio: B+ | Extras: C | Overall: B |