The Film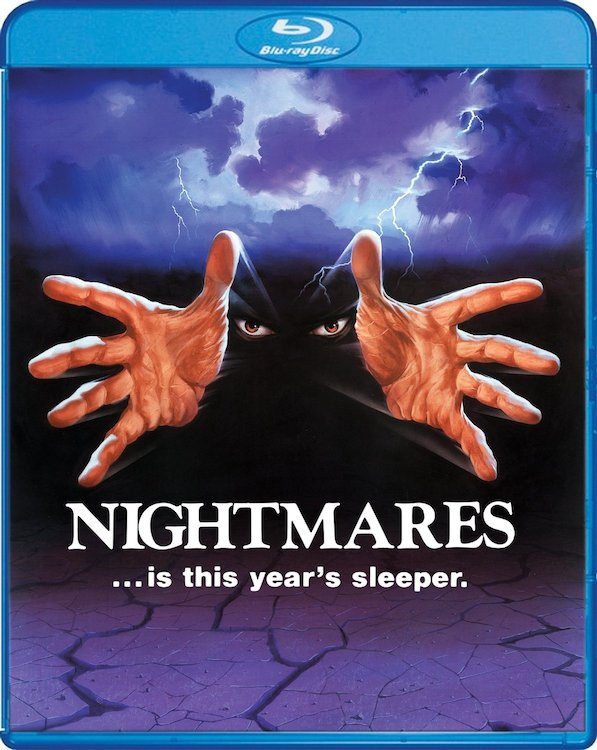 What happened to the movie-of-the-week? Back in its heyday, networks were producing myriad small screen terrors that still hold up to this day. Steven Spielberg got his start with Universal, signing a contract to make four TV movies. John Carpenter shot "Someone's Watching Me" (1978) for NBC, right before making "Halloween" (1978), and then followed it up with the TV movie "Elvis" (1979), marking his first collaboration with Kurt Russell. Cult classics like "Trilogy of Terror" (1975, an ABC Movie of the Week) and "Dark Night of the Scarecrow" (1981, made for CBS) chilled home audiences to such a degree it's almost hard to believe they were made for general viewing. That is one of the surprising aspects to these network television horror movies – they could get intense… sometimes to such a degree they found themselves off the schedule entirely…

…which is precisely what happened to director Joseph Sargent's "Nightmares" (1983). Intended as a pilot for NBC, when network execs saw the footage it was deemed "too intense" and repositioned as a theatrical release. While it can easily be argued many of the television terrors which preceded it were just as – if not more so - extreme the story makes for some good notoriety nonetheless. Sargent's film is an anthology with no bookends or narrative or connective tissue between segments, aside from each focusing on a potential, well, nightmare.

Kicking things off is "Terror in Topanga", which finds housewife Lisa (Cristina Raines) leaving her woodsy abode late one night to grab a pack of smokes because she just can't go a few hours without inhaling 800 deadly chemicals. Despite the insistence of her husband and neighbors that she not leave – because a killer is on the loose in that area – she rebuffs their warnings and heads out into the night anyway. And wouldn't you know it, she finds herself directly in harm's way when the killer gets closer than she ever expected.

"The Bishop of Battle", our second story, features young punk J.J. (Emilio Estevez), an arcade hustler who beats amateurs in order to build up his stockpile of quarters so he can play the segment's titular game in hopes of finally making it to level thirteen. Some believe the thirteenth level is just a myth, but J.J. thinks otherwise. He learns otherwise, too, after he breaks into the arcade late at night and finds himself becoming a literal part of the game.

Thirdly, in "The Benediction", a priest (Lance Henriksen) who has lost his faith leaves the congregation to travel westward across the desert plains. His journey is cut short when a blacked-out 4x4 truck (like a roided-out cousin to the vehicle from 1977's "The Car") begins to menace him on the road. At first the priest believes it is a fellow traveler messing around, but when it becomes clear the driver is from the Deep, Deep South the priest suddenly finds his faith may be renewed in preparation for a classic battle.

Finally, the segment that always creeped me out the most as a kid: "Night of the Rat". When corporate jerk-of-a-husband Steven (Richard Masur) gets fed up with hearing his wife's complaints about rats scurrying around within the walls, he sets out a few traps and the family bags a reasonably large rodent. But when the noises persist, and an exterminator finds evidence of something large hidden beneath the home, the family soon finds themselves under siege from a rat big enough to be ridden with a saddle on its back. And it screams – often and loudly.

I've got a serious affinity for horror anthologies, and this has long been one of my go-to titles when the mood strikes. The stories are thin (as most anthologies are) but each has a couple standout moments to make them memorable. "Topanga" is tense throughout; "Bishop" sees Emilio Estevez playing a real-life evil version of "TRON" (1982); Lance Henriksen back in his prime, you can't go wrong; and that big rat in the last segment still haunts my dreams. Not part of the upper echelon of this sub-genre, or close to a member of the bottom ranks, "Nightmares" is a thoroughly entertaining trip through four unrelated tales, each with a distinct take on terror.

Video


Previously available only on DVD with a full-frame transfer, Scream Factory has done fans a solid yet again by providing two aspect ratio choices here: open matte 1.33:1 or a widescreen version framed at 1.78:1, both in 1080p 24/fps with an AVC MPEG-4 encode. Widescreen or not, this isn't a great looking film but there are a few moments where it's clear the HD has made significant improvements. On the negative side, however, the image is often soft… and forget about seeing any kind of details in darkness. The best moments occur during the third segment, out in the sunbaked desert, where fine details get some pop and the lines of each vehicle look sharp and clean.

Audio


Don't expect much sonic fury from the English DTS-HD Master Audio 2.0 mono track. There aren't any issues, though; it's just that this is a simple track with few dynamic elements. Dialogue is nicely balanced and clear. The punk songs used during "Bishop" are appropriately loud and raw. Subtitles are included in English.

Extras


Extra features included here consist of an audio commentary, theatrical trailer and radio spots.

The audio commentary features Executive Producer Andrew Mirisch and Actress Cristina Raines, which sounds cool until you realize Raines is only in the first segment, leaving her with little to say for the remainder of the picture. Mirisch, thankfully, keeps it moving along but this is hardly a must-listen.

The film's theatrical trailer (1080i) runs for 1 minute and 44 seconds.

Some radio spots are included, running for 1 minute and 35 seconds.

Packaging


The single disc comes housed in a standard Blu-ray keep case.

Overall


I've been a fan of this title for a long time and it's great to see it finally get a (mostly) proper release, in widescreen to boot. Some more supplements could have sweetened the pot but overall the video quality alone is enough to make this one a recommended upgrade for all owners of the DVD.
| | | | | |
| --- | --- | --- | --- | --- |
| The Film: B- | Video: B- | Audio: B | Extras: C- | Overall: B- |