Knock Knock [Blu-ray]
Blu-ray A - America - Lions Gate Home Entertainment
Review written by and copyright: Abraham Phillips (30th January 2016).
The Film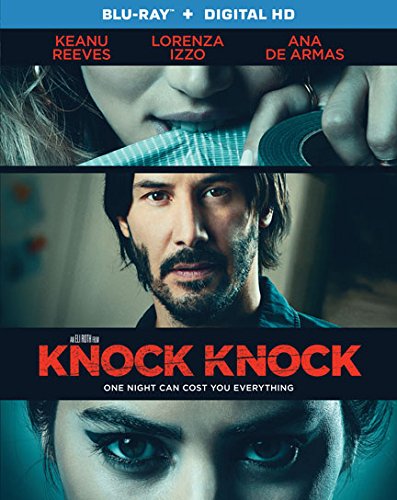 "Knock Knock" is an interesting psychological suspense film that has some potential but lacks any real flare to stand out. The biggest flaw with this movie is the very poor acting, or at least dialogue. You would think with the cast it has, it would be relatively good. Sadly the performances are just plain awful at times.

Evan Webber (Keanu Reeves) is an architect and a married man who happens to be home alone one night. His wife and kids are away on a beach trip. He's currently working on a house project when there is a knock at the door. Evan answers, two women Genesis (Lorenza Izzo) and Bel (Ana de Armas) are lost, seeking out a party. They state that their phones are dead and the taxi just dropped them off. Evan offers to phone a taxi for them. The girls begin to explain that every city they travel to; they have sex with a different man and soon Evan finds the girls naked, wanting him. Giving in to temptation is a mistake he'll not soon forget as shortly afterwards the girls turn his life upside-down when the girls refuse to leave and slowly play a cat-and-mouse game of suspense, tension and violence.

It's more or less an erotic horror film. A home invasion style setting. Directed and co-written by one of my favorite modern horror directors Eli Roth. Roth has hits and misses. It's also co-written by another wonderful writer Guillermo Amoedo. Eli and Guillermo have collaborated together many times on such films as "Aftershock" (2012), "The Green Inferno" (2013), and "The Stranger" (2014). Also joining in the scriptwriting efforts is Nicolás López. With a three-person operation in writing I would expect some solid storytelling, but in the end I was not impressed, mainly due to weak characterizations, dialogue and its unoriginality.

The aspect that really hurts this film is the campy acting. I was surprised considering the talent involved. Roth has dropped the ball here and delivered an ultimately derivative. It had its moments but lacked any real quality.

Video


Presented in the film's original aspect ratio 2.35:1 mastered in 1080p HD 24/fps using AVC MPEG-4 compression, it's a wonderful vibrant picture. Another flawless disc on the technical side.

Audio


A single English DTS-HD Master Audio 5.1 surround track (48kHz/24-bit) is included. There are no flaws. The Audio is crisp and crystal clear. The sound effects, whispers are all solid and can be heard perfectly. Subtitles are included in English, English SDH, and Spanish.

Extras


You do get a decent collection of special features. They include an audio commentary, which was better than the actual film. Deleted scenes, a making-of featurette, stills gallery, bonus trailers, and a digital copy version of the film.

The audio commentary features writer/director by Eli Roth, co-writer Nicolás López, and actresses Lorenza Izzo and Collen Camp. The commentary is very informative. Each participant adds a little spark and in-depth information about the making of the film. They comment on the emotional responses to key moments in the film. The track does move slowly at time, that some might find tiring or boring but, for me, and I think many movie lovers will enjoy and take to this track. The film is fleshed out in great detail. I always find it appealing hearing the views of those involved in the film and this commentary does that.

Two deleted scenes are featured here with optional audio commentary by writer/director Eli Roth. The scenes are:

- "Destruction" which runs for 3 minutes 15 seconds.
- "Alternate Ending" which runs for 1 minute 35 seconds.

"The Art of Destruction: The Making of Knock Knock" is a fairly basic EPK featurette which runs for 14 minutes 42 seconds.

A still gallery features 62 stills from the production.

Bonus trailers are included for:

- "John Wick" which runs for 2 minutes 33 seconds.
- "The Last Exorcism" which runs for 2 minutes 5 seconds.
- "Cabin Fever" which runs for 1 minute 26 seconds.
- "The Saw Series" which runs for 3 minutes 16 seconds.

The film comes with an insert code for a digital copy version of the film.

Packaging


Packaged in a standard Blu-ray case housed in a cardboard slip-cover.


Overall


Not great, yet not horrible. It's one of those films that is worthy of a rental when there's nothing better to watch.
| | | | | |
| --- | --- | --- | --- | --- |
| The Film: C | Video: A | Audio: A | Extras: B | Overall: B- |

---
DVD Compare is a participant in the Amazon Services LLC Associates Program and the Amazon Europe S.a.r.l. Associates Programme, an affiliate advertising program designed to provide a means for sites to earn advertising fees by advertising and linking to amazon.co.uk, amazon.com, amazon.ca, amazon.fr, and amazon.de.