Leatherheads
R2 - United Kingdom - Fabulous Films
Review written by and copyright: Rick Curzon (2nd February 2016).
The Film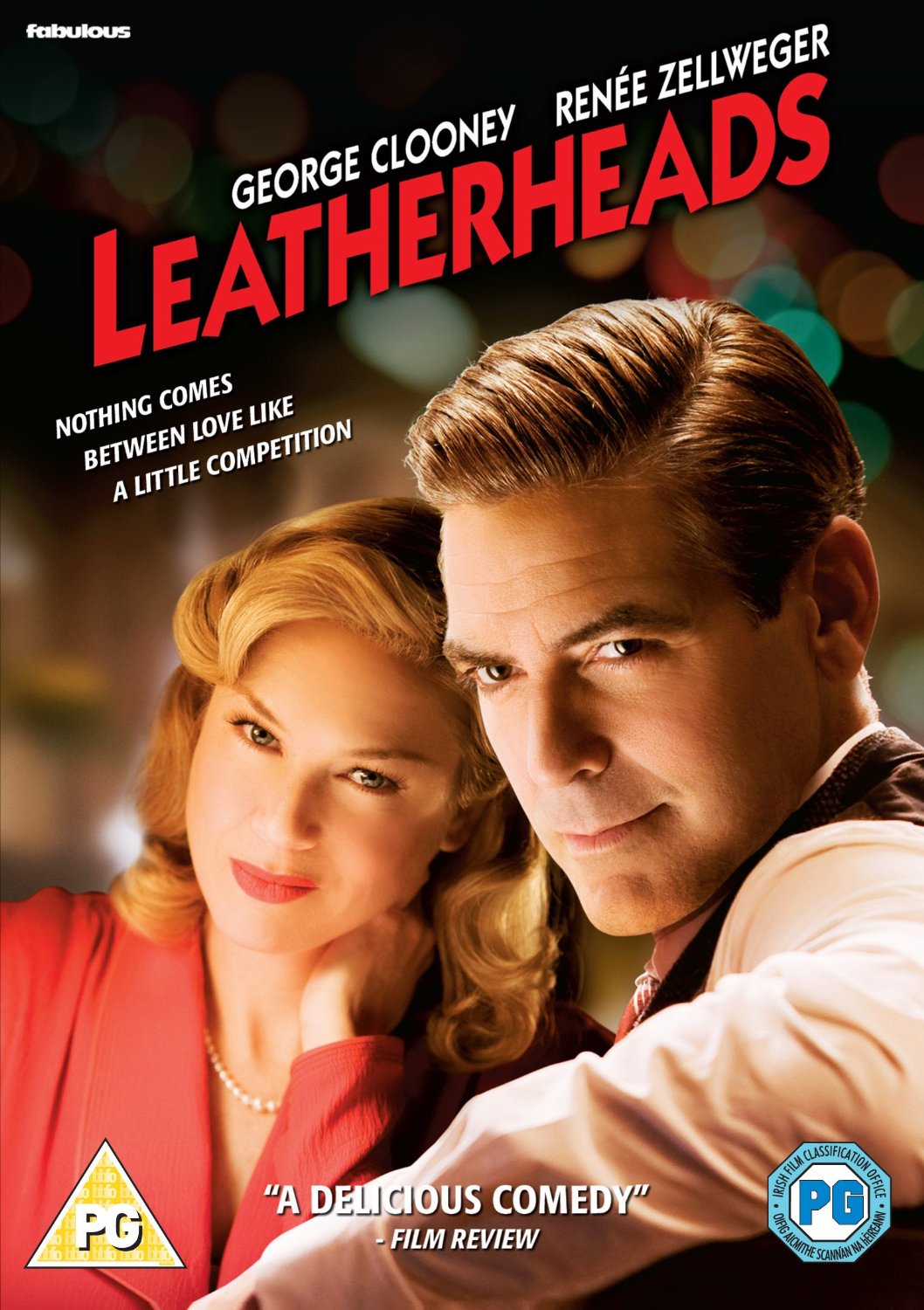 ***This is an A/V and Extras review only. For reviews on the movie from various critics, we recommend visiting HERE.***

Nothing comes between love like a little competition.

A hilarious, quick witted romantic comedy starring George Clooney as charming veteran football player Dodge Connolly and Renée Zellweger as sassy newspaper journalist Lexie Littleton. Lexie's sent on an assignment to dish the dirt on Dodge's latest football team recruit, dashing war hero Carter "The Bullet" Rutherford. But when both Carter and Dodge fall for Lexie comedy ensues as they head to head in a fight to win the girl of their dreams. Leatherheads is all about playing dirty and scoring first!

Video


UK independent label Fabulous Films has (licensed from Universal) reissued this bouncy comical history lesson about the early days of American pro-football on PAL DVD; aspect ratio 1.85:1 presented with 16x9 enhancement. Sadly, there are no signs of a Blu-ray reissue, but there are HD discs out there. Universal first released this disc back in 2008 shortly after the film's theatrical release so there are no signs of damage on the print and although I don't have the older DVD to compare I suspect it's an exact port of the older master.

This is a very respectable standard definition transfer as you'd expect when it was prepared so soon after the film's release. This film has been photographed to evoke a nostalgic glow in the viewer and has great colour values emphasising warm, autumnal colours. It's possible that they've given this slightly too much of a golden hue, but it looks good so why carp. So many films these days endorse a desaturated, dull colour palette it's refreshing to see something so florid.

Bar one of the existing Blu-rays, this DVD will do for those who just want to watch the film. In standard definition terms it's a good transfer of a great looking movie.

Note: On my Panasonic Blu-ray player when I hit the menu button it returned the disc to the language selection screen which is the second thing (after the Universal logo) the viewer sees on loading and it then forces you to go through the copyright legal business before getting to the load up trailers, which you can skip.

1.85:1 / PAL / 109'00"

Audio


Soundtracks:
English Dolby Digital 5.1
German Dolby Digital 5.1
Hungarian Dolby Digital 5.1
Polish Dolby Digital 5.1

Subtitles:
English, German, Hungarian, Polish, Arabic, Danish, Dutch, Finnish, Icelandic, Norwegian, Swedish, Turkish

This has a decent fairly robust Dolby Digital Track that serves the film well.

Nice separation with dialogue front and centre. The lovely Randy Newman score is patterned after the jazz of the period and is focused mainly on front left and right with very modest use of surrounds. The score does utilise the LFE track and it gave my subwoofer a workout at choice moments of musical action.

This is a fairly standard, lossy standard definition soundtrack. It does it's job perfectly well if unremarkably. That said this isn't really the kind of film to go to town on it's immersive soundtrack. I detected no distortions or other flaws such as pops, clicks or hiss.

Extras


Deleted Scenes - 8'10" (1.85:1 / 16x9 / English Dolby Digital 2.0 Stereo)
Ten deleted scenes none of which seem essential but are worthwhile for fans of the film. Quality is good bar a single vertical scratch running through one scene. There are no onscreen captions or titles / introductions.

Start-up Trailers: Wild Child (2'06") (1.85:1) Mamma Mia (1'46") (2.35:1) (both are 16x9 / English Dolby Digital 2.0 Stereo)
Two trailers for (I presume) films that Fabulous Films are going to be licensing from Universal. Nothing more to say of note other than these play on loading the disc, are skippable and not accessible from the menu.

Sadly, real fans will have to own both this and the Universal Blu-ray (BD) because that has superior image AND a commentary track with director / star George Clooney and producer Grant Heslov. Bizarrely, the BD doesn't have the deleted scenes. The BD also has a picture in picture track with additional materials linked as well as a video of the Clooney / Heslov commentary.

Overall


Clooney and Rene Zellwegger seem to be on top form, and are very much channelling our modern idea of what sassy 1920s go-getters would be like. This appears to be a direct port of the Universal UK DVD from 2008 even down to the logos that play and I suspect the menus.
| | | | | |
| --- | --- | --- | --- | --- |
| The Film: B- | Video: A- | Audio: C | Extras: D- | Overall: C |

---
DVD Compare is a participant in the Amazon Services LLC Associates Program and the Amazon Europe S.a.r.l. Associates Programme, an affiliate advertising program designed to provide a means for sites to earn advertising fees by advertising and linking to amazon.co.uk, amazon.com, amazon.ca, amazon.fr, and amazon.de.