The Film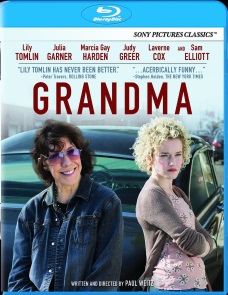 Burnt-out poet turned unemployed academic Elle (Nashville's Lily Tomlin) has no sooner cruelly broken up with her younger lover of four months Olivia (Jurassic World's Judy Greer) than she gets a surprised visit from her Shirley Temple-haired granddaughter Sage (Martha Marcy May Marlene's Julia Garner) frantically in need of $630 for an abortion; and she needs it by the end of the day since she has made an appointment. After making sure that Sage has thought out her choice because it "is something you will probably think about at some point every day for the rest of your life", Grandma reveals that she is flat broke, having paid off all of her debt including the large hospital bills from the death of Violet, her partner of thirty-eight years, and cut up her credit cards because "infantilize you" and "turn you into a pod-person." Grandma, disappointed but not surprised at Sage's dearth of knowledge on second wave feminism, suggests a free alternative in a women's health center only to discover that it is easier to get a cup of "shitty coffee" than a "reasonably priced abortion these days." Sage is even more reluctant to go to her pothead boyfriend Cam (The Fault in Our Stars's Nat Wolff) for the money than her mother Judy (Mystic River's Marcia Gay Harden), but Grandma shakes him down for the forty bucks he has after he makes the mistake of calling her a bitch and physically threatening her. From that point, Elle drags Sage from friend to friend, attempting to collect a debt from tattooist Deathy (Orange is the New Black's Laverne Cox), selling off some of her precious first editions – like a wine-stained but autographed copy of "The Feminine Mystique" (after likening Betty Friedan to Toto the Dog for "pulling back the curtain") to Bonobo bookstore (so named after the matriarchal species of ape who "masturbate all the time, and they don't have wars, unlike chimps and humans") proprietress Carla (Jacob's Ladder's Elizabeth Peña), trying to wheedle a loan from ex-husband of a few months Karl (Fatal Beauty's Sam Elliott) – also known as the ogre from Elle's popular poem "The Ogre's Seed" – before Sage's evening appointment.

A pro-choice, pro-lesbian, road movie of a sort, Grandma veers deftly back and forth between indie drama and comedy, with a dependably ballsy Tomlin doing and saying the sort of badass things viewers may have wished their grandparents would do to protect them. Although her unacknowledged flaws threaten to alienate the viewer as she endeavors to demonstrate that she is not a hypocrite; yet, she eventually comes to realize that she has behaved counterproductively and even self-destructively to do so ("I'm the only idiot in the world I know who would cut up her credit cards to prove a point to herself"). Tomlin is such a presence here that Garner is sadly overshadowed while the more seasoned actors are able to hold their own when sharing the screen. The relationship with Elle and her own daughter Judy gets precious little screentime but, while it is secondary, it does shed light on the family dysfunction. Straight-laced Judy seems to have had no issues with her mother's lesbianism (more so not knowing who her father was) and even saw her partner Violet as the more motherly figure which may be the cause of some resentment Elle expresses towards both daughter and loving partner. Greer, Cox, Harden, and Peña are able to make the most of their few scenes but Elliott's charming but off-putting old flame gets the most dimensional treatment (making the audience believe it when he tells semi-flirtatiously tells Elle that it is painful to see her again). The skeleton of a structure of this indie drama – quite a change of pace from About a Boy/ Little Fockers helmer Paul Weitz – is a little transparent and the resolution a little pat (leaving the viewer feeling as if something more authentic could have been achieved with just a little more effort), but the main performances are engaging. Filling out the cast with all too brief turns are the likes of Colleen Camp (Running with Scissors), Judy Geeson (To Sir, With Love), Don McManus (True Colors), Lauren Tom (Wall Street), and John Cho (Harold & Kumar Go to White Castle).

Video


The 1080p24 MPEG-4 AVC 1.85:1 favors a warm-ish palette appropriate to the sunny suburban California exteriors and natural lighting in the interiors with no obvious issues.

Audio


Audio options on this region free Blu-ray include English DTS-HD Master Audio 5.1 and English Descriptive Audio Dolby Digital 5.1 as well as French DTS-HD Master Audio 5.1, Portuguese DTS-HD Master Audio 5.1, and Thai Dolby Digital 5.1 dubs, along with a multitude of subtitle options (English, English HoH, Chinese [Simplified], Chinese [Traditional], French, Indonesian, Korean, Portuguese, Spanish, and Thai). The 5.1 English track is largely front-oriented with music and some atmospheric effects straying into the surrounds.

Extras


The extras could be said to be better than the film itself, starting off with an audio commentary by director Paul Weitz & actors Lily Tomlin, Sam Elliott, and Julia Garner in which the Weitz discusses being inspired by working with Tomlin on Admission and wrote a script with her in mind. Tomlin discusses her trepidation at the possibility of not liking a script written specifically for her and the autobiographical elements they worked into the script. Elliott - who was contacted by Weitz's brother Chris who directed the actor in the fantasy franchise non-starter The Golden Compass - recalls his character as scripted and the changes they made in pre-production. Although there was very little in the way of cut scenes, one scene and a couple bits were removed because it was felt that it distracted the audience anticipating a dark turn in the third act to believe that Elle had a health problem. Also of interest in the easy-going track is the revelation that Elle's dead partner Violet is represented in photographs by author/poet Jacqueline Woodson (who receives special thanks in the end credits). Subtitles are also available for the commentary track in English, Chinese, Korean, Portuguese, and Thai (selectable from your remote or based on the subtitles selected for the feature in the set-up menu).


Exclusive to the Blu-ray edition is the featurette "A Family Portrait: Making Grandma" (25:15) which charts the casting of the characters with repeated anecdotes from the commentary about how the actors became involved. Many of the same anecdotes appear almost verbatim in the Q&A with Lily Tomlin, Sam Elliott, and director Paul Weitz (20:58) which may have been informative to the live audience (and those who watch it before the other extras) but is mainly enlivened by Tomlin's and Elliott's humorous asides and the spins they put on the repeated tales (like Elliott mentioning meeting Tomlin briefly before at the Emmys when they were running against each other for "Outstanding Voice-Over Performance" with Tomlin on the documentary An Apology to Elephants and Elliott on an episode of Robot Chicken). The disc closes out with the film's theatrical trailer (2:06).

Overall



| | | | | |
| --- | --- | --- | --- | --- |
| The Film: B+ | Video: A | Audio: A | Extras: A | Overall: A- |