The Film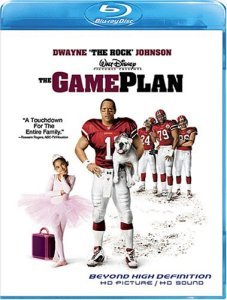 From where, I wonder, came the trend of taking big, brutish monkey men and turning them into cute and cuddly kids movie stars? Everyone from Arnold Schwarzenegger to Hulk Hogan to Mr. T - all wrestlers, body builders, tough guys, and killing machines - have ended up playing cuddly slapstick roles later in their careers. I am not sure who it was that first thought of casting the muscle bound badasses in family movies, but these guys have all done them at some point. There is some sort of career milestone marker here: from nightclub bouncer and body building aficionados, to gun wielding action movie stars, and then straight to pasture for an afterlife as family-friendly Disney icons. The question is whether these lightweight comedies mark the middle of a career or the end of a career. Arnie went on to be the governor of California, so clearly "Kindergarten Cop" (1990) didn't hurt him too much, but Hulk Hogan and Mr. T aren't exactly A-listers these days.

The latest fella to make a living kicking people's asses before going on to star against an eight-year-old kid in a Disney film is Dwayne "The Rock" Johnson. After spending a decade body-slamming people in the WWF, Johnson has turned to acting in recent years. Well, something resembling acting, anyway.

"The Game Plan" is a Disney production starring Johnson as a successful football player whose team is about to make it to the playoffs. He has a swank bachelor pad, a rather expensive car, lots of hot babes, a tremendous ego, and a fetish for Elvis Presley. With the exception of that last bit, he's a completely by-the-book character. Perhaps the character sees his own successful position in football as being parallel to Elvis's untouchable position in rock music. Indeed, they even both have the same nickname: 'The King'.
With no warning, a little girl, Peyton (Madison Pettis) walks into his world of parties, sports, and fame; she announces that she is his daughter. Outlining the rest of the story is not necessary: every joke, every plot point, and every supporting character is lifted directly from the light comedy play book. There are no surprises here whatsoever. The story is tired, the jokes are tired, and the two leads - adult male and little girl - are both poor actors. The kid, at least has an excuse (she's a kid). The comedy gives way to a bit of requisite drama in the last third of the film. I suppose that this movie has some messages about family values that the kids could be exposed to; this is harmless family entertainment. But would it could be just as wholesome and kid-friendly if there were some originality here. Creativity is a family value, right?

The usually dependable Kyra Sedgwick shows up for a paycheck, playing the standard press agent character: manic, soulless, and greedy (see my review of "Mr. Woodcock" (2007), and you'll discover an absolutely identical character). Sedgwick has been in better roles, and has to suffer the indignity of a wholly unnecessary fart joke late in this film. Roselyn Sanchez plays the kid's dance teacher. This is character template #27, the pretty woman who is involved in the kid's life, and who makes the star feel bad for not being better to his child. If nothing else, she's easy on the eyes, and she provides the story's only real surprise: her character and Johnson's do not get together romantically. Paige Turco comes out of hiding in a small role too - geeks out there will remember her as April in the send and third installments of the "Teenage Mutant Ninja Turtles" films (1991-1993).

Video


Presented in a widescreen ratio of 2.40:1, this high-definition release is presented in 1080p 24/fps and has been created using AVC MPEG-4 compression. For a recent film you'd expect a top notch effort and that's pretty much what you get here. The image is sharp and crystal clear from the detail in the stadium to the backgrounds in Joe's apartment. The image is clean and good looking; no noticeable flaws can be seen as we get bright and crisp colors, natural skin tones and deep and bold black level. Shadow detail is consistently good throughout this pristine image.

Audio


Four audio tracks are included in English PCM 5.1 uncompressed audio at 48kHz/24-bit/6.9 Mbps as well as standard Dolby Digital 5.1 tracks in English, French and Spanish. For the purposes of this review I chose to view the film with its PCM 5.1 track, this uncompressed audio track totally rocks, as it displays a great range from ambient environmental sounds all the way to aggressive action sounds of the football games and the stadium cheers. The mix features some music and score elements that occasionally sound a bit loud but not too intrusive, sound effects and directional effects sound natural and realistic, the surrounds are put to good use as well, it's a soundtrack that very rarely takes a rest.
Optional subtitles are included in English for the hearing impaired, French and Spanish.

Extras


This disc includes all the DVD extras plus an exclusive feature by way of a unique audio commentary, there's also bloopers, a featurette, some ESPN clips, deleted scenes, an interactive game and some bonus trailers. Below is a closer look at these supplements.

First up we've got "Chalk Talk" an audio commentary that plays out like a 'sports booth' style narration which features a play-by-play which pauses the movie and has the two participants drawing on the screen pointing out certain things. The track is with the film's director Andy Fickman and the film's star Dwayne "The Rock" Johnson. This track features all the usual stuff you'll find in a commentary such as production information, comments on the cast and crew, comments on setting up certain scenes in the film and they also share some stories and talk about their experience making the film, but they also draw on the screen and point out some funny stuff, some interesting aspects about the production design and people on screen and sometimes stuff that's probably only interesting to either the director or the film's star. The tone of the track is jovial and lighthearted, while it's a nice gimmick to add this 'play-by-play' type thing to what would essentially just be an audio commentary it gets a bit tiring. It should also be noted that this extra is exclusive to this Blu-ray release.

Next are 9 deleted scenes are up next with optional introduction by director Andy Fickman:

- "Joe Actually Loses One" runs for 1 minute 37 seconds, Joe's team loses a game.
- "Joe's Party" runs for 2 minutes 7 seconds, Joe's agent makes a deal at a party.
- "Joe's Special Friends" runs for 44 seconds, Joe flirts with two girls at the party.
- "Practice with Peyton" runs for 51 seconds, Peyton comes to football practice.
- "Peyton's Sharing Lesson" runs for 2 minutes 44 seconds, Peyton helps the coach reprimand the team.
- "Can You Catch?" runs for 25 seconds, Joe and Peyton play catch.
- "Like Father Like Daughter" runs for 39 seconds, Joe and Peyton look at the empty stadium.
- "Rebels' Owner" runs for 30 seconds, Joe's manager schmoozes with some people.
- "Ballet Extended" runs for 6 minutes 50 seconds, longer version of the ballet scene.

Following that we've got bloopers with Marv Albert which runs for 2 minutes 57 second, and is the standard blooper reel narrated by Albert.

"Peyton's Makeover Madness" interactive game is a feature listed on the box, but which requires minor Easter Egg-hunting skills to find, it's a kids game that lets you redecorate the objects seen on the main menu page, which is a still image of Joe's apartment.

"Drafting the Game Plan" runs for 20 minutes 14 seconds, this is your basic promotional featurette. Interviews with the cast and crew are mixed with on-set footage and memorable scenes from the film.

"ESPN's Sportscenter" clip runs for 3 minutes 30 seconds and is a real ESPN news report about Johnson's being cast in the film. The cable sports network goes on location, and there is a brief interview with the actor.

"ESPN's Sportscenter: the King in Search of a Ring"clip runs for 5 minutes 4 seconds and is a mock ESPN documentary about Johnson's character.

There's also a collection of bonus trailers which include:

- "Disney" spot which runs for 53 seconds.
- "Disney Blu-ray" spot which runs for 1 minute 50 seconds.
- "Sleeping Beauty" which runs for 1 minute 57 seconds.
- "Wall-E" which runs for 1 minute 36 seconds.
- "Enchanted" which runs for 2 minutes 30 seconds.

Additionally this disc features "D-Box" enabled support; if you have a D-Box motion set-up this disc is compatible.

Finally the disc also includes a "Movie Showcase", which jumps to three key reference scenes that show off the high-definition quality.

Overall


This film and extras has been reviewed by James Teitelbaum. The Blu-ray specifications and some extras have been reviewed by Noor Razzak.
| | | | | |
| --- | --- | --- | --- | --- |
| The Film: D+ | Video: A+ | Audio: A | Extras: B | Overall: B- |