The Film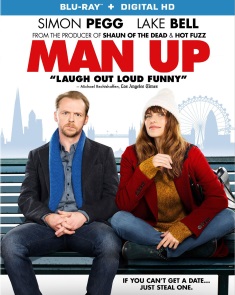 Thirty-four year old journalist Nancy (Under Still Waters' Lake Bell) is ready to give up on relationships after a disastrous set-up at the Luau-themed engagement party of a pair of school friends (The Iron Lady's Phoebe Waller-Bridge and Love Actually's Keir Charles) with a man (The Libertine's Robert Willfort) a little too enamored of his dead sister. On the way by train to help out with the her parents' (Atonement's Harriet Walter and Shallow Grave's Ken Stott), she does the whole romantic comedy "I'm sick of relationships" shtick to her happily married sister Elaine (Imagine Me & You's Sharon Horgan). Her phone conversation is overheard by insufferably perky fellow passenger Jessica (Mr. Popper's Penguins's Ophelia Lovibond) who swears by the self-help bestseller "Six Billion People and You" which she is carrying along to be recognized by her blind date. When Jessica leaves the book behind (possibly intentionally having smugly taken pity on her), Nancy chases after her to return the book but winds up being mistaken by Jack (Shaun of the Dead's Simon Pegg). The forty-year-old divorcee's whose inability to shut up prevents Nancy from clarifying things until she realizes they might have some things in common, and she decides to "get out there" and go on a blind date, even a hijacked one. They connect over pop culture and the "Six Billion People and You"-mandated exchanging of lists, which he mistakes for her list of mantras that include "get out there" and "take chances" along with "be more deviant" and "understand the Israeli/Palestinian conflict better." Just as the average viewer is thinking "It wouldn't romantic if it was the man who was lying, it would be creepy," everything blows up when the couple runs into Nancy's formerly fat stalker comprehensive school classmate Sean (The Imitation Game's Rory Kinnear) who propositions Nancy to buy her silence. After Jack catches the two (along with his scarf) in a compromising position in the toilets, Nancy is forced to come clean. Jack behaves like a normal person who has just been told that his date has been lying to him about everything, but they are prevented from going their separate ways when they realize that Jack has left his "man bag" at the cantina where they had their first drink, and that Nancy's notebook with the notes for her parents' anniversary speech is in it; whereupon Jack loses his moral high ground when the couple run into his shrewish ex-wife Hilary (Map to the Stars's Olivia Williams) and her lover Ed (Season of the Witch's Stephen Campbell Moore), a merchant banker ("Interesting fact: 'Merchant Banker' is cockney rhyming slang for 'wanker'," an inebriated Jack quips), and Jack needs Nancy to play the adoring girlfriend. Meanwhile, Nancy's continued absence from her parents' anniversary party has them worried and her sister excited at the possibility that Nancy has finally gotten out there with someone who is hopefully "not a complete psychopath."

Man Up is a romantic comedy that is simultaneously shopworn and refreshing. In the making-of featurette for the film, screenwriter Tess Morris refers to Billy Mernit's book "Writing the Romantic Comedy" and the seven story beats of the genre. In the finished film, that structure is more transparent here but the presence of Pegg helps to give the impression that it is more of a parody of romantic comedies than a stab at one, and the chemistry between him and co-star Bell is consistently engaging. That naturalistic first act gives way to increasingly clichéd but still funny complications, hilarious sight gags, and stand-out set-pieces like Jack and Nancy's verbal tango on the dance floor set to Duran Duran's "Reflex". While Nancy's neuroses are revealed up front as the usual romantic comedy protagonist, Jack's own emotional damage is played for drama rather than mocked by Nancy or the script. Once Nancy's deception is exposed, Jack is on equal footing with Nancy and as insightful about her shortcomings as she is his. As expected, one of them makes the wrong decision at a crucial moment and it takes a literal race against time (confounded by Sean's machinations) to get them back together for the climactic (and literally crowd-pleasing) "from the heart" speech for one to win back the other. While some may pick up this film based on Pegg's top billing expecting a send-up of the genre(it is, as the advertising says, "from the producers of Shaun of the Dead and Hot Fuzz"), Man Up remains a charming minor work thanks to its characters and the charisma of its leads.

Video


LionsGate's 1080p24 MPEG-4 AVC 2.40:1 widescreen presentation contends well with the mix of neon lights, color lighting gels, and costume choices that pop against the low-light interiors and rain-slicked night exteriors.

Audio


The sole audio option is an English DTS-HD Master Audio 5.1 track that is constantly active with background noise in the various busy London settings but really comes to life when the film's reality gives way to eighties pop and rock-scored "grand gesture" sequences (notably the "Reflex" dance scene).

Extras


Extras are rather sparse but comparable to the international releases of the film. "The Seven Beats of Man Up" (40:32) is a lengthy making-of featurette which takes its title from screenwriter Morris' relating of seven story beats for romantic comedies (and hope that they are not transparent in the finished film). Although Nancy is the main character, Morris wrote the script with Pegg in mind from the start, and his interest kickstarted what the producers call the fast greenlighting on record. Morris also wanted Bell for the film, and the actress explains that she studied drama in London and had an interest in dialects (her feature-length directorial debut In a World... cast herself as a voice coach), and that she worked with dialect coach Jill McCullough (Skyfall) during pre-production to perfect her English accent. Morris and director Ben Palmer (The Inbetweeners Movie) discuss the realism achieved during the first act and the concern about introducing the more conventional comic elements with the introduction of Kinnear's character (who Morris felt was necessary to quickly expose Nancy's deception). The discussion is interspersed with comments from the rest of the cast on working with the lead duo and humanizing their characters in spite of their functions within the plot to put off the leads in their attitudes towards relationships.


As funny as Pegg is, the gag reel (6:23) seems like it would be of more amusement to people who worked on the film, consisting mainly of blown lines and only a couple unintentional sight gags. The "Simon and Lake Interview Clips" (4:07) plays more like an extension of the gag reel with the two actors joking through interview questions (which do indeed seem more like excerpts rather than an interview session due to its choppiness).

Overall


While some may pick up this film based on Pegg's top billing expecting a send-up of the genre, Man Up remains a charming minor work thanks to its characters and the charisma of its leads.

| | | | | |
| --- | --- | --- | --- | --- |
| The Film: B+ | Video: A | Audio: A | Extras: A | Overall: A- |