The Film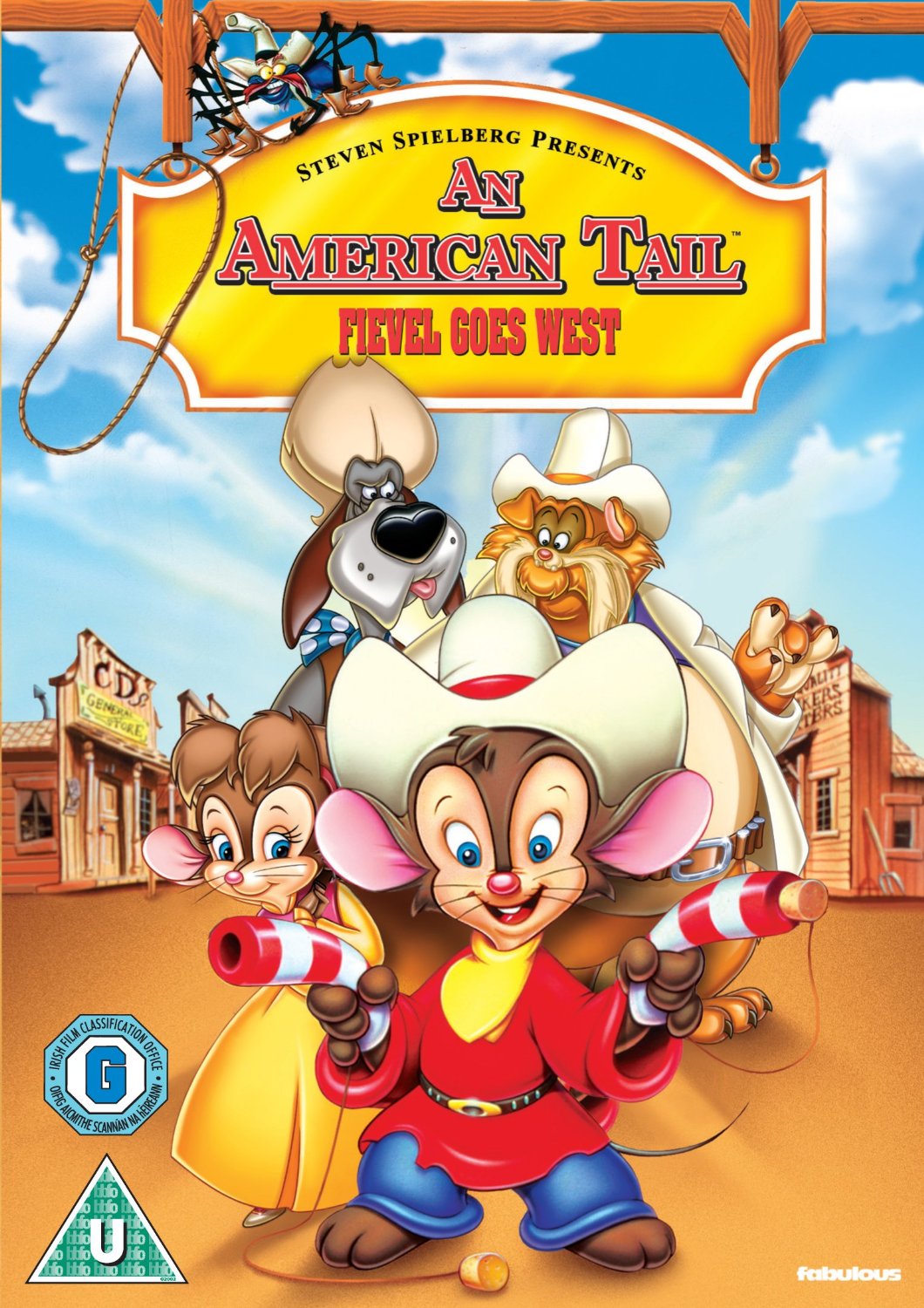 Life is hard living in New York City for Fievel and his family. Fievel Mousekewitz and his family, all Russian immigrant mice, leave in squalor with hardly any food to eat and rarely getting out to see the sunshine due to the proliferation of rough alley cats that constantly hound the mice. The leader of the cats is a suave cat called Cat R Waul (voiced by John Cleese) who devises a plan that will allow him to catch all the mice without the bother of having to chase him. Using a marionette Cat R Waul poses as a mouse and persuades many of the New City mice to leave The Big Apple and travel west, distributing free train tickets, with the promise of sunshine and a land of plenty where the cats are nice to mice and even get along well with dogs. Fievel and his family fall for the ruse and take the train to Green River in Utah. Whilst on the train Fievel goes exploring and wanders into a cattle car where he overhears Cat R Waul talking about his plan. Fievel is discovered but allowed to go free and then is thrown from the train. Fievel's family witness him falling. Fievel is then stranded in the desert whilst his family arrive in Green River mourning the loss of Fievel. Fievel's family sets up home in Green River but find that the water tower has been blocked up by Cat R Waul. Waul then proposes that the cats and the mice build a new saloon together. Waul's plan is that he allows the mice to do the most of the work before turning them into cat burgers. Meanwhile Fievel is lost in the desert and on the verge of dying of thirst. He is picked up by an eagle who then drops him unexpectedly at a the feet of his cat friend Tiger, who is also from New York, who is making the journey to Green River to find his girlfriend Miss Kitty. Fievel managed to find his way to Green River via a rolling tumbleweed. Once in Green River Fievel is reunited with his family but cannot convince them of Waul's evil plans. Fievel then bumps into an old hound dog in town who happens to be the legendary Wylie Burp (voiced by James Stewart). Fievel convinces Burp to train his friend Tiger as a lawman and as a dog. Tiger in unconvinced but when Fievel tells Tiger that it could be a good way to get back Miss Kitty as his girlfriend Tiger agrees. Fievel and Tiger then go back to Green River to take on the evil Cat R Waul and his gang for, hopefully, the last time.

'An American Tale: Fievel Goes West' is the 1991 sequel to the hugely popular 'An American Tale'. Upon it's release 'An American Tale' was the highest grossing non-Disney animated feature film of all time and a sequel was always on the cards. On the basis of the first films success Steven Spielberg's Amblination studio set to work on this sequel. Don Bluth, who directed the first film, was unavailable to helm the sequel so the directing chores were handed over to Phil Nibbelink, a former Disney animator, and Simon Wells, great-grandson of the famous author H.G Wells. Whilst there is nothing inherently wrong with the sequel it does pail in almost all regards when measured against the film it is following. The animation is cheaper, and it shows but in all honesty I don't see that it's target audience will notice too much. This is also true of the songs that feature in Fievel Goes West. Whilst An American Tale had the award winning tune 'Somewhere Out There' (briefly recited, albeit truncated, in the sequel), Fievel Goes West has to make to with 'Dreams to Dream' written by Linda Ronstadt, the music of which was taken from an original cue by James Horner from the first film. The voicing chores are all perfectly well done with Dom Deluise, John Cleese, Amy Irving and James Stewart all giving the production a bit of class. Whilst many sequels are tired retreads of the films that proceeded them, this cannot be said of Fievel Goes West, where the writers and producers of the film have at least tried to take Fievel's story a step further but in general this all feels a bit 'by the books' despite their best intentions. Still, Fievel Goes West was still popular enough but only did half the box office that 'An American Tale' did but there was still just enough life in the series that Fievel Goes West was followed by two, made for television, sequels (The Treasure of Manhattan Island and The Mystery of the Night Monster which are actually both prequels). Despite all of the above Fievel goes West is still a step up from many animated films of the period but is still a class below what Disney were producing thirty years before.

Video


The film is presented on this DVD in it's original aspect ratio of 1.85:1 (anamorphic). It has to be said that sadly the picture quality is fairly poor. It comes across as dirty and gritty and no attempt has been made to clean it up leading to blemishes on screen. The picture does improve after the opening ten minutes but not by much. More than any other film I feel that animation films often rely on it's colour, especially in films aimed at the under ten audience but here the colours all seem rather faded and drab. Although I don't imagine too many eight year olds complaining it will prove to be a tad disappointing to those adults also watching.

Audio


There are several 5.1 Dolby Digital options available. These are in the following languages; English, Danish, Norwegian, Finnish and Swedish and they are all perfectly acceptable. Also available is a 5.1 DTS track only available in English. Obviously this is the track of choice and does give the soundtrack some depth, especially to James Horner's sweeping and playful musical compositions. The sub woofer adds some good meat to the scenes involving trains otherwise it's underused. There are no subtitles available.

Extras


How Do I Find Things (0:54) A short interactive film teaching children how to use their DVD remote control and how to select items from the DVD menu.

Way Out West Sing-along (1:46) The song 'Way Out West' is presented in 4:3 with the words at the bottom of the screen so that children can sing a long.

Theatrical Trailer (2:39) The theatrical trailer is presented in 4:3 mode and has a slightly poorer picture quality than the main feature.

Overall


The law of diminishing returns for sequels strikes again as Fievel Goes West barely breaks it's stride in comparison to 'An American Tale'. There are some nice touches in the film which will be especially appreciated by adults watching (the theme to Rawhide being used at one point, which oddly is the version from The Blues Brothers and not the television series) the film, overall is a bit lacklustre. The voicing talent is superb, especially John Cleese and it's always a treat to listen to Jimmy Stewart which was his last movie before his death in 1997. I think children under 10 will find Fievel Goes West suitably diverting but it seems that most adults viewing with their offspring will find the film a bit of a wasted opportunity.
| | | | | |
| --- | --- | --- | --- | --- |
| The Film: C+ | Video: C | Audio: B | Extras: C | Overall: C |