The Film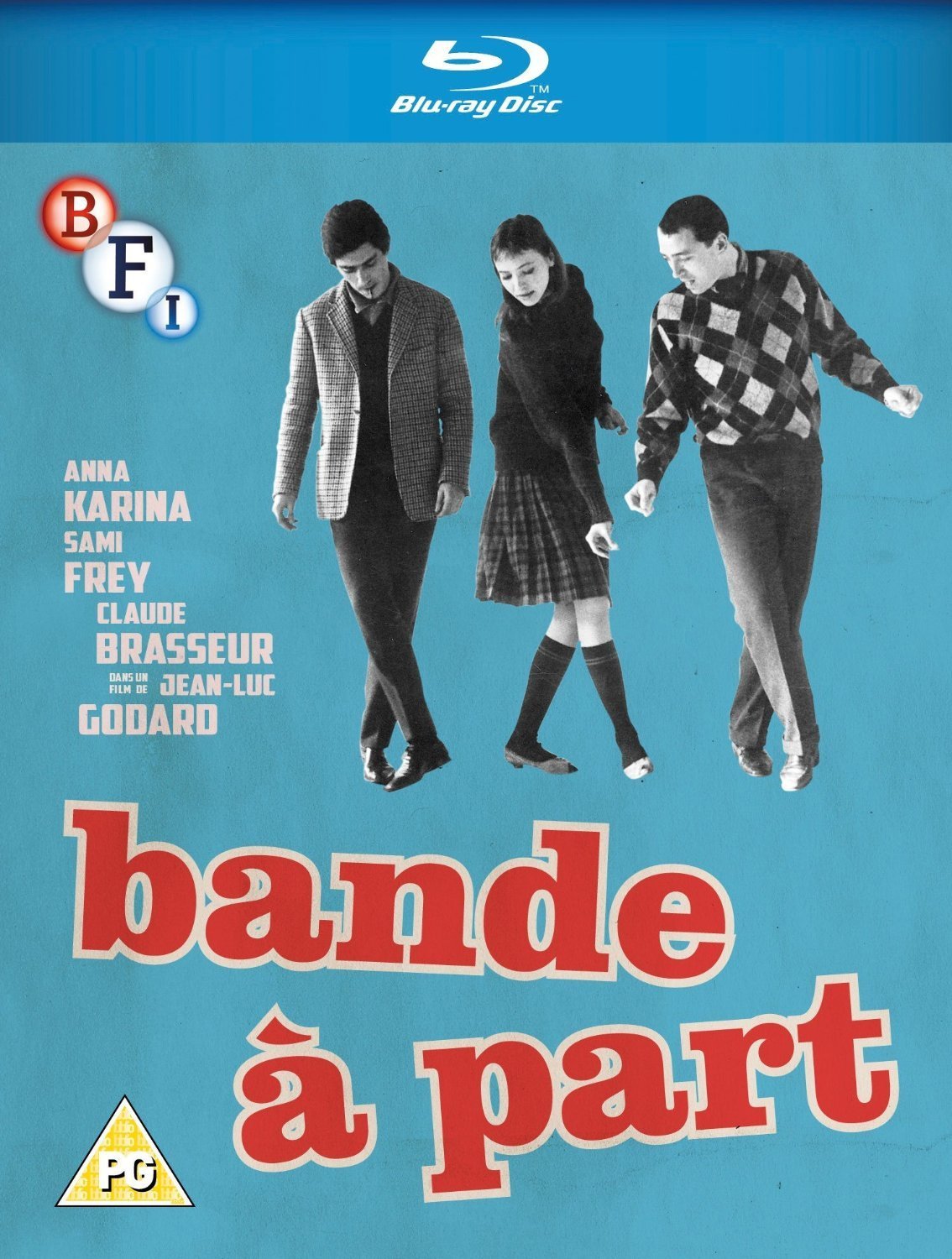 "Bande à part" AKA "The Outsiders" AKA "Band of Outsiders" (1964)

At an English conversation school a few weeks ago, Franz (played by Sami Frey) met Odile (played by Anna Karina). The suave and fashionable Franz with his wit and charm befriends the naïve and innocent Odile, and learns that she lives with her rich aunt in a mansion on the river. Franz tells his friend Arthur (played by Claude Brasseur) about Odile and the mansion, in which the two of them scout out the place for a planned robbery.

Arthur also becomes interested in the young Odile, joining the English school and introducing himself. Unlike Franz, Arthur is brass, straightforward, and a bit mean, but somehow catches the attention and eye of Odile. When the two guys converse with Odile about the plan to steal the money from her aunt's mansion, she accepts, though slightly reluctantly. As wrong as it is to steal, there is a huge sum of cash stashed unlocked in her aunt Victoria's home, which belongs to a rich man named Stoltz who they live with. She is not exactly close with her aunt, treated more as a servant rather than family. It could be a means of escape for her and for her two possible suitors…

In 1963, director Jean-Luc Godard's 6th film "Contempt" AKA "Le mépris" was released to universal acclaim - a cinemascope Technicolor art film featuring Brigitte Bardot, Michel Piccoli, Jack Palance, and Giorgia Moll. With international funding, lengthy schedule, locations along the Mediterranean and at the legendary Cinecitta Studios, the film was an exquisite and beautiful piece of work full of experimentation. Always a rulebreaker, Godard decided to shift gears completely for his 7th film, "Bande à part". Instead of Technicolor and in cinemascope 2.35:1, it was shot in black and white and in standard 1.33:1. Instead of long dolly shots, handheld shots. Gorgeous beaches and sunshine were replaced with the city streets and cold winter. Production schedule of months? Not on this one - being only 25 days. "Bande à part" was Godard returning to a more improvised, less polished, smaller filmmaking. The story is very loosely based on the novel "Fools' Gold" written by American novelist Dolores Hitchens which deals with two delinquents, a girl, and a robbery, but the comparison mostly stops at that - as almost everything besides that is a story and film that stands on its own.

"Bande à part", or "The Outsiders" as it was originally titled in the UK, and "Band of Outsiders" as it was in the US, is a film filled with an incredible amount of references - from films, to literature, to music, and much more, within almost every scene. The character of Odile is not only Jean-Luc Godard's mother's name, but a reference to the novel "Odile" by Raymond Queneau, which the book is visible in scenes and some passages from the novel are incorporated into the script. The works of Shakespeare and a paraphrased quote by T.S. Eliot are mentioned in the classroom scenes, the music of "The Umbrellas of Cherbourg" is hummed by characters and heard on the jukebox within the film, and "Code Name: Tiger" AKA "The Tiger Likes Fresh Meat" is referenced with the seemingly random tiger scene. Both "Umbrellas…" and "Tiger" happened to be in production at the same time in 1964, a nod to his French filmmaking colleagues Jacques Demy and Claude Chabrol respectively. Every time the film is revisited in viewing, it is guaranteed that the viewer will find something referenced they had missed the previous time around.

Experimentation with the language of film was something Godard was and still is known for - the use of jump cuts, mismatched dialogue and visuals, mixing video and film formats, playing with surround sound effects - things that many filmgoers in this day and age are possibly used to thanks to his innovations. "Bande à part" is not his most experimental but quite straightforward with its simple and linear storyline, but there are still some very important innovative and experimental techniques used - cinematographer Raoul Coutard's documentary style camerawork, characters breaking the fourth wall talking directly into the camera, cutting the sound out of the film entirely for almost a full minute, and having every driving shot done for real with cameras mounted on the car, not using the studio poor-man's-process driving shots.

The three main cast members - "the outsiders" - Franz, Arthur, and Odile were some of the most memorable characters in the Godard filmography. Sami Frey's character of Franz, who happened to be named after Franz Kafka, is a cool smooth talker, looking as if he came straight out of a Monogram Pictures B-movie. The trenchcoat, the hat, the cigarette smoking accentuates the character, being a ladies man by default, and is played wonderfully by Frey. Claude Brasseur's character of Arthur on the other hand doesn't care about his looks by wearing an unfashionably oversized coat and ugly sweater, is almost a polar opposite of his best friend Franz, being more aggressive in his conquest of getting Odile to fall for him. In many ways, Brasseur plays a character you want to hate, but for some reason hard to hate. Anna Karina's character of Odile is a Cinderella character - the virgin beauty sheltered by the rich guardian, wearing raggedy clothes, sporting an unappealing haircut, and always with a hint of sadness on her face. She wants to escape from her sheltered life, but doesn't know how. It's with the encounter of Franz and later Arthur that she starts to come out of her shell, though it's obvious from the audience that these men are playing her rather than playing with her. Karina plays Odile with sincerity and naiveté, one that wants to lash out but doesn't know how. She was Godard's wife at the time of production and was featured in 7 feature films directed by Godard. They divorced in 1967, with the 1966 film "Made in U.S.A." being their final collaboration. Jean-Luc Godard himself narrates the film, giving additional insight into characters' thoughts, feelings, and jumping back and forth in time, being just as much a character as the main three leads. Surprisingly, the film does not explore sexuality very much considering it deals with a girl being courted by two men. Godard explores sexuality much more in his next film, "Une femme mariée" AKA "A Married Woman", also released in 1964.

The music and sound of the film is another one of the most memorable aspects of the film. Composer Michel Legrand, who collaborated with Godard on the soundtracks for "A Woman Is a Woman" (1961) and "Vivre sa vie" (1962) prior to "Bande à part", created one of his most beautiful movie themes for Godard with the unforgettable waltz inspired track that plays throughout the film. Musical styles vary throughout the film, opening with the fast and silly silent movie comedy music in the opening montage, the use of Legrand's songs from "The Umbrellas of Cherbourg", and of course the jazzy swinging sounds of the dance scene. Also important is the use of the lack of sound as well, with Godard cutting the soundtrack on and off during scenes that actually highlight the music when it actually comes back. The opening credits joke that this may be the final film score by Michel Legrand, who actually didn't know that was going to be in the credits, though it should be noted that Legrand continued in hundreds of film scores, notably "The Thomas Crown Affair" (1968), "Atlantic City" (1980), "Yentl" (1983), the Miles Davis collaboration score for "Dingo" (1991), and "Prêt-à-Porter" (1996). Sadly, his collaboration with Godard was short lived, with only one more film together, scoring Godard's segment in the omnibus film "Les plus belles escroqueries du monde" in 1964.

"Bande à part" is one of Godard's most well-known works, especially with its memorable scenes such as the one minute silence scene, the Madison dance sequence, and the race through the Louvre scene. But at the time of its release, it was not completely well received by the critics. Some criticized it for being too simple, not as challenging, or experimental as Godard's previous work. Others were critical about Odile's character and the misogynistic portrayals of women as naïve, dumb, and materialistic (though it could be argued that the men were equally naïve, dumb, and materialistic in their desires and planning a half-assed robbery). The reviews were not entirely negative as there were critics such as Pauline Kael, who gave it a very positive contemporary review, and years later by filmmakers such as Quentin Tarantino and Bernardo Bertolucci, who referenced the film in their work - Tarantino by naming his production company "A Band Apart" and Bertolucci referencing the Louvre scene in "The Dreamers". For film watchers it still proves to be one of Godard's most accessible works, along with "Breathless" and "Every Man for Himself". More than 50 years after it opened to a lukewarm reception, it gradually found an audience with freespirited youth, one generation after another.

Note this is a region B Blu-ray which can only be played back on region B or region free players

Video


The BFI presents the film in 1080p in the original 1.33:1 aspect ratio in the AVC MPEG-4 codec. The film was restored by Gaumont in 2010 and issued on Blu-ray in France in 2012. Overall the transfer looks great with the black and white photography, with the entire film having a very grey tone overall. There are no blasting bright white levels, and the blacks are dark when necessary. Film grain is always visible with no apparent signs of artificial sharpening or noise reduction. As for dirt, specs, or scratches, there are none to be found, stability of the non-handheld shots are smooth, making this an impressive looking transfer.

There is an anomaly in one particular scene though. Around 19 minutes in during the classroom break scene while Arthur and Odile are conversing, the black and white suddenly turns so slightly green in tint, and later slightly purple in tint. This only seems to occur during the particular scene and whether this is part of the restored Gaumont master is unknown.

Update: The BFI has stated the slight color shift was part of the original master provided by Gaumont France.

Audio


French LPCM 1.0
The original French audio track is presented in lossless mono. Since the dialogue was recorded on location, cars whizzing by, the sounds of the metro trains, the echoey sounds of non-soundproof rooms make the dialogue slightly difficult to hear, but that is how it was recorded. The only things that sound very clean are the studio recorded material - the narration by Godard and the music of Legrand. For a positive point, there are no examples of hisses, pops, or audio dropouts on the track.

There are optional English subtitles for the main feature, in a white font. The BFI's previous DVD had burned-in non-removable subtitles so this comes as a very big positive. It should also be noted that the English portions in the English classroom are not subtitled.

Extras


The BFI has curated a very impressive amount of extras on this release:

Audio commentary by film critic Adrian Martin
Film critic Adrian Martin gives an incredibly detailed commentary for the film, which surprisingly has never had one on previous Blu-ray or DVD releases in the past. From a scene by scene analysis, various references broken down, the frail marriage between Godard and Karina, her attempted suicides, as well as reading comments by made other critics such as Serge Bromberg and Pauline Kael, both hailing the film, Martin leaves no stone unturned. He has previously done an audio commentary for Godard's film "Vivre sa vie" which is available on the Australian Madman DVD and the US Criterion Collection DVD and Blu-ray.
in English Dolby Digital 2.0 stereo

"The Outsiders" - original British release opening and closing titles (2:57)
The opening montage shots of the three stars' faces with the main title are replaced with a very basic shot of the British English title of the film, though the subsequent credit sequence does feature the same font and style of credits as the French. The closing credit for "Fools' Gold" is translated into English for the ending.
in 1080p, in 1.33:1, in French LPCM 1.0 with burned-in English subtitles

Anna Karina interviewed onstage at the BFI Southbank (31:46)
After a screening of the film on January 16th, 2016, Karina is on stage interviewed by journalist and film critic Jason Solomons. Topics range from the start of her career, the shooting of the film, Godard's shooting style, how the dance scene was rehearsed, and much more.
in 1080p, in 1.78:1, in English Dolby Digital 2.0 stereo

"Anna Karina on Jean-Luc Godard" featurette (9:34)
Also shot on January 16th, 2016, Karina is interviewed off-stage, but this time focusing on Godard. She talks about meeting him for the first time, being underage at the time. Pretty amazing that the Danish actress could not speak any French when she first moved to France at 17, and only a few years later became a screen icon for France.
in 1080p, in 1.78:1, in English Dolby Digital 2.0 stereo

"An introduction to Bande à part by Ginette Vincendeau" featurette (20:05)
Ginette Vincendeau, Professor of Film Studies at King's College London, gives an analysis of the film rather than an introduction so there are spoilers (like who dies) in the featurette. She places the film in context to Godard's career, how it was not a success commercially in France initially, the Tarantino's endorsement, and some of the film references. She is not the biggest fan of the film, criticizing the misogyny of the male characters and how they treat the character of Odile.
in 1080p, in 1.78:1, in English Dolby Digital 2.0 stereo

An interview with Raoul Coutard (11:04)
Cinematographer Raoul Coutard who shot "Bande à part" talks about the "reportage" style of filmmaking, about the cameras used, and the style of Godard in the early days. The interview was originally made for and included on the 2003 US Criterion Collection DVD.
in 1080i60hz (upscaled), in 1.33:1, in French Dolby Digital 2.0 stereo with burned-in English subtitles

"JLG/AK" an interview with Anna Karina (40:33)
A lengthy French interview with Karina about the film. The choreography of the dance scene, Godard's shooting style, and even visiting a pizza place called "Bande à part" in Australia are just a few of the many subjects talked about. The interview was conducted in 2010 and included on the 2012 French Blu-ray.
in 1080p (upscaled), in 1.78:1, in French Dolby Digital 2.0 stereo with optional English subtitles

"JLG/CC" an interview with Claude Chabrol (26:56)
Conducted just one month before his death in 2010 at the age of 80, filmmaker Claude Chabrol fondly remembers Godard personally as well as Godard's films, and not everything is positive. He expresses some disliking of a few films like "Le mepris", though gives extremely high praise to "Historie(s) du cinema" for example. There are quite a lot of jump cuts in the picture, possibly to cut the dead air spots or to piece what he said more coherently. The interview was conducted in 2010 and included on the 2012 French Blu-ray.
in 1080p (upscaled), in 1.78:1, in French Dolby Digital 2.0 stereo with optional English subtitles

"JLG/ADB" an interview with Antoine de Baecque (16:19)
The author of "Godard", Antoine de Baecque gives background information on the production of the film in a quite rapid fire pace, from the financing by Columbia Pictures, how the actors prepared and also improvised, and about some of the key scenes and locations. The interview was conducted in 2010 and included on the 2012 French Blu-ray.
in 1080p (upscaled), in 1.78:1, in French Dolby Digital 2.0 stereo with optional English subtitles

"JLG/DB" an interview with Denitza Bantcheva (22:25)
Author of "The Golden Age of Cinema", Denitza Bantcheva talks about why the film has lived on even if Godard has called it "minor" in his body of work and gives insights on some of the references spread throughout the film, especially the literary ones. The interview was conducted in 2010 and included on the 2012 French Blu-ray.
in 1080p, in 1.78:1, in French Dolby Digital 2.0 stereo with optional English subtitles

"JLG/AA" an interview with Alexandre Astruc (19:33)
Alexandre Astruc, who like Godard was also a film critic before becoming a filmmaker talks about being part of the French New Wave movement, Godard and Truffaut in context, and also his own work. His voice is not the easiest to listen to due to his age and health, but his mind is still filled with interesting memories and thoughts. The interview was conducted in 2010 and included on the 2012 French Blu-ray.
in 1080p, in 1.78:1, in French Dolby Digital 2.0 stereo with optional English subtitles

"Les Fiancés du pont Mac Donald" 1961 short by Agnès Varda (5:16)
A short silent comedy directed by Agnès Varda, featuring Jean-Luc Godard as the hapless sunglasses hero and featuring Anna Karina and also Sami Frey from "Bande à part" is an homage to Buster Keaton and Harold Lloyd comedy shorts of the 1920s. The 1080p transfer looks very good, and Michel Legrand's score also sounds great here.
in 1080p, in 1.33:1, LPCM 1.0, French Intertitles with optional English subtitles

Original Trailer (1:51)
This original non-dialogue trailer is a montage of shots from the film (I believe edited by Godard himself) using the opening title screen music, making it seem like a silent comedy farce. Much more fun and ambiguous than modern trailers that give entire plots away.
in 1080p, in 1.33:1, LPCM 1.0

And last on disc is an Easter Egg, and it is a very significant one:

"Vivre sa vie + Q&A" (36:14)
To access it, highlight "Original Trailer", press up to highlight a "?", press enter.
Karina and Jason Solomons are back on stage after a screening of "Vivre sa vie" at BFI Southbank. More information is offered, including a very interesting story of how she changed her birth name of Hanne Karin Blarke Bayer to her stage name Anna Karina because of the suggestion of a very, very famous woman. Who could it be? It certainly surprised me! (I will not spoil it!)
in 1080p, in 1.78:1, in English Dolby Digital 2.0 stereo

Booklet
The 16 page booklet includes an essay, review, photos, film credits, and bonus features information. The essay is"Bande à part: Jean-Luc Godard's Playtime" by author and critic Andy Miller. The 1964 positive review of the film is from Monthly Film Bulletin, written by Tom Milne.

The BFI has put together a great set of extras, including all the interviews from the French Gaumont Blu-ray, an interview from the Criterion DVD and Blu-ray, and a great selection of new extras. But what didn't make the cut? First of all, a significant extra: the 50 minute "A–Z Guide to Bande à Part" documentary which was originally on the BFI DVD is not carried over. The Criterion release had behind the scenes footage, an 18 minute visual glossary featurette, and a differing interview with Anna Karina. But considering Karina has almost 2 hours worth of time on camera speaking on the BFI Blu-ray release, it's a shame that Sami Frey and Claude Brasseur were not interviewed for the Blu-ray or any other release. As expected, Jean-Luc Godard does not make an appearance on the disc in retrospective interview form, as he is not one to reflect back on his own past work but looking forward to new projects, even in his 80's.

Overall


"Bande à part" is a personal favorite, the first JLG film I saw, and certainly one that stuck with me throughout the years with its iconic scenes, flawed characters, homages galore, and freespirited style. The BFI's Blu-ray gives an excellent presentation in video and audio, and the quality supplements gathered are the finest the film has received on home video as of yet, with 4 hours of video based extras plus a full length commentary. It's only March, but this is definitely going to be on my list of the best Blu-ray releases of the 2016.
| | | | | |
| --- | --- | --- | --- | --- |
| The Film: A | Video: A- | Audio: A- | Extras: A | Overall: A |