The Film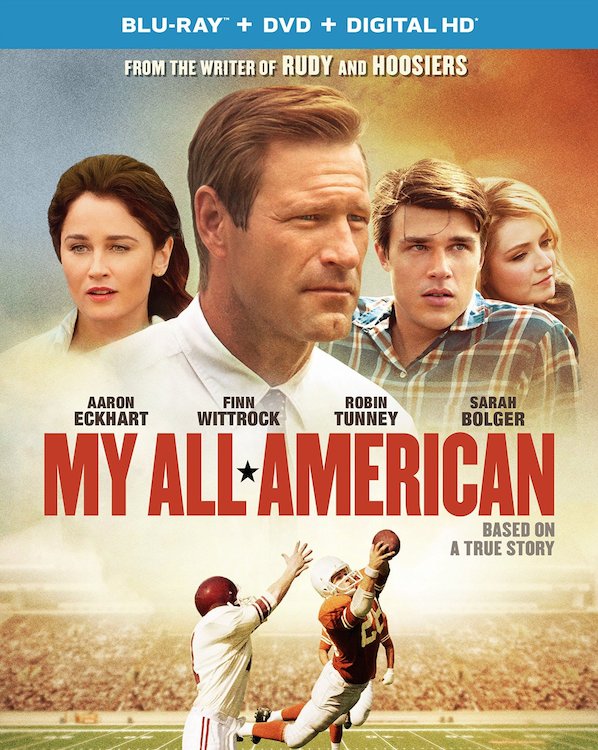 "My All American" is a true story about Freddie Steinmark (Finn Wittrock). Steinmark was a smaller than the average Football player and he was not going to allow this to stop his dream of playing football. Steinmark had the passion, desire, and strength to play football no matter what. Coach Darrell Royal (Aaron Eckhart) saw this passion gave this man a chance, awarding him a full scholarship to play college football.

Based on the book "Courage Beyond the Game: The Freddie Steinmark Story" by Jim Dent. Steinmark's story of following dreams, fighting for those dreams, accomplishing those dreams, and never giving up no matter the horrors that life throws at you is about as inspirational as they come. Sadly, Steinmark suffered more than many of us could ever imagine. This is a movie that is both heartbreaking and moving.

The acting in the film is spectacular. Finn Wittrock is truly a modern day tour-de-force. He was able bring his part to life in vivid detail. I'm sure the real Steinmark would be proud of the portrayal. Also starring Aaron Eckhart as coach Darrell Royal. Eckhart is another fine example of a powerful actor. Eckhart does a great job brining this legendary football coach to life. The chemistry between Wittrick and Eckhart is what makes this film ultimately memorable. Both are truly dynamic together.

This was directed and written for the screen by Angelo Pizzo. Pizzo is no newcomer to the world of sport films, he wrote the 1986 basketball classic "Hoosiers", and also the 1993 football classic "Rudy". This is his first directing job, and for it being a first time experience, he did a great job. "My All American" is an inspirational example for all of us. Lovers of sports movies will take to this film easily.

At the end of day, "My All American" is a film for the whole family. Occasionally sappy, but you might find yourself in tears. I really enjoyed this movie, and I am not that big of a sports movie fan. It had so much more to it than just being a "football" film, it was about a young man, fighting, dreaming, becoming, achieving and never giving up no matter how horrible the outcome is.

Video


Presented in widescreen 2.40:1 HD 1080p 24/fps mastered using MPEG-4 AVC codec. This is another flawless example of a terrific transfer from Universal. It's a really vibrant, beautiful and stunning picture. Very tight, crisp, and pure focus. There are no noticeable flaws.

Audio


The single audio track is presented in English DTS-HD Master Audio 5.1 surround (48kHZ/24-bit), There are no flaws here either. The sounds are truly dynamic. You can hear the grunts, tackles and conversation in crystal clarity. Optional subtitles are included in English SDH and Spanish.

Extras


Sadly, not much here. It would have been really nice to have seen a program about the real life story of Freddie Steinmark. Both the programs are basically just promotional featurettes. Also included are some bonus trailers, a DVD copy, and a digital copy.

DISC ONE: BLU-RAY

A program titled "Spirit of Freddie Steinmark" is a featurette that showcases a little of the real life story and how Steinmark's life inspired the film. Running time of 2 minutes 57 seconds.

Next up is a program titled "A Look Inside" featurette which is a behind-the-scenes look at the film. It has interviews with actors Aaron Eckhart, Finn Wittrock, and also with the writer/director Angelo Pizzo. Running time of 2 minutes 39 seconds.

Bonus trailers are included for:

- "The Young Messiah" which runs for 2 minutes 16 seconds.
- "Woodlawn" which runs for 2 minutes 34 seconds.
- "Big Stone Gap" which runs for 2 minutes 48 seconds.
- "90 Minutes in Heaven" which runs for 2 minutes 2 seconds.

DISC TWO: DVD

Included is a DVD copy version of the film as well as a download code for a digital copy version of the film.

Packaging


Packaged in a two-disc keep case. Wrap around art with an embossed cardboard slip-cover.

Overall


In my opinion this is a must see film. Not only will sport fans take to this film, but lovers of good cinema will take to this. I think everyone watching can be inspired by this young man's life. Brilliant acting. Tight direction. Flawless transfer to Blu-ray. Awesome sound. In the end, I highly recommended this film. Very touching, very honest, very passionate filmmaking.
| | | | | |
| --- | --- | --- | --- | --- |
| The Film: B+ | Video: A | Audio: A | Extras: D | Overall: B- |