The Film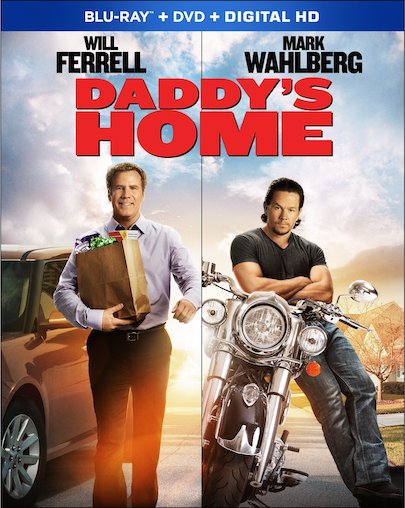 On paper, the cinematic pairing of Will Ferrell and Mark Wahlberg looks like a winning combination. The two actors enjoyed success with "The Other Guys" (2010), where Ferrell played the straight man to Wahlberg's tough guy cop, so it would be reasonable to expect a similar level of success with the two playing opposites once more. This time, they're taking on a relatable topic for many people: parenting; specifically, being a stepparent to kids who still have their biological parent in the picture. Ferrell once again is playing a mild-mannered everyman, while Wahlberg is the ultimate bad boy who makes women swoon and men tremble. Should be a home run, right?

Not quite. Blame it on a script lacking in wit and big guffaw moments, with a dearth of sidesplitting laughs, because "Daddy's Home" (2015) is unfortunately flatlined for much of its 96-minute running time. A ripe opportunity to allow Ferrell and Wahlberg to increasingly up the ante and deliver one outrageous moment after the next instead plays the friendly rivalry too close to the vest. When Ferrell finally does cut loose to deliver the film's biggest laughable moments the effort comes close to the start of the third act, when much of the competition is winding down to make way for the heartwarming ending everyone knows is coming.

Brad Whitaker (Will Ferrell) is a milquetoast, good-natured husband to Sara (Linda Cardellini, looking hotter than ever) and her two kids Dylan (Owen Wilder Vaccaro) and Megan (Scarlett Estevez). All Brad wants is to be a dad, but neither of the kids sees him as anything other than "Mr. Whitaker". Megan likes to draw family portraits, only with Brad shown at a distance from the core group, often dead. Acceptance does not come easy. But breakthroughs are beginning to happen. Dylan is asking for advice on how to deal with bullies, while Megan just invited Brad to a father-daughter dance. Things are looking up… until Dusty (Mark Wahlberg) comes back into the fray. He's Sara's flighty ex; a hero to the kids who don't know any better, but a flaky, unreliable partner to his former wife. Brad just wants to see everyone happy, so he does his best to form a bond with Dusty.

Dusty, however, is just a little too cool for school. He isn't the domesticated type. He's the "leather jacket-wearing, motorcycle-driving, slicked-back hair and a five-o-clock shadow" type. Brad picks up on this very quickly and decides he's going to have to work twice as hard to be seen as the "better" dad. Thus begins a (mostly) friendly game of one-upping, with Brad and Dusty both making great strides to win the affection of the kids. Dusty makes it known he intends to get his family back, but Brad isn't going out without a fight. Of course, as anyone in the audience might and should suspect, the two men will eventually learn to overcome their differences and work together for the betterment of the familial unit.

Everything about this film's script feels way too safe. The set up portends that Dusty and Brad will be going to extremes trying to get one over on the other, yet those moments don't come until we're nearly at the climax. And when they do, it feels like it's too late in the game. The rivalry is subtle – too much so, in fact – with Brad and Dusty exchanging barbs and ribbing each other no more than the average male would do with his friends. Most of the time they spar by proxy through bedtime stories to the kids, or via improbable and impractical methods such as building a professional skateboard ramp and treehouse in, oh, an afternoon. And even though these moments feel like they should be bigger, going harder for the laughs, they are over before you know it and the movie settles right back into its usual routine.

The best moments are near the one-hour mark, when Brad goes totally above and beyond by staging Christmas in April, showering the kids with absurdly expensive gifts including a pony and $18,000 tickets to a Lakers game. At the game, Brad proceeds to get hammered, make an ass of himself and assault both a cheerleader and a crippled kid with a basketball when he tries to make a half-court shot. The film's second best moment comes right at the end, when Dusty finds himself in a similar position to Brad's at the onset of this film. I'll not spoil any of that, but it ensures the film ends on a high note.

Despite being exceedingly pedestrian and lacking those largely laughable moments, "Daddy's Home" manages to elicit just enough humor to be an easy, painless watch- though that's hardly much of an endorsement. The replay value will be low for most because there aren't any must-see scenes that will have viewers popping the disc back in to relive them or to show off to friends. Ferrell and Wahlberg are an ideal match for the written characters, and certainly better choices than what the producers had originally envisioned (you can learn that information in the bonus features). Fans of both should be amused enough. Tougher critics (of which I am) likely won't be won over by the weak scripting and broad humor.

Video


Featuring a 1.78:1 1080p 24/fps AVC MPEG-4 encoded image, "Daddy's Home" enjoys a nearly flawless image on home video. Coloration is excellent, with rich saturation apparent across a broad range of hues. Contrast is exceptionally strong, too, with deep black levels that never waver. Definition is excellent, whether the shot be in close-up or wide – there are no soft shots or focus issues. There isn't much style or artistry to the picture, per se, though this is technically a strong reproduction of the theatrical experience.

Audio


"Daddy's Home" seems like an odd choice for such an enveloping mix, yet Paramount still saw fit to grace this Blu-ray with an English DTS:X 7.1.4 surround sound track. Those without the capability to play DTS:X (such as myself) will find it is down-mixed to DTS-HD Master Audio 7.1, which is still more than adequate for this title. There's surprisingly little activity here, both in terms of source music and bombastic moments, leaving the majority of the track dialogue driven. Voices come through very clear, as expected. These big studio films are expertly mixed, after all. When source music does come into play, it's often hip hop and that means you can expect to hear warm, deep bass and strong fidelity… even if the music is nigh intolerable. Other audio options on this disc include English DTS Headphone-X 2.0 stereo, French Dolby Digital 5.1 surround, Portuguese Dolby Digital 5.1 surround and Latin Spanish Dolby Digital 5.1 surround as well as an English Audio Description Dolby Digital 5.1 track. Optional subtitles are included in English for the hearing impaired, French, Portuguese (Brazilian), and Spanish (Latin).

Extras


While "Daddy's Home" might look like it's a loaded disc, given the multiple featurettes included, nearly all of them are pure fluff barely worth taking the time to watch. In addition to those puff pieces, there are also some deleted/extended scenes and bloopers. Well, sort of.

DISC ONE: BLU-RAY

"The Making of "Daddy's Home"" (1080p) is a featurettes that runs for 11 minutes and 54 seconds. The opening covers the most interesting stuff, such as early development and potential actors considered for the main roles, before delving into typical talking head comments.

"Daddy Off" (1080p) is a featurettes that runs for 6 minutes and 44 seconds. Ferrell and Wahlberg discuss their respective characters' friendly rivalry.

"Daddy Daughter Dance" (1080p) is a featurettes that runs for 5 minutes and 11 seconds. This shows off some behind-the-scenes of the climactic dance.

"Halftime Stunt" (1080p) is a featurettes that runs for 8 minutes and 55 seconds. This is a rather aimless piece.

"Tony Hawk: Skater Double" (1080p) is a featurettes that runs for 4 minutes and 2 seconds. The legendary skater doubled for Ferrell during the skate ramp scene.

"Child's Play" (1080p) is a featurettes that runs for 5 minutes. This one talks about working with the two main children.

"Hannibal Buress: The Perfect Houseguest" (1080p) is a featurettes that runs for 5 minutes and 36 seconds. I'll never understand why people like this guy; he simply isn't funny.

"Blooper-Jeet Kune Do" (1080p) blooper reel runs for 2 minutes and 5 seconds. Ferrell has a lot of trouble saying one key phrase in the film.

Deleted & extended scenes (1080p) are included for the following:

- "Car Ride Q&A" runs for 2 minutes and 38 seconds.
- "Have Fun" runs for 1 minute and 15 seconds.
- "Pre-Dance" runs for 1 minute and 26 seconds.
- "Motorcycle Brad" runs for 1 minute and 39 seconds.
- "Special Ops" runs for 1 minute and 6 seconds.

DISC TWO: DVD

This is a DVD copy of the feature film. There is also a code for a digital copy version of the film.

Packaging


The two-disc set comes housed in a standard Blu-ray keep case, with each disc housed on a hub opposite the other. A slip-cover is included.

Overall


Too safe to be memorable, "Daddy's Home" is nothing more than an easy watch for a lazy weekend afternoon. Replay value is likely to be low, even for big fans of both actors.
| | | | | |
| --- | --- | --- | --- | --- |
| The Film: C+ | Video: A- | Audio: B+ | Extras: C | Overall: C+ |