Brewster's Millions
R2 - United Kingdom - Fabulous Films
Review written by and copyright: Rick Curzon (24th March 2016).
The Film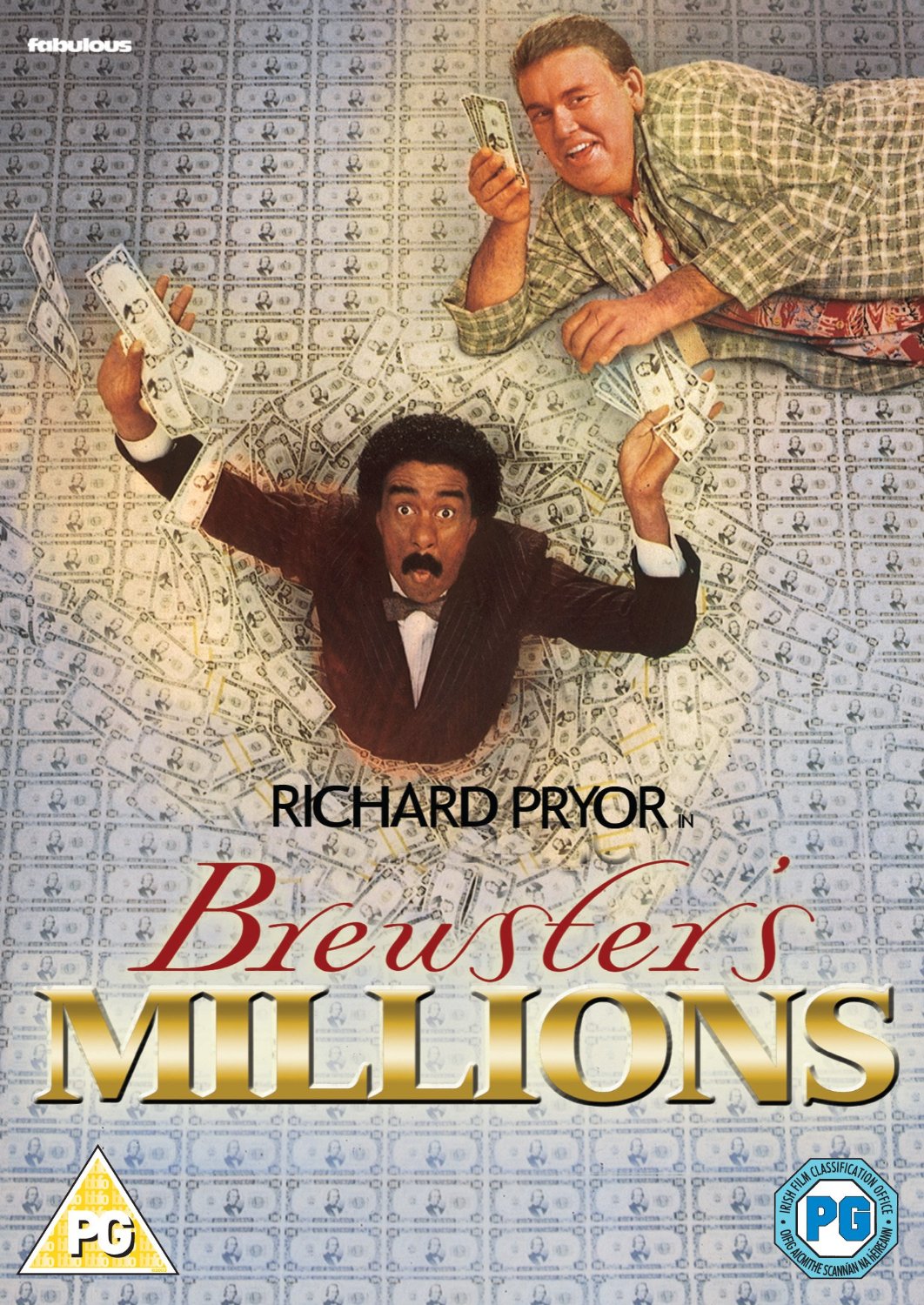 ***This is an A/V and Extras review only. For reviews on the movie from various critics, we recommend visiting HERE.***

Could you spend $30 million in 30 days and have nothing to show for it? Thatís exactly what Richard Pryor has to accomplish in this hilarious contemporary version of the classic big money comedy. Montgomery Brewster (Pryor) is a down and out baseball player who discovers that heís the only living relative of an eccentric multi-millionaire (Hume Cronyn). Monty stands to inherit $300 million, but only if he can spend $30 million in a single month without acquiring and assets .If he fails, itís back to zero again. On hand to help Pryor to spend his loot are John Candy, Lonette McKee and Stephen Collins.

This outrageous spree-for-all is directed by Walker Hill and Produced by Lawrence Gordon and Joel Silver, with a screenplay by the team that wrote Trading Places. Itís and American excess story thatís enriching to funny-bones of all ages.

Video


UK independent label Fabulous Films has licensed from Universal this ninth adaptation of George Bar McCutcheon's 1902 novel. Sadly, this 1985 comedy was not a critical or financial success on release but remains reliably entertaining due to the stars and the supporting cast of old pros. It was one of action director Walter Hill's offbeat projects made just after 48HRS and Streets of Fire; the original theatrical aspect ratio was 1.85:1, but sadly this disc utilizes an ancient full frame transfer probably dating back to the early '90s. Previously available on a 2005 DVD release of which this would appear to be a direct port.

What we have here is a fairly dull standard definition, open matte copy of the film with some very mild damage in the form of occasional very mild speckling. Like many standard def transfers from the late '80s / early '90s it lacks the punch of modern equivalents but this is watchable. Shot in the professional, clear, flatly lit way of most Hollywood comedies; bright colours, passable black levels with some digital compression artifacts mainly in shadows and skies.

1.33:1 / PAL / 96'58"

Audio


Soundtracks:
English Dolby Digital 2.0 Stereo
German Dolby Digital 2.0 Stereo

Subtitles:
English HOH, German, Dutch, Swedish, Norwegian, Danish, Finnish.

This has a passable, if unremarkable Dolby Digital Track, only really kicking into full force very occasionally with crowd moments and blasts of music. Being a comedy which is mainly concerned with what is being said this isn't surprising. There's virtually no use of the LFE track; it may as well be mono as the vast majority of the soundtrack comes from the front and centre.

As to be expected, this is a fairly standard, lossy standard definition soundtrack for a comedy from 1985. It does it's job perfectly well if unremarkably. That said this isn't really the kind of film to go to town on it's immersive soundtrack. I detected no distortions or other flaws such as pops, clicks or hiss.

Extras


Theatrical Trailer - 1'26"

Overall


If you want to watch this loud, brash Richard Pryer / John Candy comedy that follows a reliably amusing formula then this disc will do just fine, however the biggest caveat is that a newer master in widescreen wasn't prepared. It has the look of a TV movie as a result and really needs the original cinematic framing. I've not been able to find any Blu-ray release of this film as yet, so the DVDs are the only option for fans, alas.
| | | | | |
| --- | --- | --- | --- | --- |
| The Film: B | Video: D | Audio: C | Extras: F | Overall: C |

---
DVD Compare is a participant in the Amazon Services LLC Associates Program and the Amazon Europe S.a.r.l. Associates Programme, an affiliate advertising program designed to provide a means for sites to earn advertising fees by advertising and linking to amazon.co.uk, amazon.com, amazon.ca, amazon.fr, and amazon.de.