The Film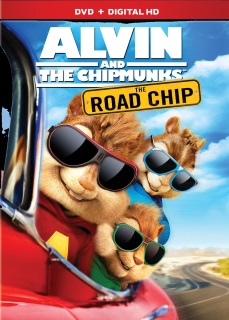 The Chipmunks – trouble-magnet Alvin (voiced by Drag Me to Hell's Justin Long), brainy Simon (voiced by Criminal Minds' Matthew Gray Gubler), and big… hearted Theodore (voiced by The Chernobyl Diaries' Jesse McCartney) – are back for a third "squeakquel" (ugh). With their adoptive songwriter-turned-producer "father" Dave (My Name is Earl's Jason Lee) insisting that they stay home and have a chance to live as "normal" teenagers rather than touring the country, The Chipmunks fear that they are being overshadowed by their girlfriends The Chipettes – voiced by Married… with Children's Christina Applegate, The Big Bang Theory's Kaley Cuoco, and Scary Movie's Anna Faris – and Dave's new client Ashley Grey (The DUFF's Bella Thorne). When Dave must travel to Miami for Ashley's album party, he decides to leave The Chipmunks at home with near-sighted sitter Miss Price (2 Broke Girls' Jennifer Coolidge doing her usual pseudo-Polish accent) and take girlfriend Samantha (Father of the Bride's Kimberly Williams-Paisley) as his "plus one" along with an engagement ring. The Chipmunks fear that the union will gain them a brother in bully Miles (The Girl in the Book's Josh Green), but fatherless Miles suggests that the couple might want to ditch the four of them in favor of starting a family all their own. With neither set side looking forward to being related, the four decide to head to Miami and stop the proposal. Mayhem caused by Alvin's foraging for snacks in first class and Theodore accidentally setting free all of the pets in the baggage compartment leads to a premature stopover in Austin, Texas where grudge-carrying Air Marshall Agent Suggs (Arrested Development's Tony Hale) puts them on the "No Fly List" and threatens to put them in Chipmunk Prison. Miles and The Chipmunks then mount a race through the southern states towards Miami with Suggs in pursuit with Dave and Samantha none the wiser until they catch the quartet's impromptu televised Mardi Gras concert.

Bombastic and cluttered with musical numbers and "celebrity" cameos at the expense of story (sketchy as it is yet still obviously cut to the bone), Alvin and the Chipmunks: The Road Chip seems like it would be a trying experience even for its target audience. While celebrity voices of cartoon characters are usually novel, one wonders what the point of casting of any sort of name value when their voices are going to be pitched to unrecognizability. You've come to the right place if you want to hear the Chipmunks cover "Iko Iko" and "Uptown Funk"; but, whereas The Blues Brothers (to name another musical road movie) has infection song and dance numbers, what this film has is masturbatory exercises for the choreographer, cinematographer, film editor, and music editor to the tune of musical clown Redfoo's execrable "Juicy Wiggle". The Chipmunks possess none of the "charm" I recall from television (although I was in single digits when they I used to watch them), replaced with smarm, farting, and twerking. Of the live action performers, Green does manage to elicit some sympathy in the "I'm mean because my dad walked out on me" characterization, but everyone else is just here to pick up a check, including Oragne is the New Black's Uzo Aduba as a sassy TSA agent, Parks and Recreation's Retta as a sassy event planner, Lee's My Name is Earl buddy Eddie Steeples (Akeelah and the Bee) as the beleaguered sound engineer, and filmmaker John Waters as an airplane passenger (prompting a Pink Flamingos joke). If you've suffered through the first three films, then you may as well sit through this one; otherwise, seek out the old TV cartoon series for some nostalgia and some entertainment for the kids that that may slowly rot your brain rather than gleefully scramble it.

Video


Fox's dual-layer DVD features a reasonably crisp and colorful progressive, anamorphic widescreen (1.85:1) encode of this Red-photographed film. The look of the live-action film with its overripe saturation is more reminiscent of cartoons than it's direct-to-disc budget production roots.

Audio


Audio options include boisterous Dolby Digital 5.1 English and English Descriptive Audio options as well as French and Spanish Dolby Surround options that highlight the music and exaggerated sound effects. It's just a loud and bombastic mix appropriate to a bombastic film. Optional English SDH, French, and Spanish subtitles are included along with English Closed Captioning.

Extras


Fox gluts this DVD with a wealth of unsubstantial and redundant supplements. "Alvin and the Chipmunks: The Story So Far" (4:57) is a clip montage that not only sums up the series of films but also shows the devolution of the animation's style. The multi-tiered Ultimate Playlist includes the Music Machine features eleven of the series' songs with continuous play and "Play All" options as well as lyric videos for five songs, and music videos with singalong lyrics for three songs. Apart from the music videos, the other options are just the songs as they presented in the film as excerpts rather than full numbers (which is a good thing for some of us but may not distract the young 'uns for as long as one would like). "Bound for Georgia" (2:16) is a shorter version of "Road Chippin' Through Georgia" (5:02) are advertisements for shooting in the state, which substituted for all of the film's locations except for Miami. Besides two theatrical trailers (1:04 and 2:26, respectively), the disc also includes previews four other uninspiring titles and the fiftieth anniversary of The Sound of Music.

Overall


If you've suffered through the first three films, then you may as well sit through this one; otherwise, seek out the old TV cartoon series for some nostalgia and some entertainment for the kids that that may slowly rot your brain rather than gleefully scramble it.

| | | | | |
| --- | --- | --- | --- | --- |
| The Film: D+ | Video: B+ | Audio: B+ | Extras: D+ | Overall: C+ |