The Film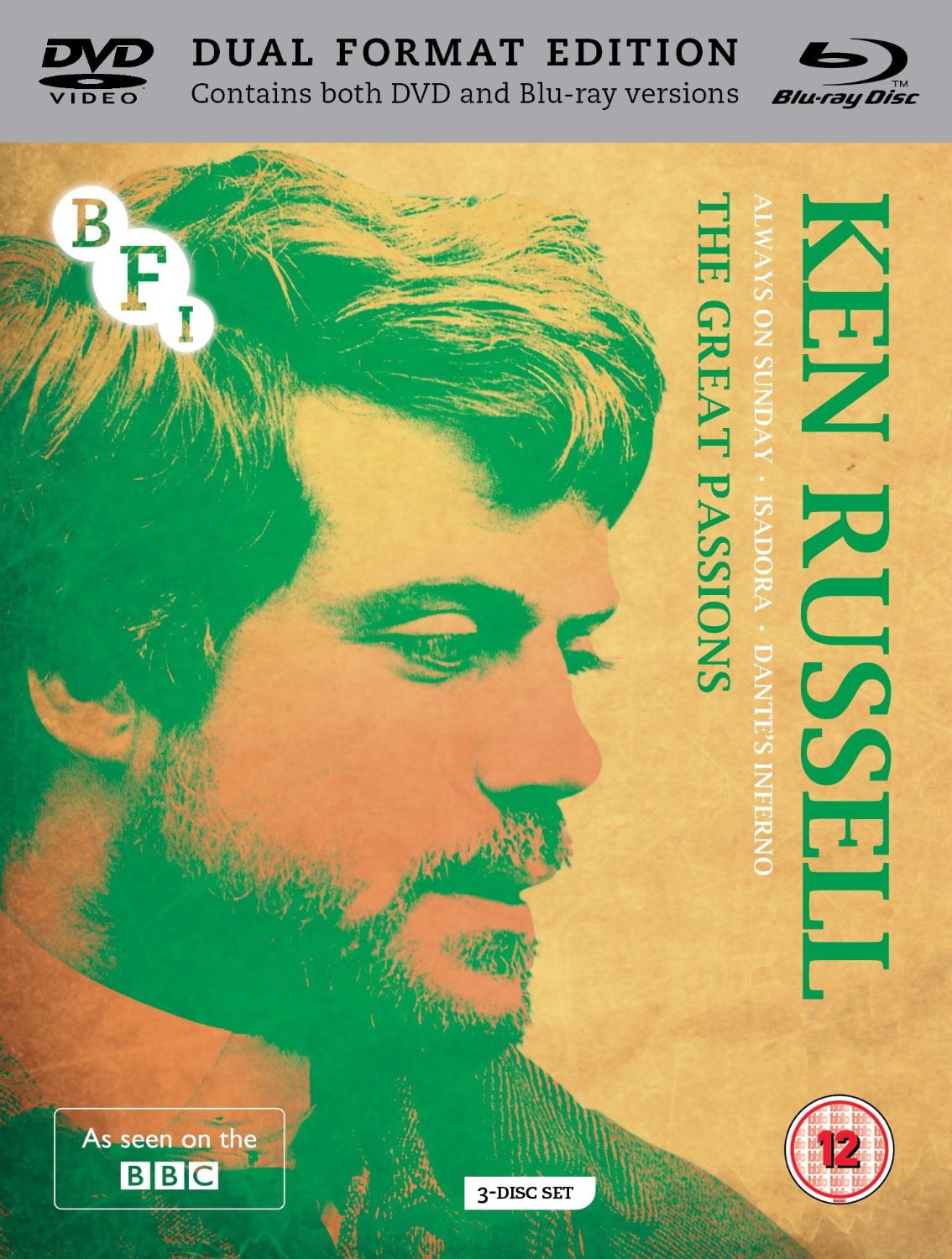 "Ken Russell: The Great Passions"

Between 1959 and 1970, Ken Russell worked as a director of television content at the BBC, where his creativity as an artist of visuals first truly shined. The BBC television series "Monitor" (1958-1965) and later "Omnibus" (1967-2003) were documentary shows that focused on the arts - music, painting, photography, film, and so forth. Certain episodes had interviews with contemporary artists. Others were talking heads describing a historical figure with a slideshow presentation. Russell directed nearly 30 episodes for both series combined, and the BFI has now released two separate collections of three works each: "Ken Russell: The Great Composers" and "Ken Russell: The Great Passions" with all six telefilms making their high definition debuts.

"Ken Russell: The Great Passions" includes the following three telefilms:

"Always on Sunday" (broadcast on "Monitor", 29th of June 1965)
"Isadora" (broadcast on BBC TV, 22nd September 1966)
"Dante's Inferno" (broadcast on "Omnibus", 22nd December 1967)

"Always on Sunday" or "Sunday Painter" was an episode on the French painter Henri Rousseau, whose painting career started at the age of 49. Rousseau's work at the time was ridiculed by the art critics, but not everyone saw his work as childish amateur garbage - 20 year old writer and artist Alfred Jarry saw something in the work that was different, challenging, and fresh. Even if separated more than a generation in age, the two form an unlikely friendship between two artists misunderstood by the majority and doing their own thing. Rousseau is an "artist" who was not necessarily super-talented, with his compositions having an amateurish quality. He did not consider himself to be a genius, but was a man that was determined to paint because he loved it, not because he could make money off it. One can easily see the parallels in art between Rousseau and Russell and not just in the similarity in their names but also how both were artists that challenged mainstream conventions through their created images. With "Always on Sunday", the infamous and notorious play "Ubu roi" by Alfred Jarry was staged, with the famous opening line "merdre!", translated and spoken in English as "shitter!", causing the audience in the telefilm to scream, faint, and boo. It's quite amazing to think that such a word could be uttered on BBC television in the 1960's and surely there were a few complaints from loyal viewers. (One wonders what Mary Whitehouse must have thought about it.) Additionally, this was the first "Monitor" episode directed by Russell in which the actors actually spoke lines, as with telefilms such as "Elgar", everything was narrated. Though not to break entire tradition, "Always on Sunday" features narration by Russell regular Oliver Reed and written by Melvyn Bragg, co-writer of Russell's previous telefilm "The Debussy Film". In casting, the choices were very unusual. Non-actor James Lloyd played Rousseau, whose performance is closer to that of Charlie Chaplin's Tramp character or Jacques Tati's Hulot character with his body language and very minor use of dialogue with his natural Yorkshire accent being spoken rather than a French accent for the character. Alfred Jarry was played by Annette Robertson - a woman, with her voice dubbed over by a male voice adding another bit of unusual casting choices. "Always on Sunday" paints a portrait (pun intended) of a man who inadvertently changed art by influencing the likes of Pablo Picasso, Jean Hugo, and others in the surrealist movement, and Russell's take on the subject is definitely one of a kind.

Russell introduces the world of interpretive dance with "Isadora", a biography on Isadora Duncan, the American born dancer whose life was filled with success, tragedy, exile, and controversy. First shown is a montage of Isadora Duncan's life and sudden death, like a mix between the opening newsreel of "Citizen Kane" and an avant garde silent film, an onslaught of sped up images and weirdness that is a jarring way to start the story. The film then tracks Duncan's life in a more or less linear form of the young beauty's dancing but also how her life events shaped her artform for better or worse. The accidental deaths of her two children, her exile to the Soviet Union, and numerous destructive relationships are clearly shown in the film, but for the exact details of her life, a lot of liberty was taken by Russell, though this was not because of artistic reasons, but because of legal reasons. Director Karel Reisz was also developing a film on the life of Isadora Duncan, and in the process was securing the rights to all books written about Duncan. Due to this there were certain aspects of her life that could not be retold in Russell's telefilm, and so things had to be changed. Her glamorous present from Lohengren? That didn't happen. Various elements showcased were not exactly as they happened in this biopic, and this is more of an artistic adaptation of her life rather than an actual truthful biopic. Visually this is one of Russell's best, with the use of differing camera speeds, wide angle lenses, and handheld shots to convey vigor and power to the dance sequences. Vivian Pickles' portrayal of Isadora is a very physical one with intense dance sequences, emotional scenes of sadness and anger, as well as utter beauty in the closing dream scene.

Russell was originally planning to develop a telefilm for "Omnibus" on the artists of the Pre-Raphaelite Brotherhood using color film. Unfortunately due to costs and scale, the film was to be shot on black and white film and the story was instead cut down to the story focusing on one of the artists of the Brotherhood - poet and painter Dante Gabriel Rossetti. "Dante's Inferno" is a biography, but like "Isadora" does play more on theatricality rather than absolute fact, and the film stylistically is a cross between a German Expressionist film and a Hammer Horror film. Even the first shot of the film is an exhumation of a corpse with a closeup of a decayed woman's face - a truly unsettling way of either bringing in an audience or turning them away. Visually the film has a very inconsistent look, as some scenes use 16mm film looking much grainier, and others use 35mm film looking much clearer - with some scenes having both film stocks used to intercut with each other. At first it may seem like a stylistic choice, but it was actually because the original 16mm camera used in early shots became defective and had to be later replaced with a 35mm camera. Instead of refilming the scenes entirely in 35, the 16 footage was kept. But to make matters more frustrating for Russell and the crew, the 35mm camera they had acquired was also defective, giving certain shots a ghosting and blurring effect. Interestingly the nightmarish scenes that had this weird effect looks like a post production effect, but was actually a happy accident of the defective camera, giving the scenes an additional supernatural feel. It is one of Russell's most visually arresting in his TV filmography, even if the photography looks inconsistent from shot to shot.

The three Russell films presented here are of artists of different backgrounds, different eras in time, and different artforms, but all three were passionate about what they did and it didn't matter what society, critics, or the public had thought of their work. There are many artists in the world who deserve recognition and don't receive it. There are also many artists who aren't very talented but know how to play the right cards to receive recognition and success. Russell was interested in the former and not the latter, and these three films show the true nature of success - years down the road recognition from the critics and public begin to grow, and for artists it is possible to influence others after their deaths far more than in their time alive. That is something that also parallels the life and career of the late Ken Russell, who died in 2011 at the age of 84. As I quote myself from the review of "Ken Russell: The Great Composers", it's always interesting to see the evolution of a filmmaker, and the three presented here show great examples of successful experimentation by a visionary artist about visionary artists.

Note this is a region B locked Blu-ray disc which can only be played back on region B and region free players

Video


The BFI presents the three telefilms in 1080i 50hz, in the original 1.33:1 aspect ratio in the AVC MPEG-4 codec. Rather than a 1080p 24fps transfer, the restored films are presented in 25fps, the UK television standard format as they were originally broadcast.

"Always on Sunday" was originally shot on 16mm film so grain is very prominent. Transferred from the original 16mm A and B negatives in high definition, the image is very clean with no problems of dust, dirt, splice marks, or gate hairs. "Isadora" was shot on 35mm and transferred to high definition and looks great for the most part. The stock footage has a very noticeable drop in quality, and near the end of the film had some bad scratches which have been minimalized for the HD transfer. "Dante's Inferno" has a few issues - as mentioned the film was shot in both 16mm and 35mm inconsistently, with the 16mm transferred to 35mm and edited with the remaining original 35mm negative. Since the 16mm portions are not taken from the original source, there are problems with printed in dirt and specs, instability, and lack of detail. The 35mm shot segments look excellent for the most part but about 75 minutes in, the right side of the frame is badly damaged and noticeable.

Another note on "Dante's Inferno" - there seems to be a mastering error: at the 34:50 mark, the image shifts down completely for a single frame. This doesn't look like something inherent to the original film and possibly an error in the new HD master. This only lasts for a single frame and nothing like it happens for the rest of the film. The BFI has been notified about it and the review will be updated when an answer is received.

The three telefilms are uncut. Previously "Isadora" had a 90 second scene featuring a clip from the film "Olympia" which was cut due to rights issues. The Blu-ray restores the footage and is fully uncut. The runtimes are as follows:
* "Always on Sunday" (45:11)
* "Isadora" (64:36)
* "Dante's Inferno" (87:35)

Audio


English LPCM 2.0 mono

Each film includes the original mono track in lossless LPCM. Considering these were television productions from the 1960's, the restored mono tracks sound good, though not as strong as the mono tracks on the "Ken Russell: The Great Composers" set. "Always on Sunday" sounds consistently good with Oliver Reed's narration sounding excellent as well as the music and dialogue. The character of Alfred Jarry being dubbed over is noticeable, but other than that, "shitter!" sounds loud and clear. "Isadora" has issues in certain points being echoey due to the locations used for filming, though the classical music cues by Satie, Beethoven, Tchaikovsky, Wagner, etc. sound limited as well - not as full as they could have been. "Dante's Inferno" also has some issues with the echoey scenes, but overall the three telefilms have never sounded better, with restoration done to eliminate problems like hisses and pops.

There are optional English HoH subtitles available for all three telefilms in a white font.

Extras


The telefilms and the extras are all presented on a single Blu-ray disc with additional two DVD discs repeating the same content. The extras are as follows:

Audio commentary for "Always on Sunday" by Brian Hoyle
Newly recorded for the Blu-ray set in 2016, senior lecturer in Film Studies at the University of Dundee Brian Hoyle gives an absolutely excellent commentary track, speaking continuously with no dead airtime right from the start to final second. He describes a multitude of topics including Russell's visuals, the parallels between Russell's work and Rousseau's work, the microbudget Russell had to work with following the overbudget "The Debussy Film", and much more. There is more interesting information given in the 45 minutes than an average feature film audio commentary. Hoyle is an excellent speaker with great vocal inflection and intonation, along with very well prepared notes and extensive knowledge of the film and background.
in English Dolby Digital 2.0 with no subtitles

Audio commentary for "Isadora Duncan, the Biggest Dancer in the World" by Paul Sutton
Also newly recorded for the Blu-ray set in 2015, Paul Sutton, author of "Talking About Ken Russell" (2015) gives a very good commentary on the full film. He points out the various actors and gives quick bios and their connections to various Ken Russell films, Russell's style of filmmaking particularly being influenced by director Jean Vigo, and about the legal issues regarding the Isadora Duncan subject matter, with the film almost being blocked by Karel Reisz. Not only does he talk about the film itself but he also delves into the life of Isadora Duncan in additional detail.
in English Dolby Digital 2.0 with no subtitles

Audio commentary for "Dante's Inferno" by Brian Hoyle
Hoyle's commentary for the first telefilm in the set was excellent, and this one is just as great. Hoyle talks about the historical backround of the real Dante Rossetti, comparisons between the film and Russell's other works, the casting choices, and why the film was shot in 16mm and later shoots in 35mm film. Again, Hoyle packs so much information in the 88 minute runtime non stop that you might forget that this man has to breathe from time to time.
in English Dolby Digital 2.0 with no subtitles

Michael Bradsell Interview (17:32)
Editor Michael Bradsell talks about the three films contained in the set in which he edited on "Isadora" and "Dante's Inferno", and his later collaborations with Russell after the years at the BBC. He even says that the work he did on "Isadora" is one of the best things he has done in his entire career, which is quite amazing considering his editing credits include "Jabberwocky" (1977), the theatrical version of "Scum" (1979), and "Henry V" (1989).
in 1080i 50hz, in 1.78:1, in English Dolby Digital 2.0 mono with optional English HoH subtitles

"Late Night Line Up: Russell at Work" 1966 documentary by Ian Keill (30:32)
First broadcast on BBC on the 23rd of September 1966, one day after the broadcast of "Isadora", this documentary short is a portrait of Russell and his work. Clips of his films directed for the BBC are used, along with behind the scenes footage of "Isadora", and most importantly the words of Russell himself in interviews.
in 1080i 50hz, in 1.33:1, in English Dolby Digital 2.0 mono with optional English HoH subtitles

"The Paul Sutton Tapes" (64:36)
Running as an alternate audio track for "Isadora", it is comprised of interviews between various cast and crew members conducted by Paul Sutton for reference for his book "Talking About Ken Russell" (2015). Recorded over a four year period between 2008 and 2012, the audio quality varies between participants, some being telephone conversations making some of the voices hard to hear and some being interviews at restaurants or other settings which have a lot of background noise. The conversations are edited in the style of older Criterion audio commentaries, stitching together the various interviews to accompany specific scenes rather than having each interview run fully. The BFI used to put English subtitles to accompany audio commentaries in the past, but have recently stopped doing so. This is one extra that could have benefited from English subtitles to make parts easier to hear. Note that the comments are not censored so there are a few minor moments of F-bombs spoken.
in English Dolby Digital 2.0 with no subtitles

DISC TWO & THREE (DVD Copy)
The DVDs repeat all the content listed above, in the PAL format. The DVDs are coded region 2.

Booklet
Enclosed in the case is a 28 page booklet which includes essays, film credits, extras information, and notes about the presentations. The first essay is "My Life with Ken" by writer and producer John Wyver which recalls his discovery of Russell's work that made him want to be part of the television and film world. Next are film-specific, with "Always on a Sunday" by writer and filmmaker Kevin Jackson, "A Slightly Red-Blooded Thing: Ken Russell's Isadora" by Christophe Van Ecke, writer of "Pandemonium: Ken Russell's Artist Biographies as Baroque Performance" (2015), and "Dante's Inferno" by Brian Hoyle who provided two of the audio commentaries on this set. Last is a Ken Russell biography written by Paul Sutton, which is identical to that in the "Ken Russell: The Great Composers" booklet.

The contextual material included here is great, and the only minor miss may be that the BFI have stopped including English subtitles for the audio commentaries. True we should be thankful that the BFI provides subtitles on all other extras - something that many DVD and Blu-ray companies do not bother to do, but with "The Paul Sutton Tapes", it would have really helped to make things easier to understand.

Overall


The "Ken Russell: The Great Passions" set from the BFI compliments the "Ken Russell: The Great Composers" set with a differing set of artists in differing mediums, but still have the distinctive Ken Russell direction - art over fact, uniqueness rather than straightforwardness. The BFI's transfers of the films are of very good quality, and supplements are of the highest marks. Another highly recommended set from the BFI. Hopefully more of Russell's television work will be forthcoming.
| | | | | |
| --- | --- | --- | --- | --- |
| The Film: A | Video: B+ | Audio: B+ | Extras: A | Overall: A- |