Car Wash [Blu-ray]
Blu-ray B - United Kingdom - Fabulous Films
Review written by and copyright: Rick Curzon (1st April 2016).
The Film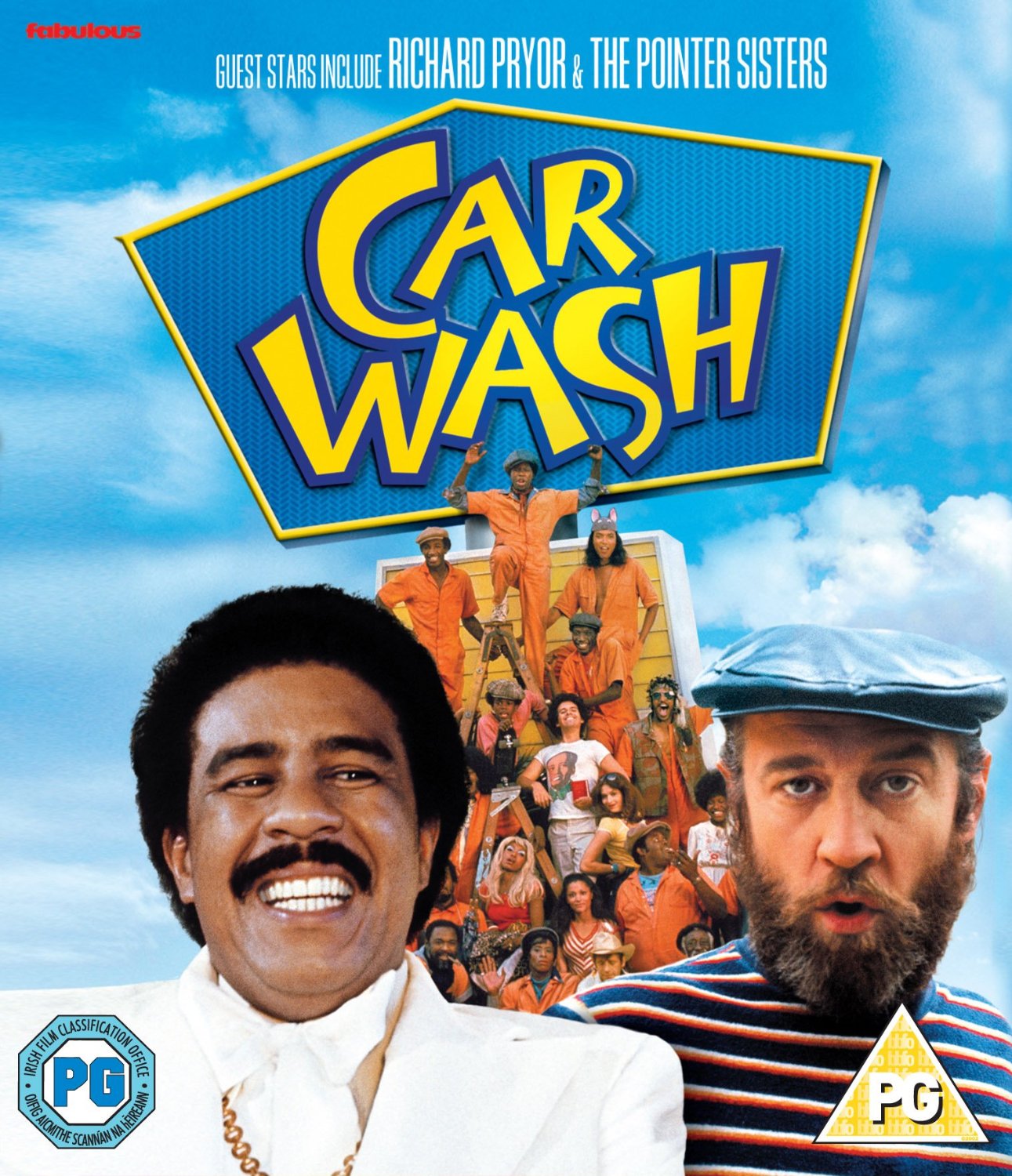 ***This is an A/V and Extras review only. For reviews on the movie from various critics, we recommend visiting HERE.***

Car Wash is an earthy, irreverent but affectionate look at a typical day in a Los Angeles car wash. An ensemble piece which interweaves the lives of employees, customers and passers-by. Car Wash stars a gallery of gifted actors, most of whom are relatively unknown to movie goers, and spotlights an array of guest starts in vivid cameo roles, including George Carlin, "Professor" Irwin Corey, The Pointer Sisters and Richard Pryor as Daddy Rich, a flamboyant reverend who preaches the goodness of the dollar. Car Wash may qualify as the world's first "disco" movie and Norman Whitfield's almost non-stop musical score has become a top selling album.

Video


This is from Fabulous Films and is a worldwide BD debut, which is something I hope we get more of from Fabulous, and I wish they had converted all of their recent DVD releases to Blu-rays as solid as this one.

An amiable, funny, rambling occasionally moving comedy-drama mosaic has plenty of laughs some poignant moments and great Rose Royce tunes on the soundtrack. A funny script by pre-directing Joel Schumacher and decent direction from experienced TV helmer Michael Schultz.

Made at the tail end of the Blaxploitation craze this was described by Roger Ebert in his rave review as a "wash 'n wax M.A.S.H." and that would be about right as it owes more than a bit to Robert Altman's loose style whereby setpieces and vignettes are juxtaposed. George Carlin is amusing as a cabbie who drifts through the film trying to find "a tall, blonde black woman" who jumped out of his car without paying. In fact the whole cast is superb, even oscar worthy at times with plenty of opportunities for genuine emotion and drama. Be warned, this film is from a less politically correct era so some racist language is used.

The image is generally very colourful with a fine layer of grain and a reasonable amount of detail. That said I can't rule out some minimal DNR; the image isn't as grainy as I would expect from a low budget film of the era, especially from the very down and gritty urban milieu. Black levels are good and I couldn't see any digital artefacts, or crush.

There are no signs of damage or speckling that I could detect and to repeat colours are rich and vibrant with especially robust reds. I suspect this has been taken from a dated source used to create the previous widescreen DVD releases, but that said there Is little to worry about. This really does show how good 35mm film looks when well looked after; a look I prefer to the more pristine feel of digitally shot productions.

Car Wash gets a solid if ever so slightly soft HD upgrade.

1.85:1 / 1080/24p / MPEG-4 AVC / 96'19"

Audio


English DTS-HD Master Audio 2.0 Mono
No subtitles

Sound is a robust English DTS-HD Master Audio 2.0 Mono track which reflects the source very well with some nice base in the musical moments, of which there are many. The Rose Royce score comes over well and compliments the action to the point where occasionally you'd think it was a musical. Dialogue is well delineated and easy to follow. That said, English subtitles would have been nice for those who have poor hearing. Much of the dialogue is street slang and may be hard for those less familiar with the terminology. I never noticed any use of the LFE track but that's to be expected for an old mono production. However, a 5.1 upgrade would have nice with such a musically orientated film.

Extras


Audio commentary from director Michael Schultz - A newly recorded yak track which is filled with plenty of detail about the production with lots of stories about the cast and crew. There is the occasional brief dead air moment but not many.

Overall


Wow! Fabulous have released a film on Blu-ray not available anywhere else in the world. And, it's a choice slice of cult '70s goodness; a film I had not seen before. I give both the film and the disc my highest recommendation for collectors and film buffs. The new commentary is decent and informative; though a shame some additional documentary footage couldn't be put together as Joel Schumacher would have been wonderful as either a commentator or interview subject. Having listened to his commentaries in the past they are always erudite, honest and informative. Still, lets not digress to what we could have had and just celebrate what we do have which is a a good solid disc of a very good film.
| | | | | |
| --- | --- | --- | --- | --- |
| The Film: B+ | Video: B+ | Audio: A+ | Extras: B- | Overall: B+ |

---
DVD Compare is a participant in the Amazon Services LLC Associates Program and the Amazon Europe S.a.r.l. Associates Programme, an affiliate advertising program designed to provide a means for sites to earn advertising fees by advertising and linking to amazon.co.uk, amazon.com, amazon.ca, amazon.fr, and amazon.de.