Bad Sister (The)
R2 - United Kingdom - Simply Media
Review written by and copyright: Matthew Crossman (12th April 2016).
The Film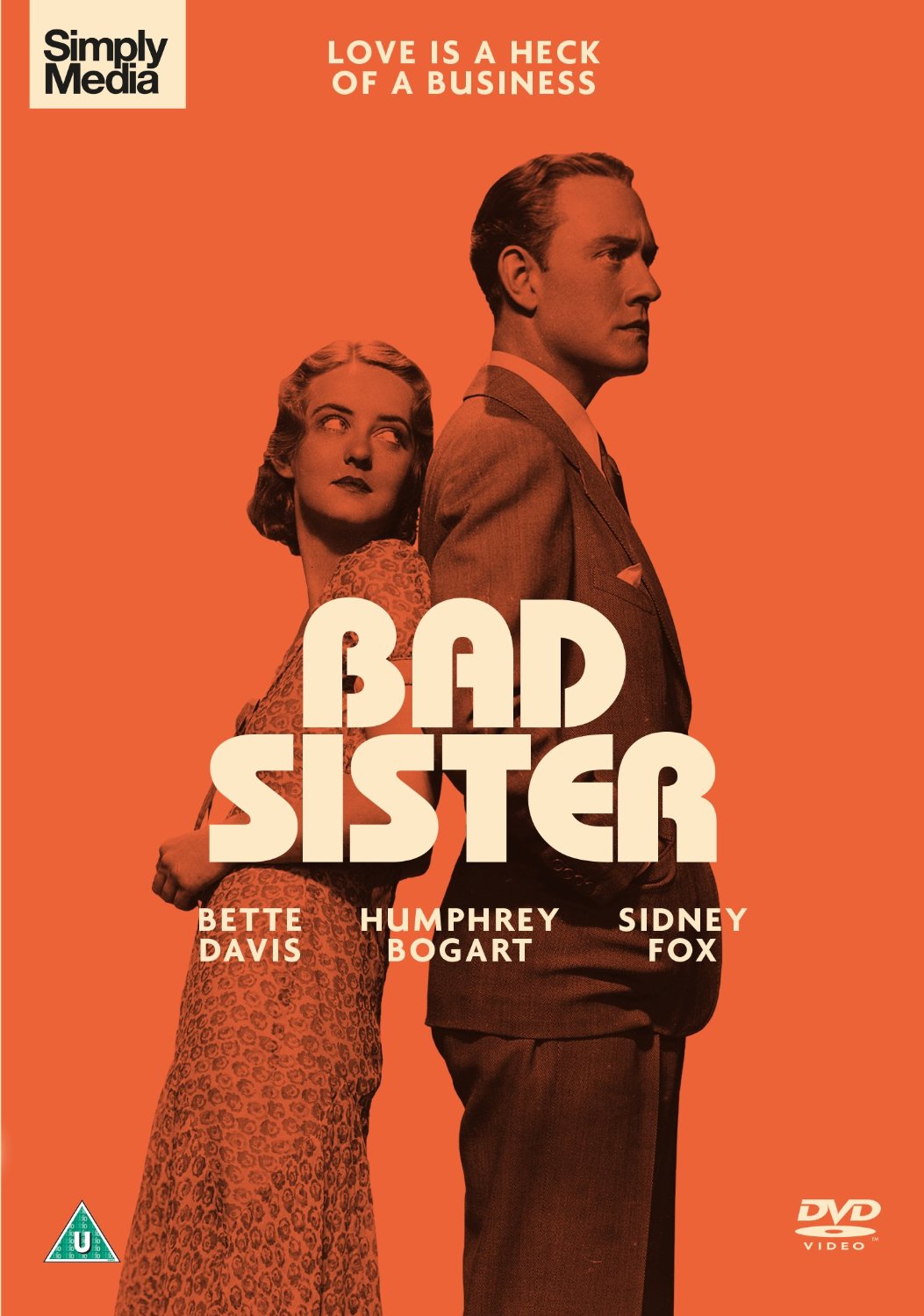 Marianne Madison (Sidney Fox) is, but 1931's standards at least, a bit of a tramp. She courts several men at a time, giving the most of her affections to those that are higher up the social ladder and especially those with the most money. Her first beau is the rather portly Wade Trumball (Bert Roach) who happens to be the best insurance salesman in town. He is rather casually overthrown for Doctor Dick Lindley (Conrad Nagel) who procures Marianne's affections until the suave character of Valentine Corliss (Humphrey Bogart) rolls into town in his expensive car. Marianne immediately seizes upon Valentine without knowing anything about him simply because he has a car and the good Doctor has lent his out to his brother for the evening. Corliss drops Marianne back at her home and arranges to have dinner with her and her family the following evening. Marianne lives with her Mother and Father plus her Sister Laura (Bette Davis) and kid brother Hendrick (David Durand) who sets out to annoy everyone from Marianne to the maids of the house at every opportunity. Over dinner Corliss mentions that he is in town to find a site for a new factory he is building. He intends to staff the factory with local people and suggests that Mr Madison would make a fine treasurer for the new factory. This obviously appeals to Mr Madison. Whilst he is a shrewd businessman times recently have been tough and Marianne is an expensive daughter to keep given her expensive taste in shoes and dresses and her seemingly reluctance to work for any of it. This comes at a good time for Mr Madison as his other daughter, Minnie (Zasu Pitts) has to return to the family home along with her Husband Sam (Slim Summerville) as Sam has recently lost his job and Minnie is expecting their first child very soon. Mr Madison is intrigued by Corliss' proposal and starts to look into the project. Meanwhile Minnie gives birth to a baby boy but tragically she dies during childbirth. Corliss meanwhile cons Mr Madison into giving him a letter of endorsement for his project, a factory that will never be built, and as Mr Madison's name is a very good one around town Corliss manages to secure goods against the letter. Corliss then convinces Marianne to marry him but after their first night of marriage Marianne realises what sort of person Corliss is and escapes back to her family and back into the arms of Doctor Lindley but since she has been away things have changed and now Doctor Lindley sees things for how they really are.

'The Bad Sister' is being promoted as the first movie of Bette Davis and yet in reality she has quite a small amount of screen time. This is all about the petulant and wilful Marianne and so consequently is Sidney Fox and Humphrey Bogart who hog most of the limelight. This is a typical morality play that was so prevalent during the 1930's with references to The Great Depression and with an emphasis on how greed is not very good at all. Marianne's Father is portrayed as a kindly, generous individual and yet when we first meet him he seems to treat Laura and his Wife as if they were maids yet indulges Marianne's every whim without hardly questioning her motives. Laura, played by Bette Davies, is the moral centre of the story. It is she who sets the table for dinner, does the laundry, and looks after and educates her annoying younger Brother on the ways of the World whilst secretly pining for the smallest glimpse of the love that Marianne seems to have so much of. The plot of the film is pretty straight forward and fairly obvious almost from the moment the greasy, smarmy, charming Corliss rolls onto the screen. IMDB lists 'The Bad Sister' as the fifth film that Bogart appeared in and even at this early stage of his career he is well assured as an actor. Bette Davis, in her debut roll, as mentioned, is also very good as the downtrodden sister and if you are like me, and only know her from such roles in 'Whatever Happened to Baby Jane' and 'The Nanny' you might be surprised at her grace and beauty in 'The Bad Sister'.

Video


'The Bad Sister' is presented on this DVD in it's original black and white aspect ratio of 1.37:1 (The Academy Ratio). The print has had no restoration work done on it and yet the picture quality is still very reasonable. As you would expect from a film that is over eighty years old there are some issues with it. The grain can be quite heavy at times and there are dirt and scratches on the picture throughout but these are hardly distracting. The picture is a little soft and the blacks are much softer than one would normally like but overall it's a reasonable presentation of this little scene piece of cinema history.

Audio


The only option available is the dual mono track (English). As with many films of this period music did not play a large part in the feature presentation. There is a a musical track over the start and end credits but other than that the soundtrack only has to contend with the dialogue. This is does well to a degree. Certainly there are times when the dialogue is a tad muffled or that footsteps can only just be heard, if you turn up you amp high enough, but I feel this is to be expected. There is also the odd crackle and pop that permeates the soundtrack but not to a distracting level. There are no subtitles available on this disc.

Extras


None.

Overall


'The Bad Sister' is a rather straight forward morality play but with the added interest of seeing Humphrey Bogart in a very early role and Bette Davies making her screen debut. Those with an interest in older Universal films will see many of the usual names behind the camera as well as some familiar ones in front of it. The DVD presentation of the film from Simply Media has had no, or very little, restoration work done to it and yet it is still a very watch-able disc. A historic film in many ways and it's good to see it get a release here in the 21st Century.
| | | | | |
| --- | --- | --- | --- | --- |
| The Film: B- | Video: C+ | Audio: C+ | Extras: F | Overall: C |

---
DVD Compare is a participant in the Amazon Services LLC Associates Program and the Amazon Europe S.a.r.l. Associates Programme, an affiliate advertising program designed to provide a means for sites to earn advertising fees by advertising and linking to amazon.co.uk, amazon.com, amazon.ca, amazon.fr, and amazon.de.