The Show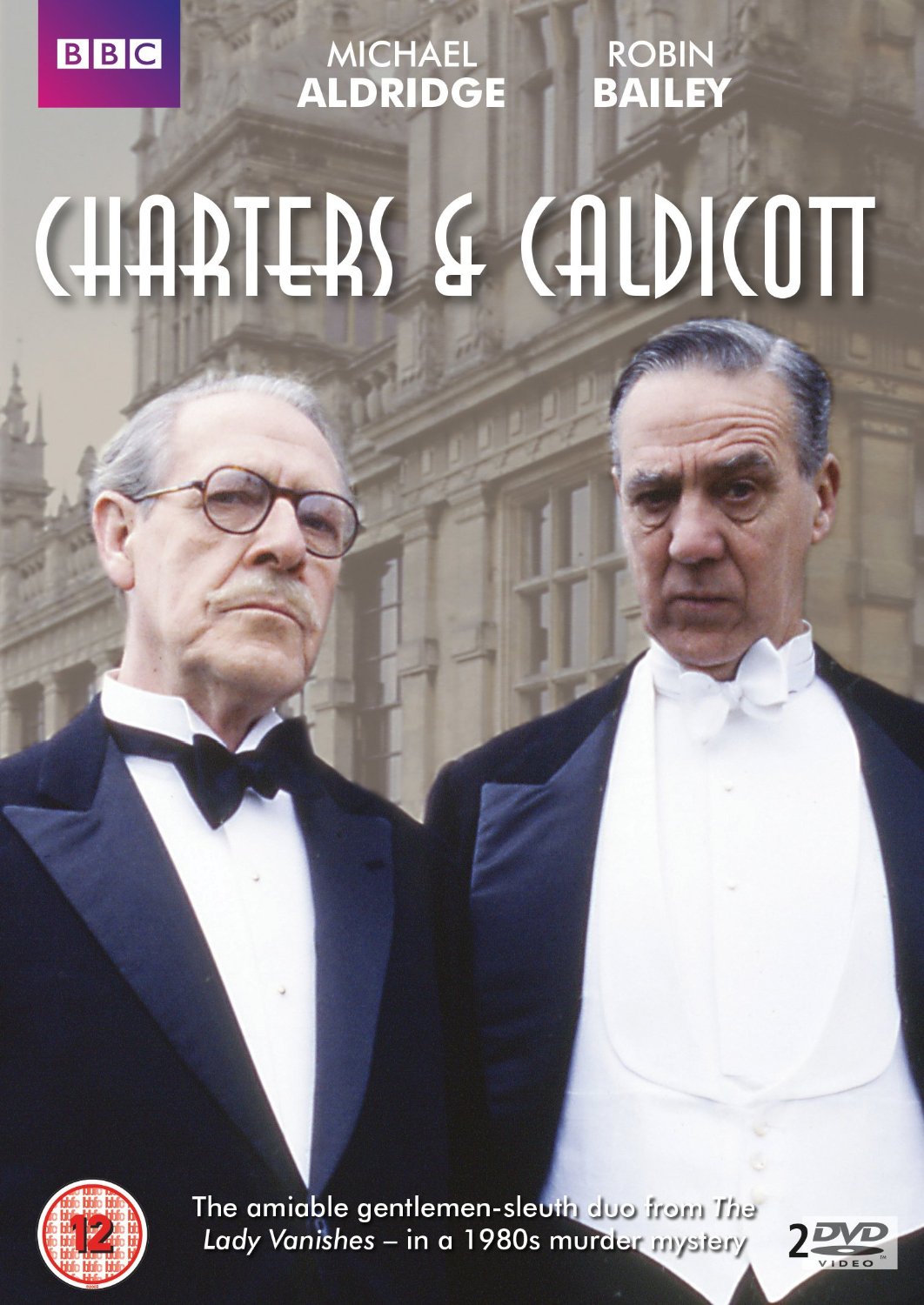 ***This is an A/V and Extras review only. For reviews on the show from various critics, we recommend visiting HERE.***

Caldicott lives in the splendid Viceroy Court in Marylebone, whilst Charters is a widower living in a country cottage near Reigate, travelling up to his Pall Mall club on a Green Line bus (hailing it on the street as if it were a taxi). When a young girl is found murdered in Caldicott's flat, Charters and Caldicott forsake their regular Friday lunch and cinema visit to involve themselves in solving the crime. This set includes every episode of the critically acclaimed series.

Video


Disc 1 (Play All - 146'37")
1. Petunia Day - 47'42"
2. Mix Well and Serve - 50'44"
3. Will the Real Jenny Beevers...?! - 48'11"

Disc 2 (Play All - 142'30"):
4. Not Cricket - 48'40"
5. Northern Lights - 47'53"
6. Play Up, Play Up - 45'57"

Simply Media in the UK have released this wonderful, and much sought after BBC serial.

The characters of Charters & Caldicott had been much loved ever since their first appearance in the the classic Hitchcock film The Lady Vanishes (1938); two crusty, ageing, cricket obsessives who could think of nothing more important throughout that adventure than getting back to the UK to find out the test match scores. In that film they were played by Naunton Wayne and Basil Radford. Created by Frank Launder and Sidney Gilliat they would make more appearances in films by this team over the years and in a BBC radio series (as well as the Hammer Studios remake of The Lady Vanishes, 1979). In 1984 renowned writer Keith Waterhouse (Billy Liar) had a stab at the duo, updating them as two slightly (only slightly) more serious old gents bewildered at life in the '80s in this rather wonderful 6-part serial in which they attempt to solve a murder mystery.

Unlike many other UK television productions in the '70s Charters & Caldicott eschews the mix of studio videotape and location 16mm film for an all videotaped look. The usual multi-camera studio setup is the same for all interior scenes but when the series goes on location an outside broadcast tape unit is used (similar to news broadcasts from locations). This gives the whole production a uniform look from top to bottom.

Consequently there is an inherent softness to this production that younger viewers will probably unfamiliar with; used to modern digitally shot HD productions with their razor sharp, highly detailed look. That said, this is a excellent release; the original master tapes have been very well looked after and it struck me that there was none of the videotape flaws that could creep into vintage taped material, like offlocks, dropout, speckles, tracking issues etc. all six episodes look flawless given the limitations of the way these programmes were made.

The only slight variation is that the opening and closing credits were definitely shot on film - either 16mm or 35mm - and they look obviously more film like with deeper black levels than the episodes. Contrast throughout is fairly bright but that is also to be expected from a taped studio production like this. I seem to remember reading that directors used to have such trouble in convincing the the workmanlike camera and studio crews to lower the light levels to create more moody images, and this show is no different.

Detail is terrific due to the high light levels and the image is very stable with a fairly robust bitrate for standard definition material. I could see few if any artefacts in the image and was just taken with how good this show looked considering the episodes have probably not had any real restoration work done.

A terrific presentation of the standard definition elements that could only be improved upon - and then only marginally - by being far less compressed on a Blu-ray release. However, that isn't going to happen for obvious reasons.

1.33:1 / PAL / 289'07"

Audio


English Dolby Digital 2.0 Mono
English subtitles

No stereo here, just good, solid 2.0 mono; typical of BBC productions of the period. It was a few years off Nicam as the standard for all productions. Doctor Who wouldn't go to stereo till the beginning of the 1988 season for instance, and although The Hitchhiker's Guide to the Galaxy (1981) had been made in stereo (possibly the first UK series to do so?) it had only been transmitted in mono at this point.

What struck me most about this soundtrack was Paul Reade's memorable score which comes over as very full-blooded in the mix, and Simply have mastered the sound at a higher level that I am used to for an archive release such as this.

Dialogue is always audible and never give short shrift by the sound designers with both Robin Bailey's (Charters) and Michael Aldridge's (Caldicott) plummy received pronunciation coming through wonderfully. As this is a very verbose series - much more so than fast cut, action orientated modern TV - it's just as well. Occasionally in productions of this era the sound can be a tad strident, especially in action sequences in which the music comes crashing in, but not with this soundtrack; a satisfying vintage experience.

An excellent reproduction of the original soundtrack, no complaints. Only way to improve this would be as a lossless track on an HD release.

Extras


Sadly, nothing. A shame really because this superb series deserved something; even if it was just a vintage piece on Waterhouse, or contemporaneous TV appearances by the cast and / or creative team to promote the series such as excerpts from the likes of Breakfast Time or Wogan. Alas, we are long past the days in which the likes of The Doctor Who Restoration Team got wonderfully curated releases out on DVD with all sorts of relevant ephemera by way of extras.

Overall


Despite being a barebones, no frills - but great quality - release I encourage everyone to get their hot little hands on this wonderful series. A 6-part serial from a time when TV was simpler and still very much electronic theatre. The cast are a joy with everyone doing topnotch work bringing a round of English plumminess, pluck and eccentricity to the '80s TV landscape. The leads are peerless, but special mention must also go to the seriously hot Caroline Blakiston (Mon Mothma in Return of the Jedi!) as Mrs. Motram and the late, much lamented Gerard Murphy as the fastidious, obsessive compulsive Inspector Snow. Both of whom join in the hunt for the murderer and play a game of cat and mouse with our favourite cricket obsessives.

Stop reading this, click on the Amazon link and get this series bought!!!
| | | | | |
| --- | --- | --- | --- | --- |
| The Show: A+ | Video: A | Audio: A | Extras: F | Overall: B+ |