The Show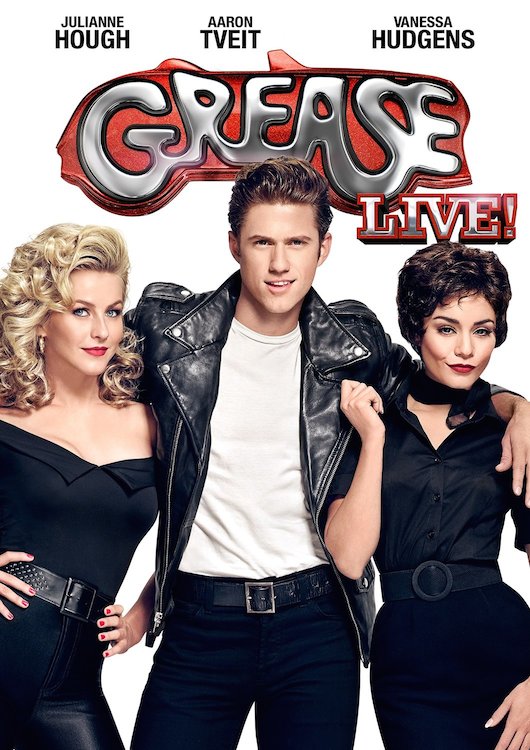 The original "Grease" (1978) is a musical that has gone on to hold a cult film status. It has a huge following. The soundtrack alone is one of the greatest film soundtracks ever. I grew up with the original film playing over and over in my household. My father was a huge fan. My brother played the character of Kenickie in a collage musical stage play, so "Grease" has been in my life since for as long as I can remember. When I learned they were doing a live broadcast of the musical, I was all for it, and it did not let me down. This is a fun, comical, foot tapping good time. A wonderful array of talent with the classic storyline that's a lavish musical production.

Your setting for the film is a high school named Rydell High. One of your main characters is Sandy (Julianne Hough). She has just transferred there. Once there she realizes her summer fling Danny (Aaron Tveit) also goes to Rydell. Again the two play off each other's emotions. Danny has to keep up his tough guy image with his crew the T-Brids. Sandy must fit in with Danny's friends, and also become a part of The Pink Ladies who run with Danny's crew, in hopes to rekindle their summer romance.

Julianne Hough steps into the roll of Sandy with full gusto, and she does a wonderful job, I will always favor Olivia Newton-John any day, but Hough did a great job in this new fresh take on the musical classic. Next I would have to pick Aaron Tveit as the winner of the show. He became Danny, immersing himself into the role and possessed a perfection in the performance. Vanessa Hudgens was utterly brilliant as Rizzo, although Stockard Channing will always be the golden ticket to this character.

There are some great added bonuses to this version of "Grease". Such as the real life singer Carly Rae Jepson playing the character of Frenchy, and also sings a new song written for this production. Also the one of kind music group Boyz II Men plays the role of the Teen Angel setting, where as in the original it was Frankie Avalon.

Barry Pearl plays the character of Stan Weaver in "Grease Live!" you might remember that Pearl was in the original film, he played the character of Doody. In this new version, actor Jordan Fisher takes over, and does a fantastic job as the character. Long time actress Eve Plumb plays Mrs. Murdock, she has worked in the acting business for many years, and most famous for her character of Jan Brady, of "The Brady Bunch" (1969-1974) fame. Paramount did a terrific job of casting some memorable players for this incarnation and they all delivered.

"Grease Live!" is a memorable new telling of this classic musical. It was great seeing it refreshed. I think the production, cast, direction and everything that went into this show worked. It brought life back to this classic film in a whole new, fresh and exciting way. Musical lovers, "Grease" lovers will take to this new adaption and thoroughly enjoy it from beginning to end, at least I did.

Video


Presented in 1.78:1 Widescreen, anamorphic enhanced. The video quality is fantastic and does not have that overall look of live television. It's a crisp setting, imagery flows in a way that makes the viewer not even realize it's a stage performance. The picture is vibrant. Colors are perfect. There are a few moments of Black and White which create an older nostalgic setting. Overall they nailed this transfer.

Audio


English Dolby Digital 2.0 surround is the only option. The sound quality is great. Dialogue is heard with a fantastic setting. The songs being sung are forceful and just pure perfection. It's sad Paramount didn't mix this in 5.1 surround, no subtitles are available either.

Extras


Paramount has released this show on DVD with a few extras, primarily a collection of featurettes and a single bonus trailer. Below is a closer look.

"Without a Net: Performing GREASE LIVE!" featurette runs for 5 minutes 18 seconds, this is a making-of feature that captures some great rehearsal footage.

"Becoming the T-Birds and Pink Ladies" featurette runs for 4 minutes 27 seconds, this is a cool feature in that it has the groups talking about what it means to be a T Bird or Pink Lady. This also uses some flashbacks to the original 1978 film.

"Greasin' up the Joint" featurette runs for 4 minutes 39 seconds, this is a program that talks about what it took to create everything for the production, such as costumes and set design.

"Be-Bop, Swing and Jitterbug: The Choreography of Grease LIVE!" featurette runs for 4 minutes 22 seconds, this was a fun watch. It had a lot of dance rehearsal footage.

"When Was Your First…?" featurette runs for 6 minutes 20 seconds, is a comical talk with the cast.

"My Favorite Grease Moment" featurette runs for 2 minutes 48 seconds, the cast talking about their favorite moments from the original film.

Bonus trailer is for:

- "Daddy's Home" which runs for 2 minutes 23 seconds.

Packaging


Standard black single DVD case with wrap-around artwork.

Overall


In the end I was thoroughly entertained and I think most people will be too. The original is always the best, but this LIVE version is also a treat to see. Recommended.
| | | | | |
| --- | --- | --- | --- | --- |
| The Show: B | Video: A | Audio: A | Extras: B | Overall: B |