The Film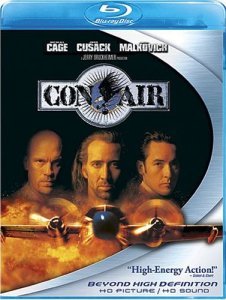 You've probably already seen "Con Air". Let's face it : box office figures don't lie. If so, you'll probably be surprised to know that it was nominated for 2 Academy Awards in 1998. Surprised, because it's not exactly Oscar quality : at least until you find out that it was nominated for "Best Music, Original Song", and "Best Sound", neither of which it won.
All of which is a roundabout way of stating the obvious : "Con Air" is not a great film, and certainly not the best work of any of the many capable actors in its surprisingly high quality cast. However it is a fun film, at least in part to the fine performances of those actors (except for Nicolas Cage, who pretty much always plays the same guy : except in "Face/Off" (1997) where for some of the time he played that guy but EVIL).
From John Cusack as a US Marshall Vince Larkin in what is probably the ugliest outfit he has worn onscreen outside of a John Hughes film (a stylish linen suit), to John Malkovich as a murderous criminal mastermind, to Steve Buscemi as a serial killer who is strangely creepy despite being just about the ONLY character who doesn't commit an act of onscreen violence, the cast is just about perfect : probably more perfect than the film deserves. Which isn't much.
The plot is laughable. The CGI is terrible. The dialogue is worse (especially Cage's lines, for some reason). To be fair though, "Con Air" does have everything else you might want in a movie. Explosions, plane crashes (2), graphic violence (including shootings, broken bones, and at least one incident where someone's nose is pushed up into their brain), motorcycles chasing a fire engine, an electrocution, escaped prisoners trying to shoot an attack helicopter down with pistols (from the open cargo hatch of a plane) : who could honestly ask for more?
Actually there is one person who could have asked for more : Nicolas Cage could have asked for a couple of rewrites, because while many of the other characters actually have some lines that sound vaguely intelligent, he manages to come off retarded...all the time...even when he's doing smart things. At first you think it might just be the southern drawl, or the fact that many of the other characters refer to him as "hillbilly", or just that he's Nicolas Cage : and then you really examine the things he says, and find that they're just plain dumb. I guess they had to make sure that the intended audience for this film could relate to the main character...
But basically, the movie is the ultimate in high concept : a film whose plot you can sum up in a sentence. You know a classic Bruckheimer film. Basically, a planeload of convicts being transported from one prison to another TAKE OVER THE PLANE and hilarity ensues...the end, pretty much. Oh except for the bit where Cage's character was imprisoned for 7 years for manslaughter due to a miscarriage of justice (notably involving crappy advice from an attorney) and is now just trying to get home to see his daughter (who he has never met) on her birthday. Talk about pathos.
But for all its faults as a work of art, the film is pretty entertaining, as mentioned above. You're certainly not going to be bored watching it, and if you get a group of friends together even more fun can be generated from mocking it ceaselessly during your viewing.


Video


Presented in the film's original theatrical ratio of 2.35:1, this high-definition release is presented in 1080p 24/fps and has been created using AVC MPEG-4 compression. Being a catalogue release this film makes its way to Blu-ray in a rather quickie fashion, the film has seen a couple of DVD releases including an 'Extended Cut' which featured an updated transfer, this edition is of the 'Theatrical Cut' and I'm guessing the transfer for this release was taken from the one struck for the digital scan created for the film's initial DVD release. The quality of the image in terms of sharpness and detail is vastly improved but the overall image still leaves a bit to be desired. It would have been nice of Buena Vista to strike a new scan of the film elements for the updated Blu-ray transfer but I guess that process is a bit expensive for a catalogue release. Throughout the print I noticed some mild grain and the occasional speck and bit of dirt but overall it was a clean image. I thought that skin tones were a bit lacking and blacks were a bit on the flat side as well, some interior shots also appear flat as well which is a bit disappointing, exteriors look good however and detail holds up in many of these wide shots.

Audio


Four audio tracks are included in English PCM 5.1 uncompressed audio at 48kHz/24-bit/4.6 Mbps as well as standard Dolby Digital 5.1 tracks in English, French and Spanish. For the purposes of this review I chose to view the film with its PCM 5.1 track, although the image was at best 'ok' this soundtrack is a winner on all accounts. The track is loud and aggressive and features some excellent range and depth that gives it an immersive quality. Dialogue us clear, ambient sound is subtle especially scenes in the airplane, action scenes erupt on all speakers enveloping you in the mayhem, the bass booms as we get explosions and crashes galore. This is an action film and as a result the soundtrack is dynamic and powerful.

Optional subtitles are included in English for the hearing impaired, French and Spanish.


Extras


Buena Vista has included all the extras from the older DVD release which includes two short featurettes, the film's theatrical trailer plus a collection of bonus trailers. Below is a closer look at these supplements.
First up we've got "A View from Above" a featurette that runs for 4 minutes 39 seconds, this is a standard EPK fluff piece which features an annoying narration and cast and crew interviews telling us how great the film is and what attracted them to the project amid some shots of behind-the-scenes material.

Next we've got "The Destruction of Las Vegas", a featurette that runs a paltry 2 minutes 41 seconds and very briefly looks at the various special effects and techniques that were used to create the crash landing on the Vegas Strip sequence.

Also featured is the film's original theatrical trailer that runs for 2 minutes 28 seconds.

Rounding out the extras are some bonus trailers which include:

- "Buena Vista Blu-ray" spot which runs for 2 minutes 30 seconds.
- "Wall-E" which runs for 1 minute 36 seconds.
- "Gone Baby Gone" which runs for 2 minutes 38 seconds.

Finally the disc also includes a "Movie Showcase", which jumps to three key reference scenes that show off the high-definition quality.


Overall


This film has been reviewed by Jarrod Baker. The Blu-ray specifications and extras have been reviewed by Noor Razzak.
| | | | | |
| --- | --- | --- | --- | --- |
| The Film: C+ | Video: B- | Audio: A+ | Extras: D- | Overall: C+ |