Calamity Jane and Sam Bass
R2 - United Kingdom - Simply Media
Review written by and copyright: Matthew Crossman (30th April 2016).
The Film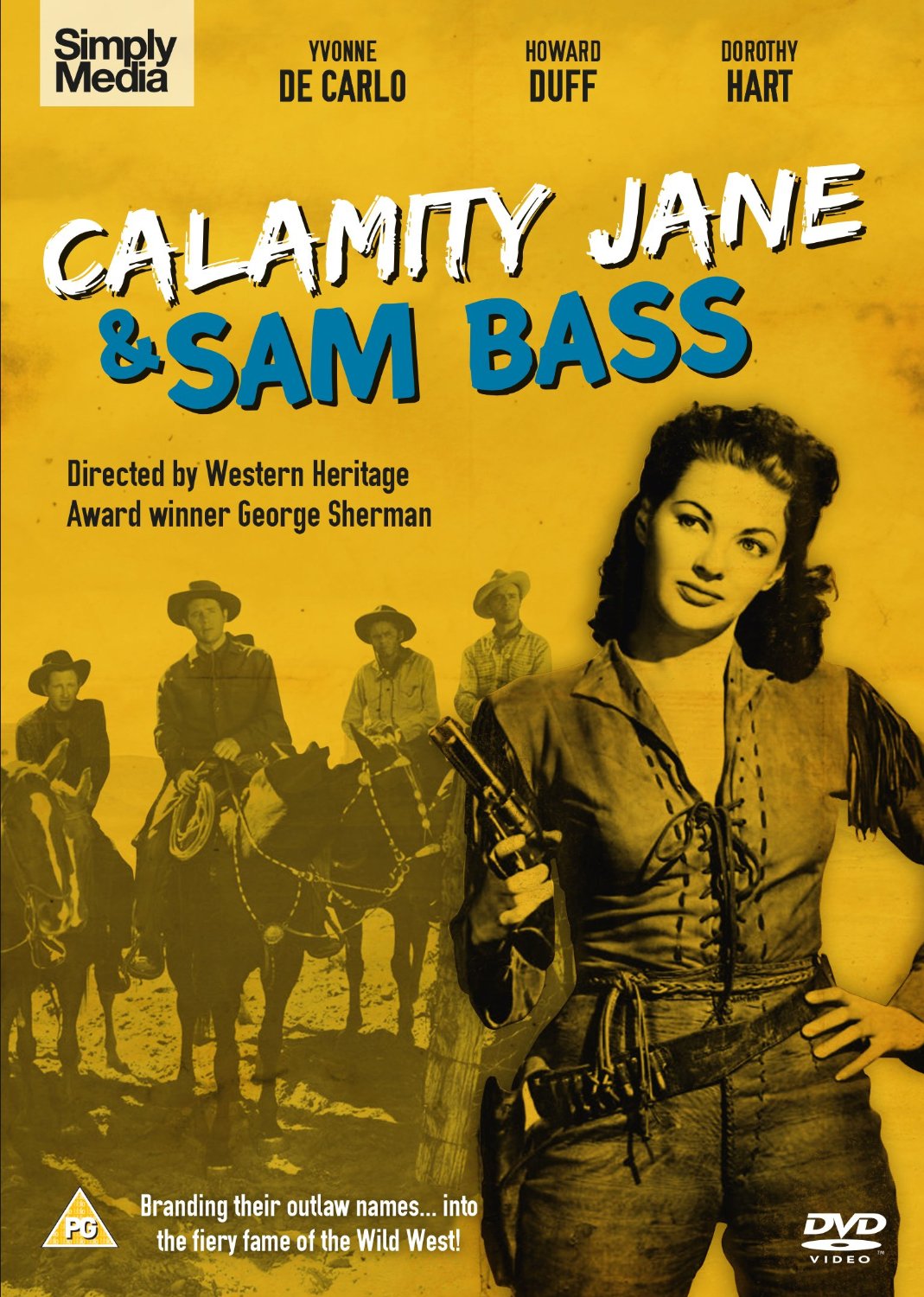 Sam Bass (Howard Duff) arrives in Denton, Texas just as many others do for the annual Denton race. He arrives penniless but soon charms Kathy Egan (Dorothy Hart) who takes pity on Sam when the money he is expecting from his Uncle does not arrive as expected. Kathy lets Sam have some groceries. As Sam leaves Kathy's establishment some roughnecks ride through town shooting up the place. Sam picks up two guns, guns he was hoping to buy despite never having shot one before, and looks to protect Kathy's shop. Thankfully his intervention is not need but Kathy sees something good in Sam and suggests to her Brother, Sheriff Will Egan (Willard Parker) that he give Sam a job helping out the Sheriff's Wife on his ranch. Sam grateful accepts. Just before that Sam has a chance meeting with the owner of a horse called Thunderbolt. Thunderbolt rears up dangerously in the street and Sam calms the horse down and whispers in it's ear. The owner of the horse is Calamity Jane (Yvonne de Carlo). Jane is a horse racer and is in town for the Denton Race. Jane is impressed with Sam, she tells him that no one has ever been able to tame Thunderbolt except her, and now except Sam too. The day of the race approaches and Sam sees the Denton Mare, the favourite for the race, and a horse that has never been beaten. Sam is taken with the Denton Mare and tells Jane that the Denton Mare will easily beat Thunderbolt. As Sam and Jane talk about the race Sam watches the Denton Mare being horseshoed and has spotted something important. Sam rushes off and convinces Sheriff Egan to lend him $50 telling him it's to buy a horse. Sam then takes the $50 and bets on Thunderbolt to win. The Denton Race starts and the Denton Mare is easily winning the race with Thunderbolt behind in second. As the horses approach the finish line the Denton Mare collapses to the ground and Thunderbolt goes on to win the race. Sam collects his $150 winnings plus his $50 stake money and offers to buy the Denton Mare. The owner of the Mare agrees as she is too badly injured to be a racing horse now but will be fine as a riding horse. Sam buys the Mare for $200. Back at the ranch Sheriff Egan feels like he has been conned out of $50. Sam has yet to return and the Sheriff does not think he will. Later that evening Sam does return only to be told by the Sheriff that he is fired from his job on the ranch and that he wants him gone in the morning. Sam has no choice now and decides to take up an offer made to him earlier by Joel Collins (Lloyd Bridges) to become a cow hand driving cattle across the Western States of America. The cattle drive ends in Abilene where here too is an annual horse race only this one is rigged in favour of the two men whom own the town Dean (Marc Lawrence) and Wells (Charles Cane). The race is rigged by Dean entering a thoroughbred race horse in a race meant just for working horses. Joel and Sam and the rest of the men on the cattle drive know that Sam's horse, The Denton Mare, can outrun any horse and pool their money together to bet on Sam and The Mare. Sam is so confident that he will win he suggests that Joel bet. the $8000 that is not theirs but the rancher's money whom own they cattle they have just driven across state. The race begins and Sam is way out in the lead when The Denton Mare pulls up and collapses dead. Sam is devastated. At the party thrown by Dean and Wells after the race Dean's vet is overheard by Calamity Jane saying that he has never in his 30 years ever hurt a horse before. It seems that the vet poisoned The Denton Mare. Sam and Joel hear of this immediately and confront Dean. Wells pulls a gun and Sam shoots him dead before Sam and Joel make their escape. A few days later Dean is moving his money out of town and Sam and Joel hold up the stage and take back the stake money they placed on the race and not one penny more. Sam secretly returns to Denton in search of Kathy and when he finds her he also finds out that he has a bounty on his head for the killing of Wells and stealing the money. Sam now has a decision to make; Does he give himself up, stand trial and hope that the jurors see his side of things or go on the run, perhaps for the rest of his life?

'Calamity Jane and Sam Bass' is an interesting Western from the point of view that Sam starts out as quite na´ve. Here is a man who has never fired a gun and yet his first job is to be the gun hand on a stage coach bound for Denton simply because it seemed the easiest way to get to where he was going. When questioned about what would happen if he would have run into bandits on the journey Sam simply replies, 'But I didn't'. Sam's view of the World is simplistic. He wants to own a ranch because he loves horses and he wants it to be in Denton. Initially how Sam approaches this is in a law abiding way, by working hard, and doing what he thinks is right. This side of his personality is steered by Kathy. Kathy trusts Sam always to do the right thing and wants to settle down with him on his ranch. The other side of this coin is Calamity Jane. She takes to Sam almost immediately but her poor choices in the film ultimately infiltrate Sam's view of life and he starts to lead the life of a criminal steered by Jane. It is Jane's big mouth and desire rub it in to Dean and Wells that they have been out swindled at their own game (horse rigging, although Sam was slightly deceitful, he never lied or cheated outright) that got Sam's Mare killed. Sam initially sticks to the right side of the moral rails (just) so that when he stole he only stole the exact amount he felt he was swindled out of, and when he killed he only killed in self defence. However this is a slippery slope and Sam starts to push his luck in that direction. Filmed in 1949 by George Sherman who also supplied the story 'Calamity Jane and Sam Bass' is a pretty good Western. There are moments of great suspense especially during the horse racing sequences which are well staged. Simply Media have done the DVD buying public another service by releasing another fine Western from the Universal stables (see what I did there?) and if Westerns are your particular glass of whiskey then I suggest you pick this one up.

Video


'Calamity Jane and Sam Bass' is presented on this DVD in it's original aspect ratio of 1.37:1 The picture exhibits some pretty heavy grain right from the start, including the Universal Studios globe logo. The colours seemed rather washed out and faded to my eye. The opening credits I think are supposed to be in yellow but on this DVD they almost white. There is some damage to the print with what looks like 'cigarette burns' and these are most prevalent during the final thirty minutes. It's a shame that the print used has had no restoration done to it as some of the scenery in the film is very impressive.

Audio


The soundtrack of 'Calamity Jane and Sam Bass' is presented in a Dolby Digital dual mono English soundtrack on this DVD. Whilst sounding a little flat this is to be expected but it's a perfectly serviceable soundtrack which will not test even the most basic of speakers. There are no subtitles of any kind available.

Extras


None.

Overall


'Calamity Jane and Sam Bass' is an enjoyable Western with two strong female characters driving Sam's story throughout. It was good to see Jeff Bridges in an early (ish) role and compared to the rest of the cast you could see that he would one day go on to be the star out of all of them. The location work on the film is quite impressive especially for a film that was filmed in the latter part of the 1940's.
| | | | | |
| --- | --- | --- | --- | --- |
| The Film: B | Video: C+ | Audio: C+ | Extras: F | Overall: C+ |

---
DVD Compare is a participant in the Amazon Services LLC Associates Program and the Amazon Europe S.a.r.l. Associates Programme, an affiliate advertising program designed to provide a means for sites to earn advertising fees by advertising and linking to amazon.co.uk, amazon.com, amazon.ca, amazon.fr, and amazon.de.