The Film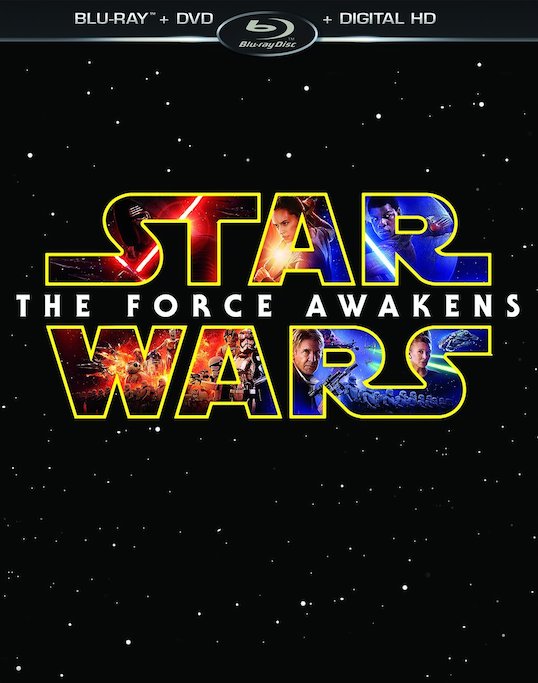 We can all take a collective sigh of relief... J.J. Abrams finally delivered in what has become easily one of the most anticipated film releases of 2015. The pressure to deliver a film that would satisfy fans and provide a healthy box office return to make Disney's investment into Lucasfilm worthwhile would have crushed almost any filmmaker, combined with working in a beloved galaxy taking the keys to a cherished franchise - these are challenges that certainly weighed down on him. Nearly 5 months after it's theatrical release, the pressure to deliver is over, the result is a film that received almost universal praise, satisfied most fans, created a new generation of fans, banked an impressive $2 billion + in global box office, and smashing all kinds of records. "Star Wars: Episode VII - The Force Awakens" is, for all intents and purposes an unmitigated success, and is a film that was able to wash away the sour taste George Lucas left behind with his flawed Prequel Trilogy (1999-2005).

Before continuing I must warn you, this review will included spoilers, so if you have yet to see this film I'd suggest you stop reading any further.

"Star Wars: Episode VII - The Force Awakens" continues the legacy taking place 30 years after "Star Wars: Episode VI - Return of the Jedi" (1983). The Galactic Empire has been beaten, but a new threat has immerged in its ashes, The First Order. Lead by a mysterious new villain - Kylo Ren (Adam Driver). The First Order are trying to achieve what the Empire failed to do, rule the galaxy with the help of a powerful weapon - The Star Killer Base. A resistance has formed to stop The First Order led by General Leia Organa (Carrie Fisher). After an attack on Jakku, desert wanderer Rey (Daisy Ridley), AWOL stormtrooper Finn (John Boyega) get thrown into the mix fighting for the resistance and with the help of Han Solo (Harrison Ford) and Chewie (Peter Mayhew) they band together to take down the biggest threat in the galaxy.

There's a lot that the filmmakers got right here, first of all the film feels very familiar. In fact it follows similar beats to the original "Star Wars: Episode IV: A New Hope" (1977). There are a lot of similarities, the abandoned desert-dewlling character longing for action and adventure, to a force of good resisting an empire (First Order) for galactic control, a death star-esque battle station, a dark force to eliminate, secret family connection revealed plus epic lightsaber battles. All the hallmarks for the making of a solid "Star Wars" adventure are here - so the filmmakers erred on the side of caution by banking on nostalgia and familiarity to tell their story. Creatively and narratively it seems like no real risks where taken. This strategy worked, veering too far into the unknown would have angered fans further, what we needed was a return to form and the film delivers exactly that.

Mixing a new generation of characters and the old guard also worked, the new characters make a solid contribution to this already established and dense world. Daisy Ridley steals the show, she's a strong and capable performer that brought weight to the story. Her arc is equally thrilling and heartbreaking at the same time and her interaction with Boyega's Finn elevate the film to new levels. These new characters carry the film including Oscar Isaac's Poe and the rambunctious new droid BB-8, supporting them are all our favorites Leia, Han, Chewie, C-3PO (Anthony Daniels), R2-D2 (Kenny Baker), and of course at the very end Luke (Mark Hamill).

The film's story moves at a quick pace so its 138 minute runtime feels brisk, and with it the story unfolding as we progress towards the film's finale. There's never a dull moment as we enter new worlds and new threats. Speaking of which, Kylo Ren is easily one of the best "Star Wars" villains to be committed to the screen. I've heard complaints that he's just a typical flawed character with daddy issues, which is true but Adam Driver plays the character with such complexity he elevates Ren past that. The reveal that Han is his father and his dramatic murder at the hands of his son was shocking and necessary, we were able to see new shades to this character in that moment and then established himself as a total and definitive evil. His obsession with Darth Vader and the dark side is just the tip of the iceberg and I look forward to more revelation about this character in the coming chapters.

Like everyone else, I loved the return to practical visual effects, the world, once again, feels reel. The Prequels looked artificial, cold, and disconnected - Lucas' insistence on green screen and relying heavily on digital effects really hurt those films. Abrams took an old school approach, shooting on film, utilizing real sets, real practical working droids, prosthetic make-up, and relying on digital effects only when absolutely neccessary. The results where welcomed and the film not only looked great but it felt real and tangible, and that's one of the most important reasons the film was such a success.

There's a lot to praise here, but the film isn't entirely perfect. There are flaws. I was a little disappointed that the only risky thing they did was kill off Han, admittedly that is risky move to kill one of the most beloved characters in your franchise but the film played out as expected with few surprises. I didn't like how there was no time to mourn Han's death, Chewie yells out in pain but then a couple of scenes later he's co-piloting the Falcon with Rey. Leia doesn't even acknowledge this moment with Chewie, instead choosing to hug Rey, a character she's supposedly never previous met (Abrams, in a recent interview discusses this moment as one of his regrets).

The Star Killer Base was just another Death Star re-hash only this time it was a converted planet, and it was relatively easy for the resistance to destroy it, has the First Order learned nothing from the failures of the Empire? Clearly not. There are other issues but they are minor and might be explained in Episodes VIII and IX, those concerning how Kylo got Vader's Helmet, who is Snoke? (Andy Serkis) and what are his motivations, does Finn have the force? Rey certainly does but who are her parents? How did Maz (Lupita Nyong'o) get Luke's lightsaber? Why did Like disappear and if he wanted to remain hidden why did he leave a map on how to find him? So many questions and the next few years are going to be interesting.

"Star Wars: Episode VII - The Force Awakens" is not a perfect film, it's not even a perfect "Star Wars" film but it's the closest anyone's gotten since the original trilogy. It's a solid adventure, with plenty of great new characters, great thrills, and worth adding to your collection. I'm a longtime fan of this franchise, I collect the toys and have been devoted to the Original Trilogy for as long as I can remember and it's nice that after so many years we've gotten the "Star Wars" film fans have been asking for.

Video


Presented in 2.40:1 high definition 1080p 24/fps using AVC MPEG-4 compression. Disney has done a splendid job on this transfer, maintaining the filmic aesthetic, depth and detail look incredible. Skin tones are natural and balanced. Colors pop vibrantly with blasters and lightsabers being bold and vibrant. The overall image is lush and gorgeous to look at with no flaws that I could detect. Black levels are deep and bold especially in the space scenes. What we have here is a top notch image that'll please everyone.

Audio


Four audio tracks are included here, they are in English DTS-HD Master Audio 7.1 surround (48kHz/24-bit), as well as French (Canadian) Dolby Digital 5.1 surround, Spanish (Latin) Dolby Digital 5.1 surround, and an English Audio Descriptive Dolby Digital 2.0 stereo track. For the purposes of this review I chose to view the film with its English DTS-HD 7.1 audio option. These movies where made for dynamic surround mixes and this one doesn't disappoint. Dialogue is clean and clear and without distortion. The film's action scenes explode off the screen, blasters, lightsabers, explosions, ships going into lightspeed, droids, alien environments, it has it all. This is a complex and rich audio experience with incredible depth and clarity. Additionally the soundtrack is pitch perfect, the music adds another layer to this already fantastic audio track. This track will give your surround system a thorough workout, play it loud! Optional subtitles are included in English for the hearing impaired, French, and Latin Spanish.


Extras


Disney has released this film with a decent collection of extras all located on a second disc, a documentary, seven featurettes, a series of deleted scenes, and included are a DVD copy and a code for digital download version of the film. Below is a closer look at these supplements.

DISC ONE: BLU-RAY

The only thing you'll find on this disc is the film, sadly there are no audio commentaries, which is a real shame as one or two would have made a welcomed addition here.

DISC TWO: BLU-RAY

First up is "Secrets of The Force Awakens: A Cinematic Journey" which is a documentary which runs for 69 minutes 14 seconds, this feature takes an in-depth look at the production. Broken down into four chapters, this covers Disney's takeover of the Lucasfilm franchise and the development of a new chapter in the legacy, the filming process, introductions to new characters, on Han's fate and shooting the film's final scene among other things. This is a terrific feature that delves into almost every aspect of the production process. It's extras like this that are sorely missing from most modern releases, this is almost worth the price of admission alone.

"The Story Awakens: The Table Read" is a featurette which runs for 4 minutes 1 second and takes a look at all the cast coming together for the first table reading of the script. It would have been a cool feature to have included the entire table read as an in-feature extra instead we get a highlight reel of that day.

"Crafting Creatures" featurette runs for 9 minutes 34 seconds, this clip takes a look at all the practical make-up and prosthetics effects utilized to create the aliens and creatures of this world, including Chewbacca.

"Building BB-8" featurette runs for 6 minutes 3 seconds, this feature takes a closer look at the design and construction of the newest beloved character, the droid BB-8.

"Blueprint of a Battle: The Snow Fight" featurette runs for 7 minutes 2 seconds, this is a closer look at the development and choreography of an epic lightsaber battle.

"ILM: The Visual Magic of the Force" featurette runs for 7 minutes 55 seconds, this feature takes a look at the digital effects used to create some of the most memorable moments of this film, we get an exclusive look inside the doors of Industrial Light and Magic.

"John Williams: The Seventh Symphony" featurette runs for 6 minutes 51 seconds, this feature takes a look at Williams' seventh score for a "Star Wars" movie. It takes a look at his iconic work and on creating new music for this installment.

A series of six deleted scenes are included, these were clearly omitted due to time reasons and possibly because they weren't neccessary in progressing the story, the scenes included are:

- "Finn and the Villager" runs for 31 seconds.
- "Jakku Message" runs for 47 seconds.
- "X-Wings Prepare for Lightspeed" runs for 22 seconds.
- "Kylo Searches The Falcon" runs for 50 seconds.
- "Snow Speeder Chase" runs for 48 seconds.
- "Finn Will Be Fine" runs for 23 seconds.

"Force for Change" is the final featurette that runs for 3 minutes 22 seconds, this is a promotional clip that takes a look at the charity work the filmmakers raised money for during production.

DISC THREE: DVD

This is a standard definition DVD copy of the film.

Also included in the package is a code to download a digital copy version of the film.

Packaging


Packaged in a three disc black plastic blu-ray case with wraparound art. The case is housed in a cardboard slip-case.

Overall


If you're a "Star Wars" fan this is a no-brainer. Get it you must.
| | | | | |
| --- | --- | --- | --- | --- |
| The Film: B+ | Video: A+ | Audio: A+ | Extras: B+ | Overall: B+ |