The Film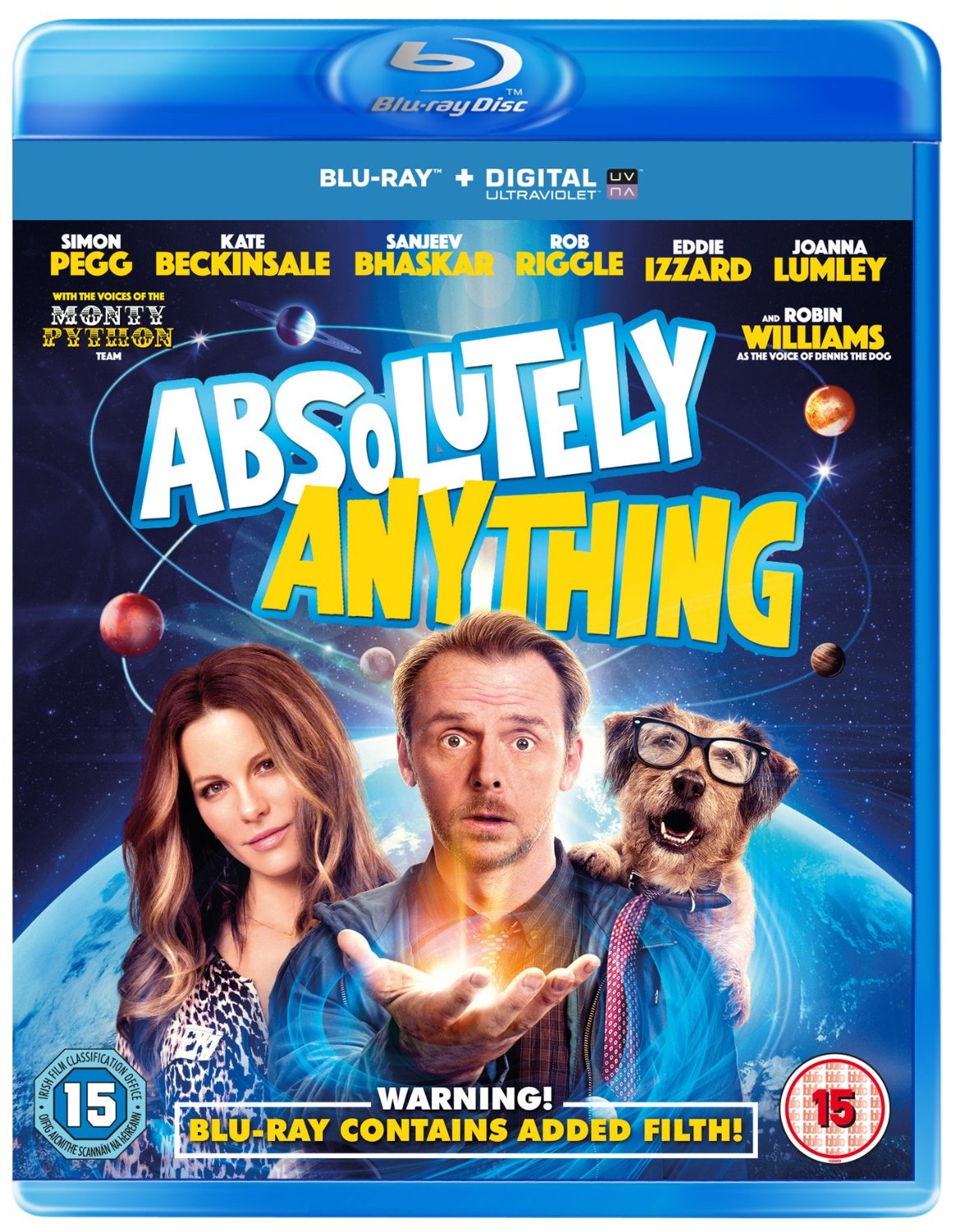 "Absolutely Anything" (2015)

The Intergalactic Council of Superior Species - a group of aliens (played by Monty Python members John Cleese, Terry Gilliam, Eric Idle, Terry Jones, and Michael Palin) are traveling on a spaceship through the galaxy looking for other signs of intelligent life, as well as destroying them. They encounter a space probe launched from Earth back in 1972 and decide if Earth is either and ally or an enemy to the Intergalactic Council. For the test, they give one random earthling the power to absolutely anything for a 10 day period. If the person decides to use the powers for good, Earth would be considered an ally and probably not destroyed. If the person uses the powers for evil in the 10 days span, Earth would be destroyed. The person randomly chosen for the test is Neil (played by Simon Pegg).

Neil is a secondary school English teacher, living single with his dog Dennis, dreaming of one day becoming a successful writer, especially to impress his beautiful downstairs neighbor Catherine (played by Kate Beckinsale) who works for a television program dedicated to books. Neil is unaware that he is given special powers to do anything, and when his colleague Ray (played by Sanjeev Bhaskar) asks him what he would do if he had the power to do anything, Neil jokingly answers that he would have aliens send a laserbeam to destroy his classroom full of rowdy teenagers. Of course, this actually does happen, killing the students and obliterating the classroom. Neil starts to figure out that he does in fact have the power to do things, from small things such as having a whiskey bottle refill itself, to larger things such as going back in time to make sure the students and the classroom are not destroyed. He also realizes that the powers can also help him with his conquest of neighbor Catherine's heart.

But Catherine is having problems of her own. First off, her job as a coordinator of a TV show is giving her stress, especially with her boss Fenella (played by Joanna Lumley) who presents a show on books and authors but refuses to even read books. She also has an admirer of sorts - Grant (played by Rob Riggle) though he is more a full blown stalker that refuses to give up on her. Will Neil be able to use his powers to unknowingly save the world? Or will he use them selfishly and sacrifice the Earth as we know it?

"Absolutely Anything" seems like a comedy dream come true - the surviving Monty Python members all together for the first time in a feature film for the first time in a long time even if in voice form, the always formidable and funny Simon Pegg, and the final vocal performance by Robin Williams. So why does it come across as being a disappointment? Probably because the content has nothing significantly new to be offered. The idea of a normal human being given the power to do godlike things were explored before in films such as "Bruce Almighty" (2003) or even "The Ten Commandments" (1956) in the past, and funny enough the script of "Absolutely Anything" co-written by director Terry Jones was being shopped around in the early 2000s but was beaten to the screens by "Bruce Almighty", so it was put on hold not to compete with a similar themed movie. Cut to 12 years later, the film is completed but there seem to be a lot of things going against it rather than for it. But let's cut to the more positive points. Simon Pegg is great with his slightly shy and inadequate character. What his character does with the powers and slight miscommunications are highlights of the film - like when he asks for the rainy weather to "be like the weather in Los Angeles", it becomes pitch black at night. Or when he says to "become the President of the United States", he is immediately swept away by Secret Service guards and is shot at by terrorists. The funniest might be when he decides to revive the dead kids from the accident he caused, but inadvertently because of his poor choice of wording, he reanimates the corpses of every person who ever lived, causing a very short lived zombie apocalypse in a nod to "Shaun of the Dead".

So what doesn't work? There were a lot of comedic moments that fell flat. Rob Riggle has his moments being funny while being creepy and annoying but not much of a stretch. The character of Catherine should have had a bit more depth - why was the TV job on a book program and the character of Neil trying to write a book become more of a sidenote rather than a plot point? Seems like a missed opportunity. The idea of Neil inadvertently killing a classroom full of kids was disturbing even if it was not a graphically gory scene. You would think he would be more traumatized in the following scene seeing carcasses of a group of teenagers in a bombed out classroom. Why they didn't just choose that to happen when it was a Sunday when no one was in the school would have made it a little less disturbing. The character that was plastered on the ads the most but only really emerges as a character halfway through is Dennis the pet dog, voiced by the late Robin Williams. The improvised lines of Williams were funny at times but they were nowhere near some of his more insane adlibs used in countless other movies. It doesn't beat "Aladdin" for sure. Those expecting a Pythons reunion will sorely be disappointed, as they are characters in vocal performance only. Though it is funny that the destructive aliens give themselves Earth names while speaking English, but unknowingly give each other female names such as Maureen and Sharon - the latter makes them groan in disbelief when they find out it is a common name in (gasp!) Australia. As for the ending (NOT a spoiler), the exact same ending from the comedy masterpiece "Some Like It Hot" is blatantly referenced (or rather ripped off). It's fine to reference other films as homages sprinkled throughout but to copy a classic film's ending exactly for another film is a boldly terrible choice.

Directed by Terry Jones, he has not had the critical acclaim as his fellow Python Terry Gilliam in the director's chair with films such as "Personal Service" (1987), "Erik the Viking" (1989), or "The Wind in the Willows" (1996) underperforming with critics and with audiences. "Absolutely Anything" will not necessarily cement him as a great director but sadly a footnote in the careers of everyone involved. The film has its moments, but it is sadly ultimately forgettable, including Kylie Minogue's ending theme song.

The film was released in the UK in cinemas and other various countries in August of 2015 and it grossed a paltry US$3 million, with $2 million of that coming from the UK. One possible reason the film underperformed in the UK was that the film was originally rated 15 due to language. With some overdubbing the film secured a softer 12A for cinemas. This Blu-ray reinstates the "F" words and is completely uncut. In the US it still has yet to find a distributor which is crazy considering how easy it seems to sell to distributors in terms of the talent involved in the film. Maybe American distributors saw the movie and thought it just wasn't good enough to be sold. But considering some of the godawful Hollywood drivel coming out both in theaters and direct to video, "Absolutely Anything" is a bit ahead in that area.

Note this is a region B Blu-ray which can only be played back on region B and region free Blu-ray players

Video


Lionsgate presents the film in 1080p in the theatrical 2.39:1 aspect ratio in the AVC MPEG-4 codec. Being a new film, the transfer is pretty much perfect with colors, shadows, details looking crisp. The CGI characters of the aliens and the mouthing of Dennis the dog are adequate, but don't expect a high budget science fiction level of quality like "The Force Awakens".

As stated before this I the uncut version of the film rated 15 by the BBFC reinstating the "F" words cut for the cinema release. The runtime on the Blu-ray is (85:30).

Audio


English DTS-HD Master Audio 5.1
The audio is presented in 5.1 and is mostly center speaker active with the dialogue, with music and sound effects effectively used in the surround speakers. Again being a new film there are no troubles with the soundtrack with dialogue and music coming in clear.

There are optional English HoH subtitles in a white font available for the main feature.

Extras


"If You Could Do Absolutely Anything, What Would It Be?" featurette (2:49)
The cast and crew asked the question and a montage of funny or serious answers follow.
in 1080i 50hz, in 1.78:1, in English DTS-HD Master Audio 2.0

"Creating the Aliens" featurette (6:00)
This featurette introduces the CGI created aliens, with designer James Acheson, effects company Nvisible team members interviewed on the designs. Also included is finished film footage, conceptual design footage, and the voices of the aliens - the Pythons in the recording studio.
in 1080i 50hz, in 1.78:1, in English DTS-HD Master Audio 2.0

"Find Out Everything About Absolutely Anything" featurette (10:25)
This making-of featurette includes interviews with Terry Jones and the cast. They talk about the characters, converting an abandoned school into a film set, and more.
in 1080i 50hz, in 1.78:1, in English DTS-HD Master Audio 2.0

"Mojo Interviews the Cast" featurette (5:30)
Mojo the dog interviews the four main cast members. The joke doesn't run very well.
in 1080i 50hz, in 1.78:1, in English DTS-HD Master Audio 2.0

"Mojo the Dog" featurette (4:47)
Mojo the dog, which played Dennis in the film gets his own featurette, about how he was a rescued dog, this being his first film, and how the cast reacted to him.
in 1080i 50hz, in 1.78:1, in English DTS-HD Master Audio 2.0

Cast and Crew Interviews (with Play All) (33:42)
- Terry Jones (6:09)
- Simon Pegg (10:54)
- Kate Beckinsale (5:41)
- Joanna Lumley (2:08)
- Eddie Izzard (3:59)
- The Producers (4:48)
Here are the uncut interviews, which were later edited into the featurettes listed previously. Nothing too revelatory.
in 1080i 50hz, in 1.78:1, in English DTS-HD Master Audio 2.0

The extras provided are pretty average but nothing unexpected. No commentary from Jones or Pegg. Or rather, no commentary from the Pythons either. It would have been funny to hear them together for a commentary whether in character or as themselves. I was also expecting some deleted scenes or outtakes as well but none are here. Seeing more recording studio footage of Williams or the Pythons would have been fun, though in the end credits the audience is able to see Williams adlibbing in studio.

Overall


"Absolutely Anything" doesn't break any new ground and is a disappointment considering the talent involved, but it is still enjoyable in scenes and does not drag on keeping fit in its runtime. The Lionsgate Blu-ray is serviceable with great video and audio with average extras.
| | | | | |
| --- | --- | --- | --- | --- |
| The Film: C | Video: A | Audio: A | Extras: C | Overall: B |