The Film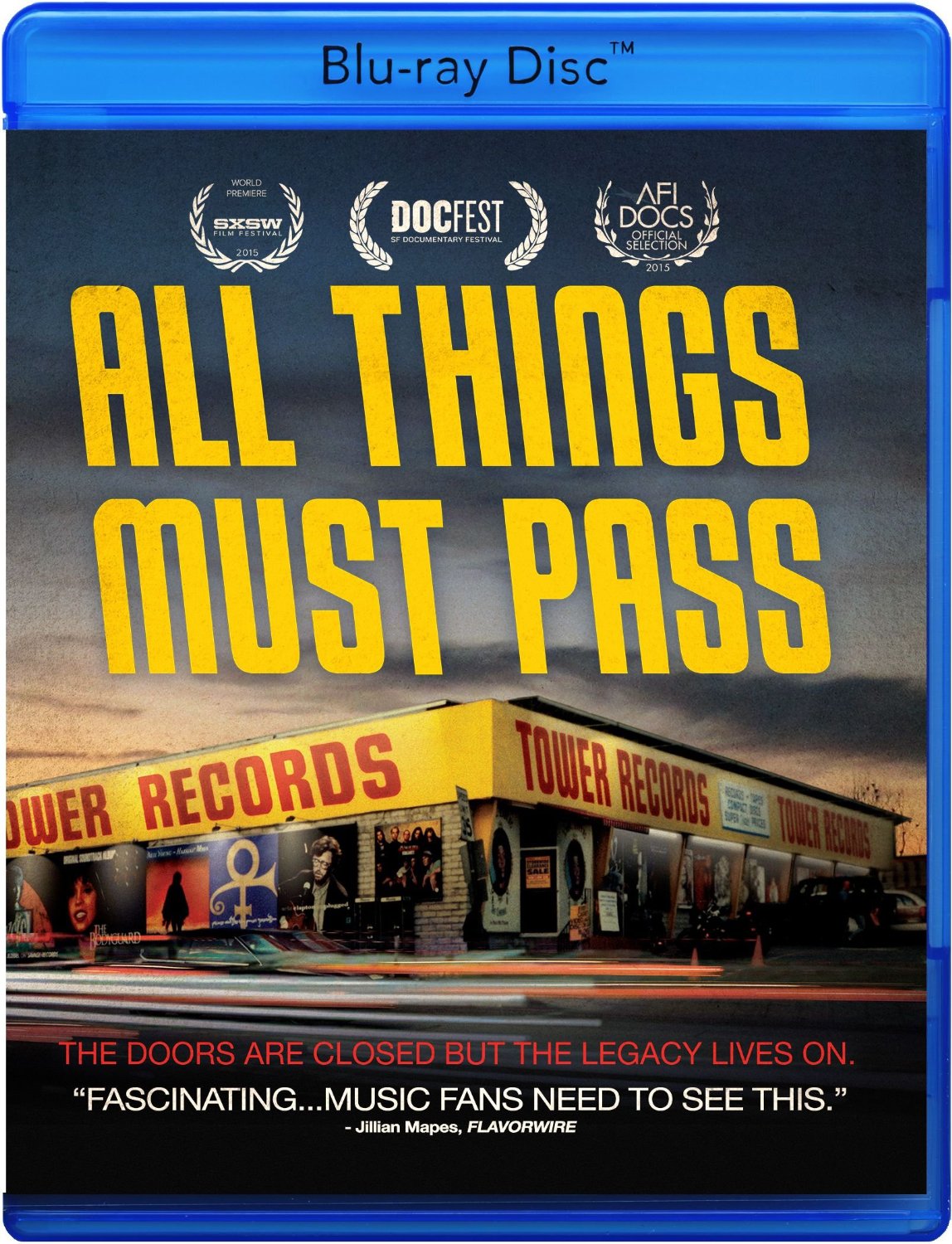 "All Things Must Pass" (2015)

When news broke in 2006 that Tower Records filed for bankruptcy and liquidation with plans to close its doors entirely that year, there was a lot of sadness from people to see the iconic store disappear. But not everyone shared that feeling. Many younger people had little reaction as it was not common for them to actually shop at a music store. Some thought, "Weren't they already out of business?" People in Japan were befuddled, as they thought "We don't see any Tower Records stores closing doors…" Regardless of everyone's feelings toward the closure, Tower Records changed the music business, set trends, and became an iconic store for the 40 plus years the doors were open.

"All Things Must Pass" documents the history of Tower Records - from the origin point of the Tower Drugs store in Sacramento, California. With a side business of selling new and used records at the drug store counter, the business expanded with the Tower Drugs' owner's son Russ Solomon who decided to open a store entirely for music, and thus the first "Tower Records" store on Watt Avenue in Sacramento opened in 1960. A few years later in 1968, Tower Records opened a new location in San Francisco, which at the time was the largest music store in the country. Later, stores opened up in Los Angeles, San Diego, Seattle, and more along the west coast. An offer came from Japanese investors to consider opening stores in Japan, which although was a very risky move Tower Records opened their first stores outside of the country in 1979. Following expansion around America in places such as New York, Boston, Nashville, and Washington D.C., they also expanded international stores in Mexico, Canada, Thailand, Israel, Argentina, and more. Business was constantly growing and each financial risk they took seemed to only be a step in a positive direction.

What made Tower Records stand out from the rest?
First of all, the selection was undeniable. Tower Records stores were huge, with thousands of albums, singles, merchandise, from every genre out there. They stocked the major releases while also promoting the independents and obscure acts. It also helped that Tower Records employees were knowledgeable about music. The young people who worked at the stores were huge music lovers and showed their appreciation by recommending and pushing personal favorites. One particular rule of interest was that there was no dress code. Employees were able to wear whatever they wanted, giving a fashion sense into the retail world with individual personality. Tower Records had their Pulse! Magazine - a free magazine available at all locations featuring everything from interviews, upcoming release information, "desert island discs" sections, and much more. Tower Records heavily advertised, whether on billboards or on television and it worked. Their national TV ads made people interested and their forward looking and creative TV ads were way ahead of the competition. Tower Records was one of the first music stores to open an online store back in 1995 with tower.com. With places such as CDNow offering online buying and shipping to customers since 1994, Tower Records saw the potential very early on in the Internet age. Tower Records worked very closely with record companies - they secured in-store performances and autograph signings to increase awareness. They helped with the artwork and promotion of upcoming records, with Tower even having their own art department to create visuals for in store use. Events held at Tower Records were some of the most important ways that even newer artists could get their names known. It was no secret that the employees had a good time at the workplace, sometimes with extracurricular substances helping out the celebrations. For music loving kids it was a place they dreamed of working - but it was no secret that there were Tower Records clerks who had blatant disregard for customers who "lacked knowledge", as seen in films such as "High Fidelity" and "Empire Records" taking place at record stores and also to an extent "Clerks" which was not a record store but easily could have been replaced as one. It may have made shopping intimidating for some but a great place for others.

So what failed?
There were many to put the blame on the easiest target - Napster - with the illegal file sharing network becoming a fast growing way for people to get music for free without even having to go outside. But Napster was not the single cause of Tower Records' downfall. There were multiple issues to blame for the closure that started from the late 90's. Competition from other retailers and pricing wars were issues, with superstores such as Best Buy and Walmart opening stores everywhere, and their lower prices for CDs and DVDs. If Tower had the CD for $15.99 but Best Buy across the street had it for $10.99, it was obvious where the customer would go. Superstores might not have the big selection, but they did have the overall lower prices for the major releases. Failures of international expansion was another case. Japan held high, but places like Mexico, Thailand, Taiwan, and others were struggling. The late 1990's saw a time that recordable CDs became affordable for home use, making copying in high quantities very fast and easy. Places like Thailand or Taiwan became heavily known for the places to buy bootlegged CDs for a fraction of the cost of the retail price, and for many in those countries, it made more sense to buy the unofficial CDs for a fraction of the price. Record companies were also not helping things out. Their ideas were to sue Napster and its users - to punish the downloaders rather that to find ways to work with the online distribution system. Because of lower sales figures, they decided to mark up the prices of the CDs, which would again prevent people from buying. Instead of taking chances on new bands or new styles of music, record companies cut back with letting go of employees and bands that were not worth the time and effort to market, while concentrating on bland pop music - guaranteed sellers. Essentially they were making it so it was more difficult for real music fans to actually buy music.

"All Things Must Pass" is the directorial debut by actor Colin Hanks. Growing up in Sacramento, he was always fascinated by the hometown pride of Tower Records, was interested in the history, and decided to go on a quest to make a definitive documentary on the company. With the help of a Kickstarter campaign that raised $100,000, he interviews everyone that he could - from Russ Solomon and his son Michael, as well as a large amount of former Tower Records employees that helped build it from the ground up. Hanks also includes interviews with famous musicians who talk about the Tower Records experience, from Bruce Springsteen who loved going to California to set foot in the stores, Elton John who says he is probably the person who spent the most money at the business, and Dave Grohl who was an employee at a Tower Records in Virginia before focusing on his music career. Throughout are vintage film footage, vintage photographs, TV commercials to bridge the interview footage together. It's a very well directed and well edited film that gets all its points across though the one focus that seems to be missing is the viewpoint from the average shoppers. Not a big loss though.

In 1999 Tower Records had revenues of US$1 billion. Only a few years later, it was gone - with the exception of Tower Records Japan, which still flourishes to this day with flagship stores operating around the country. Since Tower Records Japan is operated and owned separately from the US, the bankruptcy did not affect Tower Records Japan. Granted it has had some sales losses since its peak in the 90's with store closures and competition, Japan has not faced the same problems that the US stores did. There is no pricing war in the Japanese music marketplace. Buying a CD at an electronics store, a small CD shop, or at Tower Records has barely any difference in price. Record companies still utilize the space for in-store appearances and marketing. Napster or other music downloading services did not catch on much in Japan until much later, when established businesses like iTunes and Recochoku, and others made fair use of music downloads. Piracy is punished heavily in Japan and most likely did not make people want to make a dangerous transaction even if it was free. In Japan, music stores are still active. Video rental stores are as well. Book stores are everywhere. It's a shame that these kinds of businesses are almost obsolete in America and other countries. The film does touch upon the Japanese portion quite a lot, with closing footage of Russ Solomon in his 80s visiting a Tower Records location in Japan and being astounded with it - his dream from years ago that supposedly died still lives on.

Note this is a region ALL Blu-ray which can be played back on any Blu-ray player worldwide

Video


FilmRise presents the film on a burned-on demand BD-R, in 1080p in the 1.78:1 aspect ratio in the AVC MPEG-4 codec. Shot in high definition, the video looks very good. Colors are accurately reproduced, interview subjects are framed in focus very clearly, while for stylistic purposes the focal length is very short, causing backgrounds to be more out of focus for effect. Vintage film footage with is sparingly used is filled with scratches, color bleeding, and other damage, while still photos are printed clear and perfectly as is. There is always some motion with the photographs, whether panning or zooming though no post process 3D animation is used, keeping with the original sources. The vintage TV commercials look terrible in their upconverted VHS looking sources, but that is expected. Overall, a good job with the transfer from FilmRise.

The film's runtime is 96:48

Audio


English Dolby Digital 5.1
English Dolby Digital 2.0 surround
The two audio tracks provided are sadly lossy Dolby Digital tracks. For any music based film on a Blu-ray SHOULD have lossless audio provided. I would have loved to have heard Marlena Shaw's "California Soul" on a lossless surround track, but alas, not here. On a positive note the interview segments always sound clear with no problems of microphone troubles or muffled sounds. The 5.1 track centers the interviews while background songs and music play in the surrounding speakers. There are no major issues with the soundtrack but it could have used a little more depth with lossless surround sound.

THERE ARE OPTIONAL ENGLISH HOH SUBTITLES AVAILABLE IN A WHITE FONT. DO YOU LIKE READING EVERYTHING IN CAPITAL LETTERS? THEN THIS BLU-RAY IS FOR YOU! I personally don't like it and it is a strange choice that they decided to capitalize every piece of dialogue.

Extras


Deleted & Extended Scenes

- 8801 Sunset Boulevard (10:35)
There was a public hearing and decision on making the former Tower Records building into a historically preserved location for local cultural resource. This features interviews from city officials who are for it, city officials who are against it, and former patrons sharing their memories. The actual footage of the public hearing and testimonials are presented.
in 1.78:1, in English Dolby Digital 2.0

- Art of Retail (6:14)
Tower was known for the extensive artwork by the art department, from the outdoor paintings and indoor decorations. Foamcore, paint, cutouts, cardboard, glue, tape, and everything they could find were used.
in 1.78:1, in English Dolby Digital 2.0

- Bob on Sunset (3:34)
Bob Delanoy tells the unorthodox story of how he became manager of Sunset Boulevard store.
in 1.78:1, in English Dolby Digital 2.0

- In-House Advertising (5:24)
Chris Hopson was a liaison between Tower and record labels. He talks about the TV ads created by Tower Records and the use of artistic commercials for national ads. There are a lot of TV commercial clips offered.
in 1.78:1, in English Dolby Digital 2.0

- In Stores (7:52)
Former employees talk about some of their most memorable in store appearances by various bands.
in 1.78:1, in English Dolby Digital 2.0

- Pink Elephants (3:20)
The infamous Capitol Records promo which included a spray painted Pink Elephant is talked about in more detail. They also settle whether it was the elephant peed on the floor inside, or that the elephant peed outside.
in 1.78:1, in English Dolby Digital 2.0

- Record Supply (3:50)
Russell Solomon talks about trying to convince record companies initially and why they all said "no" to his crazy plans.
in 1.78:1, in English Dolby Digital 2.0

Trailer (2:03)
The original trailer is offered here.
in 1.78:1, in English Dolby Digital 2.0

What seems to be a very small selection of deleted scenes for extras, the quality in the offered scenes are as great as that of the film itself. They are fully edited, color corrected, and presented in finished form. For the very short runtimes the presented information is so good that it should be commended that they were edited together so well.
On the other hand, it's disappointing that there aren't any other significant extras such as a director's interview, commentary, making-of footage or other behind the scenes footage.


Packaging


Packaged in a standard Blu-ray keepcase, the disc itself is a single-layer made-on-demand BD-R. It looks like nobody did any quality control check on the rear inlay. The barcode is shifted lower than where it is supposed to be placed, so the barcode actually covers up part of the first two lines of the movie's description. Oops!

Overall


One of my friends said to a niece "I used to work at Tower Records. It was a music store." The niece replied, "Like iTunes?" The newer generations will not be able to experience the music store as it was in the days when Tower Records ruled the world, but it's commendable that they will be able to know about it with this stellar documentary. FilmRise gives "All Things Must Pass" a passable Blu-ray release, considering the lack of lossless audio and limited supplements. The film itself is still a recommended watch especially for music fans.
| | | | | |
| --- | --- | --- | --- | --- |
| The Film: A | Video: A | Audio: B | Extras: C | Overall: B+ |