The Film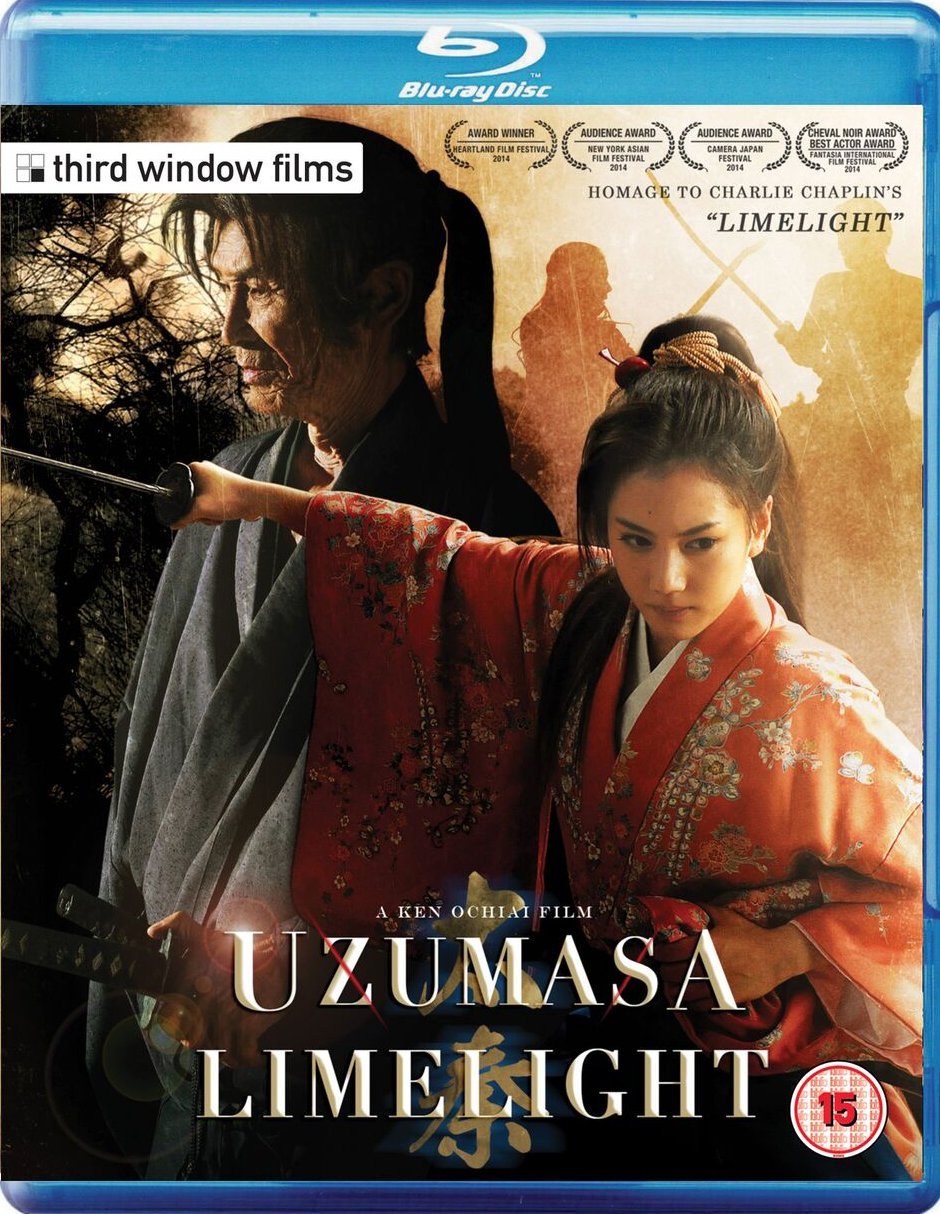 "Uzumasa Limelight" (2014)

Seiichi Kamiyama (played by Seizo Fukumoto) is a "kirareyaku" - an actor of samurai productions who performs deaths in battle scenes. Working for many years on one of the longest running TV series in Japan, "Edo Zakura" at the Nichidai Studios in Kyoto as a supporting kirareyaku, production of the series is unexpectedly canceled, with young producer Kawashima (played by Masashi Goda) giving a heartfelt yet seemingly fake speech proceeding the final shot. Kamiyama and his elderly kirareyaku actor comrades are still employees of the studio, and the casting department head Naganuma (played by Hirotaro Honda) finds it difficult to give the men roles suited for them, especially since television is gearing toward younger faces. Regardless, Kamiyama continues to train on the studio lot, practicing sword techniques and also falling techniques alone. It is after a slight fall that knocks him down that he encounters Satsuki (played by Chihiro Yamamoto) a young girl auditioning at the studio that gets lost on the way out. On another day, after a disagreement and minor scuffle with a director on the set of a detective TV drama, Kamiyama is given a temporary suspension. Another option for Kamiyama is to take a position at the local movie studio theme park as a cast member, something he had done in his youth starting out but not reluctant to go back, although many of his kirareyaku comrades have gone over there.

With the production of a new samurai TV series featuring a younger cast titled "Oda Nobu!" at the studios, young Jun Kodo (played by Shogen) and Meg (played by Shizuka Nakamura) are playing the leads and also a couple off set. Satsuki on the other hand is cast in a supporting background role, but to get noticed more she decides to ask Kamiyama to train her in swordplay. Will the 70 year old take the offer to train the young teenage girl in martial arts?

Seizo Fukumoto is an actual kirareyaku, the oldest in the business and the man that has been called t"he man who has been killed 50,000 times", with an incredible list of films and television productions in which he was killed by various actors in his career. Sometimes multiple times within the same film. Starting his career as an actor in 1959, Fukumoto has been in countless television dramas and films, most of the time going uncredited, getting slaughtered in multiple ways. Back in 1992 Fukumoto became a subject on an episode of the variety show "Tantei Night Scoop!" in which a married couple wrote in saying that there was a kirareyaku actor that they loved seeing on TV but had no idea what his name was. The TV crew went out to on a pre-internet search of a man which they didn't know the name, didn't know the face, but eventually found him. The episode can be seen on YouTube in Japanese without subtitles. In 2002, he was cast in the Hollywood/Japanese coproduction of "The Last SamuraI" (2002) and played "The Silent Samurai" which the character made a huge impact just with his demeanor and looks. Not necessarily a spoiler, but he died honorably in the film. For "Uzumasa Limelight", it was his first starring role. The face that many people knew as "that guy" finally got his starmaking turn essentially playing himself - an actor who had been a kirareyaku all his life but suddenly coming to terms that he is aging and that younger generations are not watching samurai films anymore. Fukumoto is still extremely physically fit as shown in the film doing all his stunts with grace and his death scenes with full vigor and theatricality. The role was specifically written for him and it probably would have been impossible for a well-known actor to do the part completely. He is able to carry the role not only with the stuntwork but also with the actual interaction with others as well.

On the flipside is Chihiro Yamamoto who makes her film debut in "Uzumasa Limelight" and just turned 18 at the time the film was theatrically released. For such a physically demanding role of the girl who trains with a swordsman and having to do stuntwork, Yamamoto was a fine choice. As they first wanted a no-name actor, they instead cast a martial artist - one that won her first gold medal at a martial arts tournament at 12 years old followed by multiple wins at the Junior Olympics. As for acting she performs very well as in scenes where she loses her confidence while also performing scenes of extreme confidence, both mentally and physically.

The filmmakers made it clearly apparent that "Uzumasa Limelight" was an homage to Charlie Chaplin's semi-autobiographical "Limelight" (1952) in which an aging washed-up clown helps a young girl gain her self confidence which in turn helps himself regain his self confidence and dignity. There even is a picture of Charlie Chaplin and Claire Bloom on Kamiyama's mirror featured in the film. The elder master training the younger protégé which in turn helps each other out more than expected are also similar in nature to films such as "The Karate Kid" (1984) and "Creed" (2015) with the elder master's growth being equally important as the younger character, but essentially in those both films the younger kid is the main focus. "Uzumasa Limelight" also makes sure to have the focal point show both the elder statesmen's views along with the younger perspective. The one point that may be a so-called minus point is the predictability of the film due to the frequently seen subject matter.

"Uzumasa Limelight" was the second film directed by Ken Ochiai, who previously made the critically panned commercial failure "The Tiger Mask" based on the manga of the same name. With "Uzumasa Limelight", Ochiai uses quite creative techniques, such as the aspect ratio changing from 1.85:1 to 2.40:1 in non-film / film scenes, the very clever cut when Kiriyama goes into a flashback to his first big stunt, and the various camera angles and visual designs of the shooting scenes shot by American cinematographer Chris Freilich. Ochiai has stated that he hopes "Uzumasa Limelight" will make people interested in samurai films and TV series again, especially with younger people who are not exposed to it, unless there are young idols involved in the production - as shown with the "Oda Nobu!" portions in the film, as well as recent Japanese films such as the "Rurouni Kenshin" live action trilogy (2012-2014). "Uzumasa Limelight" is a film about a part of the film industry that seldom people celebrate, know about, or care about, though completely essential. The film won prizes at the 2014 Fantasia Film Festival but unfortunately was not nominated for any Japanese Academy Awards. As for audiences the independent film was not a big success since it only rolled out to a small amount of theaters but the actual story of Fukumoto became much more well known to the public. Post theatrical release it was released in Japan on home video in January 2015 - but on DVD only. Third Window Films UK have gone the extra mile by releasing the film on both Blu-ray and DVD editions.

Note this is a region B Blu-ray which can be played back on region B and region free Blu-ray players only

Video


Third Window Films presents the film in 1080p in the original theatrical aspect ratio of 1.85:1 with certain scenes in 2.40:1 in the AVC MPEG-4 codec. Most of the film is in 1.85:1 framed correctly with thin black bars on the top and bottom while certain cinematic scenes are in the scope ratio of 2.40:1 with larger black borders. The HD transfer looks quite good with color reproduction and clarity. I am unsure of the method the movie was shot but I assume it was shot on HD video due to the lack of film grain. The opening scenes with the CGI enhancements look a little cheesy and cheap, like a video game more than a movie. I felt like It was a cutscene from "Samurai Warriors" rather than a movie scene. But luckily that only lasts for a short while. The color palate in general looks quite flat, with no particular attention to color filters or enhancements. Overall it is a good transfer, but it's not exactly a show-off title.

The film's runtime is 104:18

Audio


Japanese DTS-HD Master Audio 5.1
The 5.1 track really shines during the cinematic scenes - with the drums coming in heavy and the sword clashes coming in sharp. For most of the film it is center based with dialogue and minor ambient sounds filling in the surrounds. Again, this is not a heavy action film so it is not a hugely active track but it has its big moments to show off. The music overall wants to be hugely cinematic but the music is not as creative as it could have been being a bit on the bland side.

There are optional English subtitles in a white font. There are no grammar or spelling problems to speak of with excellent translation.

Extras


"Behind the Scenes" featurette (22:51)
Although the title of the featurette says "Behind the Scene", this featurette does in fact have footage of multiple scenes. It includes B-roll footage and interviews with various people including Yamamoto and Fukumoto as well as Sadao Nakajima who plays himself in a cameo appearance. Sadly it's not very in depth, not very revealing. Also, the audio levels are not consistent, with some sounding clear and some sounding very echoey, but that is due to the original footage.
in 1080i 60hz, in 1.78:1, in Japanese DTS-HD Master Audio 2.0 with optional English subtitles

Trailer (2:03)
The UK trailer is presented here.
in 1080p, in 1.85:1/2.40:1, in Japanese DTS-HD Master Audio 2.0 with burned-in English subtitles

Sadly that's all there is for extras. To be fair, the Japanese DVD also had the same featurette and instead of the UK trailer had the Japanese trailer. I wish Third Window had commissioned some exclusive interviews with Ochiai (who speaks English and went to film school in California) or with cast members. There is so much to mention about Fukumoto's life as a kirareyaku as well as Yamamoto's life as a martial artist that it's a shame that more info was not included. Besides the Japanese TV show from 1992 that was linked prior, there is also a good Q&A by the Japan Society after the New York City screening in 2014. I assume due to rights issues these could not be included on the Third Window Blu-ray and DVD editions.

Overall


"Uzumasa Limelight" is an excellent film that gives its main star the spotlight he has deserved for so long. The Third Window Films Blu-ray gives the film very good video and audio but sadly the extras could have been improved. Still a recommended release for the great film. Next time you watch a samurai film, you might be paying attention more to the faces of the slain rather than the slayer.
| | | | | |
| --- | --- | --- | --- | --- |
| The Film: A- | Video: A- | Audio: B+ | Extras: C- | Overall: B |