Nature Boy (TV)
R2 - United Kingdom - Simply Media
Review written by and copyright: Rick Curzon (12th May 2016).
The Show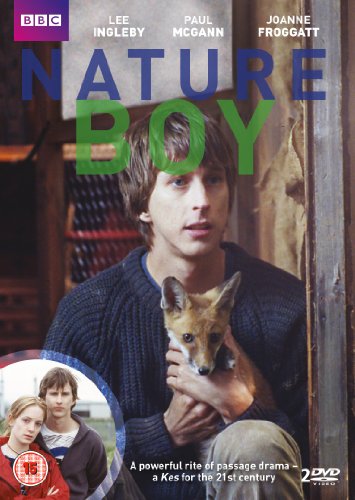 ***This is an A/V and Extras review only. For reviews on the show from various critics, we recommend visiting HERE.***

Lee Ingleby (Inspector George Gently, Our Zoo) stars with brooding intensity in this atmospheric, often gritty and shockingly violent drama. Written by BAFTA-winning Bryan Elsley.

Video


Disc 1 (Play All - 117'08"):
Episode 1 - 58'20"
Episode 2 - 58'48"

Disc 2 (Play All - 118'18"):
Episode 3 - 59'10"
Episode 4 - 59'08"

Overall running time - 235'26"
Simply Media in the UK Have released this grim slice of eccentric social realism first broadcast by the BBC from the 14th February to the 6th of March 2000. It brought to prominence stage actor Lee Ingleby who would go on to co-star with Martin Shaw in the rather good '60s police drama Inspector George Gently (2007- present). Ingleby would also appear in Harry Potter and the Prisoner of Azkaban (2004) and Master & Commander: The Far Side of the World (2003).

Ingleby plays a disaffected sixteen year old living with foster parents when his mother proves incapable of looking after him after his father has left. We see many flashbacks to life with his father who encouraged the lads affinity with nature, but in other ways he was not cut out for parenting. In some respects this gritty drama reminded me of Kes and wouldn't be out of place in Ken Loach's filmography.

The image is very robust with plenty of detail in both exterior scenes and interior, all of which were shot in the modern single camera style. Most probably on PAL Digibeta standard definition videotape and then filmised in post production. Everything has a lovely colour palette with robust use of colour, unlike many more recent productions where a less florid palette is used. I never noticed any overly dark grading but then much of the production is set in daylight and outdoors which is no surprise given the title of the story.

I noticed no artefacts or other distractions.

1.78:1 / PAL / 235'26

Audio


English Dolby Digital 2.0 Stereo
English HoH subtitles

The Dolby Digital 2.0 Stereo soundtrack is the original as broadcast and like the image reflects the late '90s early '00s when this was made. It's a clear soundtrack that is typical of BBC drama productions that I've viewed from this time.

There is reasonable use of the surrounds although this is very focussed on the front and centre with dialogue being focussed in the centre speaker. Music comes through very clearly and never overwhelms the dialogue but blasts out of the surrounds at key moments. There are ambient sounds - birds, sounds of nature etc - but they are fairly low-key and disappointingly at key moments set next to a raging ocean the surrounds barely register. However, thunder does crackle around the sound field satisfyingly at one point. I could detect no audio issues or signs of ageing in the master but that is not surprising as this is a fairly recent production. This probably wouldn't have benefited hugely from a 5.1 upgrade, but the track is more than adequate and represents the unambitious sound design typical of character focused television productions.

Extras


Nothing; no contextual material, no behind the scenes, nothing. Extremely disappointing if not surprising. I'm sure that there would have been TV spots, deleted scenes and promotional materials from around the time of the broadcast that could have been made available.

Overall


A sixteen year old BBC production (at the time of writing) that was significant in boosting the profile of well known TV and stage star Lee Ingleby. The image is very strong for a standard definition production of this vintage and holds up well. It was shot in standard def so would have to be upscaled to HD (ala the first four series of the revived Doctor Who) for a Blu-ray release and I can't see that ever happening, or that it would really be necessary. The soundtrack is adequate but isn't as good as the image and could have done with more care and use of the surrounds; a proper 5.1 upgrade would have been desirable. No extras means barebones and this is disappointing. Recommended for those who love this mini series and for the curious as it's an good, solid release, that represents the broadcast version to a T.
| | | | | |
| --- | --- | --- | --- | --- |
| The Show: B+ | Video: B+ | Audio: C+ | Extras: F | Overall: C+ |

---
DVD Compare is a participant in the Amazon Services LLC Associates Program and the Amazon Europe S.a.r.l. Associates Programme, an affiliate advertising program designed to provide a means for sites to earn advertising fees by advertising and linking to amazon.co.uk, amazon.com, amazon.ca, amazon.fr, and amazon.de.