The Film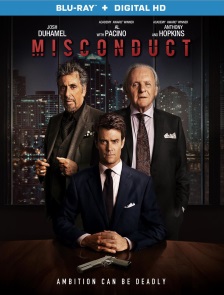 Since the miscarriage of their child, New Orleans attorney Ben Cahill (Win A Date With Tad Hamilton's Josh Duhamel) has turned his attention obsessively towards a string of victories for the cut-throat firm of Abrams and Hill while his nurse wife Charlotte (Star Trek Into Darkness's Alice Eve) has picked up extra shifts to the point there presences in their fixer-upper home overlap for only minutes at a time. Against the advice of his work buddy Doug (The Dark Knight Rises' Glen Powell), Ben accepts a friend request from college girlfriend Emily (Watchmen's Malin Akerman) who threatened suicide when he broke up with her a decade before. When they meet for a drink, she is actually the first to realize it was a bad idea and back off; but "white knight" Ben presses her for the real reason she wanted to meet up with him and she reveals that she is having trouble getting away from her current boyfriend/boss Arthur Denning (Silence of the Lambs' Anthony Hopkins) of the pharmaceutical company Pierson currently under FDA scrutiny after clinical trials of a drug have been linked to three deaths (with another two-hundred-and-sixty-eight pending). When she blithely mentions that she stumbled across documents revealing that Denning manipulated the results of tests to get FDA approval and seemed only concerned with his reputation than the victims, Ben sees a big civil lawsuit and a lot of notoriety. Having made a practice of doing wrong things for the right reasons – often relying on shut-in hacker Giffords (Freddy vs. Jason's Chris Marquette) to tamper with digitally-stored evidence – Ben believes he can make it appear that the evidence was anonymously leaked rather than given to him by the wary Emily. When he pitches the case to senior partner Abrams (The Godfather's Al Pacino), the older man – having lost one of the only cases in the firm's history against Denning – is less interested in the evidence than in Cahill's strategy and his drive to demand to take the lead on the case when Abrams suggests he hand it over to other senior partner Hill (Terminator Genisys' Gregory Alan Williams). Having figuratively poked the bear, Ben soon finds himself not only on the receiving end of vague threats to recuse himself from the case and resign from the firm by a sinister Asian man (I Saw the Devil's Byung-hun Lee) but also the unsettling befriending of his wife by Emily. When Ben discovers Emily dead of an apparent overdose and head trauma beside a phone with an explicit text threatening her mutilation and death and a ransom demand, he tries to erase all traces of their recent interaction but is seen by neighbor Amy (iCrime's Leah McKendrick) but hopes for the best since she only knows her neighbor under the name Hanna Harlow and himself as a married hookup. He confesses all to Charlotte and hopes to piece together what Emily was involved in before the police get involved. By the time the deposition comes around, Denning lets drop news of Emily's disappearance – but not her abduction which is being investigated privately by kidnap and rescue operatives Clementine (10 Things I Hate About You's Julia Stiles) and Bilson (12 Years a Slave's Marcus Lyle Brown) – while legally "buying back" the evidence against him to protect himself from criminal prosecution by settling for two-hundred million dollars in exchange for a non-disclosure agreement. Although disappointed in winning the case without achieving any sense of justice or notoriety, Ben is willing to drop it and return the evidence to Denning until he discovers Emily's body placed in his bedroom and the police at his door. On the run with Denning leaning on the authorities to hunt him down and Abrams wanting to get to him first to keep the settlement from falling apart if anyone else gets their hands on Denning's documents, Ben may have to make his wife and friends complicit in his bending and outright breaking of the law in order to discover who is setting him up and why.


For a film about the perils of ambition, Misconduct fails to realize its own seeming ambition to be a twisty and stylish thriller in the mold of Brian De Palma (his recent misfire Passion the seemingly the nearest analogue). While first-time director Shintaro Shimosawa (producer of the American remake of The Grudge and one of the producers on the outlandish Fox serial killer series The Following) does attempt some De Palma-esque scene transitions that follow the actions of several characters through a digitally-stitched tracking shot, but he is not able to pull off the conceit of Pacino with a pseudo-Cajun Southern accent (or, on a minor note, Stiles as any sort of professional character, much less a badass one). The shuffling of chronology at first intrigues, but it is ultimately serves to bludgeon the viewer with explanation rather than allow them to ferret out links. Although the digital photography of Michael Fimognari (Oculus) and production design of Bernardo Trujillo (Babel) are slick and the scoring of Federico Jusid (The Secrets in Their Eyes) punctuates its string meandering with almost operatic staccato bursts that are not always incidental, the film – which was actually shot on location in New Orleans – nevertheless has a feeling of cheapness to it. As Pacino and Hopkins move about authentic or perfectly convincing facsimiles of upscale locations, they nonetheless seem like they are slumming rather than guest starring. The film is not subversive enough to make the turnout of the dialogue-driven mano a mano climax surprising in how it predictably turns out or where it could have gone. Duhamel is uneven but seems to be bringing his A-game up against the film's two name performers, but British actress Eve's performance seems severely stilted by her American accent, with the almost deadpan delivery only working – and very effectively at that – during her final scene (which could have been a brilliant scene had anything that come before it been on the same level, and had it ended before her scene partner's response). In a showier role, Akerman makes for a more entertaining femme fatale but the film does not allow her suitable depth to be anything ultimately but a victim of the script's (and other characters') machinations. Hopkins retains his dignity in a role that is no great stretch for him, but no one else makes much of an impression. Lee is reduced to a presence to be visually deployed (pretty much as "sinister Asian guy") with a minimum of characterization and Marquette is wasted in his hacker role.

Video


The 1080p24 MPEG-4 AVC 2.40:1 widescreen encode of this Arri Alexa-lensed film can sometimes look a little flat in the low-light interiors and nondescript exteriors but sports the good detail in close-ups, sometimes to the detriment of the production design with ripples and air bubbles evident in the law firm's wallpaper (during clandestine exchanges captured in close two shot) and perhaps a little bit of foundation to flatter the guest stars.

Audio


The sole audio option is a DTS-HD Master Audio 5.1 track that is mainly front-oriented, getting its surround workouts in daytime exteriors, police raids, and techno night club scenes. Optional subtitles are available in English, English SDH, and Spanish.

Extras


Extras are rather light, but it seems unlikely anyone is asking for a loaded special edition of this one. In "The Making of Misconduct" (15:09), Duhamel, Eve, Akerman, Stiles, Lee, Powell, and Hopkins (Pacino does not appear). Duhamel reveals his initial intimidation working with Pacino and Hopkins (and that is very evident in his first scene shot with Pacino, which happens to also be the climactic one) while Hopkins expresses his fondness for playing such cold and detached characters. Powell gushes over working with Pacino and Hopkins (although he only has one scene with the two of them and no exchanges with them), relating Hopkins' inspiration for the character as stated to him while Eve comments upon the Shakespearian dimension of the protagonist's ambition and Akerman on the ease of doing racy scenes with Duhamel since she has worked with him before (in The Romantics) and is friends with his wife (singer Fergie of Black Eyed Peas).


Three Deleted Scenes (3:26) are included, but they neither add or detract from the story and simply would have disrupted the pacing. The film's trailer (2:18) and a preview gallery (the titles of which first appear as start-up trailers) round out the package.

Overall


For a film about the perils of ambition, Misconduct fails to realize its own seeming ambition to be a twisty and stylish De Palma-esque thriller.