Brewster's Millions [Blu-ray]
Blu-ray B - United Kingdom - Fabulous Films
Review written by and copyright: Samuel Scott (26th May 2016).
The Film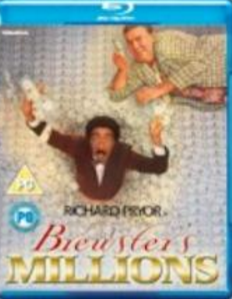 ***This is an A/V and Extras review only. For reviews on the movie from various critics, we recommend visiting HERE.***

Could you spend $30 million in 30 days and have nothing to show for it? Thatís exactly what Richard Pryor has to accomplish in this hilarious contemporary version of the classic big money comedy. Montgomery Brewster (Pryor) is a down and out baseball player who discovers that heís the only living relative of an eccentric multi-millionaire (Hume Cronyn). Monty stands to inherit $300 million, but only if he can spend $30 million in a single month without acquiring and assets .If he fails, itís back to zero again. On hand to help Pryor to spend his loot are John Candy, Lonette McKee and Stephen Collins.

This outrageous spree-for-all is directed by Walter Hill and Produced by Lawrence Gordon and Joel Silver, with a screenplay by the team that wrote Trading Places. Itís and American excess story thatís enriching to funny-bones of all ages.

Video


When it comes to "Brewster's Millions", the United Kingdom has been screwed over through the years. Both the old Universal DVD and the recent DVD from Fabulous Films themselves were presented with full frame transfers, despite the American release getting an anamorphic widescreen transfer. Well, I am pleased to say that this worldwide Blu-ray debut fixes this long-running wrong for British consumers as Fabulous give us a 1080p transfer in the original aspect ratio of 1.85:1 using an AVC MPEG-4 encode.

Catalogue titles gleamed from the Universal back catalogue are well renowned for receiving digital noise reduction, with some titles getting worse treatment than others (Weird Science famously so). However, it does seem that in recent times they do appear to be getting a little better (as their re-release of Tremors will show). "Brewster's Millions" looks pretty darn good, and although the occasional face and background haircut looks a little smooth, it appears that any digital noise reduction that may have been used is at least minimal and seemingly inconsequential. Colours look good with plenty of depth to be found (especially in external scenes at the baseball stadium or in the New York City streets), but there is some crush, particularly in the occasional darker scene. Details are generally strong, with more minute elements like the details in wallpaper noticeable throughout. Even the whole room at 90:45 which features several table top ornaments at mid-distance and minor movements in the carpet looks surprisingly good. It does seem as though this is a slightly dated transfer however, and there are several noticeable small scratches and specks throughout, but this is by far the best I have ever seen "Brewster's Millions" look and it is a huge upgrade on the older UK DVDs.

The film is uncut and runs 101:07.

Audio


Fabulous Films have provided us with a single audio track on this feature; DTS-HD Master Audio 2.0 Mono in the original English. As to be expected, this sounds fine. The film is pretty much dialogue based with few scenes where robust action effects are required (a minor car accident, crowd noise etc) but there is reasonable depth to be found. The crack of a baseball being hit by a wooden bat, the music, doors being opened and closed, and general crowd chit chat are all noticeable without overpowering whatever is happening on-screen. It should come as no surprise that there are no causes for concern such as scratches, pops, crackles, or background hiss. Is it reference quality? Far from it, but it is a solid mono track which does the job.

Unfortunately, no subtitles are included, despite Fabulous including them on their previous DVD release.

Extras


A pretty basic selection of extras recycled from the old American Universal DVD.

Cast and Filmmakers:
- Richard Pryor (4 pages)
- John Candy (4 pages)
- Lonette McKee (3 pages)
- Stephen Collins (4 pages)
- Hume Cronyn (6 pages)
- Walter Hill (4 pages)

Production Notes (4 pages)

Theatrical Trailer (1:26)

Overall


A solid eighties comedy starring Richard Pryor and John Candy receives a decent disc, but like all the DVD releases, there is a distinct lack of extras.
| | | | | |
| --- | --- | --- | --- | --- |
| The Film: B | Video: B | Audio: B- | Extras: E+ | Overall: B- |

---
DVD Compare is a participant in the Amazon Services LLC Associates Program and the Amazon Europe S.a.r.l. Associates Programme, an affiliate advertising program designed to provide a means for sites to earn advertising fees by advertising and linking to amazon.co.uk, amazon.com, amazon.ca, amazon.fr, and amazon.de.